Updated: September 28, 2023
Sitting back in the Portuguese countryside. With a glass of vinho verde (Portuguese green wine), some freshly baked bread, and perhaps some local queijo (cheese). If you are looking past the modern city apartment or beach villa, have you considered looking into farms for sale in Portugal?
Now more than ever, we are opting for some peace and quiet and to get out of the hustle and bustle of city life. This is exemplified by the digital nomad phenomena, which has really become a force to be reckoned with in the past few years. It is now increasingly possible to work from just about anywhere in the world, given that you have a stable Wi-Fi connection. 
Why not, then, escape to the heart of the Portuguese countryside and invest in a charming farm or rural house? In this article, we will discuss some of the practicalities of buying a farm in Portugal. Following this, we will run over some of the best areas in the country to own a farm.
Why buy a farm in Portugal?
You have the vibrant cities of Lisbon and Porto. The sublime stretches of coastline in the Algarve. The unique islands of Madeira and the Azores. As there are so many beautiful areas in Portugal, one of the most breathtaking, and definitely understated areas to invest in is the Portuguese countryside.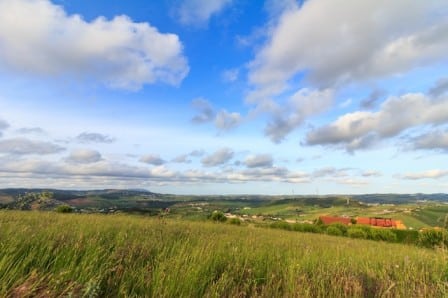 Take the Alentejo, for instance. With some of the most affordable property prices in Portugal, let alone in Europe, the region is known as the breadbasket of the country. Owning a property here, in the heart of nature, is perfect if you are looking for a quiet, reclusive spot. An added bonus is that this is the proud home of some of the best produce in the Iberian peninsula. 
Practicalities of Buying a Farm in Portugal
This section will discuss the practicalities of buying a farm in Portugal. This will include the restrictions to purchasing for foreigners, the cost of farms in the country, and how to go about finding the right property for you. 
Are there restrictions to buying land for foreigners in Portugal?
There are no restrictions to buying land in Portugal as a foreigner. The real estate sector in Portugal is also very well developed. You should, therefore, not have any problems when buying land or property here. 
Although there are no restrictions in place, there are certain permits and documents that you may need depending on where the land is located. It is best to talk with a Portuguese real estate lawyer to determine if this is the case for you. For example, historic locations may require further documentation.
How much does buying a farm in Portugal cost?
As with all properties, the price of farms depends greatly on their type, size, and the land attributed to them. The price of farms for sale in Portugal will also depend on where you buy. Land can be cheap in Portugal, some of the cheapest in Europe, and can cost less than €200 per square meter in some rural areas. 
The cost for farms varies depending on many factors, such as age, type of building, location, the offer, etc. If you look for cheap farms for sale in Portugal, you can find some properties at €250,000.00 or even cheaper. There are also many properties on the higher end of the spectrum. A 7-bedroom country house in Santarém (land is 4000m², with riding arena and horse stalls, situated about 50 minutes from Lisbon) can cost you €580,000. Or there is another farm ranch in Caniçada, Braga (with ten beds, 4000m²) costing €690,000. This is just to provide you with an indication of the prices that you can expect.
Much of finding a lovely farm depends on your luck and the property's characteristics. There can also be abandoned farms for sale in Portugal that could be worth considering. In this case, you can shape your farm pretty much from scratch, creating the perfect place to make your dreams of living in a warm and cozy environment come true. 
Luxury farms for sale in Portugal
To provide you with an indication of the more luxurious farms in the country, a farm with a vineyard in the Douro Valley (total size of 700m² and 10 hectares) will cost you €2,350,000.00. In the Alentejo, a luxury 4-bedroom equestrian farmhouse would set you back €750,000.00. Closer to the center of the country, a Silver Coast countryside farm-style villa will cost €349,000.00. Properties that come with additional features, such as a swimming pool, private gym, or additional security, will obviously boost the price. 
How to find the right property?
To buy a property in Portugal, start with research. Firstly, it is a good idea to have a general idea of the prices. Check out some of the Portuguese platforms where you can find this information. While there is no Zillow Portugal, a couple of good real estate websites where you can find countryside properties and farms for sale in Portugal include Idealista and Imovirtual. 
It is worth having an experienced estate agent on your side. It is always good to have an impartial buyer's agent on your side, such as Goldcrest, who can help you secure the best properties suited for you and help you with the buying process. Goldcrest also have exclusive access to new listings that you will not find elsewhere on the market. 
Best Areas to Look for Farms for Sale in Portugal
Rural Portugal is often overlooked in favor of the 1,794 km coastline. However, exploring the heart of the country is a delight. From the green rolling hills of the Alentejo to the hidden gems in the north, the countryside of Portugal is simply stunning. 
Whether you are looking to move to Portugal for a calm and unique experience, to get away from the busy life back home, to be more in touch with nature, or simply for a change of scenery, Portugal is a good point of call. 
The Alentejo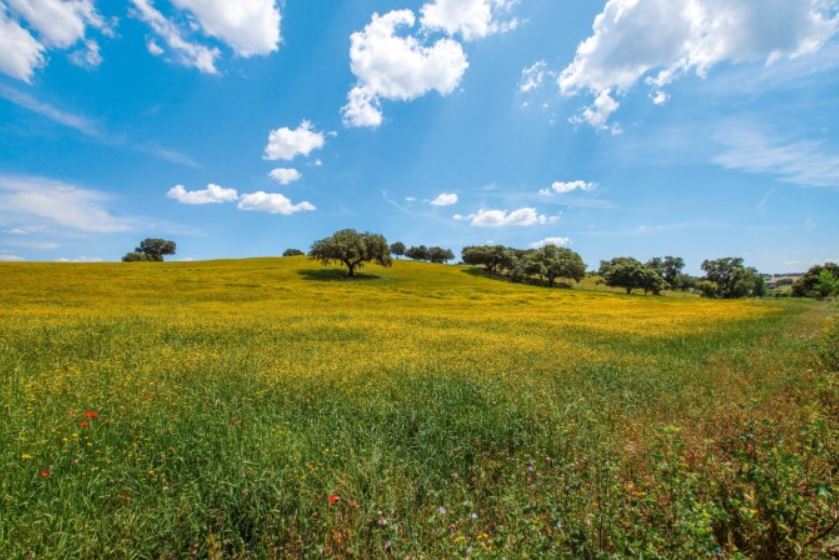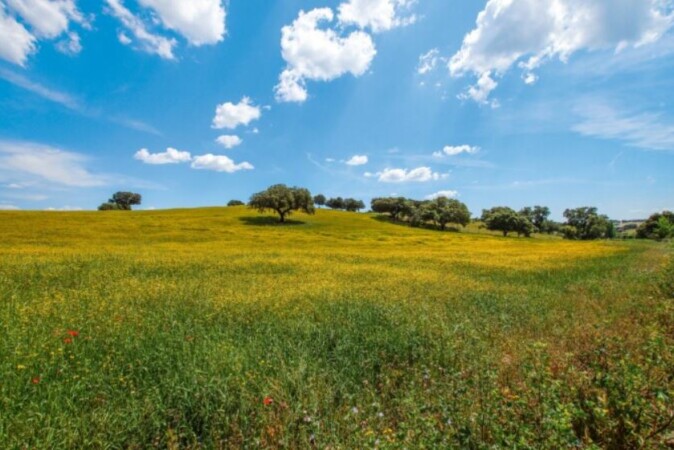 The "Bread Basket of Portugal", the Alentejo, is the beautiful beating heart of the country. The Alentejo is defined within Portugal as the land that borders the Tagus River at its northernmost point, down until you reach the Algarve on its southern border.
The Alentejo is a favorite with Portuguese locals as a holiday destination and is often overlooked by expats. The area is characterized by its rolling hills, picturesque horizons, and field-after-field of produce. The Alentejo experiences the warmest temperatures in the summer but also some of the coldest in the winter. However, many modern farmhouses are equipped with private pools to cool down in the summer months or roaring fires to keep cozy through the coldest nights. And you don't have to give up ocean views, you'll also find properties here by the coast that offer sublime sea views. 
Tranquility and calm are what you will find in the Alentejo. Here, the old ways of life are still very much visible, creating an easy-going ambiance. An added bonus is that some of the very best wines are produced here. 
Where would a person from Portugal buy a property? Well, a safe answer may be the Alentejo. What could be more appealing than sipping on some vinho tinto (red wine) and tucking into some fresh Portuguese delicacies whilst overlooking the vineyards and fertile lands where your food has been produced? Yes, you may just find your dream home here, nestled in the heart of the Portuguese countryside. 
You can find out more about this charming part of Portugal in our article: Alentejo Portugal Real Estate Guide.
Santarém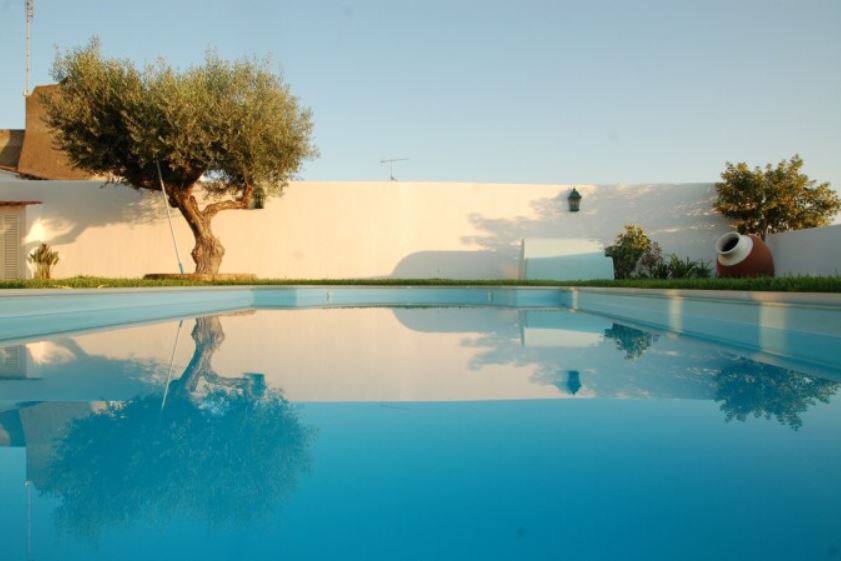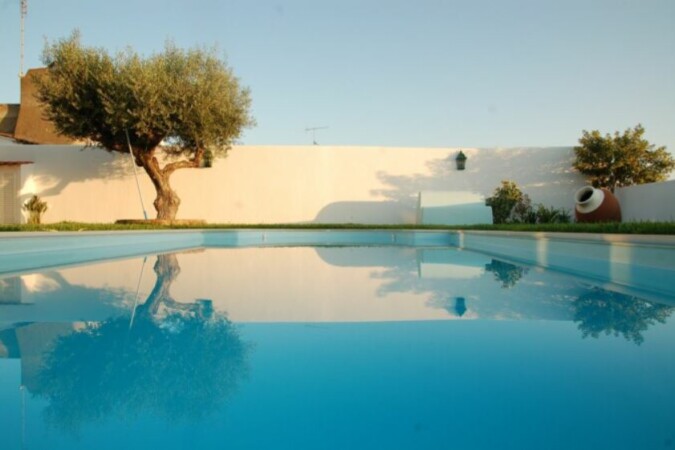 A short one-hour drive north of Lisbon, you have Santarém. Continually favored by Portuguese monarchs, intense trading during the Middle Ages gave Santarém a period of great socio-economic development. The buildings and monuments still provide a window into Portugal's history.
With beautiful countryside not far from the coast, Santarém offers a great climate all year round and some beautiful properties. The proximity to Lisbon and the Lisbon Coast makes it an excellent location. You will find many farms and properties here that come with a swimming pool, perfect for those hot summer nights. 
The North
The North of Portugal offers a window into a life that has yet to adapt to modern realities. Here, you will find locals retaining the traditional ways of life in the heart of the countryside. Properties in the North of Portugal are also amongst the most affordable in the country.
Close to Porto and historic cities, such as Braga and Guimarães, the North of Portugal has ample to offer. Also, if you are looking for vineyards in Portugal, there are many wineries and vineyards in the north to explore.
Below are three exceptional regions known for their wine production and natural beauty. If you are looking for vineyards for sale in Portugal, you should consider these locations.
Douro valley
The Douro region in North Portugal is one of the country's greatest attributes. Wine lovers may already be well acquainted with the name, as it is where the full-bodied Douro wines are lovingly crafted. However, if you are looking to buy a property in this region, you'll find quaint little villages, rolling green hills, and drop-dead stunning landscapes. Porto and Vila Nova de Gaia are part of the Douro and sit at the mouth of the Douro River. However, as you move further inland, you'll find property prices decrease while the beauty of the natural landscape becomes even more apparent.
You can find out more in our article: Complete Douro Real Estate Guide 2023.
Viseu and the Dão region
Investing in a farm in Viseu and the Dão region of Portugal can be a wise choice due to its stunning natural landscapes, strong potential for wine production, diverse agricultural prospects, laid-back way of life, promising investment opportunities, and exceptional quality of life. Moreover, it provides cost-effective living, whereby you should be able to find a traditional style home at an affordable price.
Our article on Viseu, Portugal, real estate can provide you with more information on the perks of living in this charming area.
Alto Minho
The northernmost wine region in Portugal is Minho, recognized primarily for its signature wine style: The refreshing and light white Vinho Verde. Located between Porto and the Spanish border, if you're looking for a part of Portugal where you'll come across a lovely home in a quiet village or a large farm with equestrian facilities at an affordable price, then you may find it here. This is a relatively unexplored part of the country, meaning that property prices will be lower than in other parts of Portugal. If you are looking for an affordable part of the country to buy property, Alto Minho could be an excellent option.
Buying a Farm in Portugal
Wherever you buy a farm in Portugal, rest assured that if you get the property right, you will have a peaceful and unique lifestyle. 
Portugal is a relatively small country. You can drive from the southwesternmost point, Sagres, to Bragança, in the northwest, in just over seven hours. Because of this, you are never truly far from healthcare facilities, towns, or civilization.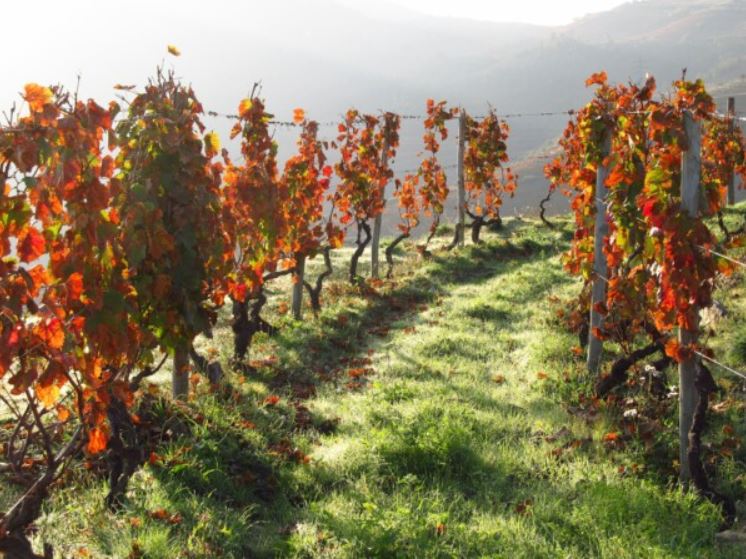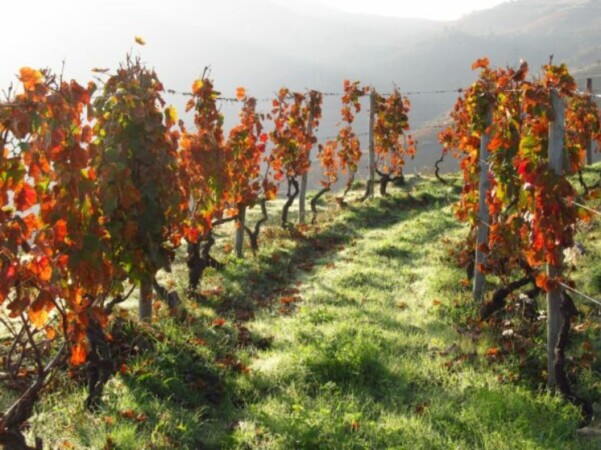 Frequently Asked Questions about Farms for Sale in Portugal
Where are the best areas to find farms for sale in Portugal?
There is no one area where you will find the best farms for sale in Portugal. From the very north of the country down to the Algarve in the south, you will find viable properties. The Alentejo, Santarém in the center of the country, and the North of Portugal offer some incredible properties. These are often at very affordable rates.
You will find many property types, from small farms to huge mansions with acres of land and a swimming pool. One of the first steps is to determine a budget, and then you can begin scouting out potential farms. You should also consider whether you're looking for a property with sea views, close to am international school, or where the closest healthcare facility is. These factors could all influence where you buy property.
Will Brexit have an impact on buying real estate in Portugal?
British citizens are still able to purchase real estate in Portugal following Brexit. One thing that will change is that you will need to secure residency to live in the county. 
Can foreigners buy land in Portugal?
Yes. There are no limitations on foreigners purchasing real estate in Portugal. 
What crops are grown in Portugal?
In Portugal, the main crops grown are cereals (wheat, barley, corn (maize) and rice), potatoes, grapes (for wine), olives, and tomatoes.
How can I find properties that meet my criteria on real estate listing websites?
You will find many property types on listing sites and be able to filter the properties; for example, if you are looking for a property with two bedrooms, you'll be able to filter your search.
You can also filter by floor preference; for example, if you would like a ground floor apartment with a large living area, if you want the property to have two floors, or if you want a huge countryside mansion with acres of land. You should also think about additional features that you want the property to have, such as a swimming pool, garage, or large storage room.