Updated: January 23, 2023
Portugal has an abundance of excellent cities for expats, and Faro is an extremely desirable candidate for foreigners looking to set up a new life. This guide will give you an overview of the most important aspects and why living in Faro as a foreigner is a real possibility.
Where is Faro?
Faro is the capital of the Algarve, the most southern region of Portugal. The Algarve is best known for its beautiful beaches and white-washed houses, making it a popular destination for many tourists. Faro is located in the middle of the Algarve and is often visited for day trips.
However, living in Faro can also provide you with a high quality of life, where you are strategically located to easily get around the Algarve region and other cities in Portugal.
Top Reasons for Living in Faro
Faro is a hotspot for tourists and day visitors, with many things to see and do. However, Faro is equally popular with locals, digital nomads, and many expats, and if you're considering the city as a temporary or permanent base, you'll find it's an excellent place to settle. Living in Faro has many advantages, is perfectly located in warm climate, and can cater to people from all walks of life.
Outstanding business location
Business may be the last thing that comes to mind when thinking of the Algarve, but in recent years the region has become a popular home for many companies. According to reports, Faro is in the top ten for places to work in Portugal and has recently seen an influx of economic activity. 
Moreover, the University of Faro supports advances in technology, having facilitated the development of the Algarve Tech Hub, which aims to attract global tech companies and create jobs in the tech industry. This means that Faro and the Algarve region are and will be important business locations for Portugal now and in the near future. 
But it's not just Faro that is a hub for business. Its neighboring cities, Albufeira and Portimão, equally made the list of top 25 business locations in Portugal.
Safe and tolerant
Portugal as a country is well-known for its friendly citizens and welcoming locals. It's also listed as number six in the Global Peace Index 2022, making it one of the safest places to live in the world. In comparison, the UK clocked in at number 34, and the USA ranked in 129th position on the list.
Faro is known for being a safe city for locals, expats, and tourists. As with everywhere you go, standard precautions for personal safety should be adhered to, but overall, Faro is less dangerous than most European cities. 
Beautiful beaches
Picturesque seaside towns and beautiful beaches are the trademark of the Algarve, and Faro is no exception. Although Praia de Faro (Faro Beach) is not within walking distance from Faro's city center, it can conveniently be reached by public transport, with regular bus routes servicing the beachfront.
Despite not being in direct proximity to a beach, the Faro coast offers some of the most beautiful, sandy, and quiet beaches of the Algarve. All those amazing beaches are within easy reach of the city, making it an ideal location for those who prefer a more relaxed and less hectic time at the seaside.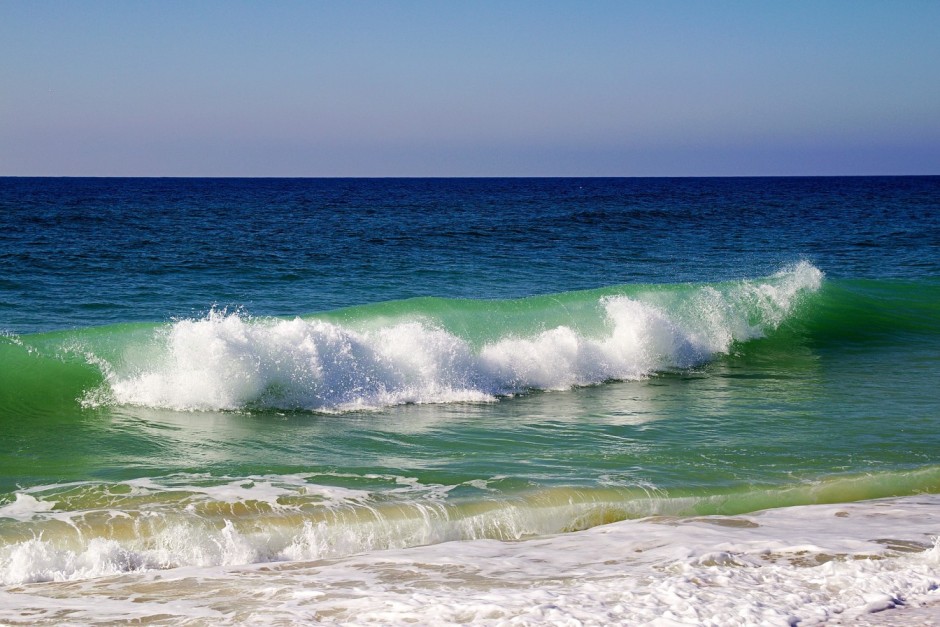 Tax benefits
One of many reasons why foreigners choose to relocate to Portugal is the country's affordability. As an expat, you may be eligible for exclusive and lucrative tax breaks through Portugal's non-habitual tax regime (NHR tax regime). 
The NHR tax regime gives certain professions tax exceptions, and those earning income from other countries won't have to pay tax in Portugal. For more information on the Portugal NHR tax regime, including Double Taxation Agreements (DTAs), consult our comprehensive article about the Portugal NHR Program.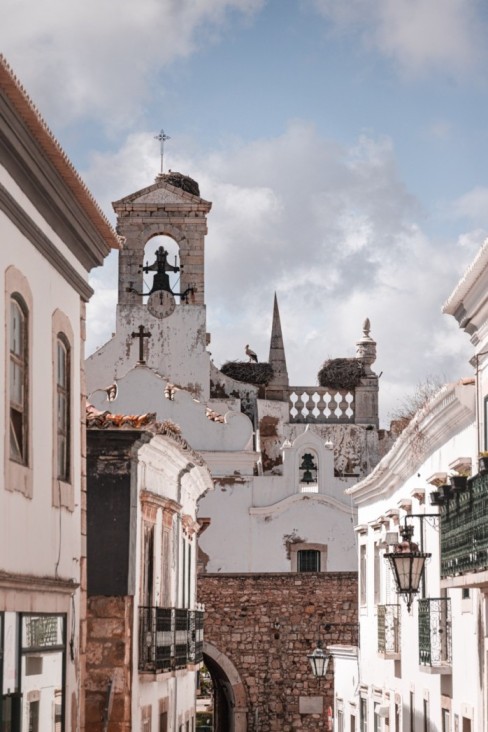 The Best Neighborhoods in Faro
The capital of the Algarve has many beautiful spots that locals and expats like to enjoy. In the next section, we will give you an overview of our selection of Faro's best neighborhoods.
Downtown
This neighborhood is rich with history, culture, and Portuguese heritage, but you'll also find most of Faro's shops, amenities, and restaurants can be found here. Tourists flock to this part of the city for many reasons, one of them being the traditional Portuguese pavements, which are arranged in mosaic-style patterns, called calçada style.
Food and coffee lovers will rejoice in finding plenty of places to indulge, and many independent shops sell their products here, making it an exciting place to find and support local products. Living in Downtown Faro may not be the quietest, but it boasts charm and traditional Portuguese heritage, making it a lovely place to set up home if you prefer a busy life.
The Old Town
Faro's Old Town is steeped in ancient history and best explored on foot. Amongst the cobbled streets, you will find plenty of architectural traces of its Roman history, as well as its old town walls, the Muralhas de Faro. We'd also recommend visiting the Old Town's Cathedral, where you can climb to the top of the Cathedral and enjoy spectacular views across Faro.
This neighborhood is also home to lots of quaint cafes, so you're never far away from a local place that offers refreshments as you go about your day. If you're keen to set up camp amongst historic buildings, the Old Town may just be the ideal spot for you.
Montenegro and Quinta do Eucalipto
Those seeking a less busy lifestyle and calmer area, away from the main bustle of Faro city, will be delighted with this neighborhood of Faro. A favorite with families, Montenegro and Quinta do Eucalipto are on the outskirts of the city and benefit from less traffic and a lot of generous open spaces. 
You'll find exciting investment opportunities in the form of real estate for those looking for a bigger family home or even a luxury villa, including a swimming pool. Bonus: Praia de Faro (Faro beach) is only a short drive away, either by car or bicycle. 
The marina of Faro
Close to the Ria Formosa, a lagoon that leads to the Atlantic Ocean, is the marina of Faro, a picturesque and beautiful place to stay. Home to many restaurants and cafes, you can also enjoy many cultural and music events here, many of them for free! 
If life next to a breathtaking nature reserve sounds like your dream, finding a place to rent or buy at the marina of Faro is an excellent choice.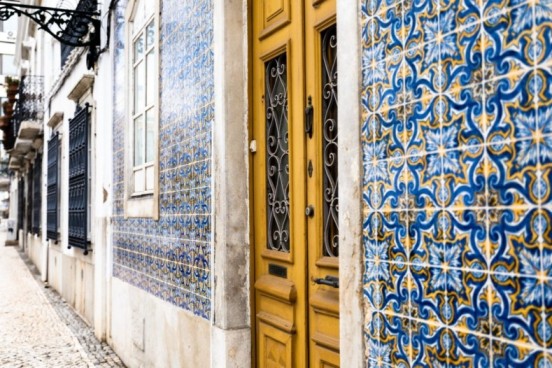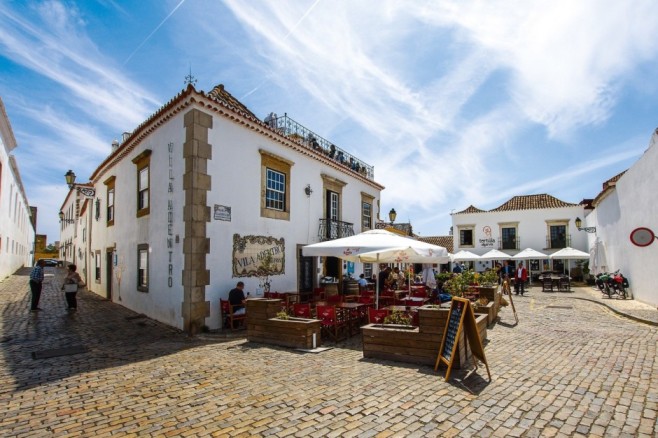 Buying or Renting a House in Faro as a Foreigner
Whether you choose to rent or invest in real estate depends on your personal circumstances. Below, we'll introduce Faro's real estate and rental market, bringing you one step closer to life in Faro.
Buying a home in Faro
Buying property in Faro follows the same rules for foreigners as in the rest of Portugal, and you can find a detailed guide to everything you need to know in our Three Key Essentials To Buying Property in Portugal guide. Buying real estate is safe and secure and, if you follow all our tips and advice, should not cause any issues.
Faro offers properties for everyone, from studio apartments to townhouses, family homes, or luxury villas. Prices vary depending on the location, age, and quality of your new home, and we would always recommend seeking expert legal advice before committing to a property.
Renting a house in Faro
For a less permanent living solution, there are plenty of places to rent in Faro and its beautiful neighborhoods. For short-term options, Airbnb offers an ideal way to test your new surroundings without significant commitments. Alternatively, Idealista specializes in long-term rentals, giving you options on various-sized apartments and properties.
How to Live in Faro as a Foreign Citizen: Residence Permits and Visas
Living in Faro as an expat is the reality for many foreigners from all walks of life and nationalities. Depending on your country of origin, you will need different documents or require additional input from agencies before you can make your move.
Living in Faro as an EU citizen
As a European citizen, you can enjoy the freedom to travel, live, and work within the member states. Moving to another member state of the European Union (EU) won't require a visa, eliminating potential paperwork.
After three months (before this period, you are considered a tourist), EU citizens will need to obtain a residence card to stay longer. You can apply for a residence permit from a local town hall, which should be a straightforward process.
You will also have to show that you have valid health insurance, get your national tax identification number (NIF), and prove that you're financially independent, not relying on the Portuguese state for income. 
Living in Faro as a non-EU citizen
As a non-EU citizen, expect a bit more bureaucracy and a few administrative steps before you can obtain a Portuguese residence card. It may seem long-winded and complicated, but help and support are at hand. 
Our residency and citizenship division, Global Citizen Solutions has experts who can help you realize your dream of living in Portugal. 
Living in Faro with the Portugal Golden Visa
Portugal's Golden Visa program provides excellent opportunities for eligible candidates, and its residency-by-investment scheme is one of the most popular investment programs on the international market. A variety of investment options are available:
Residential real estate investment in a designated interior area of €500,000 or  €350,000 if investing in a rehabilitation project

Commercial real estate investment anywhere in the country of €500,000 or €350,000 if investing in a rehabilitation project 

Investment funds or a capital transfer (from €500,000)

An investment of €250,000 in support of the arts or reconstruction of national heritage

A contribution to scientific research (from €500,000)
The Portugal Golden Visa gives you permission to stay in the country for up to five years. For a full list and more details of Golden Visa options, you can consult our Portugal Golden Visa: Your Ultimate Guide 2023.
Living in Faro with the D7 Visa
Making a substantial investment may not be a feasible option for some, so a good alternative for non-EU, non-EEA, and non-Swiss citizens is the D7 Visa. This route will give you access to residency in Portugal as long as you have enough income to sustain yourself here. 
Income does not have to come from current employment; passive income such as a retirement fund or passive sources of income are also valid. The D7 Visa may also be an excellent option for remote workers and digital nomads. As long as you can prove that you earn at least €760 per month, you may be eligible to apply.
This option is especially attractive with digital nomads who want to benefit from warm weather, affordable cost of living and local life in a different country.
Our comprehensive article and guide on Portugal's D7 Visa will give you more details about this option, including the inclusion of dependents and attractive tax benefits. 
Cost of Living in Faro
Expenses and financial outgoings are lower in Portugal than in most other European countries. Southern Portugal, being a popular tourist destination in western Europe, is more expensive than the north of the country. However, you'll find that most amenities, goods, and services are still reasonably priced compared to other countries.
Accommodation
Depending on where you choose to live in Faro, the rental of a one-bedroom apartment costs, on average, between €590* and €700* per month.
Prices per square meter for buying real estate in Faro start at €1,733* outside the center and €2,425* in Faro's city center.
*Above costs are from Numbeo as of January 2023.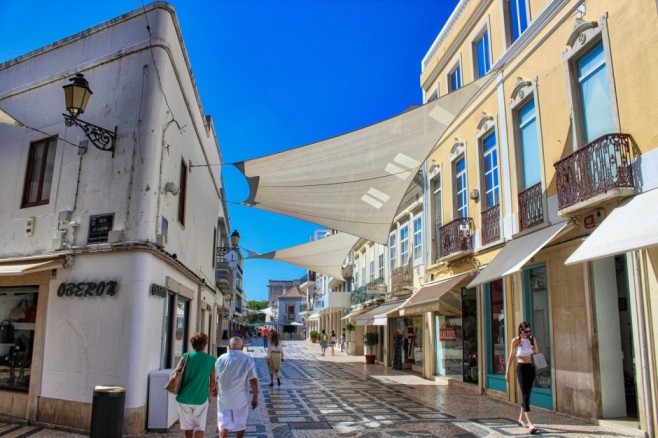 Food
The cost of groceries is cheaper than in other European countries. Still, it depends on an individual's or family's lifestyle and requirements, and prices may be slightly higher in the south than in the north of Portugal.
The table below gives an overview of prices of basic food items:
| Item | Price |
| --- | --- |
| Milk (1liter) | €0.81 |
| Bread (500g) | €1.53 |
| Rice (1kg) | €1.18 |
| Eggs (12) | €1.93 |
| Chicken (1kg) | €4.46 |
| Apples (1kg) | €1.63 |
| Water (1.5 liters) | €0.81 |
Above costs are estimated and from Numbeo as of January 2023.
Eating out
Portugal is famous for its fresh and wholesome cuisine, such as fresh fish. Meals out can be enjoyed without a premium price tag and provides both locals and expats with the chance to sample delicious food.
Meals at inexpensive restaurants start from €10*, and if you prefer something a little fancier, you can dine at a mid-range restaurant for €20* per person, indulging in three courses. A cappuccino will set you back €1.72*, and a half liter of beer costs around €2.50*.
Transportation
Public transport is one of Portugal's strengths, with plenty of affordable options available. A monthly pass costs around €35*, and a one-way ticket costs €2.42*. Petrol and gasoline prices have increased in line with global costs, costing around €1.87* per liter.
*Above costs are from Numbeo as of January 2023.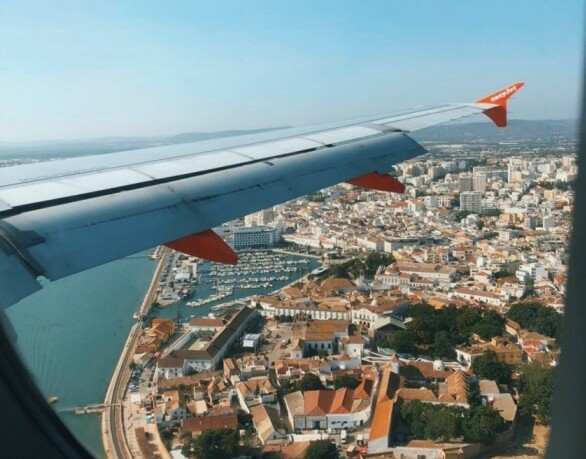 Getting Around
Getting around Faro and the Algarve is straightforward and, depending on your preferences, doesn't have to cost a lot. Public transport is excellent and cheap, with a bus transfer from Faro airport to the city center costing €2.25 for a single ticket. There are also plenty of intercity buses to explore other cities in the south of Portugal. Single fares per person are very affordable and below €10.
Car rentals are also readily available if you prefer more flexibility and freedom of travel. Alternatively, you can choose taxis or order an Uber as a more costly but comfortable option. In addition, Uber and taxi drivers are often great sources of knowledge, giving you insider tips from locals.
Schools
Portugal's education system is excellent, and if your children don't speak Portuguese yet, there are plenty of international schools that cater to children from expat families from different nationalities. Schools teach in various languages and offer curricula from different countries, making the transition for young students a lot easier.
For older students, two out of three campuses of the University of the Algarve are located in Faro, offering a breadth of degrees and courses to study.
Shopping
Faro is a good place for shopping, with global brands and big shopping centers, as well as small, independent, and local stores. The latter offers bespoke and often traditional items, such as linen, pottery, and leather goods which support the local communities. Its most famous shopping center is Forum Algarve, which has plenty of stores and events for everyone.
Living in the Algarve also has the benefit of being able to shop in lots of local markets that sell fresh produce at reasonable prices. We recommend Faro Municipal Market, an excellent place to pick up fresh ingredients for the week.
Healthcare
Portugal's healthcare is considered one of the best in Europe. Its national health service is publicly funded and accessible to expats if they have residency status. Alternatively, you can get private health insurance which is affordable and also very good. For more in-depth information on Portuguese healthcare, read our article on Portugal Healthcare: All You Need to Know. 
Language
Although not an official language, English is widely spoken in Portugal, especially in cities and popular tourist destinations. However, once you have decided to relocate to Portugal, we recommend that you learn some Portuguese to get by. Locals welcome expats' efforts to speak their native tongue, and you will have a more authentic experience when you can master the language.
Weather in Faro
Like most Mediterranean cities, Faro enjoys warm summers and relatively mild winters. In the summer, temperatures can reach over 30 degrees C (86 degrees F), whereas winter temperatures rarely fall below four degrees C (39.2 degrees F). 
Whether you're renting or own real estate in Faro, we'd recommend that you ensure the property is well insulated to prevent excessive heating bills during the colder months.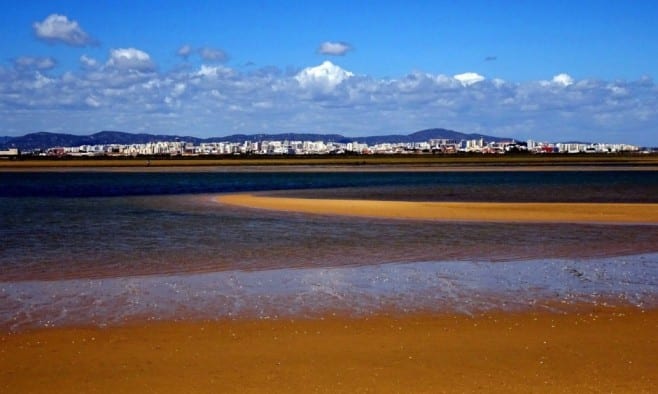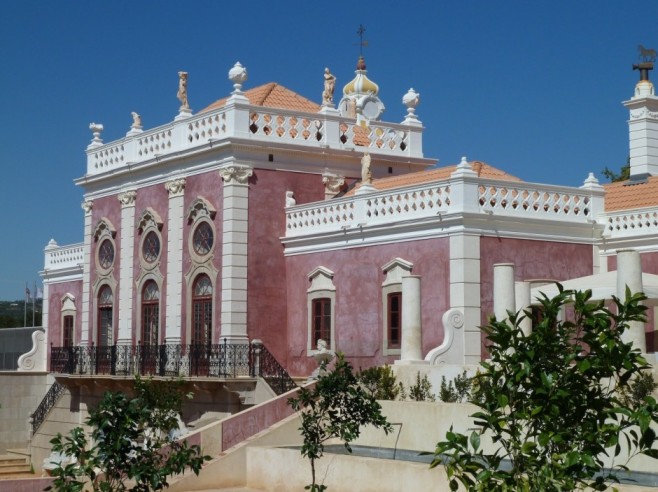 Festivals and Attractions
Faro is a popular hub for festivals all year round, and you are sure to find plenty of events that pique your interest. Be it music festivals from a variety of genres, beach parties, theatre and film festivals, or food and drink events, Faro's culture ensures there is something for everyone at any time of the year.

Faro is also home to many attractions that not only entice tourists but which locals and expats can also enjoy. 
The Old Town of Faro has multiple historic sites and buildings.

Carmo Church is best known for its small chapel made of human skulls and bones.

Faro Cathedral is located in Faro's Old Town, and its origins date back to the middle of the 13th century.
Museo Municipal de Faro is home to many archeological finds, some dating back to the Roman times. 

Palácio de Estoi, with its pink walls, white-gold domes, and Versailles-style gardens, is a must-see. You don't have to rent a room to enjoy its splendor. The Museo Municipal de Faro is working together with the hotel to host special exhibitions in the reception area that honor the history and influences of Faro and the Algarve.
Living in Faro: Pros and Cons
As with every place, there are pros and cons, and Faro is no different.
Advantages
Relaxed lifestyle

Access to quieter towns

Affordable cost of living

Reasonable property prices

Excellent weather

Great job opportunities

Cheap and reliable public transport and infrastructure

Close to an international airport

Fantastic healthcare

Plenty of things to do all year round

Close to other Algarve hotspots

Lots of golf courses close by

English is widely spoken

Great place for digital nomads
Drawbacks
Lots of tourists during peak season

Some properties lack good insulation or central heating during cooler winter months
The Bottom Line on Living in Faro, Portugal
Living in Faro as an expat is a great option. With excellent transport links, great job opportunities, a mild climate, and beautiful beaches, Faro has a lot to offer, whether you're relocating with family, retiring, or setting up as a digital nomad. 
Here at Goldcrest, we can give you advice on real estate, and our residency and citizenship division, Global Citizen Solutions, is at hand to help with anything regarding visa options and citizenship. For further information, you may find the following articles useful, and you can always  schedule a non-binding call with us.
Retirement Guide for the Algarve
Frequently Asked Questions about Living in Faro as a Foreigner
Is Faro a good place to live?
Living in Faro is excellent, no matter your circumstances. With a thriving job market, mild climate, beautiful surroundings, vibrant culture, and low cost of living, Faro's versatile lifestyle is highly sought after.
Where do most expats live in Faro?
Most expats live in one of Faro's neighborhoods because they are central and there are plenty of things to do. During the summer months, Faro sees an influx of tourists, so some expats prefer to live a little outside Faro's center.
Is Faro Portugal cheap to live in?
Compared to most other European cities, Faro is an affordable and relatively cheap place to live in. Most expats live comfortably on a smaller budget, enjoying Portugal's relaxed and comfortable lifestyle.