Updated: March 29, 2023
So, why Portugal? As a tourist hotspot located on the West Coast on the Iberian Peninsula, Portugal has long been known for its endless beaches, stunning landscapes, and rich history. While many revel in the buzzing atmosphere of Lisbon, the quiet history of Porto, or the dazzling sun in the Algarve, there is one aspect that is, perhaps, slightly underrated — National Parks in Portugal.


With hiking trails in Montesinho Natural Park and Douro International Natural Park and beautifully rich vegetation in Sintra-Cascais Natural Park and Arrábida Natural Park, Portugal's national and nature parks map a good portion of the country's land. Indeed, whichever natural park you choose, you will delight in the beauty of Portugal.
There is an abundance of unbelievable panoramas and views waiting to be soaked up. With that in mind, we'll provide you with a list of ten of the most beautiful national and natural parks the country has to offer (in no particular order) and discuss why living in the heart of nature in Portugal could suit you very nicely.
National Parks in Portugal: Living in the Heart of Nature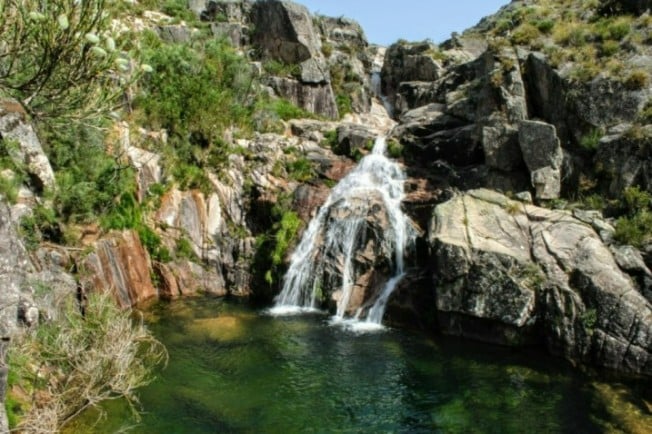 Living in the heart of Portugal's natural landscape provides you with an authentic Portuguese experience, where the local way of life, in some places, has not changed very much over the years. While many of the parks in Portugal do not have properties in them, you will find excellent options close at hand where you can enjoy the wonders of nature. If you are looking to move to Portugal, you will find that each place is special in some way.
Moreover, many of these areas remain eligible for the Portugal Golden Visa following the changes that came into force on 1 January 2022. For those looking into the program, consider some of these areas of Portugal as very plausible options. For more information about the Portugal Golden Visa and its changes, you can read our article here.
If you are interested in the Portugal Golden Visa, our Residency and Citizenship Division, Global Citizen Solutions, would be more than happy to help. You can get in touch with them here.
Important note: The Portugal Golden Visa scheme is coming to an end. If you are interested in applying, you should begin your Golden Visa application now. You can read more in our article: Portugal Golden Visa Ending: Everything We Know So Far.
Here, we'll provide ten of the most picturesque locations in Portugal, in no particular order.
1. Sintra-Cascais Natural Park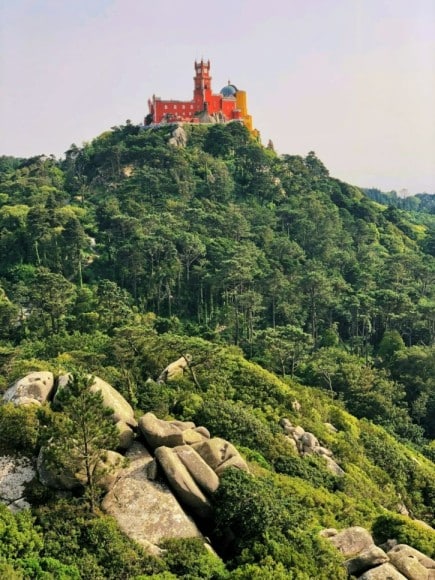 We had to start with the Sintra-Cascais Natural Park. It's probably the most well-known natural park in Portugal for two reasons: Firstly, because of its close proximity to Lisbon and, secondly, because of its sheer magnificence. Beautiful hills, green trees, palaces, and the Moorish castle provide a staggering backdrop. If you are lucky enough to live in (or close to) this scenic area of Portugal, then you are very fortunate indeed. 
If that's not enough, Parque Natural de Sintra-Cascais also has some of the most picturesque beaches to enjoy,  which are relatively quiet compared to the more popular beaches closer to Cascais and Lisbon. Cabo da Roca is a cape that forms the westernmost point of the Sintra Mountain Range, an incredible natural viewpoint from which to watch the waves crash against the rugged cliffs. When you get out of the tourist-heavy center, the area also provides a calm retreat for you to enjoy a life of peace and tranquility.
If you enjoy the great outdoors or want to move to Portugal with your family, you probably could not find a better spot than this astonishing natural park. Local traditions are still very much embraced here, and the food is excellent — try the travesseiros, a delightful dessert made of puff pastry with a filling of almond cream.
You are also close to the bright lights of Lisbon, where you can easily enjoy a vibrant, cosmopolitan capital with an array of top restaurants, exciting bars, and historical landmarks. The medieval town of Óbidos is also close at hand for a visit to the castle and to taste a drop of Ginjinha, a cherry liquor sometimes drunk out of a chocolate cup. 
You can see more about buying property in Cascais in our article: Cascais Portugal Real Estate.
You can see more about buying property in Sintra in our article: Sintra Portugal Real Estate.
2. Peneda-Gerês
National Park

In terms of the best national parks in Portugal, there is only one. That's because Peneda-Gerês National Park is the country's only national park, while the rest of the parks in Portugal are considered natural parks.
Situated in the north of Portugal, this park was established to protect and preserve the wildlife found there and its unique range of landscapes. A very picturesque national park in Portugal, its natural beauty truly is something to behold. You can meander along trails that extend through the park, where you can find extraordinary panoramic views of the surroundings, with interesting rock formations and ancient granaries built by early settlers. 
From countless waterfalls to the ruins of Vilarinho da Furnas, there are many attractions in Peneda-Gerês National Park. These ruins were submerged deliberately when filling a local reservoir, and they emerge during the dry season when the water recedes.
There are also a few mountains here, and while the Gerês Mountains are inhospitable, they are fascinating to explore. If you are looking for properties in Portugal where you can find a quiet spot, then Gerês and the surrounding area are excellent options to consider.
Learn more in our article: The Best Hikes in Portugal.
Check out our article: Mountain Houses for Sale in Portugal.
3. Parque Natural do Sudoeste Alentejano e Costa Vicentina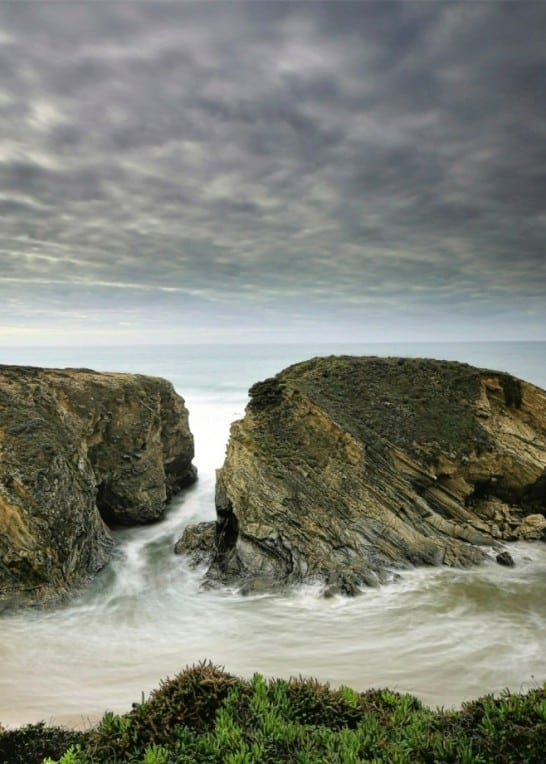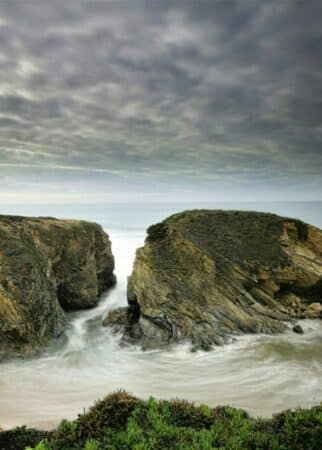 This coastline strip is considered one of Europe's finest stretches of protected coastal areas, with over 130 km covering Porto Covo in the Alentejo to Burgau in the Algarve. 
This stupendous park is just waiting to be explored, with stunning landscapes and beautiful beaches which, thanks to the mild Portuguese climate, you can enjoy any time of the year.
If you're looking to buy a property in Portugal, but have been a little apprehensive about the tourist-heavy Algarve, then you may want to consider options closer to Costa Vicentina. Calmer than many parts of the Algarve, you can enjoy the natural beauty of Portugal to the fullest. 
For other areas in the Alentejo to consider, you can check out our article Alentejo Portugal Real Estate.
4. Montesinho Natural Park
In the northeast of Portugal, near the border shared with Spain, you will come across Montesinho Natural Park, one of Portugal's largest parks. Rolling hills and valleys welcome you, with little streams, tranquil ponds, lush vegetation, and trees surrounding them to create a forest dense enough for you to escape from the everyday. A perfect destination for nature lovers wanting to indulge in all that nature parks have to offer. 
Montesinho National Park is a biodiversity hotspot, and the trails weave their way up the mountain, from which you have excellent views of the beautiful scenery below. The Iberian wolf, lynx, and the common genet are some of the animals that lucky visitors can see in their natural habitat. 
Note that if you are looking to buy property in this area, you will likely find some very affordable options as the real estate market here is not so developed. Indeed, you will be living in a relatively undiscovered area of Portugal, making Montesinho National Park an exciting place to live.
5. Arrábida
Natural Park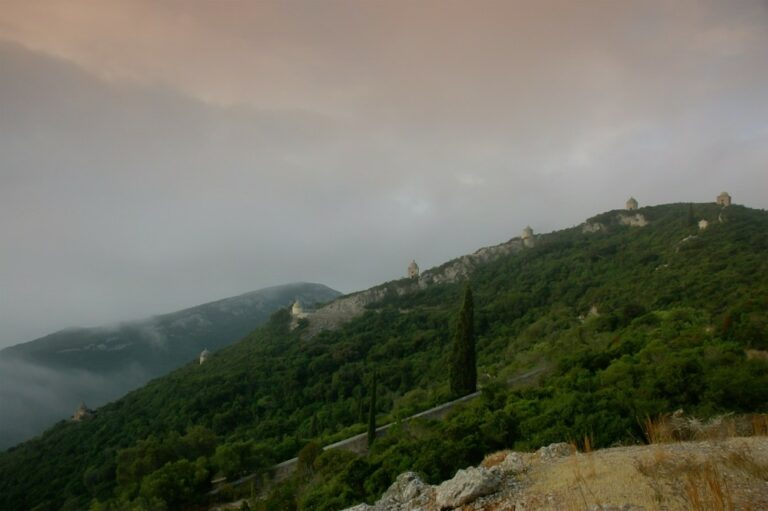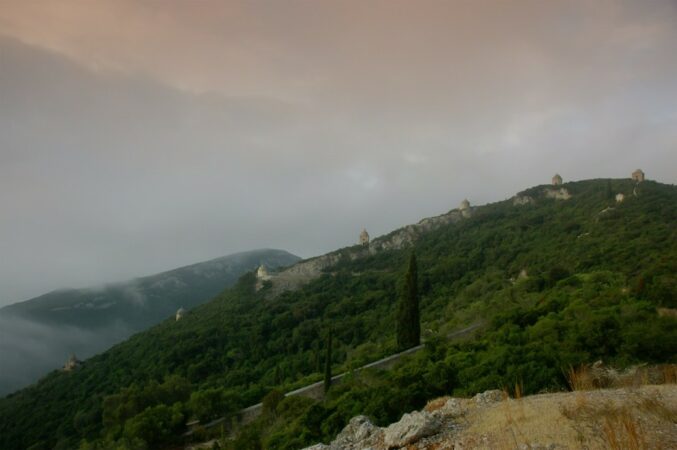 Less than an hour's drive south of Lisbon, you'll come across Parque Natural da Arrábida. Here, one of the most spectacular coastlines in Europe awaits you, and if you look to the Atlantic, you can soak up the rays of sunshine dancing on the water. 
As a popular day trip for people living in Lisbon, the pristine beaches and peaceful walks along the soft sands are a unique selling point of the Arrábida Natural Park. You can also enjoy the low-lying mountains, rocky cliffs, and abundant array of lush vegetation. If you are looking to purchase property in this part of the world, consider Setúbal. For those seeking luxury, Tróia is also an excellent option. 
You can learn more about Setúbal in our article: Setúbal Portugal Real Estate.
6.
Ria Formosa Natural Park
Close to Tavira, the Ria Formosa Natural Park is one of the highlights of the Algarve. The endless sands are popular with beachgoers and casual walkers and great for bird-watching, the scenery is stunning, and the warm climate will entice you out of the house, even in the depths of winter. 
Whether you are looking for a modern apartment or a beachside villa, you will likely be able to find something that fits your criteria here. A quieter and more authentic side of the Algarve is in store for you, where you can relax without the swarm of summertime tourists. 
Our article on Tavira Portugal Real Estate provides you with more information about buying property in Tavira, where you are well-positioned to enjoy the delights of the Ria Formosa Natural Park.
7.
Douro International Natural 
Park

The Douro International Natural Park is located in the municipalities of Miranda do Douro, Mogadouro, Freixo de Espada à Cinta, and Figueira de Castelo Rodrigo and harbors protected eagles and vultures. The park spans a lengthy area along the Douro River, hence the name, and functions as a border between Portugal and Spain. The river is perhaps the real selling point of the park, as it cuts its way through the landscapes, meandering through the rocky cliffs and ravines that the water has slowly eroded away over the centuries. 
The Douro River flows all the way to the city of Porto, and from the natural park, you can see lush vegetation and small watercourses. 
Owning a property in this part of the country is very affordable and would be an excellent getaway if you want to live in Portugal in a quiet place surrounded by nature.
Picture the weekend going on amazing hikes where you can soak up the beautiful landscapes of Portugal before returning to your house, perhaps for a dip in your private pool to cool off or cook grilled meats over your barbecue with a cold cerveja (beer) in hand.
8. Litoral Norte Natural Park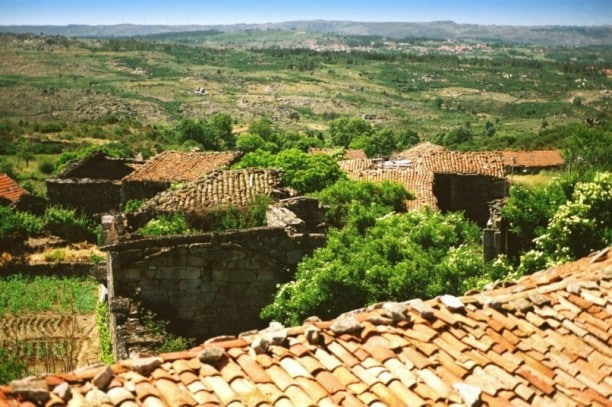 On the other side of the Douro Natural Park in the northern part of Portugal, you have Litoral Norte Natural Park. The park looks out over the Atlantic Ocean, and the winds that blow in from the ocean have helped shape the sand dunes synonymous with the park. In the far distance, Parque Natural do Litoral Norte provides a view of the farmland known for being fertilized by the seaweed that washes up on the beaches. 
Portugal's Northern Natural Park is also the home of different bird species – both seabirds and breeding birds – that come to the park to nest and breed. Long grasses grow, protected from the winds by the sand dunes. This protected area is an excellent place for a nice walk, where you can see the landforms created from the sheer power of nature and where you can soak up stunning ocean views. 
Moreover, from Porto, you are less than an hour's drive from Litoral Norte Natural Park. Indeed, if you are living in Portugal, Porto is a good port of call if you like to get out and about in nature, with many nature parks spread out across the north. 
If you are considering purchasing property in the strategically situated Porto, our article on Porto Real Estate can provide you with important information on which neighborhood could be the best for you.
9.
Alvão Natural Park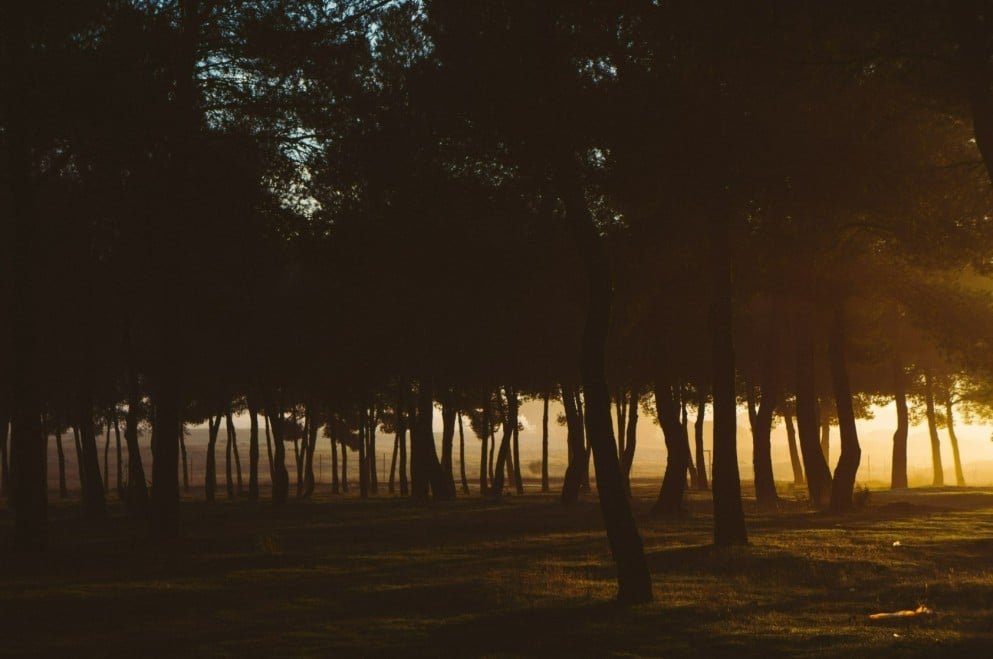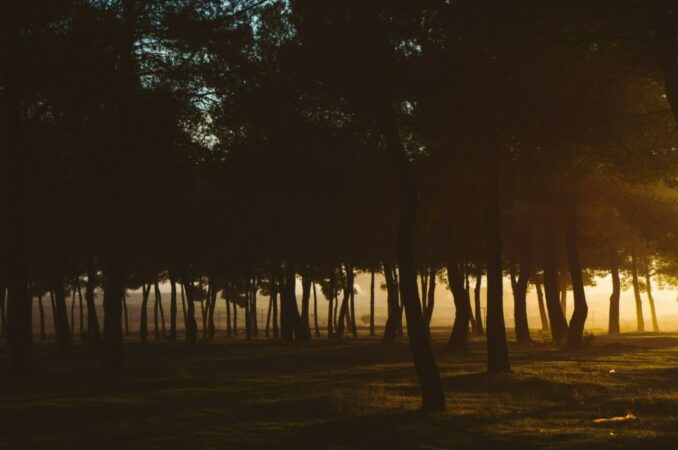 As previously mentioned, the north of Portugal is rich in parks, and Alvão Natural Park is another fine example. From a height of 1,339 meters at its highest point down to 260 meters, Alvão has two very distinct topographies. This varying landscape and the different feel of the natural park are what make it so special. 
Although relatively small in size, the Upper Zone is a more mountainous area that is perfect for hiking, and the rocky cliffs and granite formations create a dramatic feel to the landscape, providing views of the Basal Zone far below. The captivating Fisgas de Ermelo waterfalls plunge down to the ground, creating a mystical spray of mist that highlights the area's natural beauty. 
The Olo River cuts through Alvão Natural Park, and the rocky riverbed and forest are fun to explore, particularly if you are visiting with family. Indeed, Portugal is a very good country in which to live with family, as the weather allows the option of getting out and about for much of the year, even during the winter months. Note that the north of Portugal is much colder than the south, so take an extra jacket if you are heading out at this time of year.
10. Serra da Estrela
Serra da Estrela is home to the highest peak in mainland Portugal, Torre, which stands at just under 2,000 meters. It is also the largest protected area in Portugal. Indeed, this natural park is simply stunning, comprising the largest mountain range in the country. 
Lovely valleys and ravines can be found in the countryside due to the park's varied topography, and crystal-clear water provides otherworldly landscapes in some parts of the park. Indeed, if you are ever in Portugal, we highly recommend visiting Serra da Estrela. Just ensure that you are with an experienced driver, as the roads can be a little winding. 
By now, you may already have the desire to visit one of Portugal's many fantastic parks and spend your time bird watching, mountain biking, hiking to the highest peak, or even looking for the abundant array of wild flowers. From Peneda-Gerês and Serra da Estrela to Litoral Norte, the list of amazing attractions goes on. 
Portugal's parks are most definitely worth a visit. It's easy to see why many view Portugal as having some of the best national parks when the country has so much to offer in the way of diverse landscapes. From lovely sandy beaches and fantastic weather to rocky cliffs, tranquil ponds, and interesting sites – all can be found in this stunning European country.
Who We Are and How We Can Help You
Goldcrest is your go-to independent buyer's agent based in Lisbon. We can assist you in making the best investment decision for real estate in Portugal. We will always act diligently on your behalf to negotiate the best possible deal for you, whether you are looking to move to Portugal with family, retire, or simply find the best investment option for you.
You can book a call with one of our team members here.
If you would like an in-depth guide where you will find everything that you need to know about the property market in Portugal, our e-book, Your Expert Guide to Buying Property in Portugal, has you covered. You can buy your copy here. 
These articles may also prove useful to you if you are looking to live in Portugal or simply want to learn more about the country:
Frequently Asked Questions About Portugal National Parks:
1. How do I obtain a park entrance pass?
For most national and nature parks in Portugal, you can simply visit them without the need for a park entrance pass. However, to access the palaces in Parque Natural de Sintra-Cascais, for example, you will need to purchase a ticket.
2. Can I bring my pet to a national park?
In general, you should be able to bring your dog with you to the national and nature parks in Portugal, but check with the park that you wish to visit before visiting.
3. What is the largest national park site?
The Parque Natural da Serra da Estrela is the largest park in Portugal.
4. How many national parks are there in Portugal?
Even though continental Portugal alone has 24 other natural parks, animal reservations, and protected landscapes with an average of more than 6,500 km², or more than 7 percent of the country's territory, there is only one National Park in the country, Peneda-Gerês National Park.
5. What is a national park in Portugal?
A national park in Portugal is a region set aside by a national government to protect the environment. Peneda-Gerês is the only national park in Portugal with unique species, such as the wild Garrano horse and the Castro Laboreiro dog breed, that are only found in this region of the country. The park also features spectacular landscapes between mountains and reservoirs.
6. What is the most beautiful area of Portugal?
One of the most beautiful areas in Portugal is the Azores. The islands are among the most fantastic places to live in the world. However, Portugal has more to discover! The country has many natural parks (Sintra-Cascais, Parque Natural do Sudoeste Alentejano e Costa Vicentina, Parque Natural do Douro International, Parque Natural do Alvão, Parque Natural de Montesinho, etc.) and even one National Park – Peneda-Gerês. Living near them is an excellent choice if you want to be surrounded by the purity and freshness of nature.
7. Is there any wilderness in Portugal?
Yes, the Peneda-Gerês National Park is an incredibly gorgeous area of wilderness with craggy granite mountains surrounded by forest and flower fields.
8. Is Peneda-Gerês National Park worth visiting?
From stunning lagoons and breathtaking waterfalls to lush forest cover and incredible mountains, Peneda-Gerês National Park is definitely worth visiting. With so much to do and see, you will not be short of entertainment during your stay in Portugal's only, and best, national park.
9. How many days do you need in Peneda-Gerês National Park?
Peneda-Gerês National Park is a big area with many fun things to do and explore. To enjoy your time and ensure a full experience, you should spend at least two days in the park.
10. Where to stay when visiting Peneda-Gerês National Park?
There are many places to stay when visiting Peneda-Gerês National Park. You can choose to stay inside the park, in areas such as Gerês village and Caniçada Dam, or in any of the beautiful hotels situated outside of the park.