Updated: March 7, 2023
Tavira is a small city in the Algarve region of Portugal, often overlooked by tourists, making it less crowded and a wonderful option to set up life as an expat. This article gives you a comprehensive overview of this stunning southern location with easy access to Faro airport which has an active expat community and is a retirement haven for many expat groups.
Where is Tavira?
Tavira is located in the east of the Algarve, about 30 km (18.6 miles) east of Faro and only 25 km (15.5 miles) from the Spanish border. Although not directly located near the beach, the beautiful Gilão River flows through Tavira, and the Ria Formosa Nature Park is also nearby. Tavira's stunning beaches can be reached by a short ferry trip or drive from Tavira's city center.
Top Reasons to Consider Living in Tavira
There are many reasons to choose Tavira as your new home. Whether it's the beautiful historical buildings, its stunning beaches, the mild climate, or its proximity to busy cities with lots of job opportunities: Tavira is sure to offer something for everyone. Read our free report below to learn all about this excellent Portuguese town.
Close to major business hubs
The Algarve region is known for its beautiful beaches and is a desirable tourist destination. Although the hospitality industry plays a vital role in this region, other businesses have also recognized this region's potential to set up a variety of new businesses. Tavira may not be a central location for enterprises; however, it is surrounded by other cities that are home to great businesses and job opportunities. 
Tavira is not far from Faro, Albufeira, and Portimão, all important business links of Portugal, which made the list of the top 25 business locations in the country. Therefore, Tavira may be perfect for those who prefer a relaxed lifestyle outside of work yet are close to major business hubs.
A safe and tolerant place
Tavira, like the rest of Portugal, is generally considered a safe and tolerant place. The country has low levels of crime and is well known for its friendly and welcoming culture towards tourists and diverse communities. However, like in any other place, it's always advisable to take the usual precautions to ensure personal safety and to respect local laws and customs.

Beautiful beaches
Tavira has an abundance of beautiful beaches nearby, with the most popular being Praia de Tavira. Some other notable beaches are Praia do Barril, Praia da Terra Estreita, Praia de Cabanas, and Praia de Tesos. Those sandy shorelines stretch for many kilometers and are ideal for families with children and water sports enthusiasts.
What's more, llha de Tavira (Tavira Island) is a tropical island near Tavira. It is part of the natural park of Ria Formosa, one of the most beautiful places in the eastern Algarve. You can also explore the Tavira Salt Pans, a 6.9 km (4.3 mile) circular route through the Ria Formosa natural park near Tavira Algarve with an emphasis on birdwatching.
Historic city
Tavira's history is eclectic and rich, having been inhabited by a variety of different cultures over the centuries. As a result, the city has a diverse architectural heritage, with influences from different eras and styles.
Some of Tavira's most impressive historic landmarks include its 13th-century castle, the 16th-century Ponte Romana bridge (Roman bridge), and the Igreja de Santa Maria do Castelo, a church built on the site of an old Moorish mosque. The city also has a number of museums and cultural institutions, including the Museu Municipal de Tavira, which showcases the city's history and culture.
Tax benefits
Expats often choose to relocate to Portugal due to its affordability, and the country's non-habitual tax regime (NHR) offers exclusive and attractive tax benefits that may be available to them.
Under the NHR tax regime, some professions are eligible for tax exemptions, and individuals who earn income from other countries may not need to pay tax in Portugal. You can find further information, including the Double Taxation Agreements (DTAs), in our comprehensive guide about the Portugal NHR Program.
A great place to retire
Depending on your personal circumstances and requirements, Tavira can be an excellent place to retire. Its tranquil and peaceful atmosphere, offering a slower pace of life, can appeal to retirees. For further information, read the Retirement Guide for the Algarve.
Buying or Renting a House in Tavira as a Foreigner
Tavira has lots of beautiful places for sale or to rent, and the section below explores both options so you can decide which one is right for you.
Buying a house in Tavira
The rules for buying real estate in Portugal as a foreigner are the same throughout the country. The whole process is safe and unproblematic, but we'd recommend the help of an experienced estate agent to ensure everything runs smoothly. Additionally, we recommend that you consult a real estate lawyer. 
Property prices in Tavira can be expensive, but there are also some fantastic properties for reasonable prices, and there are many other parts of the Algarve that are more pricey; you may have to search for your ideal property for a little while. For more detailed information on the real estate market in Tavira, you may want to consult the following articles: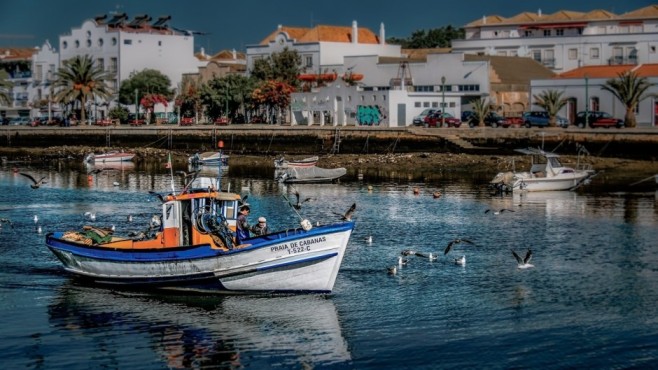 Renting a house in Tavira
Depending on how long you'd like to rent for, you may want to consult different websites. Airbnb is great for finding short-term rental solutions and getting used to the city. For long-term rentals, consult Idealista and Kyero, or check out local Facebook groups. 
How to Live in Tavira as a Foreign Citizen: Residence Permits and Visas
Living in Portugal as an expat requires some planning and knowing which documents you need, depending on your international status. The section below provides a brief overview and useful links to more in-depth information.
Living in Tavira as an EU citizen
Citizen of the European Union (EU), enjoy the freedom to travel, live and work within any member state. If you want to stay longer than three months in Portugal, you will need to apply for a residence card, which you can do at any of the town halls in the country.
All you need is valid health insurance to register for your national tax identification number (NIF) and prove that you are financially stable and independent, although your income can come from outside of Portugal.
Living in Tavira as a non-EU citizen
Life in Tavira as a non-EU resident requires a little more planning and, ideally, the help of a residency agency, which can make sure that there are no unpleasant surprises in the process. Global Citizen Solutions, which is our residency and citizenship division, is run by experts in the field who can help non-EU citizens secure residency cards. 
Living in Tavira with the Portugal Golden Visa
Portugal's Golden Visa program offers a great way for eligible candidates to initially stay in the country for up to five years and thereafter apply for citizenship. It is one of the most popular residency-by-investment schemes worldwide, and there are multiple options to choose from:

Residential real estate investment in a designated interior area of €500,000 or  €350,000 if investing in a rehabilitation project

Commercial real estate investment anywhere in the country of €500,000 or €350,000 if investing in a rehabilitation project 

Investment funds or a capital transfer (from €500,000)

An investment of €250,000 in support of the arts or reconstruction of national heritage. This is reduced to €200,000 if investing in a designated low-density area. 

A contribution to scientific research (from €500,000)
For a full list and more details of Golden Visa options, consult our Portugal Golden Visa: Your Ultimate Guide 2023. Please be aware that the Golden Visa Portugal will be ending soon. You can find up to date information on this in our Portugal Golden Visa Ending article.
Living in Tavira with the D7 Visa
Making a large monetary investment is not possible for many people, but the D7 Visa is a great alternative for non-EU, non-EEA, and non-Swiss citizens. To qualify, you need to show that you earn at least €760 per month. This amount can come from a pension fund or other passive income. For more in-depth information, read our guide on Portugal's D7 Visa. 
Living in Tavira with the Digital Nomad Portugal Visa
Portugal's great infrastructure, access to high-speed internet, low cost-of-living, laid-back lifestyle, mild climate, and friendly locals make it popular with a rising number of digital nomads. 
The relatively new Digital Nomad Portugal Visa is the perfect solution for remote workers from non-EU/ non-EEA countries, given they earn at least €2,800 per month. More detailed information can be found in our ultimate guide on Portugal for Digital Nomads.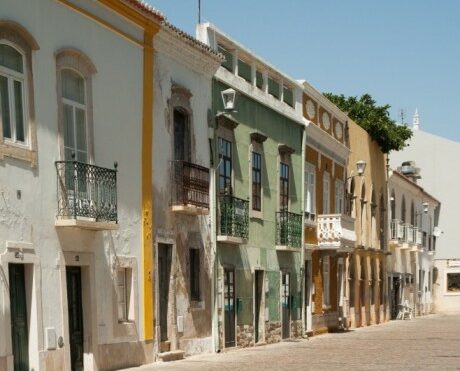 Cost of Living in Tavira
You will find that most everyday items are much cheaper in Tavira than in Portugal's major cities but bear in mind that the Algarve region is a little pricier than the Silver Coast or more northern cities.
Accommodation
The average rental prices in Tavira will depend on the location and size of the property. Generally speaking, however, you can expect to pay around €757* per month for a one-bedroom apartment in the city center.
To buy real estate, expect to pay approximately €6,458* per square meter in the center of Tavira and €2,416* per square meter on the outskirts.
*The above costs are from Numbeo as of March 2023.
Food
Your weekly food bill depends on your needs and habits, but overall, you can expect the prices for essentials to be cheaper than in other European countries. The list below gives a quick overview of some everyday items in Tavira Portugal.
| Item | Price |
| --- | --- |
| Milk (1 liter) | €0.77 |
| Bread (500 g) | €1.41 |
| Rice (1 kg) | €0.72 |
| Eggs (12) | €1.65 |
| Chicken (1 kg) | €6.07 |
| Apples (1 kg) | €1.40 |
| Tomatoes (1 kg) | €1.82 |
| Potatoes (1 kg) | €1.00 |
| Water (1.5 liters) | €0.45 |
*The above costs are from Numbeo as of March 2023.
Eating out
Portugal is well-known for its exceptional cuisine, especially its fresh produce. Living near the sea has the added benefit of having regular access to fresh fish and seafood. The bonus: You won't have to shell out a premium price for top-quality meals.
For only €9* per head, you can eat in a regular restaurant, and if you fancy a three-course meal at a mid-range place, this may cost around €25 per person. Drinks are equally reasonably priced, with half a liter of beer costing € 2* and a soft drink around €1.35*.

Those who fancy a taste of English-speaking hospitality will find the Irish bar and grill Black Anchor at the Gilão River, where locals and expats alike enjoy card games and a glass of wine or beer on warm summer evenings.
*The above costs are from Numbeo as of March 2023.
Transportation
Portugal's public transport system is well-developed and very affordable. A single ticket for the bus or train costs, on average, between €1.45 and €3.75, depending on the length of your journey. An unlimited monthly pass is €47.04, which is ideal for those who make frequent use of local transport. 
*The above costs are from Numbeo as of February 2023.
Schools
Tavira provides a range of educational options for families with children. Public schools for all ages are widely available, but be aware that these follow the Portuguese curriculum, and the main language is Portuguese.
Private schools offering international curricula are plentiful in the Algarve, where students can study in both English and Portuguese. Tavira has its own international school, the Colégio Santiago Internacional Tavira, and other schools are a little further afield. Fees are set by the individual schools, and you may have to contact them directly for further information.
Getting Around
Getting around the Algarve is unproblematic as most towns and cities are well-connected through public transport, which is also reliable and affordable. However, some people may want to rent a car initially and subsequently buy a car to be more independent. 
You'll be able to get to most places via a bus trip or train journey, including longer destinations such as Lisbon. What's more, Spain is less than a two-hour bus ride away. For longer journeys, Faro International Airport is conveniently close, making Tavira a great base for avid travelers.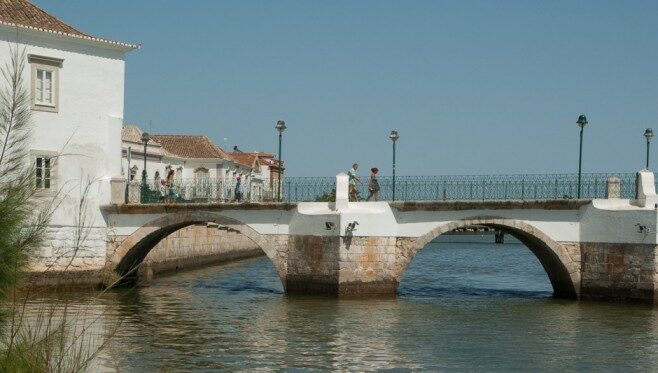 Shopping
Whether you're looking for fresh food from local markets, need to stock up on groceries from the supermarket, or fancy a shopping trip for clothes or homeware, Tavira caters to it all. Mercado Municipal de Tavira is your go-to for all fresh produce and also a great way to experience real Portuguese life. 
You can spend Saturday mornings strolling around markets, soaking in the local culture of real life in the eastern Algarve. And just about an hour away is Forum Algarve, in case you prefer a day out to shop and explore shops outside of Tavira.
Healthcare
Portugal's public and private healthcare are amongst the best in the world. Its public health service (Serviço Nacional de Saúde) is similar to that in the UK and Canada, and is a free or low-cost system available to legal residents. 
Expats often choose private healthcare in the first instance and have access to some great general practitioners and hospitals without paying extortionate prices. More details can be found in our guide on Portugal Healthcare: All You Need to Know.
Language
Tavira's primary language is Portuguese, but English is also widely spoken to cater to tourists and international visitors. Learning Portugal's official language is highly recommended, making your life in Tavira more authentic and forming lasting relationships with locals.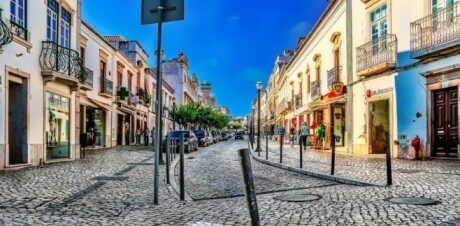 Weather in Tavira
Tavira, like the rest of the Algarve, enjoys a Mediterranean climate, with hot and dry summers and mild winters. During the summer months, temperatures can reach between 22 and 28 degrees C (71 and 82 degrees F), whereas the coldest months rarely go below 9 degrees C (48 degrees F). 
Festivals and Attractions
Tavira, like most cities in Portugal, loves to celebrate festivals and has plenty of attractions for locals and visitors alike. Some notable festivals are:
Sea Gastronomy Festival

Popular Saints Festivities

New Year's Eve

Tavira Carnival

Summer festivals, including music, arts and crafts, street fairs, and art exhibitions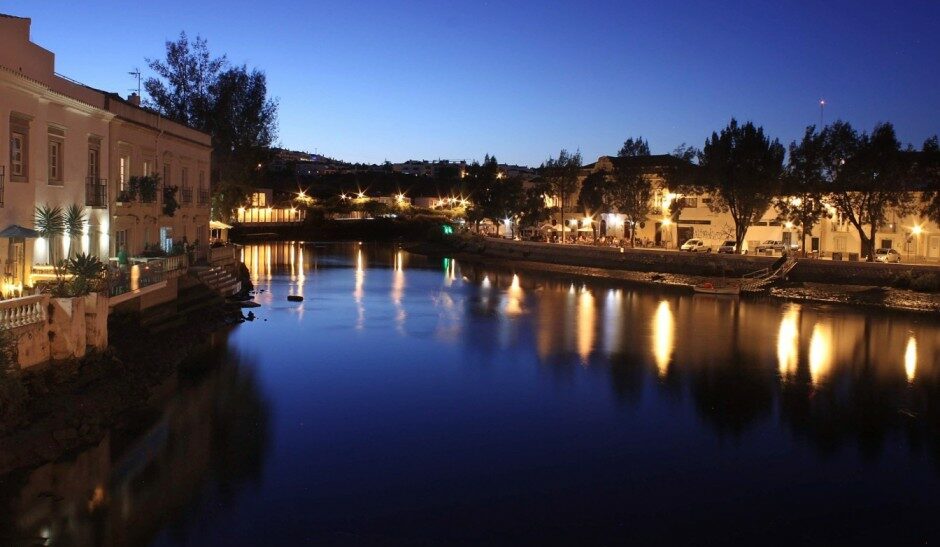 Tavira also has an abundance of attractions; some of the most iconic are listed below:
 – Ponte Antigua Sobre o Rio Gilão – Tavira's beautiful Roman bridge
 – Camera Obscura (Tavira Eye) located on an abandoned water tower
 – Igreja da Misericórdia – a church with a bell tower from which beautiful views of the city can be enjoyed
 – Igreja Santa Maria do Castelo – an impressive, historical church
 – Praca da Republica – Tavira's charming public square, with lots of cafes and restaurants nearby
Life in Tavira Portugal: Pros and Cons
Tavira is a beautiful city for expats, whether they come with families, to work remotely or seek to retire. The pros of  Tavira outweigh the cons, but it's good to have the full picture before making the move. 
Advantages
A relatively small city with picturesque streets, a rich history and lots of cultural attractions

Easy access

to other fantastic cities in the Algarve

Fewer tourists than in other southern cities

A great place to retire overseas

Close to

Faro Airport

Close to the Spanish border

Beautiful beaches and natural parks such as the

Ilha de Tavira

and

Ria Formosa

The beautiful

Gilão

river and many natural parks to enjoy

A close-knit expat community
Drawbacks
Tavira's beaches are outside the center

It's more expensive than the north of Portugal
The Bottom Line on Life in Tavira
In summary, Tavira is an excellent place to relocate to, especially if you want to settle in the Algarve. Tavira may not be located directly by the sea, but it's, therefore, less touristy, and its stunning beaches are only a short drive away. 
River Gilão is a great alternative and many expats enjoy strolls along its banks. What's more, this eclectic town has got a rich and diverse history, charming streets, and plenty of cultural attractions to explore.
Moreover, Tavira's cost of living is relatively affordable compared to other European cities, making it an appealing option for those on a fixed income. The town has a well-developed healthcare system, with both public and private healthcare options available.
Its mild climate is another bonus, with plenty of sunshine throughout the year, which can be a significant draw for retirees, families, a growing expat community, or digital nomads who seek warmer weather. 
After reading this free report, why not book a non-binding call with us to explore your eligibility and options, to bring you one step closer to unlocking your dream expat life in Portugal? 
Frequently Asked Questions about Living in Tavira
Is Tavira a good place to live?
Tavira Portugal is an excellent place to live with a growing expat community, and it's also a popular retirement destination. The historical city has lots to do for everyone and is close to stunning beaches and a natural park. It's also less busy during holiday peak times as most tourists flock to the seaside resorts of the Algarve.
What is Tavira like in winter?
Tavira benefits from a mild climate in winter, and temperatures are usually between 9 degrees C (48 degrees F) and 16 degrees C (60 degrees F). 
Where do most expats live in the Algarve?
The Algarve is popular amongst expats and many of them are scattered around the whole region. The bigger towns, such as Faro, Lagos, and Portimão, as well as Vilamoura, the latter of which is well-known for its golf courses and high-end marina, are popular places for tourists. Tavira is, therefore, a perfect option for expats as it's less crowded and busy.