Updated: March 21, 2023
Situated in the southwestern part of Europe, Quinta do Lago in Portugal is renowned for its charming beaches, expansive golf courses, warm Mediterranean climate, and attractive real estate market. This golf resort in the Algarve region of Portugal is located in one of the three corners of the Golden Triangle, the Algarve's most affluent and sought-after area.
In this article, we will guide you through the various types of properties in Quinta do Lago.
Types of Properties in Quinta do Lago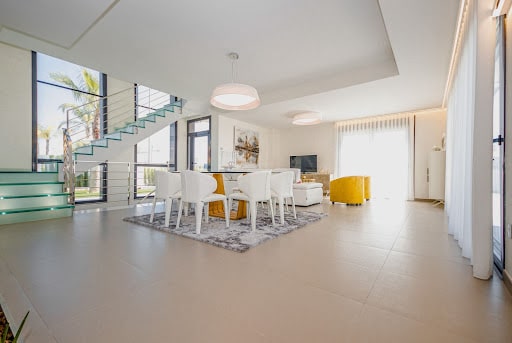 Below, you'll find information about the types of properties for sale in Quinta do Lago.
Inspiring villas
In Quinta do Lago, you will find elite villas against a backdrop of lush green gardens and a charming beach. The beautiful properties are spacious and have large living rooms to enjoy a bit of peace and quiet. The villas also have an outdoor area with swimming pools and landscaped gardens.
Wyndham Grand Algarve T3
The Wyndham Grand Algarve is a premium three-bedroom private residential property located at the heart of Quinta do Lago. The apartments in this property are well-equipped with modern amenities and furniture. This can be a great real estate option for people looking for a seamless real estate investment in the area.
Townhouse
Conveniently located, the Townhouse is very well maintained and is one of the most attractive luxury villas in Quinta do Lago. The property has ample natural light, contemporary furnishings, a well-equipped kitchen, and a spacious relaxation area. Since the property is located close to the city's heart, the Townhouse is an excellent real estate investment for expats.
Villa Encanto
Villa Encanto is within walking distance from the beautiful Quinta do Lago lake and is surrounded by a sandy beach. The property is among the best luxury homes in the area, with five bedrooms, seven bathrooms, well-groomed gardens, and relaxation zones. The property also overlooks the stunning São Lourenco golf course.
One Green Way
One Green Way is one of the newest additions to Quinta do Lago's luxurious property lists. This private condominium offers a breathtaking North Golf Course view and state-of-the-art facilities. Residents of this property also have access to the Quinta do Lago resort. One Green Way has everything, from housing a gymnasium and padel courts to having its own swimming pool and leisure zone for children's activities.
Sea view apartments
These one-bedroom duplex apartments enjoy stunning views of the sand and the sea. Equipped with all amenities you would need, the sea-view apartments are located at the heart of Quinta do Lago and close to the beach. These properties also have a shared swimming pool, tennis courts, reception areas, and communal zones.
To learn more about properties in the Algarve region and Portugal, you can read the following articles:
Frequently Asked Questions
Which is the most expensive house in Quinta do Lago?
A modern 1,500 m² villa is one of the most expensive houses in Quinta do Lago. The property has eight bedrooms, three heated pools, a theater room, and a spa. The cost of this villa is around 20 million Euros. 
Is there any repossessed property Quinta do Lago?
Yes, repossessed properties are available for sale in Quinta do Lago, Portugal.