Updated: August 11, 2023
The Algarve is the most popular travel destination in Portugal. Many celebrities buy a property in the region in search of privacy, unspoiled nature, exclusive parties, and venues.
Here we introduce you to the most exclusive Algarve celebrity hotspots.
Why is the Algarve so popular amongst celebrities?
Some key points influencing Algarve celebrity hotspots amongst the wealthy and young:
The beaches
According to the World Travel Awards, the Algarve won the Oscar for Best Beach Destination in Europe 2019. Portugal was elected, for the third consecutive year, as the Best European Tourist Destination and has snagged this award five times already.
The climate
The climate in the Algarve is mild, with little rain. It's very sunny, and has a Mediterranean character. As early as May the temperatures rise to 20°C (65°F), from June onwards they climb towards 25°C (77°F).
Hospitality
The Portuguese know how to be hospitable to visitors from all over the world. And they know how to party. A large part of the population speaks at least one foreign language. Almost everyone speaks English.
Nature
The Algarve has an immense diversity of landscapes and environments, all in a small area. Be prepared for endless sandy beaches, golden mountains and plains, and a thousand-year-old heritage.
The nightlife
Especially during the summer months, the Algarve coast is one of the top party destinations in Europe. Different types of nightlife and activities converge in the Algarve's celebrity hotspots. There is certainly something for everyone.
The gastronomy
There are many star-crowned gourmet chefs and experimental top restaurants in the Algarve. Yet, the original Portuguese cuisine is rather down-to-earth and simply delicious. Fresh ingredients from land and sea and aromatic spices make it a real taste experience that should not be missed.
The luxurious estates and resorts
There is a large selection of luxury accommodations in the Algarve. You might l come across one of the many stars who spend their holidays in one of the Algarve's celebrity hotspots such as Quinta do Lago or Vilamoura.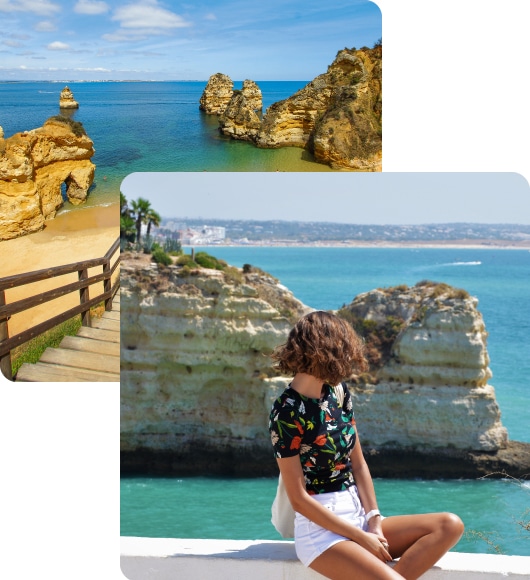 Celebrity hotspots in the Algarve
There are several celebrities who have moved to Portugal for a variety of reasons, such as climate, security, gastronomy, culture, beaches, taxes benefits, and property prices.
Celebrities who spend vacations in the Algarve
Steven Gerrard, former Liverpool's English midfielder and recent member of the LA Galaxy squad, has a showy house in Quinta do Lago, valued at around seven million euros. Gerrard's family routines include going to Cubo, João Sotto Mayor's bar, sunbathing at Praia do Garrão — in Vale do Lobo — and gathering at the table at Izzy's Beach Restaurant.
Former British Prime Minister David Cameron also spends his holidays in the Algarve with his family. The politician did not choose any luxury resort – like the jet-set – preferring to spend two weeks of vacation in rural tourism units in the Monchique area.
Coleen Rooney, Holly Willoughby, and Peter Jones have all been spotted enjoying the same trendy beach restaurant in the Algarve. The Shack is a seafood restaurant in the exclusive celebrity hotspot resort of Quinta do Lago.
Celebrities that own homes in the Algarve
The Algarve's upmarket Quinta do Lago estate , with its large villas backing on to various golf courses, is home to Michael Owen, Alan Shearer, and Dragons' Den star Peter Jones.
José Mourinho, the international soccer coach, chose the Ferragudo area, near Portimão.
Cristiano Ronaldo has a mansion in <a href="https://en.wikipedia.org/wiki/Vilamoura" rel="nofollow">Vilamoura</a>.
Near Albufeira, at the Adega do Cantor, the "Singer's Winery" in Portuguese, Sir Cliff Richard, and his partners produce the award-winning Vida Nova and Onda Nova wines.
The Algarve's "Golden Triangle"

The Golden Triangle includes most of the high-end communities of the central Algarve, such as the ones in between Almancil, Quinta do Lago, and Vale do Lobo. Over the years, the Golden Triangle has established itself as the most expensive territorial area of Portugal, comprising the top-end of luxury tourist and residential complexes, the finest golf courses, hotels, and the best amenities available in the country. These are more than enough reasons to make it a hotspot for celebrities.
Almancil
Almancil, with its green spaces, offers visitors a more picturesque Algarve. Only ten minutes by car from the beach, Almancil can provide idyllic beach holidays and rural, countryside landscapes.
The area has beautiful houses characterized by contemporary architecture and huge windows that allow you to enjoy stunning views across the valley to Quinta do Lago.
You can buy a property with a pool in this celebrity hotspot for about €5,950,000 (939 sq.m.).
Vale do Lobo
We could call it Portugal's Beverly Hills. Vale do Lobo is the largest luxury golf and beach resort in the Algarve and one of the most prestigious in Europe. Its golf courses are located on top of cliffs, by the beach.
There are properties for every taste in Vale do Lobo. Prices for property in this celebrity hotspot range from around €850.000 (91,57 sq.m.) up to €6.500.000 (948,1 sq.m).
Quinta do Lago
Quinta do Lago, a quiet and secluded resort, is the celebrities' favorite place to unwind.
It is known worldwide for its fantastic golf courses, built close to the beach or lagoons, allowing golfers to enjoy the sea between strokes and breathe in the ocean's breeze.
Crossed by the Ria Formosa Nature Reserve, Quinta do Lago is very exclusive and doesn't have a lot of properties readily available. For around €3.150.000 (672 sq.m) a villa in this celebrity main hotspot can be yours.
Luxury real estate in the Algarve
Want to live like a celebrity? Find out what it takes to buy a luxury property in the Algarve.
What you need to know about high-end property in the Algarve
Algarve real estate is highly popular with both the Portuguese people and celebrities from all over the world.
Is it a good idea to buy luxury real estate in the Algarve?
The Algarve is an excellent choice because the luxury real estate prices are generally lower than in other celebrity hotspots.
Also, rental income is high. The prestigious magazine Forbes considers Portugal one of the best destinations to invest in luxury real estate.
Is it worth buying real estate in the Algarve for renting?
Definitely. In contrast to other European countries, in Portugal, real estate can be rented in a simple and relatively non-bureaucratic way for tourist purposes.
One of the best options is short term renting called "Alojamento Local". Local Accommodation (AL) generates a turnover of 980 million per year in the Algarve, according to data revealed by a study of the Portuguese Association of Hotels, Restaurants, and Similar Establishments (AHRESP).
Of the 32,405 local accommodations listed in the National Register of Local Accommodation (RNAL), more than 50% are concentrated only in the municipalities of Albufeira (7361), Loulé (5033), and Portimão (4319).
Average annual occupancy rates are quite positive, with 68.8% of households with rates above 50%.
Where can I find luxury real estate to buy in the Algarve?
Some of the best websites to find luxury real estate deals in the Algarve include Idealista, Sotheby's, Christie's, Engels&Volkers, and Imovirtual.
Yet, since buying a luxury property requires expertise, we suggest that you use an independent buyers agency. The Algarve is a competitive market that requires an expert's guidance. You can also find land for sale in the Algarve to build your dream luxury home from scratch.
Local tips for buying a property
If you are thinking of purchasing a property in the Algarve, make sure you are fully informed.
The difference between a buyer's agent and a realtor
A realtor works for the seller of the property as their client, so you would be better represented by using a buyer's agent who would remain neutral, making sure you get the best deal possible.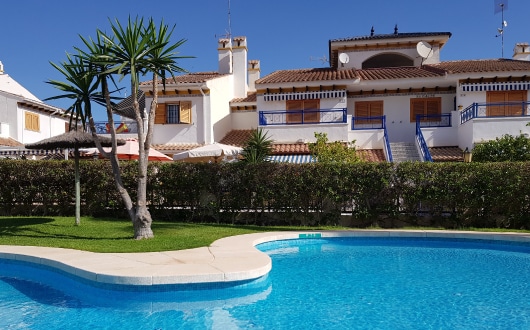 Buying real estate in the Algarve to relocate
There are many profitable opportunities to buy property in the Algarve and it is without a doubt a beautiful place to live.
Depending on the district, the Algarve can be a bit of a touristy area, popular for parties and even a bit artificial, gearing towards parties and entertainment. A bit like Ibiza or Miami.
At the same time, the Algarve has traditional villages and rural areas for the ones that want a calmer lifestyle.
Investing in a house to live in the Algarve would depend on your personality and lifestyle.
As the Algarve is a region of so many contrasts, we suggest that you contact a buyer's agent. They can provide you with in-depth regional knowledge and up-to-date data on the various regions.
Buying real estate in the Algarve to invest
The return on investment is more than satisfactory. In the Algarve, the average term is
6.5 years.  69.6% of entrepreneurs say that their expectations have been fulfilled and 23.5% say that they have been exceeded, which leads to many wanting to continue in the sector.
Among the various challenges that arise from a property investment, the problem of seasonality (77.6%), tax burden (48%), legal issues, and licensing (43.3%) were mentioned as being prominent considerations for investors. The best way to get around these challenges is to collaborate with a specialized property investment firm.
Get in touch
If you have found your dream property in one of Algarve's celebrity hotspots, seek help from a specialized property investment firm such as Goldcrest. As an independent local's buyers agent, Goldcrest helps international individuals get sound property investments in their desired locations in Portugal.
Frequently asked questions about the Algarve's celebrity hotspots
What are Algarve's celebrity hotspots?
Loteamento Fonte Santa, in Quarteira, and Urbanização Varandas do Lago, in Almancil, are two of the most exclusive "streets" in Portugal, according to a study by the real estate portal Idealista. Olhos de Água, Baleeira and Galé are the favorite locations for those looking for a luxury home, where the square meter ranges from €5600 in Galé, to €7000 at Pinne Cliffs Resort. Vilamoura's Marina and the areas where the golf courses are installed are locations of excellence. Also Quinta do Lago, located in Loulé, is a premium Algarvian resort and the celebrities' favorite.
What to do at the Algarve's celebrity hotspots?
To enjoy the best casinos and dock your yacht in a wonderful port, we suggest that you move around Vilamoura. Quinta do Lago, Vale do Lobo, and Almancil — the so-called Golden Triangle of the Algarve — are increasingly sought after by celebrities looking for luxurious and comfortable homes around exclusive venues. The entire region is full of golf courses and restaurants, clubs and luxury resorts ready to offer expats unforgettable experiences. If you are a water sports lover, a rooftop sea view in Sagres is a perfect choice.
Why have celebrities bought homes in Portugal?
In recent years, Portugal has enjoyed growing demand in the luxury real estate property market. Many celebrities buy a property in Portugal in search of privacy, untouched nature, and exclusive venues. Also, the Algarve is a place with favorable tax conditions for investors.
What are the luxury real estate prices like in the Algarve?
It is possible to find a villa with a swimming pool in the Pine Cliffs Resort condominium, in Olhos de Água, for €4.5 million. In Galé, a villa close to the sea, with four bedrooms, a garden and a pool reaches €3.2 million, while a similar house in the Baleeira area can reach €2.9 million. Values per square meter in Vilamoura are around €5365 in Volta da Corça, €5032 in Pinhal Velho and €4296 in Lake Resort. In the Goldra urbanization (Loulé) a six-bedroom villa has an acquisition value of €6.1 million, while in the golf course area (Pinhal Velho) a five-bedroom villa can cost €2.8 million. Olhos de Água, Baleeira and Galé are the favorite locations for those looking for a luxury home.
Who owns Quinta do Lago?
In 1998 Planal was sold to Irish billionaire Denis O'Brien. Almost two decades down the line, O'Brien's leadership has seen it become the leading golf and real estate resort in the Algarve, as well as a guiding light in luxury developments for Europe and beyond.