Updated: August 17, 2023
If you are considering purchasing real estate, the type of property ownership in Portugal is important to define before you begin the buying process. This article will delve into the property ownership rights that can be acquired within the real estate market in Portugal. 
Property Ownership Restrictions 
One of the advantages of buying property in Portugal is that real estate can be freely acquired by foreign investors. If you are a foreign national, you will face no restrictions when buying property. 
If you are looking to buy property in Portugal as a foreigner, you will need to ensure that you have the legal right to live in the country. There are many visa programs that you could apply for, such as the D7 Visa. If you move to Portugal, you also may be eligible for significant tax advantages for up to ten years. 
You can consult our article on the NHR program for more information. You should be aware that to make any type of significant financial investment or contribution, from buying property to opening a Portuguese bank account, you will need to have a NIF number (Portuguese tax number). You can obtain this number online, through a service such as GetNifPortugal, or by visiting a local tax office in Portugal. Note that if you are a non-EU, non-EEA, or non-Swiss citizen, you will need to have a financial representative. 
What type of property ownership in Portugal should you opt for?
From tax advantages to liability pitfalls, each type of property ownership will have its own pros and cons. It is fundamental to understand each one clearly before purchasing property in the Portuguese real estate market. 
Full ownership or freehold
This type of ownership provides the owner with the exclusive rights to possess the property, including the land on which the property is built on. If you buy a freehold property, you are, therefore, responsible for the maintenance of both the property and the land that it is situated on. As such, you will need to budget for these costs. Most properties fall under this category. 
Surface right
With surface right ownership, you will have the right to build and maintain the building using the property under a third party's land. This includes planting any crops on the piece of land. Surface land ownership can be created for either a defined period of time or can be perpetual. When the surface right comes to an end, the owner of the land becomes the owner of the property on the land.
Usufruct
Usufruct properties consist of a right to use and enjoy a third party's property for a set time period. This cannot extend after the death of the beneficiary or be granted for periods that exceed 30 years. 
The beneficiary is able to use the property in the same way as if he was the owner of the property and can obtain natural profits, civic profits, and industrial profits, so long as the original economic function of the property is maintained. 
Right of use
Right of use properties involves the right to use a third party's property. The property can be used to meet your specific needs or the needs of your family. 
Co-ownership
Co-ownership of properties is not the most common type of property ownership in Portugal. Co-ownership usually happens in timeshare properties (typically resort condominium units) where you buy with other investors into the same project or unit. 
Mandatory Pre-Emption Rights
There are different pre-emption rights that you should be aware of when purchasing property in Portugal. These include the following: 
If you are the co-owner of land, when one of the owners intends to sell their share of the land, the remaining owners have a pre-emption right over the land in question. 

Owners of rural land in Portugal can, in certain cases, have pre-emption rights when it comes to the sale of contiguous property.

Public entities can have pre-emption rights when it comes to the acquisition of properties that are legally classified as having historical or architectural value.

Municipalities can have pre-emption rights over certain transactions when it comes to real estate within their borders.

Tenants can have pre-emption rights over leased property.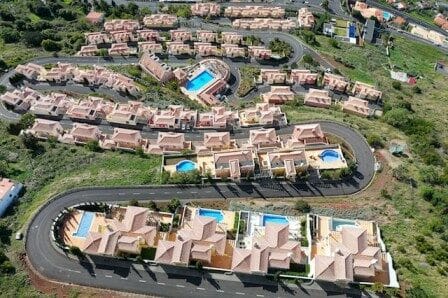 Further Information
If you are interested in the property market in Portugal, the following articles may be of interest to you, from property prices to essential information to be aware of when buying property in Portugal. 
For information on property transfer tax, you can check out our article here.
You can also find our property tax calculator here.
Also, if you are looking to take out a mortgage loan, you can check out our article on the topic here.
Foreign investment in Portugal is at an all-time high, and if you are looking to buy property in the country, you'll be pleased to know that the Portuguese property market has gone from strength to strength in recent years.
When it comes to buying property in Portugal, we recommend having an experienced lawyer and a real estate agent by your side who can assist you throughout the buying process. However, note that real estate agents work on behalf of the seller and will receive a higher commission for a higher price.
Working with a buyers agent, such as Goldcrest, can provide you with peace of mind, as they work solely on behalf of the buyer, assisting you throughout the property purchase process, from sourcing properties through to property acquisition.
Note also that the purchase price for properties can differ from the asking price, being either higher or lower. Negotiating the best possible price is essential, and working with a buyer's agent can ensure that you get the best possible price for your dream property.
Frequently Asked Questions about Types of Property Ownership in Portugal
What are the different types of property ownership?
There are different types of property ownership. If you purchase property in Portugal, the common types of real estate property ownership are full ownership or freehold, surface right, usufruct, and right of use. 
What are the rules for owning property in Portugal?
Foreign nationals will face no problems if they buy a property and own real estate in Portugal. There are no restrictions on foreign property ownership. In fact, the Portuguese government even encourages foreign investments. Foreigners buy property across the country, but Lisbon, the Algarve, and Porto are certainly hotspot locations. You should face no restrictions on holding private property in Portugal. 
However, there are some points to take into consideration. For example, in the UK, there can be lease-hold property ownership, whereby you will have a legal agreement with your landlord to determine how long you own the property. In Portugal, there is no such rule for this. 
What is a freehold property in Portugal?
Freehold properties or full ownership properties refer to real estate where the owner has full and exclusive rights to the property.
Who inherits property in Portugal? 
If you have a property in Portugal, it is important to have a will so that there are no complications. 
The spouse and children mentioned in the will are the first in line to inherit property in Portugal. After this, parents and grandparents are next in line to inherit the property. 
In Portugal, it is not possible to leave the entire inheritance to someone who is not a legitimate heir, not even by making a will (Article 2156 of the Civil Code). You can only freely dispose of one-third of your real estate to someone of your choosing if specified in your will. 
How much is a real estate in Portugal?
Real estate agent fees will vary, although they typically charge around 5 percent commission, plus VAT. You should ask about real estate fees before enlisting their assistance. If you are looking to purchase property, it is a good idea to enlist the help of a real estate agent and a lawyer with extensive experience in how to purchase property in Portugal.
Is buying property in Lisbon expensive?
Compared to many other Western European countries capitals, you will find that prices are relatively affordable. Also, if you are looking to buy property in Lisbon, you'll find real estate prices to be more affordable if you were to buy outside the city center. However, Lisbon does have its own price range compared to the rest of Portugal.
How much deposit do I need to put down if I purchase real estate in Portugal?
You will likely have to pay a deposit to ensure that the property you are after is reserved for you and is taken off the market. The cost is usually around $6,600, but this price can vary.