Updated: September 13, 2023
Waterfront Homes in Portugal
Where to find the perfect waterfront homes in Portugal?
With a stunning coastline stretching 1794 km and an array of picturesque rivers – the Tejo, the Douro, and the Mondego, to name but a few – there are spades of beautiful waterfront homes in Portugal. Whether you are looking for some peace and quiet with magnificent sea views or would like to relocate to a historic city with vibrant colors and sounds, Portugal will surely step up to the mark. 
In this article, we'll run over the most desirable locations to find waterfront homes in Portugal before touching on the prices for each region. Portugal real estate is attractive for those looking to relocate, own a holiday home, or invest in the country. We are sure you'll have your preferences – whether you are moving as a family, retiring, or even relocating for work. As such, the locations outlined will provide a taste of what to expect to find the perfect place for you.
Where to find waterfront homes in Portugal?
Lisbon
Lisbon is a delightful capital, with the sparkling River Tagus and the impressive Ponte 25 de Abril bridge providing you with excellent views. Picture waking up in a riverside property to the soft sounds of the city coming alive, a mix of bustle and calm.
Indeed, Lisbon has managed to embrace modernity without giving up its traditional roots or its unique cultural and historic stamp. Take Web Summit, the world's largest tech festival that takes place every year, or the abundance of startups that are now proudly calling Lisbon home – the city is continually embracing modernity. However, take a moment to glance in any direction, and you will still see a city of tradition. From taking precious time from the daily rush to sit and enjoy a coffee in peace to the bright yellow trams gliding past, the culture of the Portuguese is as alive as it has ever been. 
Lisbon, Portugal, real estate continues to be popular with expats. Indeed, owning a waterfront property in Lisbon is to be in the thriving hub of the country, open to all the influences from the past, yet keeping up with modern times. Lisbon is the perfect option for you if you are looking for a balance between relaxation and the bustle of a city where something is always going on.
Cascais
The sunny resort of Cascais, a short 30-minute drive from Lisbon, is a must-see. With luxurious properties that have beautiful ocean views, a pretty town center, and glorious seafood, Cascais is a well-known destination. 
In the summer, both tourists and locals can be seen boarding the trains eagerly to visit Cascais and its beaches. However, in the winter, Cascais has a very mild climate. Without the footfall of visitors, the town allows for the perfect luxury lifestyle all year-round.
For more information on Cascais and on potential areas to find perfect waterfront homes in Portugal in this area, check out our article: Cascais Property Real Estate.
Coimbra
Perhaps a little forgotten against other more well-known locations in Portugal – Lisbon, Porto, and the Algarve come to mind – Coimbra is a charming city with the beautiful Mondego river running through it. 
Coimbra has a very rich history. Indeed, the historical buildings in the city were classified as UNESCO World Heritage sites in 2013. These include structures dating back as far as the Roman era, such as its impressive aqueduct. As Coimbra was the capital of Portugal from 1131 to 1255, many of the buildings from this time still remain. Its transition to a major cultural center in the Middle Ages can also be seen across the city.
This was helped by the establishment of the oldest academic institution in the Portuguese-speaking world, the University of Coimbra, in 1290. To this day, the university welcomes students from across the globe. They follow in the footsteps of a long line of students who have walked through the doors of the university for over 700 years. 
Living in Coimbra provides you with a quieter lifestyle than in Lisbon. However, as a university town, you have restaurants bursting with attitude, new gin bars popping up by the river, and traditional tascas (typical Portuguese restaurants) serving up the best of Portugal's culinary delights. 
With the option of buying property on the waterfront with views of the picturesque Mondego River, you may just find the most charming home in the very center of Portugal.
The Algarve
Whether you are looking for pure luxury, rugged nature, or a mix of both, the Algarve has you covered. It is not by chance that this area is one of the most sought-after destinations in the Mediterranean. Both vacationing families and those seeking a second home in the sun look to this stunning coastline in the south of Portugal. Indeed, the Algarve is even popular among the crème de la crème of celebrities, such as Sir Cliff Richard and Bonnie Tyler. 
When looking for a luxury apartment or chic villa with waterfront views, consider Albufeira or Portimão, as both are cosmopolitan cities where you will have access to everything that you may need. For the best casinos, luxury restaurants, and a place to dock your yacht, try nearby Vilamoura.
If you would like to be in a class of your own, why not look for properties in the "Golden Triangle" of Quinta do Lago, Vale do Lobo, and Almanac? If you are looking for true luxury, where you are able to eat in Michelin-star restaurants, admire the glorious views of the ocean, and enjoy your own private pool, then this is certainly the place for you. 
For those who are looking to be closer to nature or are water sports fanatics, opt for Sagres or Lagos for a property with a rooftop sea view. This area in the south has stunning rock formations unique to this part of Portugal.
Elsewhere, you have Tavira, arguably the most authentic area of the Algarve. Tavira is a picturesque and historic town. Close by, you have beautiful white sandy beaches stretching for miles and some of the best seafood in Portugal. Indeed, this area also boasts some of the best golf courses, an added attraction if you are a keen golfer.
Porto
With the Douro River spread out before you and the bright lights of wine houses on the opposite side of the river providing a comforting evening glimmer, Porto is a city that never ceases to surprise. Whether you are in the city center, amongst the colorful houses, or admiring the spectacular views of the Atlantic at Foz do Douro, Porto is an increasingly popular city amongst expats. Indeed, the second-largest city in Portugal is even giving Lisbon a run for its money. 
In the city itself, you will be able to find properties that have incredible views of the Douro River. Porto is a vibrant mix of locals and tourists, students, and entrepreneurs. The city is quieter than Lisbon, and the way of life here has a more relaxed feel to it.
If you are moving with children, then Foz do Douro, a short 20 minutes from Porto city center, is the perfect location for families. With all the services that you could dream of, house-fronts facing the ocean where the evening sun merges into the sea, and one of the most beautiful beaches in Portugal, why choose any other place?
The large houses facing the sea are spectacular, and you will have ample space to relax. What's more, the beaches have the blue eco-label flag. This is a sign of high-quality unpolluted seawater, so your children should be able to splash around with little worry. Porto also has some of the best international schools in the country.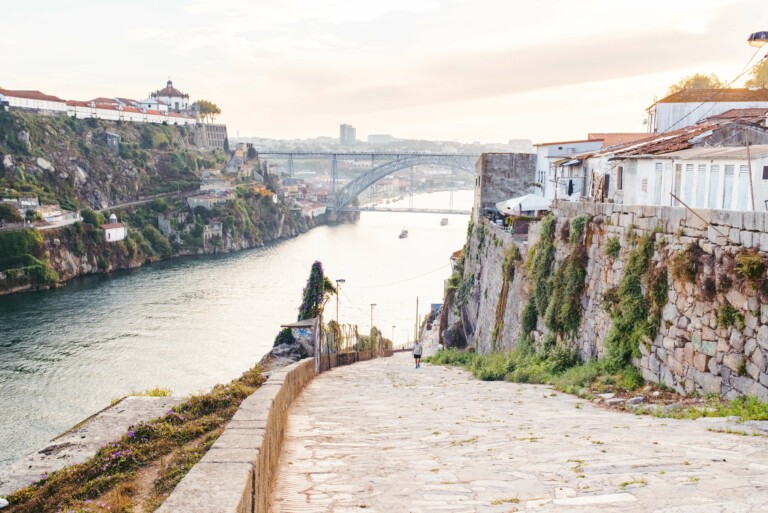 Comporta
In the southwest of Portugal, you will come across the luxury resort of Comporta. It could be said that Comporta is one of the most up-and-coming areas in Portugal. However, this area is already very well established. It is simply that more buyers are looking outside the hotspot areas to fully appreciate the luxurious ambiance of Comporta. 
Comporta is an easygoing resort. Indeed, it has been coined the "Hamptons of Europe" by some and even the "Ibiza of Portugal" by others. Some acclaim for this sleek part of Portugal! Indeed, famous designers have come to call Comporta home. Its blend of local Alentejan architecture, contemporary eco-design, and Bohemian flair is unique. 
With restaurants that are continually pushing the boundaries and white beaches that offer pure escapism, Comporta has it all. You are not far from the Tróia Peninsula, Setúbal, and the breathtaking Serra da Arrábida Park. These are destinations that should be on your regular hit list if you are living here. The perfect thing about Comporta is that you will be able to wake up each morning firmly in the knowledge that you are living in one of the most splendid locations in the Mediterranean.
Check out our article: Top 10 Natural and National Parks in Portugal.
The Silver Coast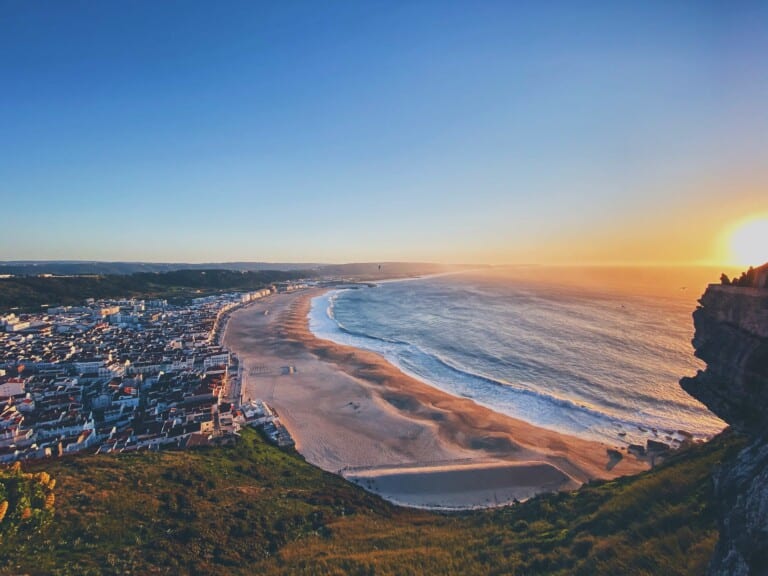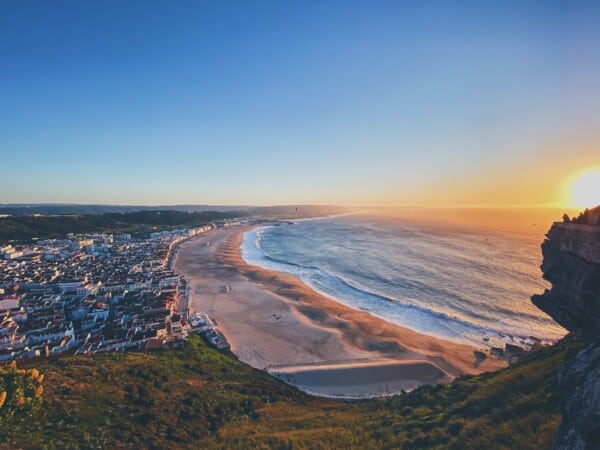 The Silver Coast begins just north of Lisbon and extends 150 kilometers north, beyond Nazaré, the famous surf spot. This stretch of coastline is for those looking for a more traditional part of the country. While you do have a large expat community in Nazaré and also many internationals in Peniche and Ericeira, the Silver Coast continues to proudly display its Portuguese traditions.
Check out our article: Surfing in Portugal: The Ten Best Surf Spots in Portugal. 
The way of life here has remained, for the most part, unchanged. Take Peniche, for example, where you can walk into the local bakery and be hailed by an array of locals all eagerly enjoying their morning coffee and pequeno almoço (breakfast). Or, in Nazaré, you can still see fishermen's wives wearing seven colorful layers of skirts.
Peniche Portugal real estate has many properties at affordable prices that could be the ticket to your new home.
The Silver Coast shows the full power of nature, with surfers taking to the water amid the crashing waves. Don't be fooled to think that you don't have perfect beaches to relax on, though. Across the coast, you will find white sandy beaches, perfect to escape from daily life. The Silver Coast is a great place to find a good balance between work and life, and it's also where you'll try some of the tastiest seafood in the country.
What's more, house prices will be much more affordable in comparison to other parts of the country. For peace and quiet, a local life, and the freedom to explore the Portuguese way of life against the backdrop of beautiful scenery, you may just have found your new home.
How much do waterfront homes in Portugal cost?
The cost of waterfront properties will very much depend on the location. The type of property, the size of the apartment, and its facilities, such as a pool, are also factors that will influence the price.
Luxury property in the exclusive areas of the Algarve, Cascais, and Comporta in Portugal are likely to be expensive. Particularly if you are looking for penthouse apartments or properties with a private pool or gym, the price will be higher.
Lisbon, Portugal, real estate has its own price range in comparison to the rest of the country. Porto still remains very affordable, and in Coimbra, you should be able to find properties at a very good price. The Silver Coast will generally provide you with cheaper buys.
It is important to note that house prices, including luxury properties, are much more affordable than in other European countries. Even Lisbon is affordable as a capital city, and Portugal remains an attractive country to own real estate.
Goldcrest: Who We Are and How We Can Help You
Contact Goldcrest if you're looking to buy property in Portugal. We are a local buyer's agent situated in Portugal and provide insightful real estate expertise and strategic advice. From sourcing to property acquisition, we help clients identify outstanding investment opportunities in some of Portugal's finest locations.
Whether you're a family looking to relocate or invest in land for redevelopment, our team of experts provides professional services to help you find the right property without the hassle or fuss. Contact us to get the ball rolling on your dream home in Portugal.
Frequently asked questions about where to find the perfect waterfront homes in Portugal:
1. Where are the best places to find waterfront homes in Portugal?
Where to find the perfect waterfront home for you will depend on what you are looking for.
 For city life, consider Lisbon and Porto, or if you would like a quieter city, perhaps Coimbra is for you. The Lisbon Coast allows a good mix between city and coastal atmospheres. Comoporta, Cascais, and the Algarve are good for exclusivity and luxury lifestyles. The Silver Coast is perfect for those looking for Portuguese ambiance and to be close to the beauty of nature.
2. Where are the best places to find waterfront homes in Portugal for families?
For families, Foz do Douro in Porto is a good option, as are Cascais and Lisbon.
These locations all have excellent international schools. 
3. Is the process of buying a property in Portugal easy for expats?
The process of buying a waterfront homes in Portugal is relatively easy for expats.
Indeed, there are no restrictions to buying property here. However, if you are a non-EU citizen and you are looking to relocate, you will need a visa. Following Brexit, this is also applicable to UK citizens.
If you would like more information on residency and visa possibilities, you can read our article on residency and citizenship here. Goldcrest's residency and citizenship division, Global Citizen Solutions, are also able to answer questions that you may have in relation to which visa program is right for you.
Our e-book, Your Expert Guide to Buying Property in Portugal, provides you with an easy six-step guide to buying in Portugal, in addition to the latest information on Portugal real estate. We also provide information on house prices in various regions and cultural tips and tricks. How to get to grips with taxes, legal fees, and financing your property are also addressed.