Updated: October 23, 2023
The Algarve has long been a top location for expats from all walks of life, from retirees enjoying their golden years to families moving to enjoy a more relaxed pace of life. Whether it is the 300-plus days of sunshine each year, the gorgeous beaches hugging the coastline, or the exceptional gastronomy, Albufeira is one of the most-loved cities in the region. You'll find many splendid homes for sale, and, whether you are looking for a waterfront villa or a modern apartment, you'll find that the Albufeira real estate market can certainly deliver. 
In this article, we'll provide you with up-to-date information on the current state of the real estate market in Albufeira before delving into the investment potential of the region and top tips for buyers to secure their dream home. 
The Current State of the Real Estate Market in Albufeira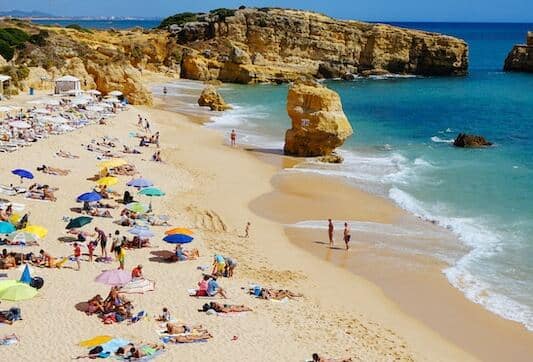 Albufeira is situated right in the middle of the Algarve, just a short journey west of Faro, the capital of the region. In 2022, the average asking price for a villa stood at €3,515 per square meter, while an apartment would set you back €3,040 per square meter.
When it comes to property types, you'll find a wide selection of luxury homes for sale in Albufeira. However, you'll also find charming townhouses, modern apartments, and many waterfront properties in the area.
You can check out our article, Waterfront Homes in Portugal: The Best Locations, to discover more top locations to buy a property with stunning sea views.
Note that the further you buy from the sea or the city center, the more affordable properties will be. If you are looking for a cost-effective solution to owning property in Portugal or creating your dream home from scratch, then you may want to consider looking into land for sale in the Algarve.
Even with construction costs, this is generally much more affordable than buying a new build. Land in the Algarve is around €100-300 per square meter, while construction costs are typically priced around €2,000 to 2,500 per square meter.
Investment Potential of Albufeira 
Albufeira has become one of the hands-down best locations for property investors, retirees, expats, and tourists. Known for its stunning beaches, vibrant nightlife, and pleasant Mediterranean climate, Albufeira looks set to continue to attract tourists from across the world. This influx of visitors has created a thriving real estate market, making it an attractive option for property investors. Here, we'll delve into several aspects of Albufeira's investment potential.
Tourism and short-term rentals
If you are looking to buy-to-let, Albufeira may be the perfect location. Albufeira's tourism industry has been the driving force behind its investment appeal and the town's popularity as a holiday destination ensures a steady stream of tourists throughout the year. This, in turn, makes short-term rentals a highly profitable investment venture. Many investors choose to buy apartments or villas in Albufeira and rent them out to vacationers seeking sun, sand, and relaxation. Short-term rentals can provide a substantial return on investment, particularly during the peak tourist seasons.
Seasonal versus long-term rentals
While short-term rentals are often the go-to choice for many investors, given the fact that you can largely secure a higher profit, long-term rentals are also an option. Long-term rentals can provide a more stable income, with tenants seeking accommodation for several months or even on an annual basis. This diversification of rental options allows investors to cater to different market segments and mitigate the seasonality of tourism. Plus, there is less risk involved as there is a lower tenant turnover, likely to result in fewer damages to the property.
Albufeira rental yields
Albufeira has consistently delivered competitive rental yields for investors. In 2022, rental yields stood at 4.44 percent. The combination of high demand for rental properties and the potential for strong rental income makes it an attractive destination for those seeking returns on their real estate investments. Rental yields will vary based on factors such as location, property type, and market conditions.
Property management services
Working with a property management company will ensure your property is well maintained when you are not in the country.
Many investors opt to hire professional property management services to handle tasks such as marketing, attracting tenants, maintenance, and cleaning. They will also ensure that your property is on rental real estate listings. These services ensure that properties are well-maintained and consistently occupied.
You can click to learn more in our article: How to Find a Property Manager in Portugal.
Buying Property in Albufeira 
In this section, we'll provide you with some key information about buying property in Albufeira.
A Step-by-step guide to buying property in Albufeira
When searching for your dream home in Albufeira, it can be tricky to know just where to begin. If you follow these steps, you should find the process to be quite straightforward.
| | |
| --- | --- |
| | Decide whether you'd like to take out a mortgage to finance your property. |
| | Find the perfect Portugal property |
| | |
| | |
| | Promissory Contract (CPCV) |
| | Sign the Escritura (Final Deed) |
Legal considerations
Investors looking for property for sale in Albufeira should ensure they understand the legal regulations in the country. This includes understanding property rights, zoning regulations, land use laws, and contractual obligations. Working with a Portugal real estate lawyer will help you navigate the legal system.
Ownership restrictions for foreigners
One of the great aspects of buying property in Portugal is that you will face no restrictions when it comes to buying property. However, you should bear in mind that if you are looking to live in Portugal, you will need to secure Portuguese residency to ensure you can legally reside in the country.
Property taxes and fees
Foreigners buying property should be aware of key property taxes in Portugal. At the time of purchase, the Municipal Property Transfer Tax (IMT) and Stamp Duty need to be paid, while, on an annual basis, you will need to take into account the Municipal Property Tax (IMI).
Finding a real estate agent
Using real estate listings to find potential properties can only get you so far. Below are some tips on finding a real estate agent to assist you with finding your dream home.
Importance of local expertise
From luxury homes to spacious condos, you'll find lots of property types in Albufeira. However, it can be tricky to navigate the real estate market in Portugal, particularly if you don't speak Portuguese or understand the process. While checking out real estate listings can be a good place to begin, an experienced real estate professional will help you narrow down your search and help you find options that meet your criteria.
Tips for selecting the right agent
When searching for a real estate agent, it's important that they are the right match for you. One of the best ways to check this is to ask them questions about working with expats who have been in a similar situation to you. Check recommendations and, in the latter stages, ask targeted questions to assess their suitability. You can check out this article for tips on securing the best agent: Real Estate Agent in Portugal: Professional Guidance.
Tips to Find Your Dream Home
Buying a property anywhere can be difficult, particularly if you are considering purchasing your dream home in another country. With lovely houses up and down the country, many with modern interiors and additional amenities, such as a swimming pool or private gym, you'll want to have some inside knowledge before making the plunge. Here are some tips that you should take into consideration when scouting out houses for sale in Albufeira.
Budgeting and financing options
If you are looking to buy a property, you'll want to first set out a budget for your new home. There are many banks in Portugal that provide financing options to buyers; you will simply need to determine which one best meets your criteria. You can check out our article, How to Get a Mortgage in Portugal in 2023, for more information.
Negotiating the best deal
When you have shortlisted a property for sale that meets your requirements, you'll want to ensure you get the best price possible. This can be tricky as with some sellers, it's best to express your interest up front, while for others, they could take advantage of your enthusiasm. We recommend working with experienced professionals who will be able to assist you with negotiating the best possible price.
Due diligence
We've already mentioned the importance of working with an experienced lawyer. They will also be able to assist with due diligence checks, ensuring that there are no problems with either the seller or the property. Working with a property surveyor in Portugal can also be a good idea to ensure that there are no structural issues on either the interior or exterior of the property.
Avoiding common pitfalls
 The most critical aspect when buying property in Portugal is to seek legal help to navigate complex regulations and ensure a secure transaction. Engaging a local lawyer can help you avoid legal pitfalls, understand the intricacies of property laws, and protect your interests throughout the purchasing process.
Real estate listings
There is no Zillow Portugal, with all the real estate listings available, but there are many different real estate websites with real estate listings where you can look for property and apply filters depending on your criteria. However, the fact that there is no one place to find all the properties can be problematic for buyers, plus photos on these websites can be misleading.
Working with a real estate professional will help you scout out properties that meet your exact requirements. A buyer's agent will ensure that you face no issues during the home buying process, from assisting with negotiation through to acquisition.
Future Predictions: What does the future hold for Albufeira?
Portugal's Algarve region was the second-highest performing European market last year, with a massive growth rate of 15.3 percent in property prices. As Albufeira is well known for its incredible stretch of coastline, well-known hospitality scene, great nightlife, and real estate market, it's safe to say that this region of Portugal will continue to be highly sought after for expats and investors in the coming years, whether they are looking to buy-to-let or for capital appreciation, or want to discover the ultimate holiday home for sale.
Lifestyle in Albufeira 
Below are some key pull factors for buyers considering moving to Albufeira.
Coastal paradise: As a charming coastal town celebrated for its breathtaking beaches, such as Praia da Oura and Praia dos Pescadores, residents and visitors alike embrace a laid-back lifestyle centered around sunshine, sandy shores, and the ocean.
Mediterranean climate: Albufeira enjoys a Mediterranean climate characterized by mild winters and hot summers, making it an excellent location for year-round outdoor activities. It's also perfect for retirees or families looking to spend time enjoying the great outdoors.
Culinary delights: The Algarve region is renowned for its seafood, and Albufeira is no exception. It's common to dine alfresco with beautiful views of the Atlantic Ocean.
Vibrant nightlife: Albufeira truly comes to life after dark, boasting a vibrant nightlife scene in the Old Town and along the famous "Strip."
Activities galore: Water enthusiasts have an abundance of options, from paddle-boarding and jet skiing to sailing and scuba diving. There are also countless world-class golf courses in the Algarve for keen golfers.
Why choose Albufeira?
As we've mentioned, there are countless reasons to consider Albufeira. Families looking to enjoy a more relaxed pace of life will find excellent international schools close by, while retirees will be able to enjoy their golden years in style, with incredible seafood, an exceptional clime, and properties with sweeping ocean views.
With water sports, golfing, and plenty of other activities to get involved in, the bustling expat population means that it won't take long before you have established a new friend group. Plus, investors looking for a lucrative investment will find that Albufeira can deliver as a top hub for tourists. Short-term rentals will ensure you can get a nice return on your investment.
Located in a prime location, very close to Faro and the Faro International Airport, expats who are looking to travel internationally regularly, whether for work or pleasure, are well placed to get around.
Whether you are looking for a charming townhouse, a modern apartment, or a luxury villa, you should be able to find the property type that meets your requirements.
Goldcrest: How We Can Help You
Goldcrest is a buyer's agent that is based in Lisbon. We provide expert, impartial advice on real estate investments and how to buy property in Portugal. From scouting out the perfect property through to property acquisition, we have you covered throughout the process.
If you are looking to purchase property in Portugal, don't hesitate to get in touch. Our team of skilled experts is available to solve all your real estate doubts, helping you with the property search and offering insightful expertise and strategic advice.
Why choose Goldcrest?
Local knowledge: With offices located across Portugal, our presence nationwide allows us to assist you personally across the country.
Independent service: As an independent buying agent, we do not represent any development or project. Our service is entirely tailored toward each individual client, providing you with everything you need to secure the perfect property at the best possible price. As an impartial advisor on the market, we work solely on behalf of our client and provide a service tailored to your needs and requirements.
Streamlined process: Our real estate agents speak English and Portuguese, and our service is completely focused on providing you with a hassle-free buying experience, saving you time.
Experienced team: Our expert real estate team has a vast local knowledge of the Portuguese property market. We have cutting-edge technology and metasearch tools at your disposal to provide full market coverage, ensuring the best investment choices and negotiated prices.
Network of partners: Lawyers, property management services, builders, architects, designers, and landscape gardeners, again saving you time and hassle by providing you with trusted experts in their field of work.
Member of the AIPP (Association of International Property Professionals), delivering company best practices and upholding professional values.
Frequently Asked Questions about Albufeira Real Estate: 
What is the average price of Albufeira properties?
In 2022, the average asking price for a villa in Albufeira stood at €3,515 per square meter, while an apartment would set you back €3,040 per square meter.
From villas to apartments, there are many property types available, meaning that you should be able to find your dream home in this bustling part of the Algarve.
What is the process for purchasing real estate in Albufeira as a foreign buyer?
The following steps should be followed when buying real estate in Albufeira as a foreigner:
Step 1. Decide whether you'd like to take out a mortgage to finance your property.
Step 2. Find the perfect Portugal property with the help of real estate listings and a good real estate agent or buyer;s agent
Step 3. Negotiation
Step 4. Reservation Agreement
Step 5. Promissory Contract (CPCV)
Step 6. Sign the Escritura (Final Deed) to your dream home
Can I buy real estate in Albufeira as a foreigner?
Foreigners will face no restrictions on buying property in Albufeira or elsewhere in Portugal.
What property types are available in Albufeira?
If you take a look at real estate listings for the region, you'll get a feel for what you can expect in terms of homes for sale in Albufeira, with a range of property types on the market. From waterfront villas to modern apartments, old townhouses to country homes, there are many options available and you should be able to find your dream home in this part of the country.
How can I access the most comprehensive Albufeira real estate listings for my property search needs?
Albufeira's real estate listings showcase a diverse range of properties, including luxurious villas, modern apartments, and charming townhouses, all set against the stunning backdrop of Albufeira's picturesque landscapes and beautiful beaches. To access the most comprehensive Albufeira real estate listings, you can utilize reputable online platforms dedicated to Albufeira real estate.
These platforms offer advanced search filters that allow you to refine your search based on specific criteria such as property type, size, location, and price range. By regularly exploring these Albufeira real estate listings, you can stay informed about the latest properties available in this vibrant coastal town and make well-informed decisions when buying or renting a property in Albufeira.
How do experienced real estate agents in Albufeira leverage real estate listings in Albufeira to provide exceptional services to their clients?
Seasoned real estate agents in Albufeira leverage Albufeira's real estate listings as valuable resources to offer their clients unparalleled guidance and support in their property search journey. Many real estate professionals will have access to real estate listings not found elsewhere, including new real estate listings.
By staying updated with the latest Albufeira real estate listings, agents can provide their clients with a comprehensive understanding of the local real estate market trends and available properties to help them discover their dream home.
What steps do real estate agents take to ensure their clients have access to the most accurate and up-to-date Albufeira real estate listings?
They can thoroughly examine Albufeira real estate listings, ensuring that their clients have access to reliable and trustworthy data to make informed decisions. With their in-depth knowledge of Albufeira's real estate landscape and their proactive approach to utilizing real estate listings, these agents can provide tailored recommendations that align with their clients' preferences, helping them find their ideal property in Albufeira with ease.