Updated: February 1, 2023
Numerous expats look to make their home in a country that offers a good quality of life. For many, this country is Portugal. From 300 days of sunshine a year to delicious local cuisine and stunning sites, there's a lot to be excited about in this welcoming European country.
When relocating to Portugal, finding accommodation is likely the first item on your to-do list. Demand for housing in Portugal outweighs the supply, so the prices of rental properties are high. As such, affordable options get snapped up quickly. To help you in your search, and make sure you avoid disappointment, we've put together a brief guide on apartments for rent in Portugal.
Types of Apartments Available for Rent
Portugal's dynamic real estate market offers a great variety of housing types to choose from. If you're not yet looking to purchase a property in Portugal, renting is a smart and economical option.
Portuguese apartments are classified into studio, T1, T2, T3, and T4, and are available as both short-term and long-term rentals. The numbers are used to indicate the number of rooms in the apartment, as outlined below.
Studio (T0)
A studio apartment has one room that serves as a bedroom and living room. It has an integrated kitchen area (sometimes called a kitchenette), but the bathroom and toilet are separate.
T1 apartments
A T1 apartment has only one room that serves as both the living area and bedroom. The kitchen area is separated from this room by a wall or partition, and the bathroom and toilet are also separate.
T1 bis
A T1 bis apartment contains a single main room that serves as the bedroom and living area, with a closed kitchen and separate bathroom and toilet. It also has a small extra room, mezzanine, or alcove.
T2 apartments
A T2 apartment contains two rooms, typically a bedroom and a living room. The kitchen, bathroom, and water closet are closed.
T3 apartments
A T3 apartment has three rooms.
T4 apartments
A T4 apartment has four rooms.
How much does it cost to rent an apartment in Portugal?
The cost of living in Portugal is very affordable, particularly in comparison to other European countries. However, the cost of renting an apartment in Portugal has increased in recent years, particularly in popular cities like Lisbon, Porto, and Faro. Your rent will depend greatly on the type of rental you are looking for and where the property is located, as well as whether it is an unfurnished or furnished apartment.
What is the monthly rent in Portugal?
A shared apartment in the popular city of Lisbon can cost upwards of €300 per month. A one-bedroom apartment can cost around €1207.33 a month in the city center (or €785.09 outside the center), while a two-bedroom, three-bedroom or four-bedroom apartment will cost more.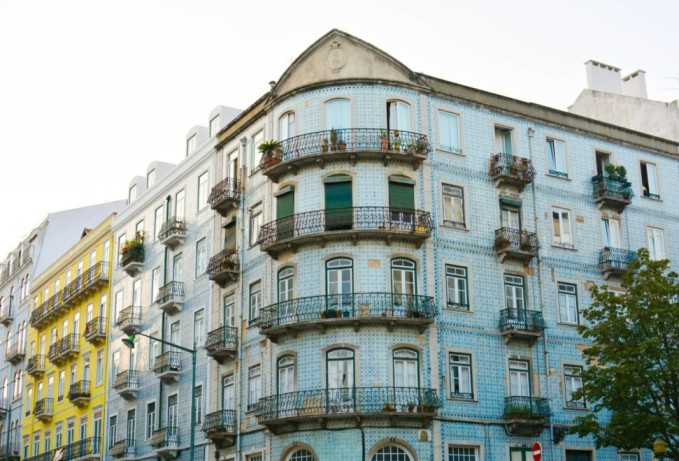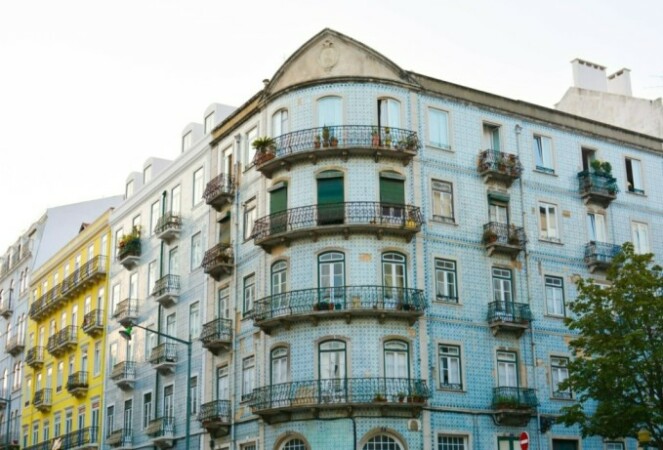 Visit our guide for more information on the cost of Living in Lisbon.
In Porto, it is possible to find apartments outside the city center for around €631.05 per month.
The cost of renting an apartment is lower in regions like the Algarve, Braga, and Coimbra. In these regions, a one-bedroom apartment outside of the city center will cost you €601.90, €487.50, and €385.71, respectively.
Some of the districts with the lowest average rental prices per month include Guarda, Portalegre, Castelo Branco, Vila Real, and Santarém.
The most affordable option is to share a room in an apartment, a common practice among students and workers. It is also important to check with your landlord or leasing agency whether your rental price includes utilities like water, gas, internet, and electricity. If these costs are included, they will often come with a fair usage amount. You may also be required to put down a security deposit, which will be returned in full if no damage is done to the apartment. In Portugal, a security deposit can be the equivalent of one or two months' rent.
Can a foreigner rent an apartment in Portugal?
The simple answer is yes, foreigners can rent apartments in Portugal. In order to sign your tenancy contract, you will need a NIF number (Portuguese tax number) and your identification documents. You may also need your last paystub or tax return, depending on whether you are renting short- or long-term. If you are unable to provide these documents, you may be asked for a guarantor who can.
Your contract will usually state the lease period, the amount of rent to be paid and when, the notice period you need to give before moving out, and when the rent can be reviewed. It should also include information about the tenant and landlord, such as nationality, date of birth, and information about the apartment.
In some areas of Portugal, a less formal agreement (with no contract) can be entered into when dealing directly with a landlord. This instance is common among landlords who do not have a rental license for the property. We recommend ensuring you have a formal contract as this provides legal cover in case of any disputes, particularly if there is a language barrier between you and the landlord.
Where to find apartments for rent in Portugal?
The fastest and easiest way to find an apartment in Portugal is to check online classified ad sites, such as Idealista, Immovirtual, and Expatriates. If you speak Portuguese, you can check out OLX and Trovit, which are in Portuguese only. Alternatively, you can go through a real estate agency, such as Casa Sapo or ERA. You can also search Facebook groups and Facebook Marketplace to find apartments to rent.
The following articles may interest you:
Goldcrest: Who we are and how we can help you
Goldcrest is a buyer's agent that is based in Lisbon. We provide expert impartial advice on real estate investments and how to buy property in Portugal. From scouting out the perfect property through to property acquisition, we have you covered.
If you are looking to purchase property in Portugal, don't hesitate to get in touch. Our team of skilled experts is available to solve all your real estate doubts, offering insightful expertise and strategic advice. We are focused on securing the best deal for you.