Updated: September 28, 2023
Equestrian Property in Portugal
A beautiful farm ranch in the heart of the Portuguese countryside. Whether you are a horse rider or simply would like to experience the thrill of living in the heart of nature with lush fields surrounding you, equestrian property in Portugal provides you with something a little different from the norm.
The Algarve. Lisbon. Porto. These are the areas that spring to mind when thinking about Portugal. But what lies off the beaten track? Perhaps now is the time to explore some of the less known, and just as beautiful areas of sunny Portugal. 
In this article, we'll provide you with some practical information concerning Equestrian property in Portugal, including the all-important price range. Following this, we'll run over some of the key areas where you may secure your very own ranch. 
Equestrian property in Portugal: Practical Information
How much does an Equestrian property in Portugal cost?
The price of Equestrian property ranges on if you are buying just the land or if the buildings are ready to move into right away. The size of the land, the amenities, the age of the property, and the location will also influence the price.
Prices can range from €260,000 to €2,800,000. The more affordable properties will evidently be much smaller establishments, perhaps in less desirable locations. The more expensive will be larger estates in sought-after areas. They are also likely to have more facilities and require less (or no) maintenance. Keep these considerations in mind when looking to buy your dream equestrian property. 
You will find properties that have equestrian facilities, woods, agricultural pastures, and gardens alongside the building areas. Many of the farmhouses and properties have rich histories, some of which date back as far back as the 11th Century.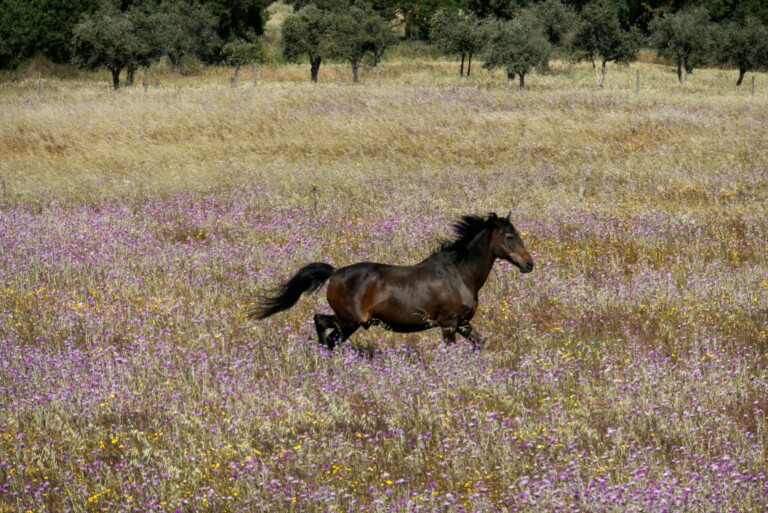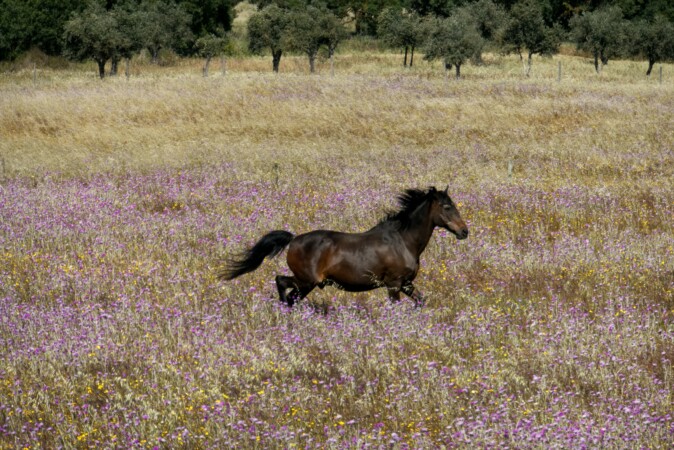 Buying property in Portugal
Portugal real estate is a hot topic now amongst foreign buyers. Although there are no restrictions on purchases, there may be certain permits or documents that you will need to present. The exact documents will depend on where the land is located. It is best to talk with a lawyer to fully grasp which documents you may (or may not) need. 
While there is no problem with buying a property, there may be an issue if you would like to reside permanently in Portugal. If you are from an EU-member country, you will have no problems. However, if you are from a non-EU country, you will need to have a visa. Now, with Brexit, UK Citizens will also need a visa to reside in Portugal for more than 90 days. Therefore, the Portugal Golden Visa or D7 Visa could be good options for you. 
Advantages of buying an equestrian property in Portugal
Outside the popular coastal areas, the big cities, and the sought-after locations, you will see that much of Portugal consists of beautiful fields, undiscovered nature, and pristine landscapes. What's more, even when you feel that you are nowhere near civilization, you will no doubt be close to some facilities and amenities. This is because Portugal is a relatively small country and you are never far from key services. 
One of the most popular resident-by-investment schemes is the Portugal Golden Visa. This allows you to move freely in the EU. After five years, you can apply for citizenship. 
Changes came into play on January 1, 2022, allowing investors only to invest in interior areas. This was aimed to instigate greater development in other parts of the country. You will also be able to have a 20% discount if the property also lies in low-density areas. You can see our article here on the differences between interior and low-density areas and the full investment options for residential real estate.
However, the good news is that if you are looking to invest in an equestrian property in Portugal, it is likely that this will fall in an interior area. Therefore, you should still qualify for the scheme, although perhaps not in parts of the Algarve. If you are looking into the Golden Visa, ensure that you double-check this.
A buyer's agent, such as Goldcrest, is able to provide you with assistance. Also, we are able to help you navigate the buying process, from scouting properties through to signing the deed. As buying a property can be difficult enough in your home country, it is even trickier where you are unfamiliar with the language, culture, and taxes, amongst other things. 
The best areas to find an Equestrian property in Portugal
The Alentejo
This vast area stretches across a third of the country, yet remains somewhat of a hidden gem. The Alentejo region is where the Portuguese often choose to spend their vacations. Quieter than the Algarve, which is all-to-often overrun with tourists, the Alentejo offers a special calm. The area is composed of incredibly beautiful beaches, unique landscapes, and undiscovered areas. In the Alentejo, and Ribatejo, you can still find the ancient Lusitano horse – one of the oldest saddle horses in the world – which is still bred in these areas.
This is the backbone of the country's proud cuisine with a large agricultural sector. With the perfect climate to grow fruit and vegetables, it is easy to see why this is referred to as the breadbasket of Portugal. Alongside this, some of the best wines in the country hail from here, and the cork trees can be seen scattered around the rolling hills. 
You will be happy to know that the Alentejo is a very affordable part of Portugal. Off the beaten track, the local way of life really has not changed in decades. If you are looking for quiet family life or a small corner in which to retire, then here will offer you the peace you need. 
The Algarve
The Algarve real estate market has always been popular with expats. This is unsurprising as it's where tourism blossomed in Portugal. Beautiful beaches, luxury resorts, and flocks of tourists heading to the summer sun are all true attributes of the Algarve. However, there is so much more to this part of the country. Indeed, many areas here still retain a humble tranquility and authentic vibe. 
With more than 300 days of sun each year, this part of the country offers the best climate in Portugal. While the Alentejo can be too hot in summer and too cold in the winter, the Algarve offers fewer extremes. Indeed, the Algarve real estate market in Portugal offers perfect locations to enjoy some candid tranquility. 
Why not unwind in the Algarve with an ice-cold cerveja (beer) or locally cultivated glass of white wine? Indeed, walking through the calm of your farm ranch, in the heart of nature and far from bustling expat communities, you will find yourself with few (or no) worries at all.
You can read more about farms in our article: Best Places to Find Farms for Sale in Portugal.
The North
Portugal real estate has opened up in the north, with the popularity of Porto as an investment hub. The north of Portugal offers a milder climate. As such, if you are looking for an equestrian property in Portugal that is cooler, then this could be the prime location for you.
The north of the country is famous for its Douro wine, the charming city of Porto, and historic towns. In the north of the country, local life still permeates strongly. As with the Alentejo, this region is often cheaper than in the south or close to Lisbon. If you are looking for a renovated farm, where you can ride your horses, or simply enjoy the views of the lush landscapes surrounding you, consider areas in the north. 
The Center
Drive about one hour northeast of the capital, Lisbon, and you will come across Santarém and other towns and cities. Here, you are in close proximity to the capital, yet also can have acres and acres of land. What's more, here could be a very attractive location to find an equestrian property in Portugal. You may find yourself with more space and a cheaper buy. 
This center is relatively unexplored and is made up mostly of locals. Here, their ways of life have not changed much. However, equestrian properties can be found, alongside other homes that offer all the amenities that you could want – for example, a pool to escape from the summer heat. 
It could be a good option to scout out this area in more depth as it is relatively underdeveloped. As such, this area will likely qualify for the Golden visa scheme following the changes that come into force next year.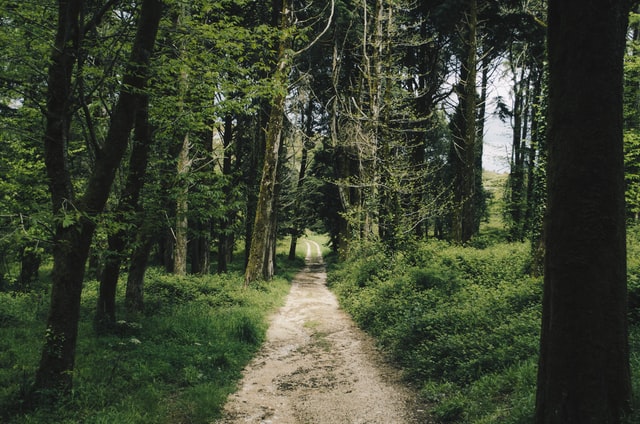 Frequently asked questions about buying an Equestrian property in Portugal
1. Where is the best area to find Equestrian property in Portugal?
You will find properties in the Alentejo, Center, Algarve, and in the North of the country.
Each are offers something slightly different in terms of ambiance, climate, and characteristics.
2. Will the Golden visa scheme still apply to equestrian properties after the changes in 2022?
If the property lies in an interior area then the property should still qualify.
This is defined as having 100 inhabitants or less per square kilometer or a GDP lower than 70% of the national average. It is worth checking this with an independent advisor, such as Goldcrest. They will be able to clarify any doubts you may have. 
3. How do you go about buying an equestrian property in Portugal?
As with any property purchase, the best thing to do is to start with research.
Following this, book some trips to check out the prospective properties to get a feel for the location. Also, speak with locals in the area as well as an experienced estate agent. 
It is also worth seeking independent advice. Estate agents work on behalf of the seller and therefore get a higher commission with a higher buy. Most will have your best interests at heart. However, it is recommended to speak with an independent buyers agent, such as Goldcrest. We are able to assist you in all stages of the buying process.