Updated: October 30, 2023
A beautiful farm ranch in the heart of the Portuguese countryside. Whether you are a horse rider or simply would like to experience the thrill of living in the heart of nature with lush fields surrounding you, an equestrian home provides you with something a little different from the norm. 
The Algarve. Lisbon. Porto. These are the areas that spring to mind when thinking about Portugal. But what lies off the beaten track? Perhaps now is the time to explore some of the less known and just as beautiful areas of sunny Portugal. 
In this article, we'll provide you with some practical information concerning equestrian property in Portugal, including the all-important price range. Following this, we'll run over some of the key areas where you may secure your very own ranch.   
Equestrian Property in Portugal: Practical Information
Delve into the pricing, key considerations, investment opportunities, and perks of owning equestrian real estate. 
How much does an Equestrian property in Portugal cost?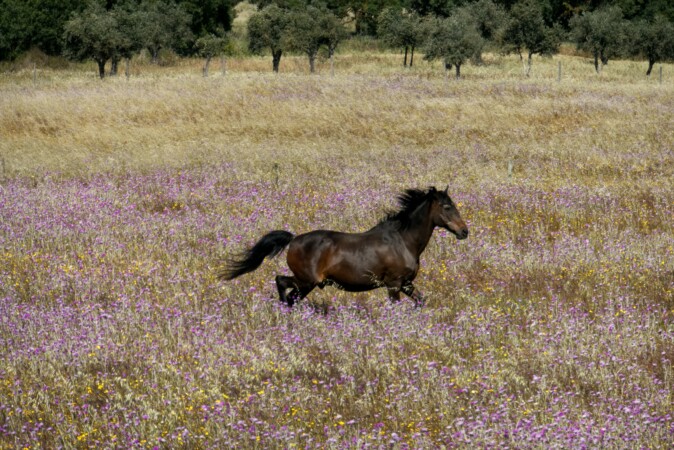 The price of Equestrian property depends on many factors, such as if you are buying just the land or if the buildings are ready to move into right away. The plot size, the amenities, the age of the property, and the location will also influence the price.  
Prices can range from €260,000 to €2,800,000.   
The more affordable properties will evidently be much smaller establishments, perhaps in less desirable locations. The more expensive will be larger estates in sought-after areas.   
More expensive properties are also likely to have more facilities and require less (or no) maintenance. Keep these considerations in mind when looking to buy your dream home.   
You will find properties that have equestrian facilities, woods, agricultural pastures, and gardens alongside the building areas. Many of the farmhouses and properties have rich histories, some of which date back as far back as the 11th Century.   
What is the investment potential?
Investing in Portuguese equestrian estate presents a compelling opportunity, especially if you're passionate about equestrianism. The country's favorable climate and diverse landscapes are perfect for a wide range of equestrian activities. From breeding and training to hosting international competitions, Portugal is becoming a hotspot for horse enthusiasts. 
The demand for specialized horse facilities is on the rise, catering to both the local and international equestrian community. Furthermore, with the increasing global interest in the Lusitano horse breed native to Portugal, there's potential for significant returns. 
Property types vary, with some investors seeking expansive ranch-style properties, while others might be searching for a dream home with stables and training grounds attached. The beauty of the Portuguese real estate market is its versatility, meeting the needs of diverse investor profiles. 
Are there
restrictions
on
foreigners buying property in Portugal?
Portugal real estate is a hot topic now amongst foreign buyers and has been for the past few years. Although there are no restrictions on purchases, there may be certain permits or documents that you will need to present. The exact documents will depend on where the land is located. It is best to talk with a Portugal real estate lawyer to fully grasp which documents you may (or may not) need.   
While there is no problem with buying a property, there may be an issue if you would like to reside permanently in Portugal. If you are from an EU member country, you will have no problems. However, if you are from a non-EU country, you will need to have a Portuguese residency permit. Now, with Brexit, UK Citizens will also need a residence permit to reside in Portugal for more than 90 days. Some options to consider are the Golden Visa, D7 Visa, or Digital Nomad Visa.   
What are the advantages of buying an equestrian property?
Outside the popular coastal areas, the big cities, and the sought-after locations, you will see that much of Portugal consists of beautiful fields, undiscovered nature, and pristine landscapes. What's more, even when you feel that you are nowhere near civilization, you will no doubt be close to some facilities and amenities. This is because Portugal is a relatively small country and you are never far from key services.
The Best Areas to Find an Equestrian Property in Portugal
If you're interested in an equine residence, here are areas you shouldn't miss.    
The Alentejo

This vast area stretches across a third of the country yet remains somewhat of a hidden gem. The Alentejo region is where the Portuguese often choose to spend their vacations. Quieter than the Algarve, which is often overrun with tourists, the Alentejo offers a unique calm.   
The area is composed of incredibly beautiful beaches, unique landscapes, and undiscovered areas. In the Alentejo and Ribatejo, you can still find the ancient Lusitano horse – one of the oldest saddle horses in the world – which is still bred in these areas.  
This is the backbone of the country's proud cuisine, with a large agricultural sector.   
With the perfect climate to grow fruit and vegetables, it is easy to see why this is referred to as the breadbasket of Portugal. Alongside this, some of the best wines in the country hail from here, and the cork trees can be seen scattered around the rolling hills.   
You will also be happy to know that Alentejo is a very affordable part of Portugal.   
Off the beaten track, the local way of life really has not changed in decades. If you are looking for a quiet family life or a small corner in which to retire, then this region will offer you the peace you need.   
The Algarve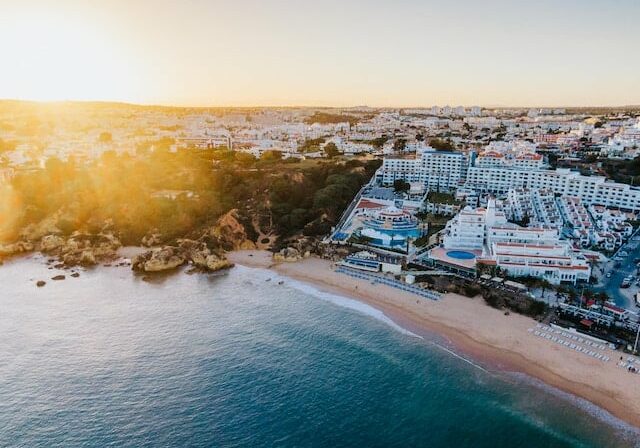 The Algarve real estate market has always been popular with expats. This is unsurprising as it's where tourism blossomed in Portugal. Beautiful beaches, luxury resorts, and flocks of tourists heading to the summer sun are all true attributes of the Algarve. However, there is so much more to this part of the country. Indeed, many areas here still retain a humble tranquility and authentic vibe.    
With more than 300 days of sun each year, this part of the country provides the best climate in Portugal. While the Alentejo can be too hot in summer and too cold in the winter, the Algarve offers fewer extremes. Indeed, the Algarve real estate market in Portugal offers perfect locations to enjoy some candid tranquility.   
Why not unwind in the Algarve with an ice-cold cerveja (beer) or locally cultivated glass of white wine? Indeed, walking through the calm of your farm ranch, in the heart of nature and far from bustling expat communities, you will find yourself with few (or no) worries at all.  
The North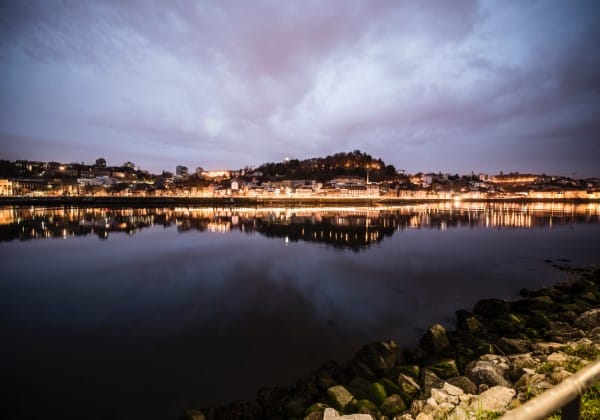 Portugal real estate has opened up in the north, with the popularity of Porto as an investment hub. The north of Portugal offers a milder climate. As such, if you are looking for a Portuguese horse estate that is cooler, then this could be the prime blocation for you.  
The north of the country is famous for its Douro wine, the charming city of Porto, and historic towns. In the north of the country, local life still permeates strongly. As with the Alentejo, this region is often cheaper than in other hotspot locations. If you are looking for a renovated farm where you can ride your horses or simply enjoy the views of the lush landscapes surrounding you, consider areas in the north. 
The Center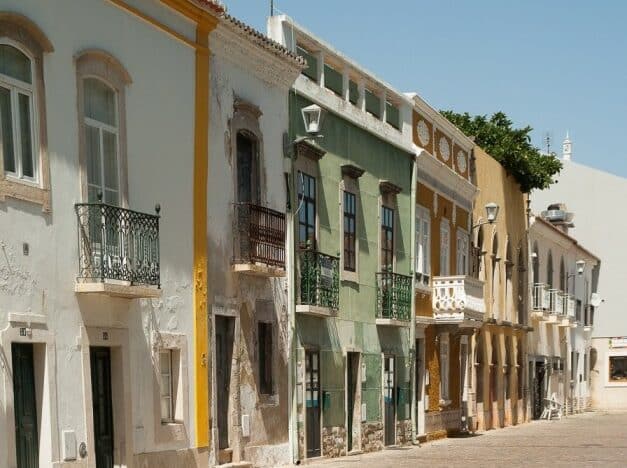 Drive about one hour northeast of the capital, Lisbon, and you will come across Santarém and other towns and cities. Here, you are in close proximity to the capital, yet you also can have acres and acres of land. What's more, this could be a very attractive location to find an equestrian property in Portugal. You may find yourself with more space and a cheaper buy.   
This center is relatively unexplored and is made up mostly of locals. Here, their ways of life have not changed much. Equestrian properties can be found alongside other homes that offer all the amenities that you could want – for example, a pool to escape from the summer heat.    
It could be a good option to scout out this area in more depth as it is relatively underdeveloped.
Wrapping Up
Portugal equestrian real estate offers breathtaking landscapes and properties rich in history. From the serene Alentejo region to the ever-popular Algarve, each area provides unique opportunities for those looking to embrace a life surrounded by nature and equine beauty.   
To navigate purchasing equestrian real estate, enlist the services of a buyer's agent, like Goldcrest, who can be indispensable during the property buying process. Unlike real estate agents who typically represent the interests of property sellers, buyer's agents hone in exclusively on the buyer's needs. Their role pivots around understanding your unique preferences, offering unbiased advice, and ensuring you secure the best deal possible.   
At Goldcrest, we prioritize your aspirations and visions for your dream house. From hunting down the perfect property to sealing the deal, we guide you throughout the process.
Frequently asked questions about buying an Equestrian property in Portugal
Where is the best area to find equestrian property in Portugal?
You will find properties in the Alentejo Center, Algarve, and in the North of the country.  
Each area offers something slightly different in terms of ambiance, climate, and characteristics.
How do you go about buying an equestrian property in Portugal?
As with any property purchase, the best thing to do is to start with research.  
Following this, book some trips to check out the prospective properties to get a feel for the location. Also, speak with locals in the area alongside enlisting the assistance of an experienced estate agent.   
It is also worth seeking independent advice. Estate agents work on behalf of the seller and, therefore, get a higher commission for a higher buy. While most will have your best interests at heart, it is recommended to speak with an independent buyers agent, such as Goldcrest, who works on behalf of the buyer. We are able to assist you in all stages of the buying process.  
What types of equestrian property in Portugal are available for investment?
There's a variety of property types available in Portugal for equestrian enthusiasts. This ranges from sprawling ranches equipped with state-of-the-art horse facilities to more intimate properties where one can have their dream home with an attached stable. Each property type caters to different investor needs and preferences.
How do the equestrian activities in Portugal compare to other European countries?
Portugal boasts a rich equestrian heritage, particularly with its native Lusitano horse breed. The country offers diverse equestrian activities, from traditional horseback riding to high-profile international competitions. Given its strategic location and favorable climate, Portugal stands out as a unique destination for equestrian enthusiasts in Europe. 
Which amenities do equestrian properties come with a specific?
They can vary widely in terms of their features. However, many come with residences designed for comfort and luxury, aligning with the needs of potential investors or occupants. The number of bedrooms and bathrooms often reflects the size and price of the property, but it's common to find ho.   
 What factors should I consider when looking for an equestrian property for sale in Portugal? 
It's essential to consider the property's location, the quality of horse facilities, the number of acres, accessibility to horse activities, and, of course, the price. It's also a good idea to familiarize oneself with the local equestrian culture and any related regulations or incentives for foreign investors in Portugal.