Updated: March 20, 2023
Located in the beautiful, tranquil Alentejo region of Portugal, Évora is a walled Medieval city and district. The charming city is exceptionally picturesque from an architectural standpoint and is less than a two hours drive from the capital, Lisbon. From Évora, you are strategically located to get to many of the quaint nearby villages and explore the wider Alentejo region, and you are just over an hour away from the Spanish border. In this Évora Portugal real estate guide, we will answer all the questions you may have about this beautiful city and district.
Our Évora Portugal real estate guide will provide you with an ultimate rundown of buying property here. 
An overview of Évora

Why buy property in Évora

The Portugal Golden Visa

What to do in Évora

Who we are and how we can help you

FAQs
An Overview of
Évora
Évora can be found about 130 km to the east of Lisbon by car and is a further 130 km from the Spanish border. Évora contains 14 municipalities right in the center of Portugal. 
Évora dítrict, Portugal, was a very important trading and religious hub — which is well documented in the city. There is an abundance of historical monuments that provide insights into its rich past. Take, for example, the Chapel of Bones that was created from the bones of 5,000 monks. Or the Manueline churches, the medieval university, the Doric columned Roman temple, and the impressive Roman aqueduct.
Évora was instrumental to the Romans, who used the city as a military center and was bestowed trading privileges by Julius Caesar. Following this, the city came under the rule of the Moors before a dynasty of Portuguese royalty began living in its palaces.
The grand cathedral has become the centerpiece for the study of religious music and performance, and the Museum of Évora holds archeological and art exhibitions. The defensive wall that surrounds the city center, and the charming whitewashed buildings with Moorish tiles within it was designated as a UNESCO World Heritage site in 1986. 
Indeed, for history lovers, there is probably no better city to experience the array of influences that have become part of the city.
The district of Évora
Outside the city of Évora, there are many rustic, historic villages and towns that could prove to be the perfect home for you. 
To the east of Évora, towns such as Alandroal, Vila Vicosa, and Mourao have their fair share of history, each with well-preserved castles and fortified structures. However, there is a distinct Castillian influence in the region. Olivenza is a town in disputed territory — technically governed by Spain but, until the mid-20th century, was primarily Portuguese speaking.
Elsewhere, you have villages where local crafts such as pottery and weaving are still going strong. The second largest town, Reguengos de Monsaraz, is a delightful walled town, which is now known globally due to its wool trade. Another claim to fame is that the town was named the "European Wine City" in 2015 and it's now known for its wineries, such as Herdade do Esporão, which has been operational since 1262. Indeed, if you are in any restaurant or supermarket in Portugal, you will likely see the logo. For foodies, rejoice, as the region has the perfect food pairings for the wine, producing renowned olives, "Alentejano" bread, gorgeous cheeses, and excellent meats. Indeed, in this part of the world, you can simply sit back and enjoy the very best things in life. Reguengos de Monsaraz is closely linked to the pottery of Sao Pedro do Corval, the first and largest center for ceramics in Portugal.
Évora Portugal Real Estate: Why buy property in
Évora
?
Évora is one of the most charming cities in Portugal. Off the beaten track, you will be able to find stunning properties at very affordable rates, not only when compared with other European countries but also within Portugal. Indeed, Alentejo is a very affordable part of Portugal.
In 2020, the average asking price for property in Alentejo was €1,488/m². Note that this is the average asking price and the actual transaction cost can be either higher or lower than this. If you have good negotiation skills, you may be able to bag a very attractive deal.
When it comes to property types, you will find anything from townhouses to villas with a private pool and a large garden. Indeed, with some searching, you should be able to find the perfect property for you and your family.
There are many houses, mansions and farms for sale in Évora, Portugal, and you can find the one for you no matter what your budget is.
A 1,296 m

²

detached house with 12 bedrooms and five floors for €1,300,000

A 794 m

²

five-bedroom house with parking in the historic center of Évora for €699,000

A 90 m

²

four-bedroom house in historic center of Évora for €199,000

A 40 m

²

studio in phase of total remodeling in Évora for €100,000
If you're looking for apartments for rent in Évora, Portugal, there are also many options to choose from: 
A one-bedroom apartment in the city center can cost around €540

A one-bedroom apartment outside the Center can cost around €490

A three-bedroom apartment in the city center can cost around €900

A three-bedroom apartment outside the center can cost around €810
Évora Portugal Real Estate: The Portugal Golden Visa
The Portugal Golden Visa, introduced in 2012, is one of the most popular residency-by-investment programs in the world. For a qualifying investment, non-EU nationals can secure Portuguese residency, and ultimately citizenship after five years. The Portugal Golden Visa is a win-win, boosting the Portuguese economy, and increasing investors' financial and personal freedoms, not only for themselves but for their families. For example, the Portugal Golden Visa enables investors to enjoy visa-free travel throughout the Schengen area. 
An additional advantage of buying in Évora is that this district is still eligible for Golden Visa investors, even after the changes that came into force on 1 January 2022. In short, this means that if you are looking to invest in residential real estate, then you can only do so in areas that are considered "interior" areas. There is also a 20% discount if the property is located in a "low-density" area. 
You can see our Low Density Areas Guide to understand the difference between interior and low-density areas. 
As such, Évora is likely to gain more attention in the coming years as it is still possible to invest in residential real estate as part of the Golden Visa. 
You can get in touch with Global Citizen Solutions, our residency and citizenship division if you would like to discuss potential programs that could be a great fit for you.
What to do in
É
vora Portugal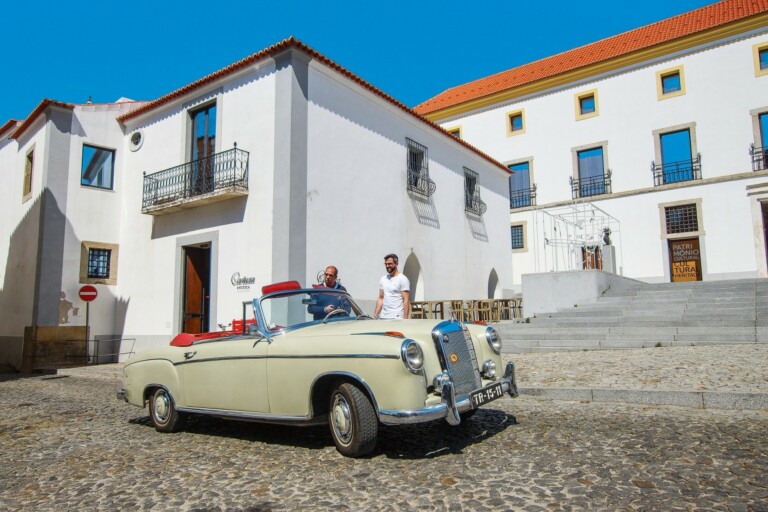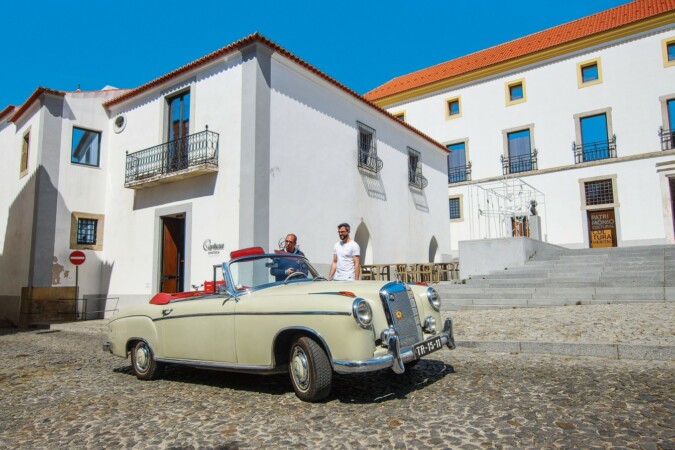 If you are looking to move to Portugal, then Évora is definitely a place to consider. While Évora is a quieter area of Portugal, there are still many exciting things to do without the heavy footfall of tourists. Indeed, in Évora, you will experience a truly Portuguese vibe, where, in some sense, life remains unchanged for decades. 
When it comes to things to do close to Évora, you can take driving, walking, or cycling tours or attend wine tastings, pairings, or vineyard tours. At the Évora aerodrome, skydiving schools provide the opportunity to try skydiving. No matter what type of activities you enjoy, you will be able to enjoy yourself. 
You can also experience vibrant city life, as Lisbon is less than two hours drive to the west. Close by, you also have the Arrabida National Park and the Sado Estuary, where you can see some of the most beautiful landscapes in the country. As for beaches, you have many options to consider around Lisbon. 
Who are we & how can we help you?
Goldcrest is an independent buyer's agent that is based in Lisbon. We provide you with up-to-date information on the property market in Portugal. If you are looking to live in Portugal, we offer strategic advice on the best properties based on your needs. 
You can book a call with us today to discuss your options. 
We have recently published our new book Your Expert Guide to Buying Property in Portugal, which includes insights into the best areas to buy property, navigating the market, and tips if you want to live in Portugal. You can purchase your copy in the Expert Guide to Buying Property in Portugal. 
The following articles may also be of interest to you: