Updated: April 11, 2023
How to buy a house in Lisbon Portugal?
Portugal – often depicted as the perfect holiday location, with a sublime climate, friendly locals, and beautiful beaches. The capital, Lisbon, with its special mix of tradition and modernity, is set in the historic stage of narrow streets, grand Praças, and colorful houses. So, how do you buy a house in Lisbon, Portugal? 
Lisbon real estate: the current climate
An attractive city for investors and expats, house prices for the city of Lisbon stood at €5139/m2 in 2020. Indeed, the average asking price over the past five years has increased by 55% from 2016 to 2020. 
Heading into the first quarter of 2020, Lisbon real estate was moving from strength to strength, with investors and expats flocking to the capital to get themselves a piece of the property market. However, with the unprecedented COVID-19 pandemic, house prices stabilized, falling by 3% in the capital in 2020 (although Lisbon municipality continued to increase, albeit at a slower pace).
Now, with an increasing number of vaccinations, travel steadily opening up again and normality starting to be seen in the not-so-distant future, the real estate market is hotting up again – and house prices are looking set to rise. If you are looking to buy a house in Lisbon Portugal, the present time could be a window of opportunity to invest in the property market here. 
Why buy a house in Lisbon Portugal?
Lisbon has a unique charm to it. A heady mix of expats from the world over have come to call the capital of Portugal home – and with good reason. From its welcoming people, good food and wine, to its relaxed lifestyle, Lisbon is a very liveable city. Also, with the attractive non-habitual residence scheme, offering significant tax benefits to expats for ten years, the Portuguese government has welcomed internationals, foreign investments, and businesses to Portugal with open arms. This is without going into the city's close proximity to white sandy beaches and stunning coastal views. 
Lisbon has a different price bracket compared to the rest of the country. However, when compared to other European capitals, it remains very well priced. According to Deloitte's Property Index for 2021, the 2020 average transaction price for a property in Lisbon is €4,486/m2, while in Paris this was  €12,197/m2 and in Berlin was €6,200/m2.
Lisbon property
Real estate in Lisbon is a thriving market, although prices have increased rapidly over the past years. Particularly house prices in the downtown area and in the city center have shot up. However, now, in the wake of the COVID pandemic, you may be able to sneak in a cheaper buy. 
Also, the depth of the Lisbon real estate market is impressive. For cheaper areas, you can find incredible properties in Benfica, Olivais, and Beato. For a quieter area, consider Estrela. And if you are looking to be in the coolest neighborhood according to Time Out, consider Arroios. 
You also have the futuristic neighborhood of Parque das Nações, which is reminiscent of Canary Wharf in London. And of course, Misericórdia offers beautiful, elegant luxury, with Avenida da Liberdade, Príncipe Real, and parts of Chiado each offering their own unique ambiance. 
Just outside the city, Cascais is also a very desirable location and a 30-minutes drive from the city center. To see an overview of Cascais real estate, you can see our article here.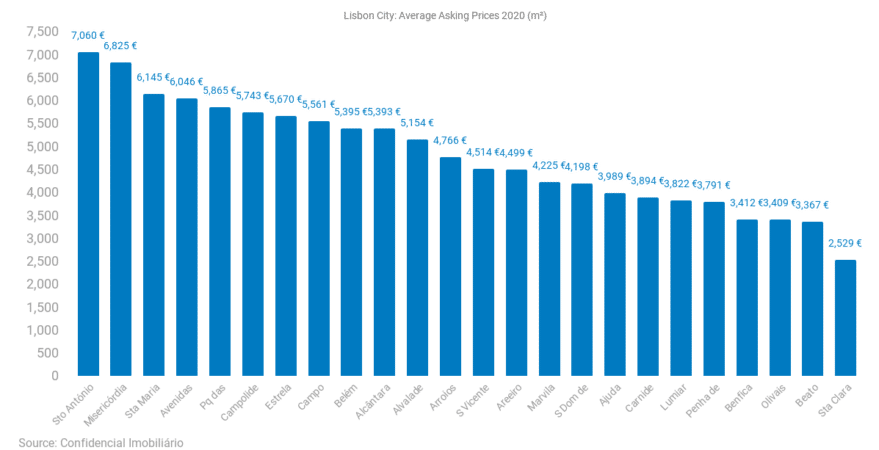 Where to look to buy a house in Lisbon Portugal?
There are many different corners of the internet to research Lisbon's property market. However, the sad reality is that there is no one place to find all the options available. Nonetheless, some of the online portals and real estate agencies that advertise properties for sale are these:
As there is not one ultimate property listing site, it can be a good idea to work with a Buyer's Agent, such as Goldcrest, who usually has access to properties for sale that cannot be found elsewhere. Buyer's Agents can also sometimes find Lisbon property at a slightly cheaper price.
How to buy a house in Lisbon Portugal?
The process of buying a house in Lisbon Portugal is not as difficult as you may first think. However, we highly recommend having an experienced lawyer, an estate agent, and a trusted financial advisor to give you a helping hand.
1. Requirements: 
If you are looking to buy a Lisbon property, you will need to have a NIF (Número de Identificação Fiscal or Número de Contribuinte) which you will need to get from the Finanças (Finances) office. The tax number is required for any transactions that you will need to make. 
We also recommend having a Portuguese bank account, which, although not mandatory, will help you reduce transaction fees. You will need your NIF number to open an account. 
2. Finding the perfect property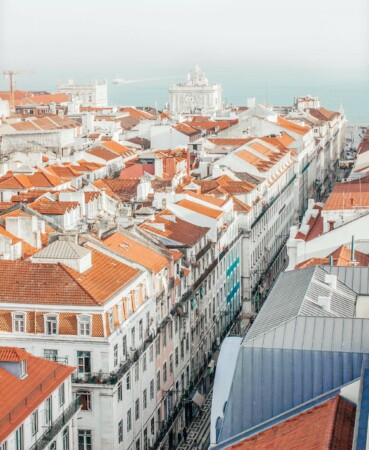 The first thing that you will need to do is narrow down the location to find the right place for you. There are many beautiful neighborhoods in Lisbon, so the best place to start, and the most exciting, is researching which part of the city is the right one for you. From bustling streets to quieter neighborhoods, dig a little into each area to determine the perfect place. 
For this, it is important to have an experienced estate agent who understands well what you are looking for, your price range, and whether there are any quirks that you are also looking to have as part of your property. 
Local expertise is also very important, so ensure that on a visit you also ask the neighbors about the area – is it children friendly? Where are the closest healthcare facilities? Are there good restaurants close at hand?
3. Make an offer
This can be a tricky part of the buying process. It is worth noting that in Portugal the estate agent works on a commission basis for the seller – therefore they will receive a higher salary for a higher sale. While your estate agent will likely have your best interests at heart, it is definitely worth having an impartial buyer's agent who is able to help guide you through the process. 
You will need to get the balance right between showing too much interest and not enough interest in the property. Ensure that you are up to speed with the real estate market and that you have priced similar properties. This is so that you have a good ballpoint idea of what the property is worth. Importantly, use charm when negotiating and remember that you are at a distinct advantage. The seller needs to sell the property, while you can look elsewhere. 
However, do not take this too much for granted, as there may be other buyers interested in your property. You should counter-offer quickly, consulting your buyer's agent to help you negotiate with the seller. This will enable you to ensure that the process is both smooth and profitable for you.
4. Buy a house in Lisbon Portugal: The purchasing process
 Get a lawyer or solicitor on board to help you with the process.

Review the terms of the promissory contract with your trusted legal expert.

 Both the seller and buyer sign the promissory contract. The buyer will need to pay a 10% deposit. 

The buyer and seller (or their respective representatives) meet for the final act of sale – the Escritura – whereby the buyer pays the remaining amount. In between step 3 and step 4, your lawyer will carry out due diligence on the property and the seller to make sure everything is in order.
You may also want to consider some affordable neighborhoods in Lisbon, such as Lisbon South Bay. For more information, read our up-to-date guide on Lisbon South Bay Real Estate.
Taxes & fees:
When buying a house in Lisbon Portugal, you'll need to face the fact that there will be taxes to pay. These will fall either at the time of purchase or on an annual basis following the purchase. 
At the time of purchase: 
Property purchase tax (IMT)
The (IMT) Imposto Municipal Sobre as Transmissões Onerosas de Imóveis (Municipal Tax on Onerous Transmissions of Real Estate) is a property transfer tax paid when purchasing Portuguese property. The tax must be paid before completing the purchase and the rate ranges from 0% to 10%. The amount varies depending on the purchase price, the type of property (i.e. rural/urban), the location (continental Portugal, autonomous region) in addition to whether the property is to be the primary or secondary home. 
Stamp duty
Imposto do Selo (Stamp Tax) is an additional transaction tax that may need to be paid. Real estate transactions are usually subject to a rate of 0.8%. 
Taxes after the purchasing property:
Municipal Property Tax (IMI)
The (IMI) Imposto Municipal sobre Imóveis (Municipal Property Tax or Immovable Property Tax) is an annual tax established annually by the municipality and is determined by the area that your property is located in. The amount is usually between 0.3% and 0.5% for urban properties and 0.8% for rural properties. 
Note that the IMI is levied on the tax value of the property and not on the price paid for the property.
Wealth Tax (AIMI)
There is a Portuguese Wealth Tax (AIMI) on properties that cost more than €600K. This will range from 0.7% to 1.5% depending on the price.
How to buy a house in Lisbon Portugal: Financing your new home
It is important to understand if you will need a mortgage and, if so, what the mortgage options are in Portugal.
The maximum one can borrow depends on the loan-to-value. For residents, with a fiscal number, the maximum one can borrow is 90% for a permanent home (80% for a second home). For non-residents, the maximum loan-to-value mortgage ratio is 70-75%. 
Types of mortgage
There are over 15 banks in Portugal that provide various options, although all comply with the Bank of Portugal's standardized regulations. There are two main types of mortgage: fixed-rate and variable-rate mortgages. 
Fixed-rate mortgages: You will pay a constant rate over a set period of time, protecting you against fluctuation changes. This agreed with the financial institution when requesting financing for your property. It can be fixed for the entire lifespan or, more commonly, for a certain time before reverting to a variable-rate mortgage. A 2% fine will need to be paid if there is early repayment on your part. 
Variable-rate mortgages: Your monthly payment fluctuations depend on an index (usually Euribor). Payments are revised on a six or 12-month basis. Early repayments pay a fee of 0.5%.
Visit our article How to Get a Mortgage in Portugal as a Foreigner for more information.
For a full overview of the mortgage process, in addition to the most desirable areas, practicalities of moving to Portugal, and a whole host of topics vital to moving and buying a house in Portugal, our new e-book, Your Expert Guide to Buying Property in Portugal, will provide you all the information that you will need.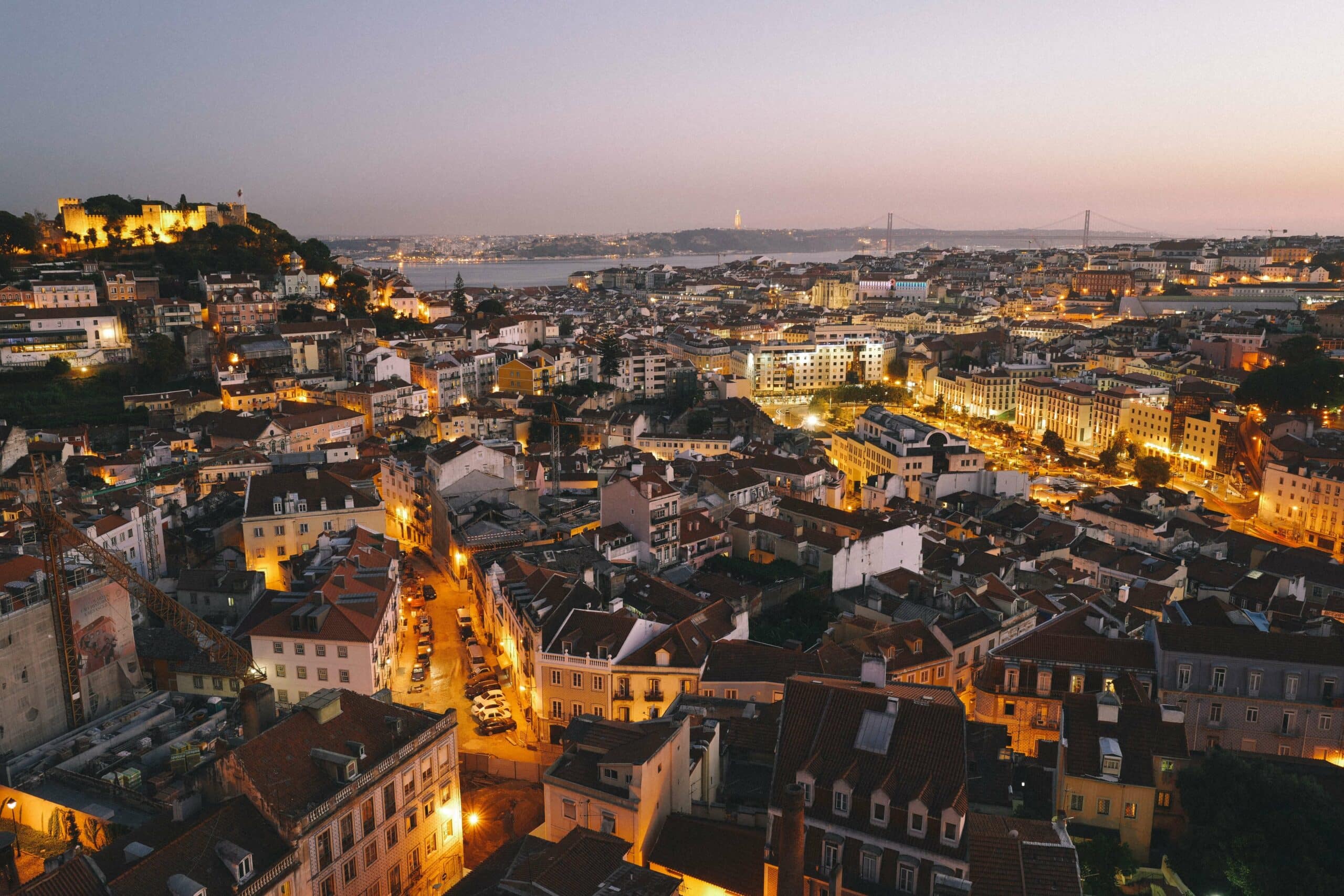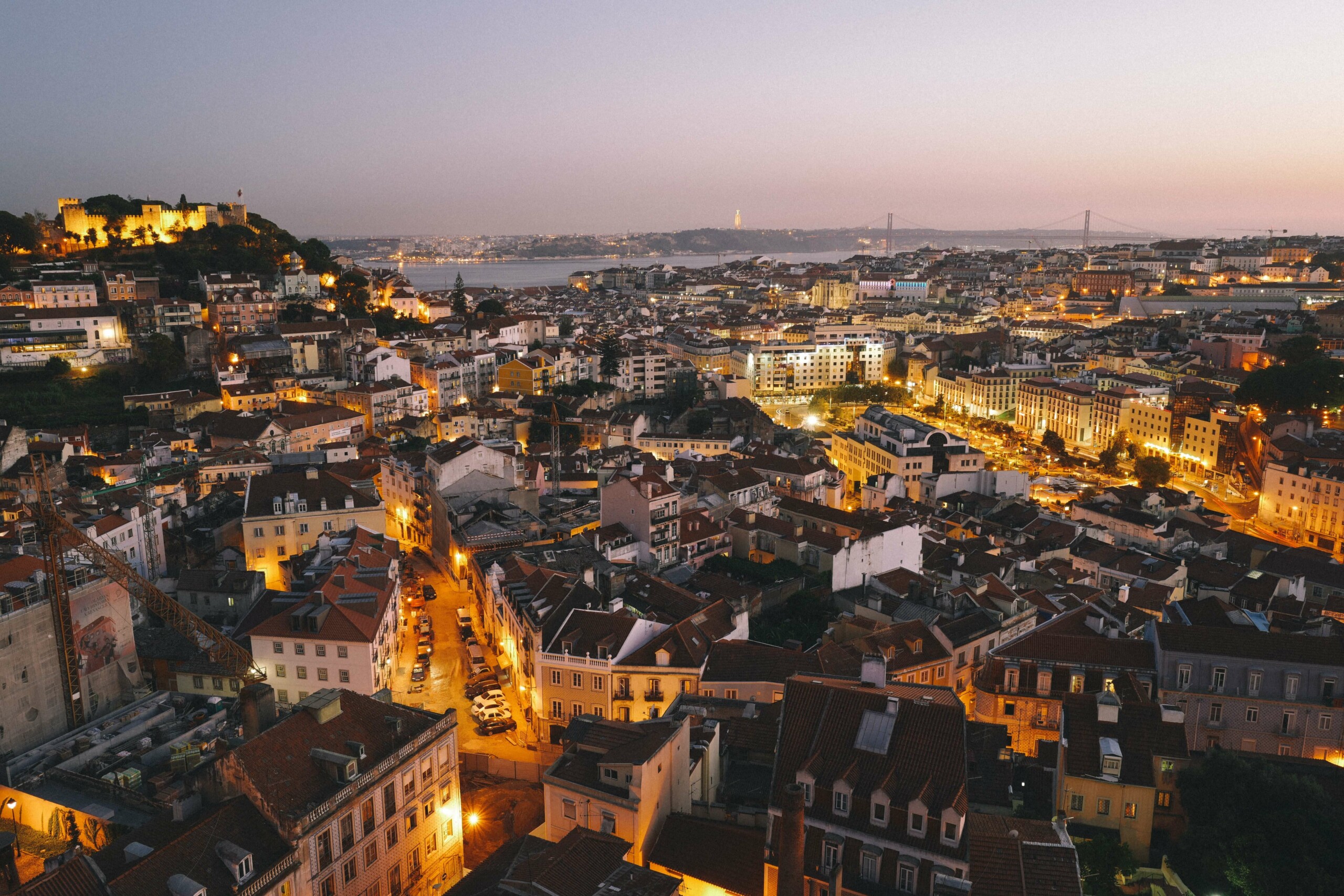 Frequently asked questions about buying a house in Lisbon Portugal:
1. Are there any restrictions to buying a house in Lisbon as a foreigner?
No, there are no restrictions to buying a house in Portugal as a foreigner.
The government encourages foreign purchases. However, if you are a non-EU citizen you will need to have a valid visa and residency certificate to live here. 
2. Where are the best neighborhoods to buy a house in Lisbon Portugal?
The Lisbon real estate market continues to thrive. The variety of neighborhoods is a testament to this.
If you are looking for luxury homes, consider Avenida da Liberdade, Príncipe Real and Baixa Chiado. Estela is good for families, Arroios is the hip neighborhood and Parque das Nações offers a futuristic twist. Cascais real estate is also an attractive option to find a beautiful house with sea views. 
3. Do I need a lawyer when buying a house in Lisbon?
We recommend having an experienced lawyer, who, alongside being able to speak the language, will be aware of the process.
It is also an advantage to have a financial advisor, real estate agent and a buyer's agent on your side.