Updated: August 22, 2023
Best Cities to Live in Portugal for Expats
If you're looking to relocate to a country that offers a great quality of life, Portugal is the place for you. With its breathtaking scenery, delicious local cuisine, rich and diverse culture, and fascinating history, this popular European country has many wondering where the best cities to live in Portugal for expats are. 
Best Cities to Live in Portugal
Offering 300 days of sunshine a year and the option to live in a bustling city center or along the calming coast, Portugal is one of the most popular countries among expats looking to relocate to Europe. With so many attractive locations across the country, including UNESCO World Heritage sites, it can be overwhelming trying to decide what Portuguese city is perfect for you. To help you make your choice, this guide outlines the best cities in Portugal for expats to live. 
About Portugal
Portugal offers a high standard of life, amazing weather throughout the year, a great health care system, and affordable real estate options. In addition to this, the country offers its inhabitants a good social life, modern public transportation systems, low crime rates, welcoming locals, and a diverse culture. 
With so many lifestyles available across Portuguese cities, anyone looking to relocate to the country is guaranteed to find a location that meets their needs. For example, sun-seekers will enjoy Portugal's West coast, characterized by sunlight and warm temperatures thanks to the influence of the Atlantic Ocean. Those who prefer more moderate temperatures will enjoy northern Portugal. These excellent conditions have seen organizations like Forbes describe Portugal as one of the best countries for expats to live in. 
Best Cities in Portugal for Expats
Portugal is full of so many incredible cities with a diverse range of lifestyles and attractions. To make things easier, we've compiled a list of five of the best cities in Portugal for expats to live in.
Lisbon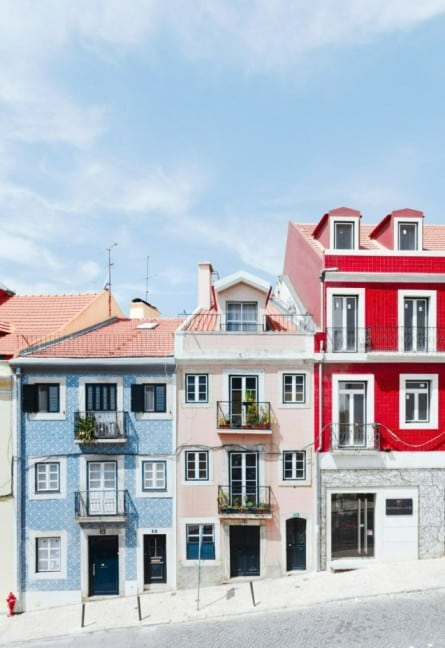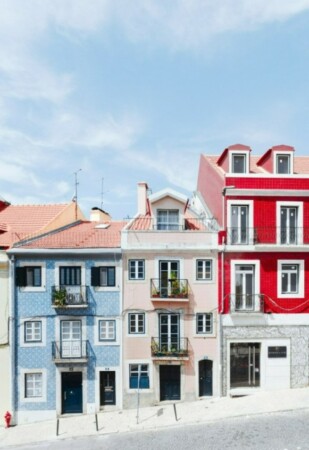 As Portugal's capital, Lisbon is definitely one of the best cities to live in Portugal for expats. In fact, Lisbon is home to Portugal's largest expat population and is also considered one of the safest places to live in Portugal. Lisbon is a city bustling with activity, which means you can always find something to do along the cobbled streets. Attending a concert, visiting a museum, and trying new dishes at local restaurants are all great ways to get to know the city and make friends.
The highlights of living in this beautiful city include high-paying jobs, administrative buildings, and excellent schools, hospitals, and banks. Lisbon is also situated near some stunning beaches, allowing exciting escapes from city life whenever needed. These attractive offerings do make Lisbon a more expensive city to live in, but it is always possible to find good property deals when looking to relocate to this city. Almada, Areeiro, Entrecampos, Alameda, and Loterias are considered some of the best neighborhoods in Lisbon to live in. You can learn more about real estate in Lisbon by visiting our expert guide here. 
Famous for its colorful buildings and must-see locations, this popular tourist destination offers a multitude of safe and efficient ways to see the city. By day, explore on foot, by tram, by hop-on-hop-off bus, or even in a tuk-tuk. By night, watch the vibrant city come alive in places such as Chiado, Bairro Alto, and Cais do Sodré. No matter the kind of lifestyle you're looking for, Lisbon is sure to offer it. 
Porto
Portugal's second-largest city can be found in the north of the country along the Douro River. The weather can be a bit colder than the rest of Portugal, but with its charming atmosphere and breathtaking scenery, Porto is guaranteed to give you an authentic Portuguese experience. Porto's historic center is a UNESCO World Heritage Site, which, along with its architecture, gastronomy, and Port wine, has made it a popular holiday destination for tourists from all over. 
Not only is Porto a great destination for holiday-makers, but it is also considered one of the best cities to live in Portugal for expats. For those looking to work in Portugal, Porto is a fantastic choice, particularly for those who work with start-ups. Over the years, the city has served as an up-and-coming hub for the start-up scene and welcomed many international entrepreneurs who have identified the opportunities offered by Porto and chosen this amazing city to be their new home.
If you're searching for a more affordable city to live in, Porto should be on your list. Slightly cheaper than Lisbon, Porto offers a variety of properties, such as luxury homes, farm homes, cottages, townhouses, apartments, or new developments. Some of the best neighborhoods in Porto include Avenida do Aliados, Boavista, Campanha, Foz do Douro, and Riberia. With so many great choices, our guide on buying property in Porto can help you make your decision.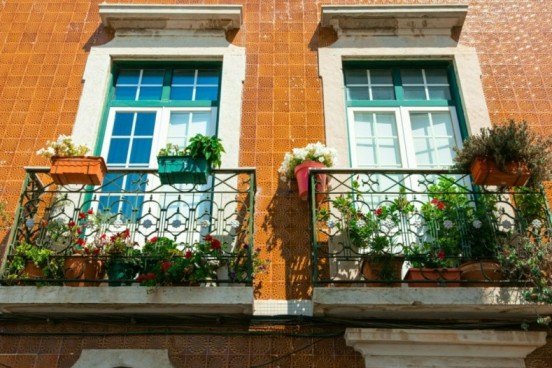 Faro
Portugal's southernmost region, the Algarve, is known for having the best weather, a stunning coastline, and picturesque beaches. Faro is the Algarve's main city, and its golden sun, tranquil sea, and delicious seafood have caused many retirees to relocate and settle in the city. With its exceptional weather throughout the year, slower pace, laidback lifestyle, and nearby beaches, the advantages of living in Faro are unmatched for many.
In terms of real estate, Faro's market is booming. With a strong expat community and lower rental property prices than in Lisbon, Faro is a great city to live in. The cost of houses for sale in Faro is cheaper in comparison to properties for sale in Lagos and Albufeira. If you're interested in investing in a property in the capital of the Algarve, our guide to real estate in Faro will give you a fantastic overview.
Faro is only about a two-hour drive from the capital city of Lisbon, and its transportation system is well-developed, making it a hassle-free experience to navigate the city. Faro also has an international airport, a short 10-minute drive from the city center, that makes it easy to travel both nationally and internationally. There are many gems in the Algarve and Faro is one that is often overlooked for more well-known locations. Despite this, Faro's cobblestone streets, rich history, sunny weather, and desirable location continue to attract visitors from all over, making it one of the best cities in Portugal for expats to live.
Viseu
The medieval city of Viseu is located in the center of Portugal. On multiple occasions, Viseu has been ranked as one of the best cities in Portugal to live in, as well as one of the best European cities to live in. It's not hard to see why when expats can find anything they need to lead a happy life in the city of Viseu. 
Viseu is known for the excellent quality of life it provides its inhabitants in the form of fantastic weather, efficient public transportation, an exceptional education system, and top-notch medical care. In addition to this, real estate in Viseu is not expensive, and the job market is booming. What's more, Viseu is the perfect city for those who like to hike and go on excursions in nature as it is surrounded by mountains and rivers. 
The city's charming Renaissance architecture displays its rich culture and history, as do the statues that decorate its cobbled streets. While it is less well-known than cities like Lisbon and Porto, Viseu sees its fair share of tourists and expats, meaning English speakers can be easy to find. If you want to practice your Portuguese, however, Viseu would be a great place to do so. 
With an affordable cost of living, a lively café culture, and plenty of activities to keep you entertained, Viseu is the perfect city for expats looking for a peaceful lifestyle and excellent quality of life.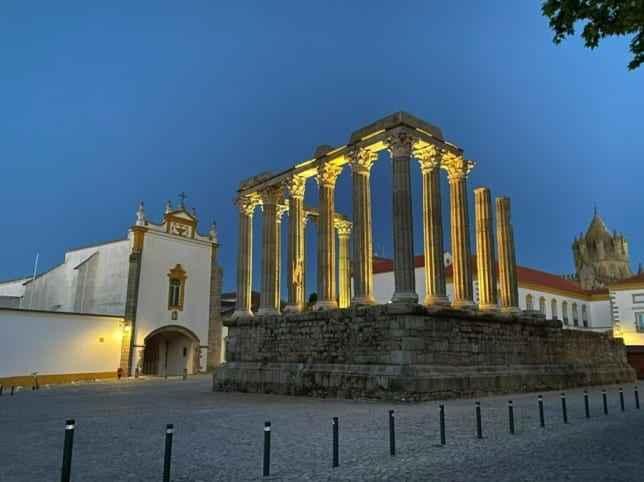 Évora
Évora is the capital city of Portugal's south-central region, called the Alentejo. This calm city is full of charm, with its beautiful medieval architecture hinting at its fascinating history. In fact, it is the city's history that led UNESCO to classify Évora as a World Heritage site.
The best way to explore the history of the city is on foot. In fact, Évora's small size makes exploring the entire city easy and enjoyable. A walk through its narrow, historic streets will show you white houses, churches, temples, and historical monuments. If you're a lover of history, this Portuguese city is the perfect place to establish your new home.
Évora's local attractions include the Church of Santo Antão and the marble drinking fountain (Chafariz), which lie in the historic center of the small city. Other attractions include the Roman baths and the São Francisco Church with its mysterious Chapel of Bones (Capela dos Ossos).
Évora is also home to the second-oldest university in Portugal, as well as the Roman Temple of Évora (also known as the Temple of Diana), one of the greatest and most preserved roman temples in the Iberian Peninsula. Both of these iconic landmarks are also located in the center of the city.  With so much to see, travel within Évora is easy and nothing short of fascinating. If you're looking for things to do outside of the city, there are nearby wineries that offer the opportunity for fun day trips.  
As you now know, there are many advantages to living in Évora. Its temperatures rise above average throughout the year and its relatively small size means it is not often crowded. With plenty of sites to see, friendly people to meet, and cafés and restaurants to taste the delicious local dishes, choosing to live here will allow you to enjoy a relaxed and peaceful lifestyle.
How to Live Permanently in Portugal
If you're looking to relocate to any of these cities in Portugal, there are several options available that will allow non-European nationals to live in the country permanently. Depending on your situation, you can explore either the Portugal Golden Visa or the D7 Visa.
The Portugal Golden Visa is the perfect option for investors – and their families – who want to relocate to Portugal. This five-year residency-by-investment scheme grants you residency and gives you the right to live, work, and study in Portugal, in exchange for your investment in the country's economy. After five years, you have the option to become a permanent resident or citizen, provided you meet all the requirements.
It is important to note that to apply for the Golden Visa and invest in residential real estate, there are certain location restrictions, and the property purchased must be situated in an interior area. This means that you are not able to buy property in Lisbon, Porto, and many coastal areas. You can read more about the location restrictions in this article about eligible areas for the Portugal Golden Visa.
There are many advantages to having Portuguese citizenship, such as free movement through the Schengen area and the continued ability to live, work and study in a safe, stable European country with breathtaking landscapes and a fantastic quality of life. You can learn more about the Portugal Golden Visa here.
Portugal Real Estate
Portugal's real estate market is made up of many different types of properties that cater to all manner of needs. Investing in Portugal real estate is also one of the ways you can get Portuguese citizenship through the Portugal Golden Visa scheme. It's no wonder, then, that the Portuguese real estate market has grown significantly in recent years.
One of the biggest attractions for investors is the strength of the Portuguese market. Increased tourism in Portugal has led to greater demand for rental properties, offering investors the opportunity to purchase properties with high investment returns.
Take a look at our guide to learn more about property investment in Portugal.
The D7 Visa
The D7 Visa is a great option for retirees, remote workers, and self-employed individuals looking to relocate to Portugal. You must have sufficient funds to support yourself and any dependents who may accompany you. The advantage of the D7 Visa is that it does not require a large economic investment and after five years of holding the D7 Visa, you are able to apply for Portuguese nationality, provided you meet all the requirements. 
Benefits of the D7 Visa include:
There are a number of benefits that come with having the D7 Visa, including:
The right to live, work and study in Portugal without hassle

Benefits from Portugal's excellent healthcare system

Tax benefits through the

non-habitual residence (NHR)

scheme

Permanent free entry and travel within the Schengen area

Fast visa processing times

The entire family is eligible
Who we are & how we can help you
Goldcrest is a buyer's agent that is based in Lisbon. We provide expert impartial advice on real estate investments and how to buy properties in Portugal. From scouting out the perfect property through to property acquisition, we have you covered.
If you are looking to purchase property in Portugal, don't hesitate to get in touch. From sublime beach houses in the Algarve to modern renovated houses in the historic city of Porto, we are more than happy to discuss your options.
You can book a call with us here.
Whether you're looking for beautiful beaches, a historic university city, an ancient medieval city, tourist attractions, or even a UNESCO World Heritage Site, any of the cities in Portugal are sure to meet your desires. All you have to do is decide which of the best cities in Portugal are right for you.
Read more
Below are some articles that may interest you:
Where is the nicest city in Portugal?
If you're looking for the most beautiful cities in Portugal, Lisbon, Porto, Faro, and Évora are highly ranked. The Algarve is considered one of the best places to visit in Portugal, while Viseu has been ranked multiple times as one of the best cities in Portugal to live in.
Where are the best places to live in Portugal?
Lisbon, Porto, Faro, Viseu, and Évora have all appeared on lists of the best places to live in Portugal.