Updated: August 28, 2023
Situated in the center of Portugal, Viseu is surrounded by picturesque mountains and the Vouga and Dão rivers. The hilltop old town is one of the most charming in Portugal, adorned with sacred art, architecture, and picturesque churches. If you are considering buying property in Portugal, then Viseu, Portugal, real estate could be the golden ticket. In this article, we'll guide you through this charming part of Portugal, including insights into the real estate market and types of property for sale.
Why choose Viseu?
Home to numerous churches, such as Viseu's Cathedral and the Misericódia Church, Viseu is one of the most alluring cities in Portugal. While not as well-known as some other areas in the country, if you visit Viseu, you'll quickly realize that it is a very special place. You'll find a very authentic Portuguese city with plenty of green spaces. Plus, the Viseu baths are a key attraction of the city, which you can visit and feel rejuvenated. If you are contemplating moving to Portugal, but haven't quite worked out where to buy, then Viseu may be your answer.
Where is Viseu?
Viseu is a city and municipality in Central Portugal, mostly known for its well-preserved hilltop city in the Beira Alta region that dates to the Iron Age. An equal distance from the west coast of Portugal and Spain, Viseu is right in the center of the country, making it very easy to get around Portugal. Viseu is about three hours' drive from Lisbon in the south and an hour and a half from Porto in the north.
A brief history of Viseu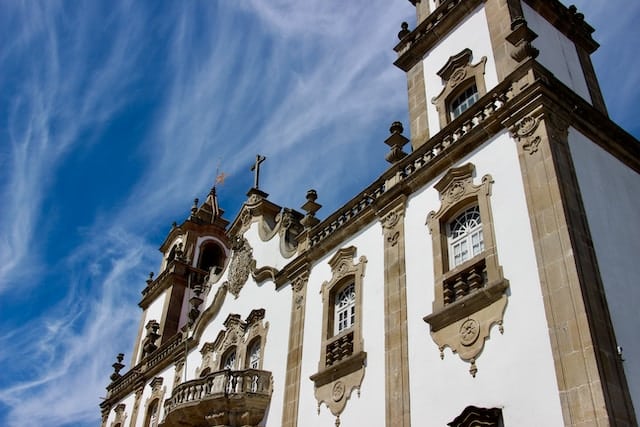 The history of Viseu dates back to the pre-Roman period, with migrating groups, including the Celts and Lusitanians, settling in the area. Following this, the settlement gained importance during Roman times, as it was the intersection between a series of Roman roads linking Mérida, Lisbon, and Galicia.
Viseu is associated with Viriathus, as it is believed that the Lusitanian hero may have been born here.
After the Roman occupation, it was elevated to city status under the Visigoths until the arrival of North African Muslims led to the Visigoths fleeing to Asturias.
Since then, Viseu shifted between Christian and Moorish control before becoming a crucial city in the establishment of the Kingdom of Portugal by Alfonso Henriques. Since then, over the years, the city has been fortified and witnessed cultural growth, culminating in various city works, until the new Municipal Palace was built in the 19th Century.
Key attractions of Viseu
There are many attractions to Viseu. History lovers can enjoy the stunning Sé Cathedral and the Misericórdia Church, while those that are more in touch with nature have many different choices on the table. Parque do Fontelo and Parque Aquilino Ribeiro are two lovely parks, perfect for spending a lazy weekend afternoon with friends and family, plus the incredible Serra da Estrela is only an hour and a half's drive away.
You'll also find a wide selection of museums and art galleries to enjoy, plus the gastronomy is excellent. Situated in the Dão region, wine enthusiasts are in the perfect location for top wine-tasting experiences.
Real Estate Market in Viseu
In this section, we'll provide you with an overview of the real estate market in Viseu.
The current state of the real estate market in Viseu
Viseu, Portugal real estate is an attractive market for buyers. You'll find that this is one of the more affordable parts of Portugal to find properties for sale, plus the city has an authenticity that you will not find in more expat-heavy locations.
Types of properties available
As with many parts of Portugal, you'll find many different properties for sale, whether you are looking for a city apartment, villa, country home, or even farmland or a vineyard for sale. You'll also find properties on the ground floor, plus those much higher up, whereby you can enjoy lovely views from a sunlit balcony.
For more information, wine enthusiasts can check out this article: Vineyards for Sale in Portugal: Top Areas.
You will also find land for sale in the Viseu district. Although this can take some time, usually a minimum of three years, it can be worth it in the long run to build your dream home.
If you are also looking for apartments for rent in Viseu, Portugal, then you'll find several options. This can be useful if you want to have a base where you can visit properties and find the best neighborhood for you.
Overview of property prices and trends
According to Numbeo, the price per square meter to buy an apartment in the city center is €1,400, while an apartment outside the city center will set you back €1,067 per square meter.
Popular neighborhoods or areas for real estate investment in Viseu
Some of the best neighborhoods to consider are the following. Note that this list is by no means exhaustive.
Viseu City Center: The heart of Viseu offers a mix of historic charm and modern amenities, attracting tourists and residents alike. Properties here hold steady value and appeal to those seeking a vibrant urban lifestyle. Buying in the center is also good from an investment point of view.
Ranhados: This neighborhood benefits from its proximity to universities and major employers, attracting young professionals and students. Expect steady rental demand and potential for property value appreciation.
Povolide: Offering a more rural setting, Povolide attracts buyers seeking a peaceful retreat. The area's authentic charm and traditional architecture make it a lovely part of the city to live in.
Types of Real Estate in Viseu
You'll find plenty of types of real estate in Viseu, whether you are looking for residential real estate or commercial properties. You'll also find several options to buy luxury real estate in and around Viseu.
Residential property
Residential properties will range from townhouses and modern apartments to country houses and villas with a large living space. Some properties will also come with additional features, such as a swimming pool, additional security, air conditioning, or a private gym. Whatever type of residential property you are after, you will probably find it here, usually with a reasonable price tag.
Commercial property
Investing in commercial property in Viseu can be a good idea. While it does not bring in the number of tourists as other parts of Portugal, such as Lisbon, the Algarve, and Porto, you should be able to make a nice return on your investment.
Luxury real estate
When you think of luxury real estate, we doubt that Viseu comes to mind. However, if you are considering buying a high-end property in Portugal, Viseu will certainly be able to deliver. You'll find stunning villas with acres and acres of land, vineyards and farms for sale, plus much more besides. A great plus is that you'll get much more for your money than if you buy in other parts of Western Europe. And a major plus is that this part of Portugal is simply stunning, where you can enjoy nature on your doorstep, a charming historic city, and have a high quality of life.
Factors Influencing the Viseu Real Estate Market
The following factors can influence the real estate market in Viseu.
Local economy and job market
Viseu's economy and job market drive demand and prices in its real estate market. Viseu has a strong economy that attracts people to the region, increasing housing demand. As businesses grow and jobs are created, the real estate sector becomes more attractive to homebuyers and investors alike.
Infrastructure and transportation links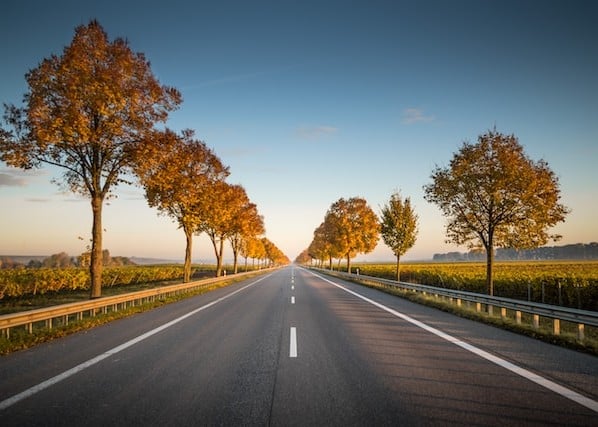 The level of infrastructure development and transportation connectivity in Viseu significantly influences its real estate market.
The presence of well-maintained roads, public transportation options, and access to major highways enhances the desirability of Viseu, while at the same time making it more accessible to residents and businesses.
While Viseu does not have a train system, it does have good bus links – the MUV – where you can easily get around the municipality.
There is now a tram service that links the upper and lower parts of the town.
Viseu is also a student town, which has spurred on many innovative restaurants and bars to set up shop here, creating a vibrant city nightlife.
Tourism and investment opportunities in Viseu
Viseu is not as well-known as many other parts of Portugal, but it is a fantastic place to visit. And, if you do, you'll likely be captivated by the city's rich history and charming streets. Due to the excellent infrastructure, there are investment opportunities to be found here, whereby students, for example, are looking for long-term rentals.
Is Viseu, Portugal real estate a good investment?
Viseu, Portugal's real estate market has shown promising potential for investment due to its historical charm, growing tourism, and great location within the country, whereby it can be seen as a gateway to the rest of the country.
Potential benefits of investing in Viseu real estate
Property prices in this part of Portugal are very attractive to buyers, whereby you can secure spacious properties at very affordable rates. In addition to this, as a student city, you should be able to buy-to-rent.
Considerations before investing in Viseu
You should consider speaking with an experienced real estate professional to determine which part of the city provides the best investment opportunities to secure the best return on your investment in the long run.
Rental market and potential returns on investment in Viseu
Viseu's rental market has been steadily increasing, providing opportunities for rental income and potential returns on investment for property owners.
Goldcrest: How We Can Help You Secure Your Dream Property
Goldcrest is a buyer's agent that is based in Lisbon. We provide expert, impartial advice on real estate investments and how to buy property in Portugal. From scouting out the perfect property through to property acquisition, we have you covered throughout the process. We also have access to more properties, including listings not found elsewhere on the market.
If you are looking to purchase property in Portugal, don't hesitate to get in touch. Our team of skilled experts is available to solve all your real estate doubts, offering insightful expertise and strategic advice. We also have access to property listings that you will not find elsewhere on the market.
Why choose Goldcrest?
Local knowledge: With offices located across Portugal, our presence nationwide allows us to assist you personally across the country. Whichever location you are looking for properties for sale, we are here to help.
Independent service: As an independent buying agent, we do not represent any development or project. Our service is entirely tailored toward each individual client, providing you with everything you need to secure the perfect property at the best possible price. As an impartial advisor on the market, we work solely on behalf of our client and provide a service tailored to your needs and requirements.
Streamlined process: Our real estate agents speak English and Portuguese, and our service is completely focused on providing you with a hassle-free buying experience, saving you time.
Experienced team: Our expert real estate team has a vast local knowledge of the Portuguese property market. We have cutting-edge technology and metasearch tools at your disposal to provide full market coverage, ensuring the best investment choices and negotiated prices.
Network of partners: Lawyers, property management services, builders, architects, designers, and landscape gardeners, again saving you time and hassle by providing you with trusted experts in their field of work.
Member of the AIPP (Association of International Property Professionals), delivering company best practices and upholding professional values.
The following articles may also be of interest to you:
If you are considering finding your dream home in Viseu, we highly recommend working with a buyer's agent. Not only will they have access to more properties that you will not find elsewhere on the market, but they will be able to assist you throughout the home buying process.
Frequently Asked Questions about Viseu, Portugal Real Estate
What is Viseu, Portugal known for in terms of real estate?
Viseu, Portugal, provides a charming city atmosphere where you are strategically located to get around Portugal and to Spain. In terms of real estate, you'll find properties here much more affordable than in other parts of the country.
Should I buy property in Viseu?
Deciding whether to invest in property in Viseu depends on various factors, such as your investment goals, financial capacity, and personal preferences. If you are drawn to a serene and culturally significant part of Portugal, then Viseu could be the place for you.
What types of properties are available in the Viseu real estate market?
The property type best suited to you will depend on what you are looking for. The Viseu real estate market offers a diverse range of properties to cater to different tastes and needs. You can find well-maintained apartments in the heart of the city, providing easy access to amenities and cultural attractions. Many modern properties also have air conditioning, making the hot summers easy to manage. Additionally, traditional Portuguese houses with historical significance are available, showcasing the city's architectural heritage. For those seeking a quieter lifestyle, charming rural properties surrounded by picturesque landscapes are also on offer.
How is the current real estate market in Viseu, Portugal?
According to Numbeo, the price per square meter to buy an apartment in the city center is €1,400, while an apartment outside the city center will set you back €1,067 per square meter.
Working with a buyer's agent will provide you with access to more properties that meet your requirements, plus they will be able to assist you throughout the buying process.
What are the popular neighborhoods or areas for real estate investment in Viseu?
Some popular neighborhoods include the city center, Ranhados, and Povolide.
What is the process of buying property in Viseu, Portugal?
The buying process is as follows:
Step 1. Decide whether you'd like to take out a mortgage to finance your property.
Step 2. Find the perfect Portugal property
Step 3. Negotiation and Reservation Agreement
Step 4. Promissory Contract (CPCV)
Step 5. Sign the Escritura (Final Deed)
Are there any legal considerations specific to buying property in Viseu?
You will need to get a NIF number (Portuguese tax identification number) to buy property in Portugal. We recommend working with a lawyer to assist you with the buying process, for example, in checking that everything is in order with the property and the seller.
Are there financing options available for purchasing real estate in Viseu?
Yes, many banks provide mortgages for foreigners in Portugal. You will want to decide which offers the best deal for your personal requirements and start the process as early as possible.
Is Viseu a good place for real estate investment?
Viseu is considered a promising place for real estate investment due to its attractive location and cultural charm. Speak with real estate professionals to determine the best place to buy based on your requirements. They will have access to more properties that are relevant to your requirements.