Updated: August 17, 2023
Portugal provides beautiful properties up and down the country. From the stunning Algarve region in the south to quaint villages in the north, you'll find an abundance of options. But, if you are in the process of property hunting in Portugal, you may want to consider working with a surveyor. In this article on Property Surveyor Portugal: Everything You Need to Know, we'll provide you with information on whether or not you should hire the services of a surveyor when buying property in Portugal. 
Is it necessary to have a property survey in Portugal?
Whether you need a surveyor for your property in Portugal is up to you, and there is no legal requirement to have one. With this said, it is an excellent idea to have a surveyor by your side to ensure everything is in order with the property that you are buying. 
The weather, different construction methods, and if the property has been left unoccupied for long periods of time can each have an effect on the property and could potentially cause you issues down the line. 
Many modern buildings in Portugal have a concrete frame to provide a solid construction. However, this can cause problems such as dampness and cracks that potential buyers should watch out for. There are many examples of poor construction in Portugal, where there needs to be more quality control during the building process. 
In Portugal, the property owner is responsible for any illegal parts of the structure of the property, even those that were completed by the previous owners. Therefore, it may prove to be cheaper, in the long run, to pay for a surveyor to check your property to safeguard you from risks in the future. 
The Royal Institute for Chartered Surveyors has stated that the number of members in Portugal is rising as it is becoming increasingly common to have a property survey carried out on the property you are buying, especially amongst foreign investors. You will also find that hiring the services of a surveyor in Portugal is usually much cheaper than in other Western European countries.
What are the advantages of having a property survey carried out in Portugal?
There are many advantages of having a property survey carried out on your property in Portugal, including the following: 
A full structural survey can inform property buyers about any hidden structural defects that may not be visible to the untrained eye.

A surveyor has extensive knowledge of common property defects and is familiar with local construction methods. 

A full structural survey can identify maintenance issues so that you can budget accordingly. 

A survey can help with due diligence and assist in identifying any errors in documents that may not otherwise be detected. 

Portuguese properties may have undergone unauthorized construction, such as extensions or swimming pool additions, in some cases. A survey can highlight these issues so that they can be addressed before your property purchase.

A satisfactory survey can provide reassurance to the buyer and provide clarity on potential problems. 
What are the risks of not obtaining a survey on a Portuguese property?
Developments in Portugal have varying degrees of quality. Although many are constructed to a very high standard, you will also find sub-standard buildings, and it can often be difficult to differentiate between the two. A qualified surveyor can provide you with assistance by inspecting the property and offering advice on any defects that you should be aware of. Even relatively new buildings can have issues, so it is worth having a detailed inspection of your property to ensure everything is in order. 
Some common problems that surveyors uncover include the following: 
Structural defects (e.g., with internal and external walls) and serious faults with the property's construction

Dampness

Unapproved modifications or absence of proper building permissions

Insufficient or unauthorized utility connections, including electricity, water, and drainage

Termite infestations

Help define property boundaries in Portugal, where your property ends and your neighbor's property begins

Conduct a house inspection in Portugal on the interior and exterior of the property

Inadequate sewerage disposal
Leaky plumbing and rusting water pipes
Uneven flooring
Cracked internal and external issues with the property
As a buyer, it is crucial for you to ensure your complete satisfaction with the property prior to making a purchase. Not seeking professional advice and subsequently discovering problems after the purchase can be costly, time-consuming, and an unnecessary hassle. 
What services can surveyors in Portugal provide?
If you opt to work with a surveyor, you can expect the following services and surveyor jobs: 
A survey report on the property's condition in general: This is the most commonly requested type of survey, providing an overview of the property's overall condition, including an assessment of basic services and a visible inspection of both interior and exterior parts of the property.
Full building detailed report: This is more comprehensive than the first option and is particularly useful for older properties or properties that are in a poor state.
Tailored property surveys: Surveyors can customize property surveys based on the specific requirements and needs of the client. This is particularly useful if the client has a particular concern.
Additional survey report types or property surveys offered by surveyors in Portugal include valuation reports, snagging reports for newly constructed properties, and the option for an informal verbal report.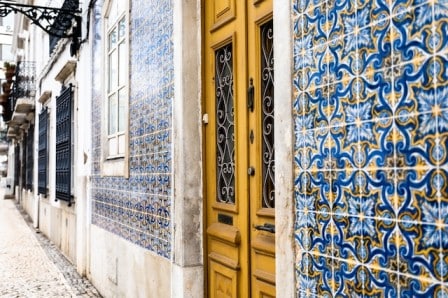 How much does a property survey in Portugal cost?
Property surveys in Portugal will typically set you back €400-€1000, but the cost will depend on the type of report required, where the property is located, and the value of the property. 
When should you instruct a surveyor in Portugal?
If you have any concerns regarding the property, it is recommended that you conduct a survey before proceeding with an offer or deposit payment. This is especially important if the deposit is non-refundable in case any issues with the property are discovered during the survey. Although not a standard provision, your Portuguese Lawyer may be able to include this clause in the initial contract (Contrato de Promessa de Compra e Venda) if the seller agrees. A building survey is useful not just on old properties but modern builds too. 
Goldcrest: Who We Are and How We Can Help You
Goldcrest is a buyer's agent that is based in Lisbon. We provide expert, impartial advice on real estate investments and how to buy property in Portugal. From scouting out the perfect property through to property acquisition, we have you covered throughout the process.
If you are looking to purchase property in Portugal, don't hesitate to get in touch. Our team of skilled experts is available to solve all your real estate doubts, offering insightful expertise and strategic advice. 
The following articles may also be of interest to you: 
For information on a builder's warranty, including information on the warranty period you can expect in Portugal, you can consult our article: Having a Builder's Warranty in Portugal: An Overview.
Member of the AIPP
Goldcrest is proud to announce that we are a member of the AIPP (Association of International Property Professionals).  
Based in London since 2006, over 380 corporate members in 31 countries are part of the AIPP association, which delivers consumer education and protection, industry best practices, and business development.  
AIPP provides support in three key areas:  
International professional accreditation 
Sales promotion and client leads 
Knowledge, training, and community
This AIIP seeks to improve standards for buyers of foreign property. As a member of the AIPP, we are best positioned to help foreign buyers secure their dream home in Portugal. 
Frequently Asked Questions
What does a property surveyor do?
A surveyor can conduct a house survey and check a property for defects and detect current and future problems, such as the use of inferior materials on external walls or issues inside the property, such as poor wiring. Issues such as inadequate sewerage disposal can also be addressed.
Property surveys can also value your home and carry out a boundary survey. In short, a homebuyer's survey is usually a very good investment to make sure everything is in order and provide you with peace of mind.