Updated: July 26, 2023
Porto, the second largest city in Portugal, has fast become one of the most sought-after capitals for expats in Europe, experiencing a real estate boom in recent years. With charming terracotta roofs, winding streets, and hip bars and restaurants lining the Douro River, it's easy to see why. In this article, Real Estate Investment Porto: Essential Information, we will guide you through the investment potential of the property market here, including delving into some of the most desirable areas to consider.  
Why Porto is an Excellent Investment Opportunity 
The enigmatic city of Porto attracts expats from all walks of life. Families will find spacious houses, such as those with ocean views at Foz do Douro, young professionals will find a buzzing atmosphere with a lively cultural scene, and retirees will find a delightful part of the country to spend their golden years in peace. This is without mentioning the increased popularity of the city amongst tourists and the fact that Porto is fast becoming a much-loved hub for digital nomads, plus industrial and tech sectors are continuing to blossom. 
Porto also has an extensive public transportation network, making it easy to get around the city. Plus, the one international airport in region is located in Porto, ideal for international travelers. Given the popularity of Porto, if you are thinking of buying a property to rent it out, you'll find the option to rent it out to either short-term or long-term tenants, depending on your preferences.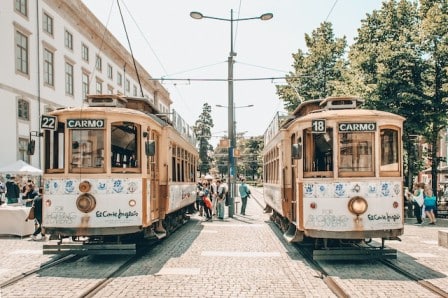 Also, for luxury buyers, for the first time ever, Porto has graced the list of the ten most popular cities in the world for those who buy luxury homes, indicating the desirability of buying property in the city. Baixa, Boavista, and Foz do Douro are the most popular areas to buy property in Porto, with demand for high end properties increasing by 12.7 percent in the last year. Luxury buyers will have many options to consider if looking for outstanding spacious properties, whether looking to buy in the city center itself or by the ocean.  
An Overview of Porto's Real Estate Market
The city boasts a wide array of property types, attracting all types of expats. Property prices in Portugal have been increasing gradually since 2013, registering a steeper rise in the past five years. This is the result of a combination of factors, such as the Portugal Golden Visa, which was launched in 2012 and placed Portugal on the investment map. 
History of Porto's real estate market
Porto's real estate market has been intricately linked to its rich heritage, which can be seen in its architecture across the city. The city's popularity with overseas buyers is quite a recent phenomenon, really coming into its own in the last decade or so, with Porto taking the top spot in the 2012, 2014, and 2017 European Best Destination Awards.  
Current state of the real estate market
When we look at the average asking prices of property in recent years, Porto City has registered a growth rate of 84 percent, increasing from €2,172 per square meter in 2017 to €4,000 in 2022. However, if you look at the municipality of Porto, prices in 2022 stood at €3,186, indicating the difference between buying in the city itself and in other areas in the municipality. 
The property market has really come into its own over the past few years, rivaling Lisbon as one of the best places to invest in the country. Indeed, in  2022, yields in Portugal's second largest city were higher than in Lisbon. 
Predictions for the market
While the future remains uncertain, S&P, a Global, leading data and analytic forecasting company, predict that house prices in Portugal may experience a slight decrease of around 4.4 percent in 2023. Moody's, another analytics company, offers a more conservative estimate, suggesting a decrease of 3 percent. It's important to note that this leveling off will not be uniform across the entire country, as certain locations in Portugal may continue to see price increases while others stabilize. 
If we focus on Porto, property prices in the city's more sought-after areas are expected to keep increasing in 2023 due to strong demand and a limited supply of housing. Additionally, the rise in foreign property ownership may contribute to this upward trend. Nonetheless, it should be emphasized that various factors, such as the property's specific location, type, and amenities, will continue to play significant roles in determining property prices in Porto.  
Is now the time to buy property in Porto? 
Despite property prices rising in Porto in recent years, if you choose wisely, you should still find excellent property options at reasonable prices, particularly when compared with many other European cities. You'll find plenty of housing options, from apartments to villas, and should be able to find the type of property that you are after. If you are looking to buy to rent, then there is arguably no better place in Portugal to put your money, with Porto's popularity likely to continue to increase in the future.  
Investment potential
Rental yields in Porto are positive, with averages in the city standing at 4.56 percent, and, depending on where you buy, you'll find an even better return on your investment. For example, in Campanhã, yields are 6.25 percent, and in Bonfim, rental yields are 5.58 percent. Take into account the fact that Campanhã is also one of the more affordable parts of Porto, and you're on to a winner.  
Short term rentals in Porto
With the significant increase in tourists visiting Porto, short-term rentals have become an attractive option for investors seeking high yields. Although managing short-term rentals demands a more hands-on approach, including frequent tenant turnover and increased cleaning responsibilities, partnering with a property manager can enable you to streamline the process and maximize your returns.
You will need to secure an Alojamento Local (AL) license for short-term rentals. You can find out more in our article: Alojamento Local Tourist Letting Registration: An Overview.
Long term rentals in Porto
Given its popularity with digital nomads, young professionals, and students, Porto is an excellent city to invest in property to rent it out long-term. A plus of long-term rentals is that there is less tenant turnover, leading to less hands-on management required and reduced risks.  
Rents have been increasing rapidly in Porto, rising by almost 61 percent between 2017 and 2022, and providing leverage to investors to secure a strong yield in the long run. In 2022, rents stood at €13/m2 per month, and this upward trajectory looks like it will continue. 
Yields in Porto range from 4 to 6.25 percent, depending on the neighborhood and where you buy. As we mentioned, Campanhã is a sound investment at the moment, with affordable property prices and a strong return on investment (6.25 percent). Bonfim is another council with a high yield, clocking in at 5.58 percent.  
Plus, if you are undecided between investing in Porto or Lisbon, average yields in Porto are slightly higher than in Lisbon – 4.6 percent in Porto, and 4.1 percent in Lisbon, indicating the profitability of investing in Portugal's second largest city. Plus, property prices in Porto are more reasonable than in the Portuguese capital.  
Types of Investment Opportunities in Porto
One of the key advantages of investing in Porto property is the wide range of property types available to buyers, coupled with the diversity of neighborhoods, making it suitable for any buyer's needs.
In Porto, you can explore various options for both residential and commercial properties. Below, we'll provide you with more information on some of the most common types of each. We'll also arm you with information on touristic real estate and other projects that you could consider investing in.
 Residential properties
As we mentioned, you'll find many different residential property types in Porto, including spacious modern apartments with scenic views of the river and luxurious waterfront properties.
Apartments
Whether you desire a contemporary apartment with a pool and riverside views or a smaller property in a burgeoning area, you'll find several appealing options for apartments for sale in Porto.
Waterfront properties
You'll discover a nice selection of Porto properties with waterfront views, both in the city itself, where you can enjoy stunning views of the Douro River and the wine houses on the opposite side of the river, or spacious mansions and villas on the coast, such as at Foz do Douro, where you will have sweeping views of the Atlantic Ocean.
Luxury properties
Luxury Porto homes cater to discerning buyers with exquisite waterfront properties, luxury condos, and townhouse apartments boasting stunning city views. Many of these properties come with private pools, gyms, and other luxurious features.
Commercial properties
Commercial properties in Porto also offer attractive investment prospects. Some popular options include:
Offices
Investing in offices can provide stable rental income and potential long-term capital appreciation.
Retail spaces
Opportunities to invest in retail spaces offer steady income from established businesses and potential growth in prime locations.
Warehouses
Warehouses offer lucrative investment opportunities with lower construction costs. Certain areas in Porto, like Campanhã and Bonfim, witness warehouse renovations into trendy craft beer bars and art galleries.
Touristic real estate
Tourism real estate holds great promise due to the thriving Porto tourism sector. Investors can explore options such as hotel projects and serviced apartments to tap into the flourishing tourism market in the city.
Hotel projects and serviced apartments
Given the continued influx of tourists to Porto, you'll find that investing in hotel projects can be a very profitable business. Serviced apartments, targeted towards students or long-stay tourists, is also a potential option.
Vacation rentals and short-term lettings
As we've mentioned before, short-term rentals and vacation rentals can prove to be lucrative, particularly given the popularity of Porto throughout the year. It's worth recruiting the services of a property management company to take care of your property on your behalf.
You can find out more about securing the services of a property manager in our article: How to Find a Property Manager in Portugal.
Other types of investment
Beyond the traditional property investments, there are other exciting projects emerging in Porto. The city's appeal to digital nomads and tech companies has created investment opportunities in co-working and co-living spaces, a trend expected to continue growing. The city has some of the best co-working spaces in the country, and this trend looks set to continue in the future. Additionally, there is an increasing interest from developers and investors in green real estate opportunities, indicating a potentially thriving market segment in the years to come.
Key Locations for Real Estate Investment in Porto
One of the most appealing aspects of Porto is the diversity of the city and the surrounding area. Breathe in the fresh, clean ocean air at Foz do Douro, meander down the cobbled streets in the historic center, or enjoy an ice cold beer by the river. If you're undecided on where to buy property, this section will delve into the key parts of the city.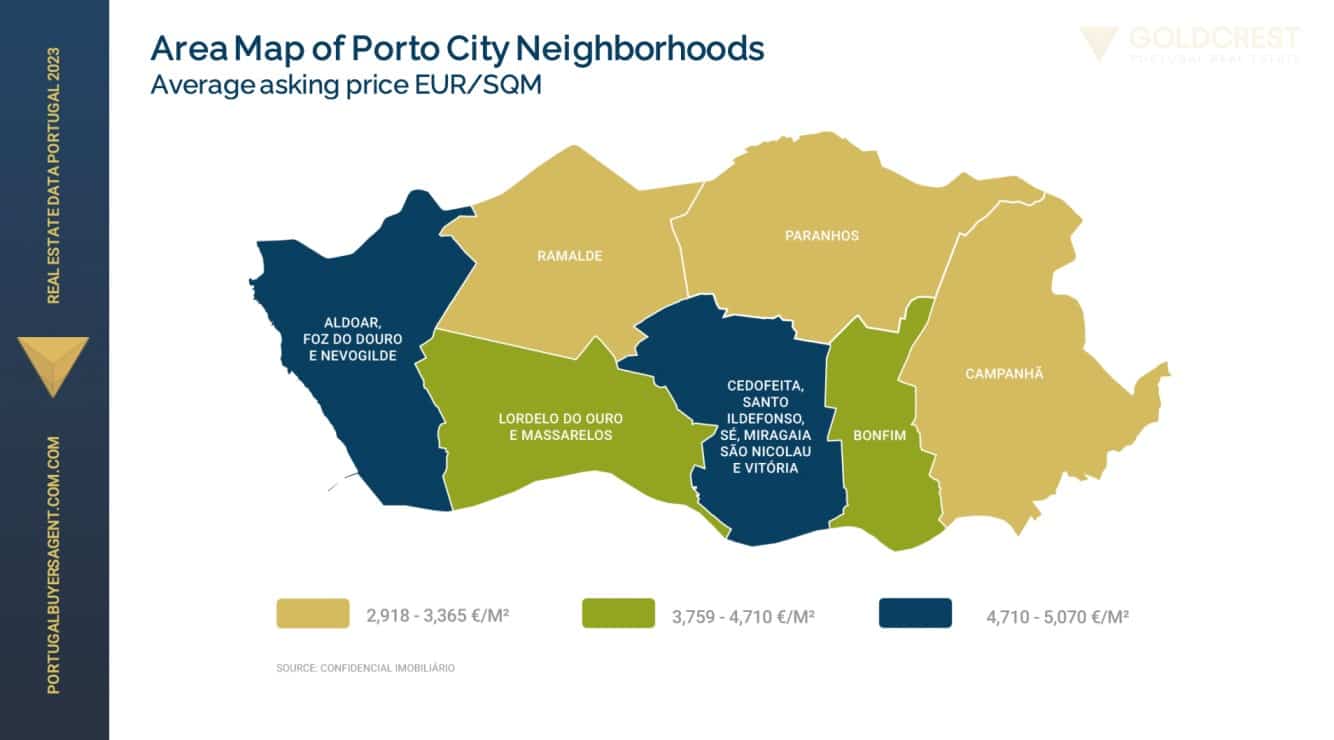 Aldoar, Foz do Douro and Nevogilde
Aldoar offers a peaceful residential environment with easy access to modern amenities and green spaces. Its proximity to the coastline and beaches makes it an attractive spot for property investment. The area is well-connected to the city center, making it a convenient choice for families and professionals. 
If you want the perfect mix of city and ocean life, then Foz do Douro is for you. Foz do Douro boasts a privileged location with stunning views of the Atlantic Ocean. The upscale neighborhood is known for its beautiful promenade, charming cafes, and luxury properties. Its exclusive ambiance attracts affluent buyers and investors seeking a sophisticated lifestyle by the sea.  
Meanwhile, Nevogilde offers a mix of old-world charm and contemporary living. The neighborhood's architecture is a blend of traditional Portuguese houses and modern residences. With excellent schools, parks, and cultural attractions nearby, it's an excellent choice for families looking for a high-quality living experience. 
Centro Histórico do Porto
If you've ever been to Porto, you've no doubt been captivated by the cobbled streets in the center of the city. As a UNESCO World Heritage site, the historic center of Porto is rich in culture, history, and charm. Buying property here, such as in the city's downtown district (Baixa) area or Bonfim, offers a unique opportunity to own a piece of the city's heritage, plus the area's popularity with tourists ensures a thriving rental market and potential for high returns on investment. From boutique shops to trendy bars, you'll always find something to discover tucked away in the center of the city.  
Lordelo do Ouro and Massarelos 
Lordelo do Ouro is another great place for families, with a peaceful ambiance and plenty of green spaces. You are not far from either the center of Porto or from the ocean, providing you with the best of both worlds. The area's proximity to the river and its elegant residential options make it an appealing location for many expats from all walks of life.  
Bonfim
Bonfim is an up-and-coming area with a vibrant atmosphere. Its central location and good transport links make it convenient for daily commuting. Investors can find affordable property options here, while residents benefit from the neighborhood's diverse community, local markets, and lively street life. 
Campanhã 
Located in the east of the city, Campanhã offers a mix of traditional and modern living, and we have already mentioned how Campanhã is an excellent option for investors looking to secure a nice return on their investment. With its recent revitalization, the area presents attractive investment opportunities at more affordable prices compared to central Porto. As an emerging neighborhood, Campanhã has the potential for substantial property value appreciation in the future.  
Ramalde 
Ramalde is a residential haven, popular among families due to its tranquil environment and excellent infrastructure. The neighborhood's numerous parks and leisure facilities add to its appeal. For property investors, you should be able to get a nice return on your investment here, and property prices are the most affordable in Porto City. 
Vila Nova de Gaia
 A city in itself, Vila Nova de Gaia is located just across the river from Porto, there is a saying amongst locals in Porto that the only good thing about Vila Nova de Gaia is its breathtaking views of Porto. However, this does Vila Nova de Gaia a great disservice, as it has great restaurants and amenities, and properties are much more affordable here than in Porto City. The area is renowned for its world-famous Port wine cellars and proximity to stunning beaches. Buying property here provides a mix of city living and a relaxed coastal lifestyle, and you if you want to spend the day in a small seaside town, you have many options just a short drive away.  
Matosinhos
Matosinhos is a Portuguese city located northwest of Porto and is renowned for its blend of new and old architecture and its strong links to the ocean through its fishing community. You'll find that the city has very close links to the ocean, with lovely beaches to explore and excellent seafood. In the next few years, expect Matosinhos to increase in popularity as more and more expats take note of this stunning part of the country, making it a city with high investment potential in the future.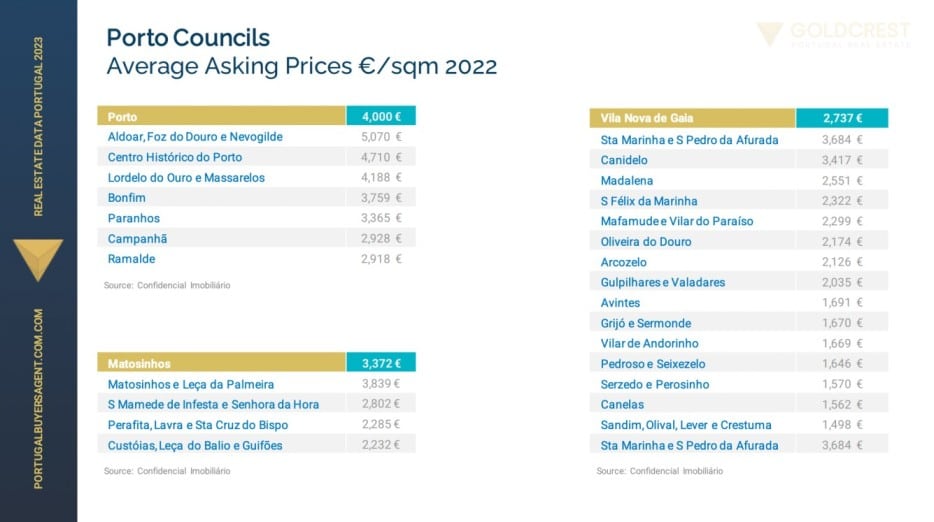 Should I invest in Porto or Lisbon? 
Both Lisbon and Porto provide excellent opportunities for investors and great places to live. While property prices are higher in Lisbon, the Portuguese capital is incredibly charming, effortlessly blending traditional architecture while embracing modernity, which can be seen clearly in the futuristic buildings at Parque das Nações and the fact that more digital nomads and tech companies are heading to Lisbon than ever before.  
Porto, the second largest city, however, can certainly hold its own. Again a favorite with remote workers, families, and retirees, Porto is simply delightful, with itscobbled streets, riverside views, and friendly locals.  
And if you are weighing up this question looking purely at yields, yields in Porto stood at 4.6 percent in 2022, while in Lisbon, yields were 4.1 percent.  
You can find out more about investing in Lisbon in our article: Real Estate Investment Lisbon: Your Complete Guide.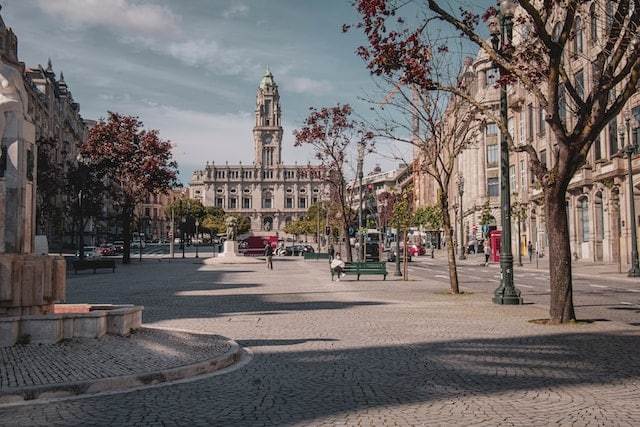 How to Buy a Property in Portugal 
If you are looking to buy your dream property in Portugal, there are certain aspects that you should consider. 
Risks and challenges to consider
Getting a firm grasp on the dynamics of the Portuguese real estate market poses an early challenge for investors. Conducting in-depth research and analysis is vital to comprehend aspects like property prices, demand-supply trends, local regulations, and market shifts. Collaborating with industry experts can be beneficial in minimizing risks by gaining valuable insights and guidance.
Understanding the market
 One of the hurdles faced when venturing into the Portuguese real estate market is making sure you know the ins-and-outs of the market. It is vital to conduct extensive research and analysis, considering factors such as house prices, demand-supply fluctuations, local regulations, and market trends. An experienced real estate professional, like a local buyer's agent, can provide invaluable insights and discuss your options with you.  
Market volatility and economic influences
Investing in any real estate market involves considering market volatility and economic influences. When it comes to Portuguese real estate, make sure you understand the return on investment potential alongside macroeconomic factors, such as inflation rates. 
Due diligence
Emphasizing the importance of due diligence cannot be overstated. This involves meticulous scrutiny of the property's legal aspects, such as title deeds, permits, licenses, and any potential encumbrances. Engaging the services of a specialized real estate lawyer can help you navigate through the legal complexities and identify any risks or issues before property acquisition. Additionally, verifying the credibility and financial stability of the seller is paramount to avoid possible fraudulent transactions or disputes. 
Goldcrest: Who We Are and How We Can Help You
Goldcrest is a buyer's agent that is based in Lisbon and the Algarve. We provide expert, impartial advice on real estate investments and how to buy property in Portugal. From scouting out the perfect property through to property acquisition, we have you covered throughout the process. 
If you are looking to purchase property in Portugal, don't hesitate to get in touch. Our team of skilled experts is available to solve all your doubts, offering insightful real estate expertise and strategic advice.  
The following articles may also be of interest to you:  
Why choose Goldcrest?
Local knowledge:

With offices located across Portugal, our presence nationwide allows us to assist you personally across the country.

 

Independent service:

As an independent buying agent, we do not represent any development or project. Our service is entirely tailored toward each individual client, providing you with everything you need to secure the perfect property at the best possible price. As an impartial advisor on the real estate market, we work solely on behalf of our client and provide a service tailored to your needs and requirements.

 

Streamlined process:

Our real estate agents speak English and Portuguese, and our service is completely focused on providing you with a hassle-free buying experience, saving you time. 

 

Experienced team:

Our expert real estate team has a vast local knowledge of the Portuguese property market. We have cutting-edge technology and metasearch tools at your disposal to provide full market coverage, ensuring the best investment choices and negotiated prices.

 

Network of partners:

Lawyers, property management services, builders, architects, designers, and landscape gardeners, again saving you time and hassle by providing you with trusted experts in their field of work. 

 

Member of the

AIPP

(Association of International Property Professionals) delivering company best practices and upholding real estate professional values.

 
Frequently asked questions related to Real estate investment in Porto 
Why is Porto an attractive location for real estate investment? 
Investing in Porto can provide you with more affordable properties than you would find in Lisbon, attractive yields, and its popularity amongst buyers continues to increase, making it an excellent location for real estate investments. Compared to other Western European cities, Porto is still considered affordable. 
Where do most expats live in Porto? 
Many expats who live in Porto stay in the central districts of the city, although those who prefer to be by the beach live in areas such as Foz do Douro. There are many areas in the city to secure your dream property. Foz do Douro is popular with families, given the spacious properties that have sweeping views of the Atlantic Ocean, and you'll also find all the amenities you need on your doorstep. Vila Nova de Gaia is another excellent option for families. If you are looking to live in a quiet seaside town, you have many options close to Gaia. 
What types of real estate properties are available for investment in Porto? 
A range of real estate properties, including townhouse apartments, mansions, and villas, are available for investment in Porto, catering to diverse investor preferences. 
What are the key areas in Porto for real estate investment? 
Across the city, you'll find excellent options. Two that come to mind are Bonfim and Campanhã, two up-and-coming parts of the city offering high returns on investment.  
How does the property buying process work in Porto? 
The buying process in Porto can be broken down into the following steps:  
Step 1. Decide whether you'd like to take out a mortgage to finance your property.

 

Step 2. Find the perfect Portugal property

 

Step 3. Negotiation

 

Step 4. Promissory Contract (CPCV)

 

Step 5:  Sign the

Escritura

(Final Deed)

 
How does Portugal's Golden Visa program impact real estate investment in Porto? 
Under the Portugal Golden Visa, you can invest in commercial real estate in Porto. However, following the rules that came into place in January 2022, it is no longer possible to invest in residential property under the program. If you are interested in the Portugal Golden Visa, you should be aware that there are upcoming modifications to the scheme, whereby real estate will no longer be an option open to investors. You can read more about it in this article: Portugal is Ending Its Golden Visa Program.  
Under the Portugal Golden Visa, you can get a residence permit in return for an investment, with the possibility to secure Portuguese citizenship after maintaining your investment and meeting certain other criteria, such as having a clean criminal record and passing a basic language test.  
What are the legal considerations when investing in real estate in Porto? 
When investing in real estate in Lisbon, it's important to consider legal aspects such as property ownership regulations, tax obligations, and hiring a reputable lawyer for guidance. 
What are the risks and challenges involved in real estate investment in Porto? 
Risks and challenges in Lisbon's real estate market include market fluctuations, doing your due diligence, and the need for thorough market research before investing. You should also ensure that you understand your tax obligations when buying property in Porto.  
How is the resale market for properties in Porto? Can I expect a good return on my investment? 
The resale market for properties in Porto is generally very, driven by ever-increasing demand, tourism, and a strong rental market for both long and short term rentals, offering good potential for a return on investment. 
What are the tax implications of real estate investment in Porto for international investors? 
You will need to be aware of property taxes to pay both at the time of purchase and on an annual basis. Taxes during the process include Property Purchase Tax (IMT) and Stamp Duty, while taxes that you will be required to pay on an annual basis include Municipal Property Tax (IMI). You can find out more in our article: Property Taxes in Portugal 2023: An Overview. 
How is the real estate market in Porto affected by economic fluctuations? 
As with the property market in any country, Porto's real estate market is influenced by economic fluctuations, but its resilience and consistent demand make it an attractive investment option in the long-term. The market's resilience is highlighted by its performance in the wake of the COVID-19 pandemic.  
Are there sustainable or green real estate investment opportunities in Porto? 
Yes, sustainable and green real estate investment opportunities are becoming more and more common in Porto, amongst buyers and developers, with a growing focus on eco-friendly developments and energy-efficient properties.