Updated: November 14, 2023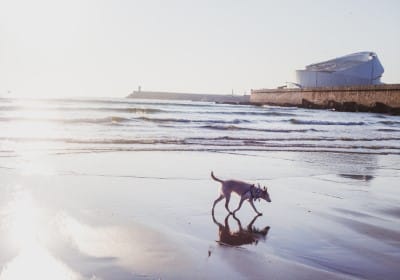 Just a short twenty-minute drive northwest of Porto, you will stumble upon Matosinhos, a coastal city that boasts some of the best beaches in the region. Come summer, locals and tourists will make a beeline for the city's golden sands and restaurants spilling out onto the beaches. Located incredibly close to Porto, you can enjoy the perks of being a neighbor to the second-largest city in Portugal whilst enjoying a coastal living experience. 
It is no surprise that Matosinhos is becoming more common in conversations about up-and-coming areas in Portugal. In this article, we are going to deep dive into why this charming coastal city could be the perfect place for you, whether you are looking to retire to Portugal, are considering moving with your family in search of a better quality of life or jumping on the Portuguese property ladder. 
An Introduction to Matosinhos
To provide you with a brief overview of Matosinhos, 172,557 residents live in the municipality. Divided into four parishes, the municipality shares borders with Vila do Conde to the north, Maia to the northeast, Porto to the south, and the Atlantic Ocean to the west. Matosinhos is the municipality in the Porto Metropolitan Area with the highest income per capita. Strategically situated between the ocean and the second-largest city in Portugal, buyers can enjoy the best of both worlds. 
Why invest in Matosinhos real estate?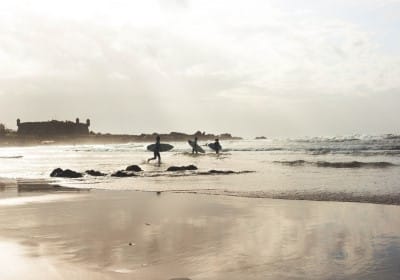 Matosinhos is one of the lesser-known areas of Portugal, and while Lisbon, Porto, and the Algarve tend to steal the limelight, you may miss a trick if you fail to notice this charming northern gem. The average price for Matosinhos real estate has experienced a massive growth rate of 149 percent from 2017 to 2022, indicating strong interest from both local and foreign buyers in the city.  
If you look for properties for sale in Matosinhos, you'll find plenty of options catering to different demographics, whether you are searching for a modern apartment or a lovely house overlooking the Atlantic Ocean. 
Some of the key factors contributing to the increased interest in Matosinhos are: 
Proximity to Porto: Matosinhos's close proximity to Porto, a major economic and cultural hub, has made it an appealing location for real estate investment, benefiting from the economic spillover. 
Urban revitalization: Investments in modernizing public spaces and enhancing urban amenities have improved the city's overall quality of life. 
Affordable real estate options: While being strategically located close to Porto, properties in Matosinhos offer affordability to buyers. 
Coastal living: Matosinhos provides buyers with the best of both worlds. If you buy property here, you have the perks of living in the shadow of Porto while being able to enjoy unlimited access to some of the best beaches in the country, such as Praia de Matosinhos and Praia de Leça da Palmeira. For many the main attraction of Matosinhos are the wonderful beaches. 
Up and coming area: With high rental yields – the gross rental yield stood at 5.23 percent in 2022 – and the offer of the potential for a strong return on your investment, Matosinhos can be regarded as a top investment hub. 
Proximity to schools: You'll find plenty of excellent international schools close by if you are considering moving to Matosinhos with your family.  
Technology hub: Matosinhos has seen the construction of two major business centers, Fuse Valley and Spark, that will likely attract large companies and businesses.
Strategic location: For regular travelers, Matosinhos is also very close to the airport, just a short 15-minute drive. You will also have excellent access to the main cities to the north and south, such as Braga and Porto. You are also relatively close to the Spanish border to the north.
Real Estate Market in Matosinhos
In this section, we'll provide you with more detailed information on the real estate market in Matosinhos. 
Property prices
The average asking price for properties in Matosinhos was €3,372 in 2022. When you compare this to Porto, where the asking price for properties stood at €4,000 in 2022, you can see that the cost of properties in Matosinhos is affordable in comparison. Note that this is the average asking price and the transaction price can be lower, or in a few cases higher than this, as sellers want to sell before a set date, for example. 
Property types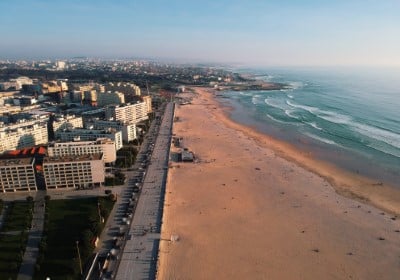 Matosinhos, Portugal, offers diverse property types, including charming apartments with stunning sea views, modern townhouses in vibrant neighborhoods, and luxurious waterfront villas. You will find condominiums here with high-quality construction. Additionally, there are commercial properties available, such as retail spaces and office buildings, for investors interested in placing their money in a commercial venture. 
You will also find land for sale in Matosinhos at affordable rates. You can discover more about the perks of this real estate option in our article, Land for Sale in Portugal: Your Definitive Guide. 
If you are looking for beach houses for sale in Porto, Portugal, you should also check out our article: Best Beach Properties Near Porto.  
Luxury homes for sale in Matosinhos
 Given the location of Matosinhos, you will find many luxury properties with ocean views. You will uncover many luxury villas with a private pool plus additional features such as a private gym or additional security. If you are looking for a farm or a vineyard for sale in Portugal, these property types can also be found in the countryside nearby. 
Buying a property with a swimming pool does not have to break the bank, however. You can consult our article for some tips: Cheap Houses with Pool: Affordable Property in Portugal.  
Investment potential and future predictions
Matosinhos has recently experienced notable price appreciation in its real estate market, primarily driven by its attractive location and growing infrastructure development. 
Future predictions suggest a sustained upward trend bolstered by increased demand for properties in this vibrant seaside community. However, this surge in prices has also been influenced by the influx of tourism, which has augmented the demand for vacation rentals and short-term accommodations. If you choose to buy-to-let, this could be a profitable venture now and even more so in the coming years. As we mentioned, rental yields stood at 5.23 percent in 2022.  
Buying Real Estate in Matosinhos: Top Tips for Buyers
In this section, we'll provide you with a step-by-step guide to buying property in Matosinhos before arming you with some key information that you should be aware of when buying property here.
Step-by-step guide to buying property in Matosinhos
Navigating the process of buying property in Matosinhos can initially pose challenges. However, by adhering to these steps, you will find the process becomes considerably more manageable and uncomplicated.
| | |
| --- | --- |
| | 1. Decide whether you'd like to take out a mortgage to finance your property. |
| | 2. Find the perfect Portugal property |
| | |
| | |
| | 5. Promissory Contract (CPCV) |
| | 6. Sign the Escritura (Final Deed) |
We recommend working with real estate professionals who can assist you with your purchase and guide you through these steps.
Legal considerations
If you are looking to purchase property in Matosinhos, you should have a clear understanding of the legal implications of the purchase. For foreigners, there are no restrictions on buying property in Portugal. However, you will want to have a grasp of property rights, zoning rules, land utilization laws, and contractual commitments. Collaborating with a legal expert specializing in Portuguese real estate is highly recommended when purchasing property in Portugal. A real estate lawyer in Portugal can assist with due diligence checks and ensure that everything runs smoothly, saving you time and hassle. 
Working with real estate professionals
Perhaps the most important reason to work with real estate professionals in Portugal when looking for property for sale in Matosinhos is their local insights. Alongside this, they can streamline the property search, offer valuable industry connections, and ensure a smooth transaction process, making your property purchase as hassle-free as possible. 
Financing your Matosinhos real estate investment 
Before you begin looking for properties in Matosinhos, you'll want to first set out a budget for your new home. There are many banks in Portugal that provide financing options to foreign buyers; you will simply need to determine which one best meets your requirements. You can check out our article, How to Get a Mortgage in Portugal in 2023, for more detailed information.  
Lifestyle in Matosinhos
Coastal delights: Matosinhos offers access to pristine beaches and a range of water activities, including surfing and sunbathing, appealing to beach enthusiasts and water sport lovers. 
Culinary paradise: The area is renowned for its diverse dining options, especially its fresh fish and seafood restaurants and eateries, attracting food connoisseurs and culinary enthusiasts from around the world. You will also find Michelin-starred restaurants in the vicinity. 
Cultural extravaganza: Matosinhos boasts a rich cultural scene with museums, art galleries, and historic landmarks, providing ample opportunities for residents and visitors to immerse themselves in the local arts and heritage. This is without mentioning the treasure trove of places you will find in nearby Porto. 
Green spaces: You don't just have the ocean on your doorstep, you'll also find green spaces nearby, such as the City Park.
So, is Matosinhos right for you?
There are many reasons to consider moving to Matosinhos. The city is the perfect place for expats from all walks of life. 
Families can enjoy strolling along the waterfront at the weekends and will find many excellent schooling options close by. Retirees who are looking for a milder climate to the popular Algarve region, but who are still looking to be within touching distance of the coast, should look no further that Matosinhos, where a high quality of life is guaranteed. 
And, if you are considering buying in Matosinhos from a purely investment-focused perspective, the potential for renting out your property could be a lucrative venture. Plus, your property will likely increase in value over time given the increased interest in Matosinhos real estate.  
Ultimately, the decision is up to you. You should be aware that the north of Portugal conjures up a milder climate, and those looking for warm weather throughout the year may want to consider areas further south. With this said, Matosinhos is an exceptional destination, and those who choose to settle in this fascinating city will be able to enjoy the very best of both city life and the sea. 
Goldcrest: How We Can Help You
Goldcrest is a buyer's agent that is based in Lisbon. We provide expert, impartial advice on real estate investments and how to buy property in Portugal. From scouting out the perfect property through to property acquisition, we have you covered throughout the process.
If you are looking to purchase property in Portugal, don't hesitate to get in touch. Our team of skilled experts is available to solve all your real estate doubts, helping you with the property search and offering insightful expertise and strategic advice.
Why choose Goldcrest?
Local knowledge: With offices located across Portugal, our presence nationwide allows us to assist you personally across the country.
Independent service: As an independent buying agent, we do not represent any development or project. Our service is entirely tailored toward each individual client, providing you with everything you need to secure the perfect property at the best possible price. As an impartial advisor on the market, we work solely on behalf of our client and provide a service tailored to your needs and requirements.
Streamlined process: Our real estate agents speak English and Portuguese, and our service is completely focused on providing you with a hassle-free buying experience, saving you time.
Experienced team: Our expert real estate team has a vast local knowledge of the Portuguese property market. We have cutting-edge technology and metasearch tools at your disposal to provide full market coverage, ensuring the best investment choices and negotiated prices.
Network of partners: Lawyers, property management services, builders, architects, designers, and landscape gardeners, again saving you time and hassle by providing you with trusted experts in their field of work.
Member of the AIPP (Association of International Property Professionals), delivering company best practices and upholding professional values.
Frequently Asked Questions about Real Estate in Matosinhos, Portugal.
What is the current average price of real estate in Matosinhos, Portugal?
The average asking price for properties in Matosinhos was €3,372 in 2022. If you are looking for cheap property for sale near Porto, Portugal, the Matosinhos municipality has plenty of options.
What are the typical property types available in Matosinhos, such as apartments, houses, or condos?
Matosinhos, Portugal, offers a diverse range of property types, including modern apartments with stunning sea views, charming houses, and convenient condos.  
Given the array of options available, from waterfront apartments to cozy traditional homes, if you are looking to buy property in Matosinhos, you'll find several options depending on your preferences and requirements.  
Whether you are looking for a Matosinhos apartment for sale, or a luxury villa, there are plenty of options. Matosinhos, Portugal, real estate beachfront properties are common for buyers looking to buy a property with stunning views of the Atlantic Ocean.  
How does the cost of living in Matosinhos compare to other cities in Portugal?
Matosinhos cities encompass Matosinhos, São Mamede de Infesta, and Senhora da Hora, plus six villages. The municipality has a relatively affordable cost of living compared to major Portuguese cities like Lisbon and Porto. Residents enjoy a high quality of life without the steep expenses associated with larger urban centers.