Updated: October 16, 2023
São Miguel island – Ilha de São Miguel – is the largest and most populous island in the Azores archipelago. Nicknamed the "Green Island" for a reason, Ilha de São Miguel has vibrant green rolling hills, grazing cattle, stunning lakes, and spectacular ocean views. One thing is for certain – once you visit this island, you will not want to leave.
When it comes to São Miguel Azores real estate, there are several options to consider. Indeed, if you are looking for splendid tranquility, want to reconnect with nature, or would like to embrace a truly Portuguese lifestyle, then you should consider property for sale located in the Azores – and São Miguel island comes highly recommended.
In this article, we'll run over everything that you will need to know about São Miguel island, from the real estate market to the spectacular beauty of the island. If you would like to book a call to discuss buying property in the Azores, then you can get in touch with us to discuss your options today.
Why escape to São Miguel?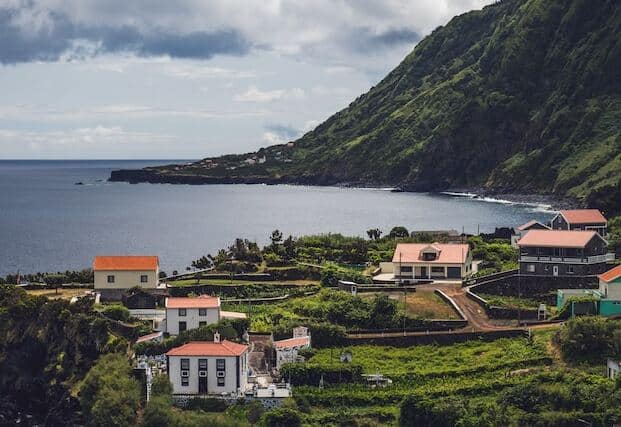 The entire Azores archipelago is a wonderful and privileged location to live. The Azores consists of nine islands, each with its own unique character, culture, and picture-perfect landscapes, and with a total area of 2,346 km². For an overview of the Azores, visit our article: Azores Real Estate: An Overview.
In this article, we will focus on São Miguel island. São Miguel island is located in the eastern group of islands in the Azores archipelago, close to Santa Maria (you can see our article on the beautiful Santa Maria here).
The rolling hills, the many miradouros (viewpoints), and the tranquility of the Azores make the islands some of the most beautiful in the world. In fact, the Azores has been featured in numerous articles by companies like Forbes, such as their 2021 article describing the island of São Miguel as being a location not to be missed and their 2023 article describing the culinary delights found on the Azores Islands.
When it comes to properties in the Azores, what could be better than waking up to the soft sounds of the ocean while having your coffee in a fantastic villa with great sun exposure or enjoying a bowl of local fruits in an airy dining room with the most inviting natural light? Why not end the day with a glass of red wine as the sun sets on yet another beautiful day? The Azores really is a paradise for expats in Portugal, where they can relax in true harmony with nature.
São Miguel Azores Real Estate Market
São Miguel island has a vibrant and ever-growing real estate market where you will find all sorts of properties. From villas and townhouses to modern apartments for sale in São Miguel, Azores, you have many options. If you are looking to move to Portugal and are looking for luxury properties, you will also be able to find prospective options here. If we look at São Miguel island, Azores, and real estate market trends, it is likely that this island – and the rest of the islands, for that matter – will experience increased demand in the coming years.
Real Estate Prices in São Miguel, Azores
When it comes to property prices on São Miguel island, the average asking price for a villa was €1,440 per square meter in 2022, while an apartment would set you back €2,214 per square meter. With many options on the table, from luxurious villas to old traditional townhouses, you should be able to find your dream home on São Miguel island. You will also find land for sale in São Miguel, Azores, which will be more affordable than buying a new build, even when taking into account construction costs. Investing in land for sale in Portugal can be an excellent idea. If you are looking to build your dream home from scratch, tailored completely to your exact requirements, then this is the best option.
The cost of the property will also depend on factors like its size, the area (prices in Ponta Delgada will differ from more remote areas), amenities like air conditioning or a swimming pool, and more. Indeed, properties on the island are very affordable in comparison to properties in other Western European countries.
If you are looking for rental properties in São Miguel Azores, you should be able to find apartments to rent at affordable rates. This can be a good option if you would like to stay on São Miguel island and visit prospective properties to discover your dream home. Alongside this, São Miguel Azores island real estate opportunities are also ripe for the taking, whereby you can buy a property to rent it out. Vacation rentals are becoming increasingly popular as more tourists look to discover São Miguel island. However, bear in mind the tourist season and the location you choose to ensure that you can secure tenants throughout the year.
São Miguel Azores Real Estate: Luxury Properties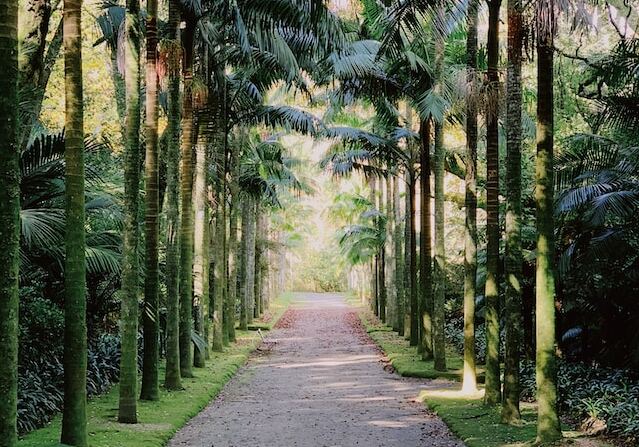 If you are looking for luxury homes in São Miguel, Azores, then you will be able to find several properties in the luxury segment of the São Miguel market. Whether you are looking for a fantastic villa or a luxury mansion, many of the properties will have a beautiful ocean view, and some will come with a private pool, gym, or security.
Of course, prices will vary based on the type of property (such as whether it's a modern two story house with a spacious dining room or a first-floor apartment with a fantastic garden in a quiet location) and the amenities included, such as air conditioning, exceptional sun exposure (depending on the direction the property faces), and whether it is in a busy or quiet area.
While luxury properties are evidently more expensive, buyers will be pleased to know that they are relatively affordable compared to the equivalents in other European countries. São Miguel island can be the perfect place to discover luxury properties with a lower price tag. Prices can range from around €500,000 for a four-bedroom 354 square meter luxury villa with a second floor in Lagoa to €2,000,000 for a four-bedroom 658 square meter detached house with a swimming pool and sea view.
Why should I buy property on São Miguel?
São Miguel has much to offer buyers looking to secure their dream home in the heart of nature. Some of the key reasons to consider this stunning green island are listed below.
Natural Beauty: São Miguel boasts stunning landscapes, including volcanoes, hot springs, lush greenery, and beautiful coastlines, making it an attractive destination for tourists and retirees.
Tourism Potential: The island's natural beauty draws tourists year-round, potentially providing rental income and property value appreciation.
Mild Climate: São Miguel enjoys a pleasant climate throughout the year, making it an appealing place to live or vacation.
Safety: The Azores, including São Miguel, are known for their safety, providing a secure environment for residents and visitors.
Residency options: Portugal offers investor-friendly programs like the Golden Visa, facilitating residency for property investors and particularly beneficial for non-EU citizens. Plus, with other options, such as the D7 Visa or Digital Nomad Visa, you'll find many ways in which you can live on the Azores.
Affordable Living: The cost of living in São Miguel is relatively low compared to many other European destinations.
Infrastructure Development: The island's growing popularity as a tourist destination is driving infrastructure development, potentially increasing property values.
Quality of Life: São Miguel offers a unique blend of natural beauty, safety, investment opportunities, and a high quality of life, making it a compelling choice for property buyers.
A History of São Miguel Island
São Miguel has a rich history since being discovered by the Portuguese. The following section will provide a brief history of São Miguel island and its role.

Discovery of São Miguel island
São Miguel became the second of the islands of the Azores discovered by Gonçalo Velho Cabral to be settled by colonists from mainland Portugal. Although the exact date is uncertain, it is believed it was discovered sometime between 1426 and 1437. The first settlers noted the beauty of São Miguel island, covered in ravines warm with sun and with an abundance of trees.
Sometime after the first settlement of Povoação Velha, which was situated on the southeastern coast, a volcanic eruption occurred between 1439 and 1444 in the crater of Sete Cidades, which was, at the time, uninhabited.
São Miguel island in the 15th and 16th centuries
In the early 15th century, Infante D. Henrique authorized the settlement of the Azores, and many settlers from continental Portugal traveled to São Miguel. The temperate climate and the fertile soils attracted settlers from other countries, including the Flemish and the French. In addition to these settlers, cultural minorities, such as Jewish New Christians and Moors, were exiled to the island during the Inquisition.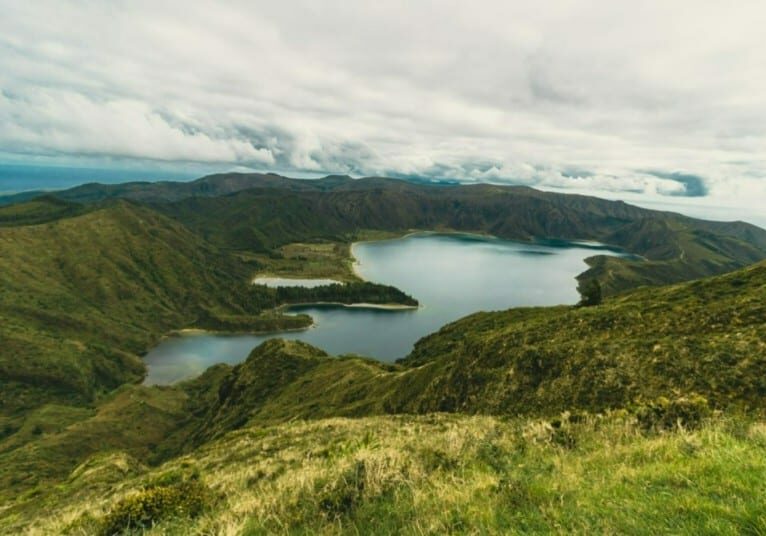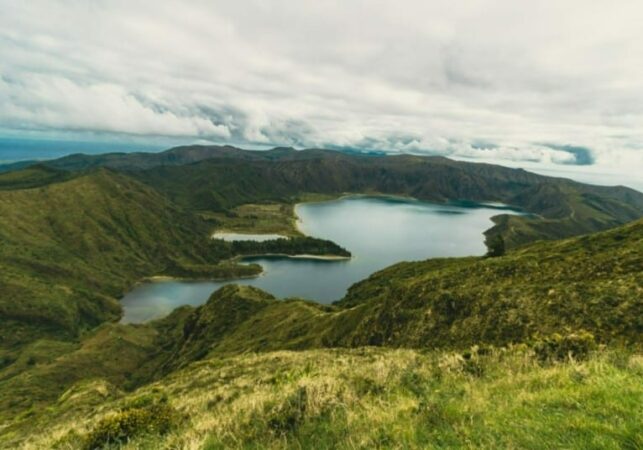 The fertile soils allowed for rapid economic growth, and the establishment of a military garrison pushed things further still, opening up trade as the port was a landing point in the African and Asian commercial trade routes. Particularly favored was the exportation of sugar, and later orchil, a dye used in the making of cloth, that was exported to Flanders. Indeed, these commodities stabilized the island's export trade.
The first capital of São Miguel was Vila Franca do Campo. However, this city was devastated in the 1522 Vila Franca earthquake, causing Ponta Delgada to become the administrative and economic center from 1546. Later in the 16th Century, during the Portuguese succession crisis, the people of São Miguel came out victorious in the Battle of Vila Franca against a French squadron that supported the claims of the pretender António, Prior of Crato.
São Miguel island from the 17th century onwards
With the Portuguese Restoration War in 1640, São Miguel island was once again renowned as a commercial and trade center. New contacts were made with Brazil, which was heavily colonized during this time. Many of the island's historic buildings, such as its churches, date from this period. The island's architectural changes and expansions largely came from the revenues that were created from exporting oranges overseas, mainly to the United Kingdom.
During the Liberal Wars, following the landing of troops loyal to Queen Maria II, a resistance to the Absolutist regime in the Azores was organized. In 1832, the militia pledged allegiance to the Charter and Queen Maria, creating a contingent that sailed the continent where they were involved in liberating Porto.
Following the Liberal Wars, the economy flourished, and the port of Ponta Delgada expanded by exporting new crops, including pineapple, tea, and tobacco. The development of the fishing industry, expansion of the dairy industry, and cultivating food staples allowed the population to grow.
After the Carnation Revolution, São Miguel was given the seat of the Presidency of the Autonomous Region of the Azores, located in Ponta Delgada.
São Miguel Azores Real Estate: Where to Buy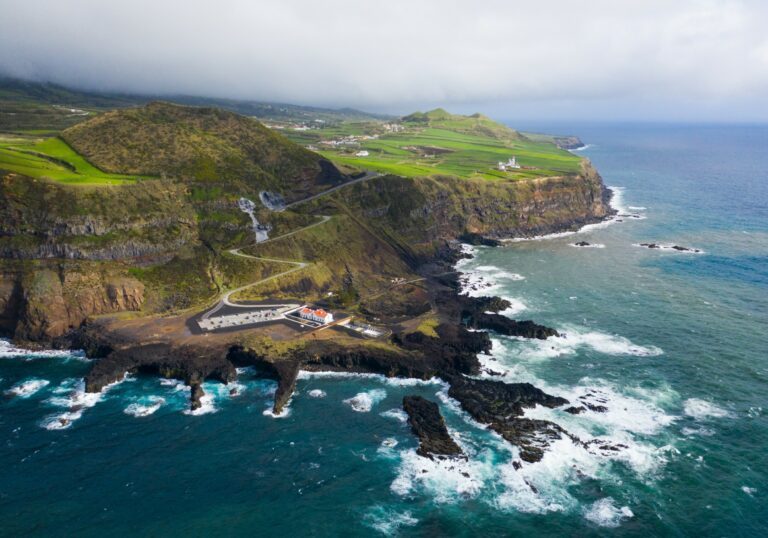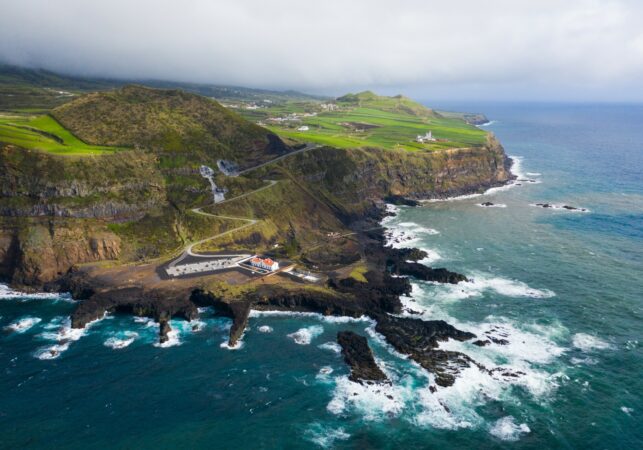 There are several locations in which to buy property in São Miguel. The islands are split into six municipalities – Ponta Delgada, Povoação, Ribeira Grande, Nordeste, Lagoa, and Vila Franca do Campo.
Ponta Delgada, the capital of the Azores Islands, has many lovely properties that would make a perfect retreat. Here, you have excellent restaurants, fine dining experiences, and traditional Portuguese eateries.
Povoação is also a good location to consider. A municipality in the southeast of São Miguel island, where the semi-active craters of the Furnas and Povoação volcanoes can be found, Povoação is surrounded by beautiful nature – forest, mountains, and river valleys to the north and the glimmering Atlantic to the south.
Check out our article: Mountain Houses for Sale in Portugal.
You will find stunning oceanfront homes for sale in São Miguel, Azores, where you'll be able to enjoy stunning views from the comfort of your own home. If you are looking to buy land for sale in São Miguel, Azores, this is also possible, whereby you can build your dream home from scratch.
In the northeast of the island, Ribeira Grande is another option to consider. Mountains and river valleys abound, providing plenty of opportunities to find a quiet location to enjoy the natural landscape. You also have an excellent selection of beaches here – Santa Bárbara, Monte Verde, Moinhos Beach, and Viola Beach. Even in the winter months, the mild climate and sheer beauty of the landscapes are sure to get you out of the house. You also have Ajudada da Bretanha in the northwest of São Miguel island, where you'll find typical houses of the Azores.
Vila Franca do Campo is an exceptionally beautiful and privileged area of São Miguel island – a small paradise that is located in the southern part of the island. Nordeste is the least populated municipality on São Miguel but is rich in fertile pastureland, with mountain tops and trees galore. Finding a property for sale located here will be ideal if your search criteria include a quiet area. Lagoa has the protected area of Ponta da Galera, thanks to the unique ecology on this part of São Miguel island.
Given the fact that it is an island, you will find beachfront properties for sale on São Miguel in the Azores. If you are looking for waterfront homes on mainland Portugal, you can consult our article: Waterfront Homes in Portugal: The Best Locations.
Goldcrest: How we can help you
If you are unsure which of these fantastic areas in the Azores would be ideal for you, then speak with a Goldcrest advisor. Goldcrest is a buyer's agent with a team of experts who will be able to provide tailored advice for you based on your needs and what you are looking for – whether it is a holiday home, a place to retire, an investment, or to relocate permanently. A buyer's agent will have access to more proepties that you will not find elsewhere. There are many São Miguel Azores real estate investment opportunities, and we are here to help you secure your dream home or investment property. You can book a call with us today.
Lifestyle on São Miguel
The Azores is a destination that goes above and beyond when it comes to sightseeing, helped greatly by its moderate climate. With average temperatures sitting around 13 degrees C (55 degrees F) in the winter and 24 degrees C (75 degrees F) in the summer, the Azores doesn't seem to have an 'off-season.'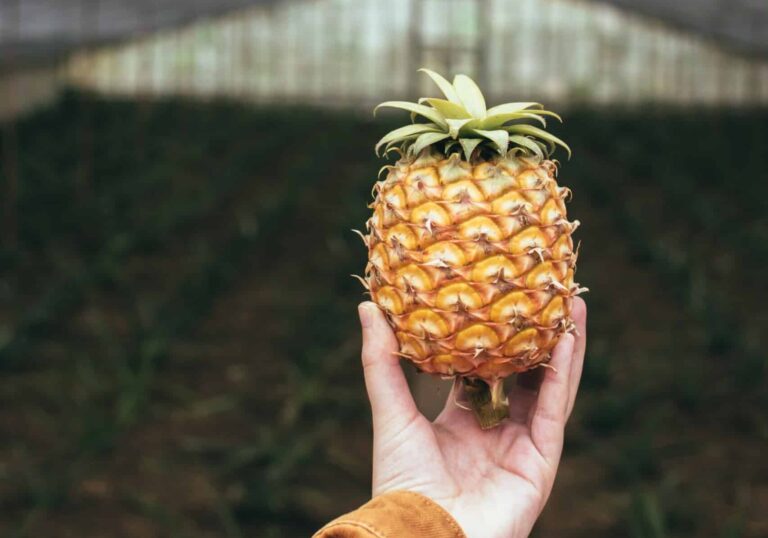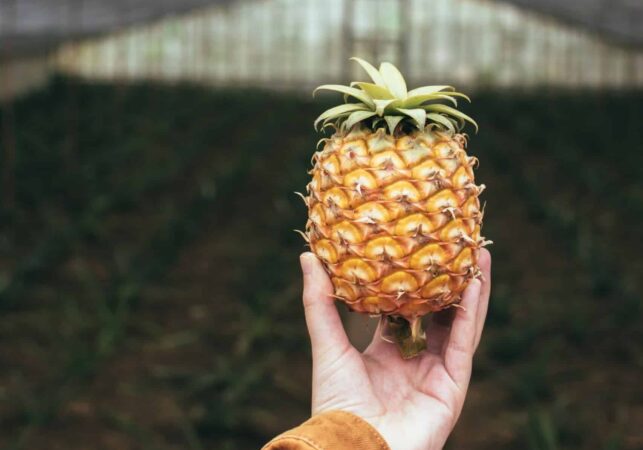 With fresh seafood and an array of activities to enjoy – from surfing and scuba diving to cycling and hiking – you will be able to wake up in the morning ready for your next adventure. You can also opt to relax in the hot springs in São Miguel. Here, you can unwind completely in the mineral-rich pools and emerge feeling completely refreshed. A good place to enjoy the hot springs is Furnas, a thermal water paradise with a stunning aesthetic that never fails to wow its visitors.
The Azores are home to wine production, some of which is exclusively consumed on the islands, plus tea and pineapple plantations, where you can visit and taste the produce. Alongside this, there is an abundance of exceptional seafood and fish dishes that you will have to try (and eat again and again) if you live in the Azores. You will also find excellent meat dishes on the island, plus the island is known for its excellent local cheese. Indeed, the gastronomy of the Azores is rich and varied – yes, if you move to Portugal, then the Azores contain much to be desired. 
Be patient, however, as driving around the island, you are sure to come across cattle blocking your way. It is best to simply sit back and enjoy the wait, as from the roadside, you are sure to have a view of a beautiful ravine and the rolling hills and simply admire the wonder of São Miguel island.
São Miguel Azores: Practical Information
As the most populous of the Azores islands, São Miguel island has three hospitals, so you can rest assured that you will have sufficient healthcare if you move here. If you are a resident of Portugal, then the Serviço Nacional de Saúde (SNS – National Health Service in Portugal) is your port-of-call, providing healthcare for only a minimum cost. More complicated procedures, X-rays, and scans will require further payment.
There are frequent flights from mainland Europe, and you can fly directly from Boston and New York in the United States. When it comes to transportation on the island, it is best to have a car to get around as public transport is lacking a little.
Overall, São Miguel is an island of remarkable landscapes with plenty to do and see. Living here can often be more affordable than in other parts of Portugal, and most visitors can't help but fall in love with the island. Whether you're looking for a quiet area, a first-floor apartment with a fantastic garden, a modern house with great sun exposure, or more properties that fall into the luxury segment of the island, property investment here is sure to be a good choice.
Frequently Asked Questions about São Miguel Azores Real Estate
How much is São Miguel Azores real estate?
Buying property in São Miguel Azores can be an affordable option. Regarding property prices on São Miguel island, as of 2022, the average cost per square meter for a villa stood at €1,440, while apartments were priced at approximately €2,214 per square meter. A good place to start to check out properties that meet your requirements is to look at São Miguel Azores real estate listings. This will provide you with an initial overview of the market. Whether you're seeking a luxurious villa or a charming traditional townhouse, São Miguel offers a diverse range of options to help you discover your ideal home on the island. Properties usually have excellent natural light and good sun exposure, with many properties facing south. If you are looking for a quiet area, you will also find São Miguel to be the perfect place to escape from the hustle and bustle of the modern world, where there is still a strong sense of community.
Is São Miguel a good place for expats in Portugal to live?
São Miguel island is a good location for expats in Portugal that are looking for fantastic areas such as Ponta Delgada and Ribeira Grande. They offer an authentic taste of Portugal, with a relaxed pace of life, an active lifestyle, and some of the most spectacular landscapes in the world. If these aspects match your search criteria, it may be beneficial to create a property alert for the area.
Is São Miguel a good location to invest in?
The Azores are a good property investment and continue to increase in popularity. Houses for sale on São Miguel island, Azores, come in all shapes and sizes, and you should be able to find the property that meets your needs. The dominant features of this area include exceptional sun exposure, beautiful landscapes, and properties like a fantastic villa or apartment with air conditioning, natural light, and more that cause many to consider this a privileged area to live.
Can foreigners buy property in the Azores?
Yes, foreigners can buy property in the Azores and will have the same rights as locals. Note that if you are looking to live in the Azores, you will need to hold a valid residence permit. If you are looking for affordable real estate, São Miguel, Azores, can be a good option.
What types of properties will I find on São Miguel, Azores?
Residential properties in São Miguel Azores come in all shapes and sizes, from luxury apartments wit excellent natural light to quaint townhouses. Whether you are looking for a modern two story house or a fantastic villa, you should be able to find your dream home here based on your search criteria and requirements. You can set up a property alert on real estate websites to get a flavor of residential properties on the market.
You will also find commercial real estate in São Miguel Azores, which could be a good option as tourism continues to increase on São Miguel island.