Updated: August 17, 2023
The southwest region of Portugal is increasingly catching the eye of lifestyle buyers and investors, and the popularity of Comporta has rubbed off on its close neighbor, Melides. The locals and the traditional way of life are still very much at the heart of this Portuguese village and the unique lagoon is home to unspoiled nature and quaint charm. The popularity of tourism has opened the door to many different activities, and several villas have appeared along the lagoon. Indeed, Melides Portugal is an excellent location if you would like to experience the authentic Portuguese experience but in a fashionable style, where you can embrace the calmness of the region.
In this article, we'll delve into Melides Portugal, including the real estate market here and what makes Melides the perfect place to live.
Why consider Melides?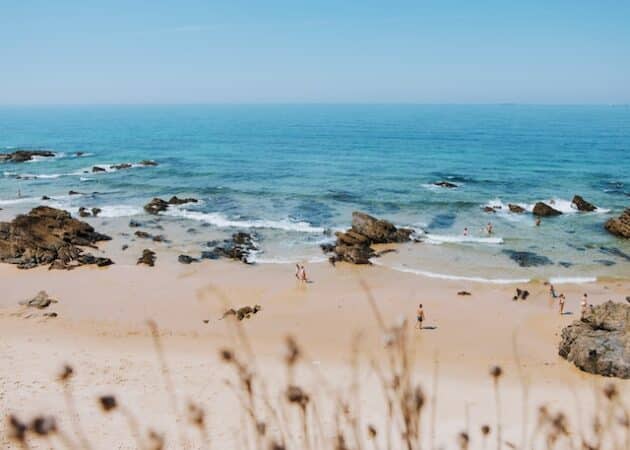 Melides is situated in the southwest of Portugal, in the municipality of Grândola on the Costa Vicentina, the Alentejo Coast, about 130 km south of Lisbon. Although not as well known in comparison to the Algarve, or even the Silver Coast, Melides is becoming steadily more sought-after, thanks to tourism development in the region and to its many assets: Tranquillity, unspoiled nature, village charm, and its many activities. With charming areas such as Santo André, Troía, and Comporta close by, this is a very special part of the country.
Melides is not very big and retains a laid-back, easy-going vibe. The beach town is only an hour away from Lisbon and is the fashionable place to own a second home, spend a vacation, or even settle down to live the Portuguese dream in style. Simplicity is embraced here — in the architecture, the food, and the appreciation for the small things in life.
Architecture, in particular, is a big talking point, both in Comporta and in Melides. Artists, designers, and famous architects are inspired by the beauty of the natural landscapes here and the homegrown style. These include the French designer Jacques Grange, and the German painter Anselm Kiefer, who found a huge studio to position his large-scale works.
Indeed, if you are looking to live where nature and art collide, look no further than Melides and Comporta on the Alentejo Coast. With a luxury flair, fine dining experiences, and many expats, there are many reasons why Melides is gaining in popularity and looks set to continue to do so in the next few years, with lifestyle buyers and investors both turning their attention to this region.
Melides Portugal Real Estate
In this section, we'll provide you with an overview of the real estate market in Melides, including property prices and luxury properties in this part of Portugal.
What are your options?
When it comes to real estate in Melides, you'll come across luxury villas, modern apartments, and incredible waterfront houses. Many will come with private pools, gyms, and added security. As we already mentioned, it's common to see properties embracing nature and local Alentejan design, creating utterly unique properties.
Melides property prices
When it comes to property prices in Melides, the average asking price for a house was €4,962/m2, while an apartment would cost you €3,908/m2.
Note that this is the average price, so the transaction price can be either higher or lower than this price. You will also find a range of properties, from villas to waterfront houses, so you should be able to find the perfect property for you. Also, consider Comporta Portugal real estate, where you will find luxury properties, many with outstanding ocean views.
You can read our article here for more information on Comporta: Comporta Portugal Real Estate.
It is important to note that prices in Portugal are, in general, much more affordable than other properties in Western Europe. Even if properties in Melides are slightly on the pricier end, you are paying for the unique ambiance, beautiful properties (many in eco-designs), and proximity to outstanding beaches, with nature on your doorstep. This is also an area for luxury properties and lifestyle buyers, so you will have all the amenities that you need.
Luxury properties in Melides
When it comes to discovering luxury properties in Portugal, you'll find that Melides boasts a nice selection. Whether you are looking for a modern apartment or villa with spectacular views of the ocean in this lovely part of Southern Europe, Melides is a place of true splendor and will certainly deliver.
Negotiating the best price possible
Negotiation is important to determine the best price. Having a buyer's agent on your side will help you to negotiate with the seller of the property. This can include setting a timeline for when to get back to the seller with a counteroffer and insights into best practices in the real estate market in Portugal. If you would like to book a call with a buyer's agent, you can do so here.
Lifestyle of Melides
While not as well-known as the Algarve, or even the Silver Coast, the southwest region of Portugal is very special. The coastal stretch is known for its creative and artistic community, rural towns, and wild Atlantic beaches. You will also find rice paddies in the surrounding area, forests, and vineyards, providing a touch of variety to the landscapes.
History of Melides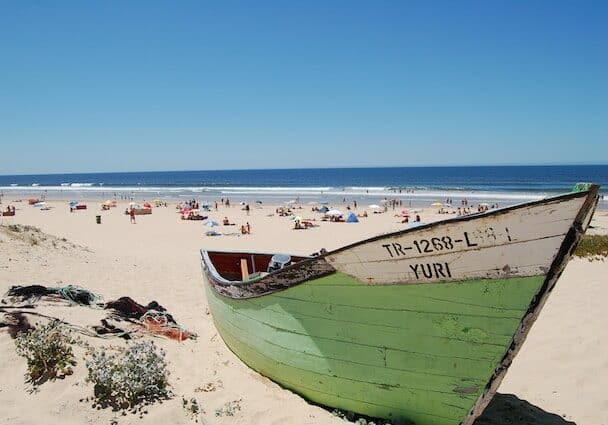 While Melides is geographically close to Comporta (and very easy to travel to), the village still feels very localized. Melides has existed for over 500 years and was a small port before the 1755 earthquake and tsunami, which devastated the capital and much of the surrounding coast. The mouth of the river subsequently was all but closed, and the harbor no longer existed.
The locals had to shift their livelihoods and began planting cork trees — Portugal has the largest procedure of cork in the world — harvesting olives (Portugal is the seventh biggest producer in the world), catching fish, and growing what vegetables that they could in the dry sandy soil. You'll see plenty of beautiful olive groves dotting the hills in the region today.
Since then, time has passed by, and life in Melides has barely changed at all. The locals still work the land, the relaxed pace of life permeates through, and the busy hustle-bustle of modern-day life has yet to reach this sleepy village. These days, you will find excellent local produce to indulge in, plus excellent wines on offer.
Designers and architects have increasingly come to admire Melides and the surrounding area, with its Alentejan architecture and contemporary ecological and Bohemian design. Very close to the luxury resorts of Comporta and Troia, you also have easy access to luxury five-star hotels, fine dining experiences, and buzzing nightlife.
Natural beauty and outdoor activities
A decade ago, Melides was not as well known as it is today. However, the natural beauty has certainly caught the attention of expats from all over the world. With this said, the region still remains something of a hidden gem. For outdoor enthusiasts, Melides is an excellent place to move to, where you'll find the brilliant Atlantic Ocean on your doorstep. Rolling hills, rice paddies, and pristine beaches stretch for mile after mile. Even the architecture here effortlessly merges together traditional Alentejan architecture with nature, creating a sense that you are living within the natural landscape.
You'll come across a number of hiking routes and biking trails, plus if you are into water sports, you'll find this part of Portugal can certainly cater to your needs – plus, it is much more calm compared with beaches closer to Lisbon or the Algarve regions. Go for a horse ride on the hills Serra de Grândola or bask in the sunshine on the wild beaches. Yes, natural beauty abounds in Melides.
Exploring beyond Melides: Nearby destinations, attractions, and points of interest
From the luxury beauty of Troīa to the brilliance of Comporta, this part of Portugal does not skint on having desirable places to visit close at hand. History lovers will delight in exploring the ruins of Castelo de Santiago do Cacém, an ancient castle located just twenty minutes away from Melides. The castle's remnants offer commanding views of the surrounding countryside, making the visit a rewarding experience.
Nature takes center stage at the Reserva Natural das Lagoas de Santo André e da Sancha, a nearby lagoon teeming with migratory birds and other wildlife. A birdwatcher's paradise, the reserve offers a chance to observe species in their natural habitat and appreciate the delicate ecological balance that exists in this unique ecosystem.
Santo André is also another delightful place to visit, where you have a local safari park to enjoy. If you are after pristine beaches, then you probably couldn't find a better place in Portugal than Melides – with beaches such as Praia de Melides – providing the ultimate sense of calm.
Local cuisine and dining in Melides
No visit to Melides is complete without indulging in its delectable local cuisine. The region's gastronomy celebrates the bounty of the land and sea, offering a tantalizing array of flavors. Freshly caught seafood takes pride of place in many dishes. The Alentejo region is nicknamed the "breadbasket of Portugal" and is renowned as the region that produces the majority of produce in the country. Pair these culinary delights with locally produced wines – reds from the Alentejo region are amongst the very best in the world – from nearby vineyards, and you have a match made in culinary heaven. A top restaurant in the region to visit is Tia Rosa, where you'll find typical Portuguese dishes.
Melides Portugal: Practical Information
How to get to Melides
By far, the easiest way to get to Melides is by car. Otherwise, you can take the train from Lisbon to Grândola and then get a taxi to Melides (if you are coming from the Portuguese capital). We do recommend having a car to get around, however, as it will make it much easier to discover the area.
Where to stay in Melides Portugal: Accommodation and hospitality
From Airbnb to luxury hotels, you'll find many different options to suit your needs. You'll also find many unique stays, such as bungalows with private pools, luxury cabins, and boutique eco-design hotels. If you stay in a boutique hotel in Meldies, this is arguably the ultimate luxury lifestyle experience. Take the newly opened Christian Louboutin Hotel  – this boutique hotel is a work of art in itself, for example.
The climate of Melides Portugal
Melides, in the Alentejo region of Southern Europe, has a mild temperate climate. The months of April, May, and October are particularly nice, with average temperatures between 68 Degrees F (20 Degrees C) and 77 Degrees F (25 Degrees C). The coldest month is January, where temperatures can reach 59 Degrees F (15 Degrees C), and the warmest month is July, which has a maximum temperature of 82 Degrees F (28 Degrees C).
What makes Melides unique?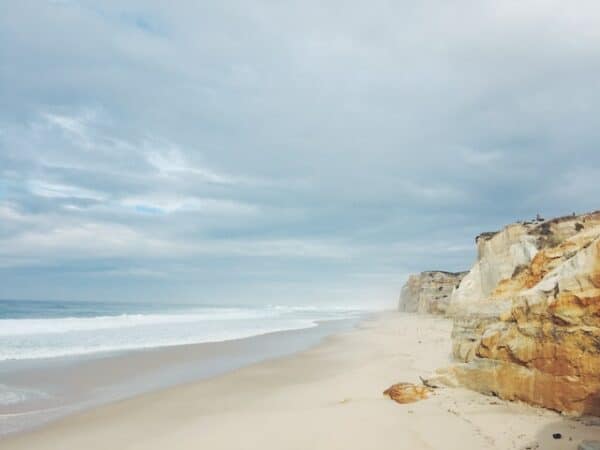 The very essence of Melides is embracing a slow pace of life. If you head to Melides today, you'll find striking contemporary villas that dot the hills, but which remain in line with the local Alentejo architecture. Some are hidden amongst trees and sand dunes along the river's estuary.
They belong to contemporary international designers that have houses here, including Christian Louboutin and Philippe Starck, the French designers, British painter Jason Martin and the Belgium architect Vincent Van Duysen.
There is a large focus on eco-design, and living here, you live with nature rather than building over it, something that is relatively unique in modern times – and it is this that sets Melides apart.
Indeed, living in Melides, you will come to appreciate the small details, and a relaxed pace of life, without sacrificing luxury amenities, with many activities on offer due to the increasing interest in the area, with wild beaches, watersports, surf, yoga, and many other activities on offer.
Goldcrest: Who We Are and How We Can Help You
Goldcrest is a buyer's agent that is based in Lisbon. We provide expert, impartial advice on real estate investments and how to buy property in Portugal. From scouting out the perfect property through to property acquisition, we have you covered throughout the process.
If you are looking to purchase property in Portugal, don't hesitate to get in touch. Our team of skilled experts is available to solve all your real estate doubts, offering insightful expertise and strategic advice.
The following articles may also be of interest to you:
And if you would like more information on the Alentejo region, you can take a look at this article: Alentejo Portugal Real Estate Guide. The Alentejo region boasts an array of spacious properties, often much more affordable than equivalent properties in the Algarve.
Frequently Asked Questions about Melides Portugal
Where is Melides, Portugal, located?
Melides is situated in the municipality of Grândola on the Costa Vicentina, the Alentejo Coast, about 130 km south of Lisbon.
What makes Melides an attractive destination?
Melides is increasingly popular for lifestyle buyers, where they can have a second home or permanent residence in the middle of an authentic Portuguese town in the depths of nature.
How far is Melides from other popular cities or destinations in Portugal?
The distance from Melides to other popular cities in Portugal varies. For instance, it is approximately an hour and a half south of Lisbon, Portugal's capital city, and around two hours drive away from Faro, in the Algarve.
what to do in Melides Portugal?
Melides is renowned for its beautiful beaches, such as Praia de Melides and Praia da Aberta Nova. Additionally, visitors can explore the stunning landscapes of the Melides Lagoon and the surrounding natural areas. The village itself offers a charming, laid-back atmosphere, and there are opportunities for horseback riding, hiking, and enjoying the local cuisine. You can also go horseback riding on the hills of Serra de Grândola, the perfect day out.
What is the climate like in Melides?
Melides Portugal weather is usually excellent and the region has a mild climate. The months of April, May, and October are particularly nice, with average temperatures between 68 Degrees F (20 Degrees C) and 77 Degrees F (25 Degrees C). The coldest month is January, where temperatures can reach 59 Degrees F (15 Degrees C), and the warmest month is July, which has a maximum temperature of 82 Degrees F (28 Degrees C).
Are there beaches near Melides?
Yes, you won't be disappointed by the range of beautiful beaches close to Melides, including Praia de Melides and Praia da Aberta Nova.
What outdoor activities are available in and around Melides?
When it comes to Melides Portugal things to do, you'll find many things to do. Melides offers a variety of outdoor activities, including hiking, biking, and watersports. Visitors can enjoy beach activities, horse riding through scenic landscapes, hiking in the surrounding natural areas, and birdwatching at the Melides Lagoon. The region's natural beauty makes it an ideal destination for nature lovers.
Can I find accommodations in Melides?
Yes, there are accommodations available in Melides. Whether you are looking for a boutique hotel, luxury stay, vacation rental, or camping grounds, visitors will find different accommodation types to suit their preferences and budgets. 
If you stay in a boutique hotel in Meldies, this is arguably the greatest luxury lifestyle experience. Take the newly opened Christian Louboutin Hotel  – this boutique hotel is a work of art in itself, for example.
Is Melides suitable for family vacations?
Yes, Melides can be a great destination for family vacations. Its beautiful beaches and outdoor activities cater to all age groups, and the relaxed village atmosphere offers a peaceful retreat for families seeking a tranquil getaway.
Are there restaurants and dining options in Melides?
Yes, there are restaurants and dining options in Melides where visitors can enjoy fresh seafood, traditional Portuguese dishes, and other local delicacies. The village's culinary offerings are often influenced by its coastal location. A top restaurant in the region to visit is Tia Rosa, where you'll find typical Portuguese dishes.
You'll also find world-renowned chefs serving up food in some of the luxury restaurants in the region.
Are there any festivals or events that take place in Melides?
Melides hosts various local events and festivals throughout the year, such as the Melides Summer Festival. These events provide an opportunity to immerse yourself in the local culture and community spirit.
What transportation options are available to reach Melides?
Melides is accessible by car, and the most convenient way to reach the village is usually by renting a vehicle or driving from nearby cities. Alternatively, there might be public bus services connecting Melides to neighboring towns and cities.
Are there local markets or shops in Melides?
Yes, Melides has local markets and shops where visitors can purchase fresh produce, artisanal products, and souvenirs.
Should I buy real estate in Melides or Comporta?
Both Melides and Comporta are excellent locations for expats. Melides provides a quieter abode, with a very local feel. Comporta Portugal real estate is more luxurious and has been coined the "Hamptons of Portugal". Both are excellent for lifestyle buyers.