Updated: April 11, 2023
Portugal is a relatively small country yet its housing market is full of opportunities. This is especially true for foreigners who want to take advantage of the exceptional lifestyle benefits Portugal has to offer. The two main Portuguese cities are only about three hours apart but have very different characteristics and opportunities.
What is the cost of living in Porto compared to Lisbon?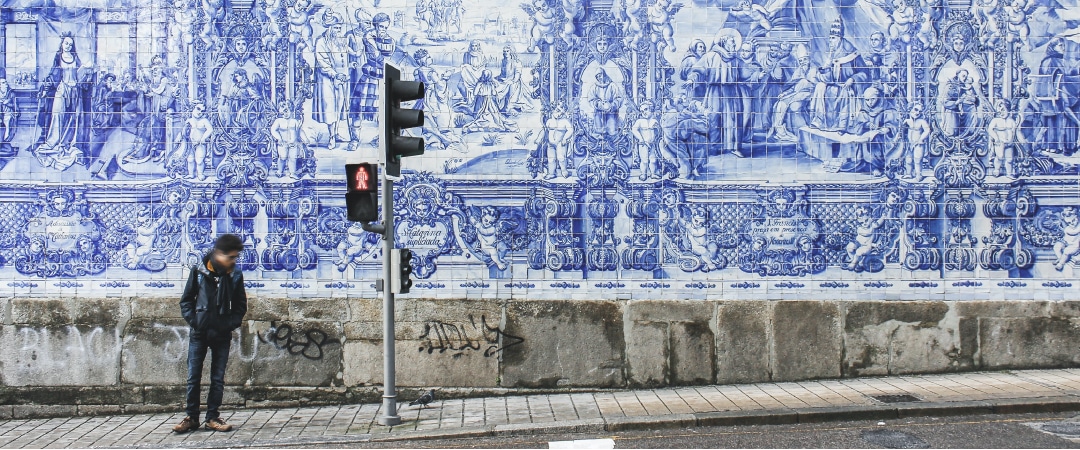 You would need around €2.974 in Lisbon to maintain the same standard of living that you can have with €2.700 in Porto (assuming that you rent in both cities).
Differences in the property prices
In Lisbon's metropolitan area, property prices are on average €5,239 per square meter (/sqm), while in Porto property is valued at an average of €3,413 per square meter, according to the Numbeo`s statistics from September 2022.
Cost of living
Although the cost of living in Portugal has increased over the last decade, it is relatively low compared to other EU countries.
Lisbon has a cost of living index of 44.34 meaning that a four-person family's monthly costs are around €2,111 (without rent). Porto has a cost of living index of 42.72 meaning that the same family will spend around €2,026 per month, according to Numbeo.
Are Porto and Lisbon good places to live?
Porto and Lisbon are excellent places to live or buy real estate.
Key benefits include:
Excellent climate

Low cost of living

Political and social security

Top health and education systems and facilities

Many jobs and business opportunities for expats

Refined gastronomy, winery, and culture
Climate
Both cities have sunny weather year-round, even though Porto has more rainy days. Portuguese winters are mild and summers are hot and dry. Did you know that Portugal has over 250 days of sunshine per year? It's one of the sunniest countries in Europe!
Culture
Around every street corner in Porto, you'll find enchanting cobblestone streets, brightly colored buildings, and traditional culinary gems. In Lisbon, you'll find many parks, gardens, museums, cafes, and restaurants, as well as its symbolic Tagus river and monuments. The capital city offers a blend of historical, traditional, and modern properties for sale.
Facilities
Both cities benefit from a state-of-the-art public health and education system, at roughly the same quality level as other European countries. You can see more about the education system in Portugal in our article here. 
What are the job opportunities like?
Portugal is a country with varied work and business opportunities for foreigners in practically all areas of employment. The country benefits from an open culture, which welcomes other nationalities. In fact, Portuguese companies are in a phase of digitization and expansion and need workers who speak other languages and have international experience.
Can expats get jobs in Porto and Lisbon?
An area in professional services that are open to expats and English speakers is the IT and software sectors. Currently, there are a huge amount of jobs available for developers in Lisbon and Porto. The health, services, and creative workforces also receive expats very well.
Can you work remotely for a foreign company?
Portugal is one of the most digitized countries in Europe, with fast, efficient, and inexpensive internet networks. It hosts many digital entrepreneurs worldwide and thanks to the large number of coworking spaces dotted around Lisbon and Porto, it's perfectly possible to work remotely for a foreign company. 
What are the most attractive neighborhoods in Porto?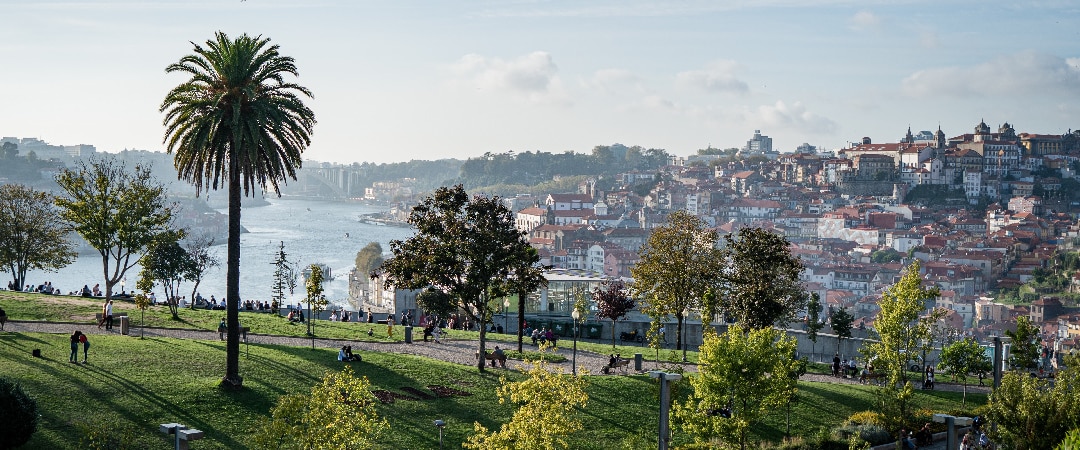 Porto, also known as the Invicta, or in English "The Invincible", is a city with a lot of character. From the people to the wine, from the gastronomy to the culture, each part of Porto is unique and different. Below are some of the most attractive neighborhoods to live in Porto.
Ribeira, Miragaia and Baixa do Porto
The most recognizable and popular neighborhood in Porto is the Ribeira, an area filled with restaurants, cafés, and traditional housing along the Douro River. This is usually the first stop for visitors when they reach the city. 
Cedofeita and Boavista
As a historic neighborhood in central Porto, this area surrounds the pedestrianized Rua de Cedofeita. The prices of rehabilitated apartments in the area start at €229.600 in state-of-the-art building projects such as Cedofeita 630, a 19th-century building rehabilitation development.
Foz do Douro
If you take a trip to the affluent suburb of Foz do Douro, the modern homes with sea views could make you think you're in another city altogether. Foz is popular for this very reason, offering some respite from the chaos of the city. It can be a good choice for families due to enhanced parking options and more spacious properties.
Bonfim e Campanhã
Bonfim and Campanhã are two parishes in downtown Porto that have reinvented themselves in recent years and are now the trendiest places to buy a property in Porto.
What are the most attractive neighborhoods in Lisbon to live in?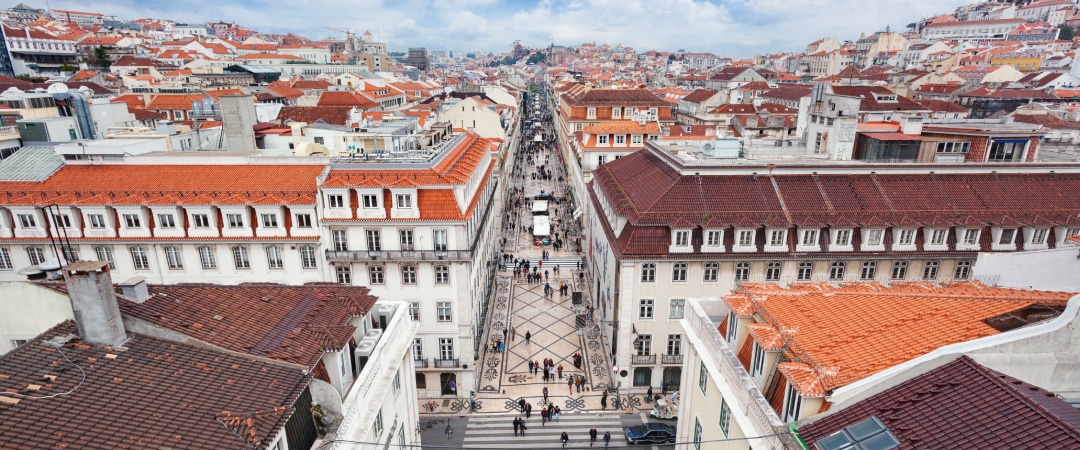 Lisbon is one of the most beautiful cities in the world. With a unique golden light, warm summers and mild winters, friendly people, heritage, a booming housing market, and excellent opportunities to buy a property, Lisbon is almost perfect.
Bairro Alto
Bairro Alto is Lisbon's bohemian landmark. It is a hotspot where bars, alternative shops, fado, cheap beer, avant-garde events, and alternative multicultural and urban scenes converge. You go to the Bairro Alto for dinner —  it is one of the best places in the country for that —  and then go out at night for drinks or alternatively explore all of Bairro Alto's quirky shops during the day. However, it is not a good place to live because it's quite noisy and jam-packed with visitors. Keep in mind that Bairro Alto can still be a good investment opportunity to buy property for local accommodation.
Lapa and Santos
Lapa is one of the most high-profile areas in Lisbon. With a housing market average cost of €5.076/sqm (Idealista/September 2020), it is perfect for families that want to buy large properties. It is a quiet area, with excellent accessibility to Lisbon's center, either by car or public transportation. Lapa has many green areas and schools, hospitals, restaurants — even embassies —  and monuments. Many beautiful beaches are very close to the area. It may be a little too posh for some but perfect for others.
Santos' district is for the hipsters. It is Lisbon's Design District, where the most innovation happens. Startups, timeout events, nightlife, shops, restaurants, and an exciting social lifestyle make this one of the most lively areas of Lisbon.
Avenidas Novas
With a housing market average cost of €5.811/sqm (Idealista/September 2020) Avenidas Novas is one of the main business centers in Lisbon. Always super busy, the area is perfect for urban business people. It is a good area for buying property for offices and businesses.
Intendente and Mouraria
Intendente and Mouraria are characterized by a powerful mix of sounds, flavors, and cultures. The place has a housing market average cost of €6.338/sqm (Idealista/September 2020). With a decadent twist, Intendente and Mouraria are very central and multicultural. These districts are also very popular in the housing market for local accommodation. 
Campo de Ourique
With a housing market average cost of €5.080/sqm (Idealista/September 2020) Campo de Ourique continues to be one of the best places for neighborhood life, with an extensive catalog of shops and restaurants, hairdressers, pastry shops, and cafes that feed the lives of families who live there and the neighborhood's usual visitors. Note: don't bring your car, you won't find any parking.
Alfama and Graça
The best balconies with startling views of the Tagus river or Lisbon's medieval alleys are found here and, probably, the most photographed too. There are tuk-tuks and exciting neighborhood life, from tascas or taverns —  the best places to eat — to mini-markets. The housing market average cost of a property in Alfama is  €6.338sqm (Idealista/September 2020).
Belém, Ajuda, and Restelo
These areas are true cultural epicenters, a kind of museum city ready to be explored. Here there are coaches, contemporary art, good food, and lots of flora to explore. The housing market average cost of a property in these areas averages €5.324sqm (Idealista/September 2020).
Parque das Nações
Parque das Nações is one of the main business centers in Lisbon but is also a part of the culture and nightlife of Lisbon. With many restaurants, bars and shops, a Casino, the FIL fair, and the Altice Arena, it is a good place to buy property, with a housing market average cost of €5.624sqm (Idealista/September 2020).
Transportation in Porto and Lisbon

Porto has one international airport, the Francisco Sá Carneiro Airport, with frequent non-stop flights to both continental and international destinations. Within the city, Porto has an extensive public transportation network. The metro system has six different lines that span a large distance to the east and west of the city, as well as south of the river to Vila Nova de Gaia and north to Vila do Conde and the airport.
Lisbon has a large and well-developed transport network. You can take the metro, bus, tram, tuk-tuk, and even the cable car for an exceptional ride close to the Tagus river. Trains and ferries are also available to explore the area outside of the city. The Humberto Delgado or Lisbon's Airport is situated 7 km from the city center and has excellent connections to the rest of Europe and other continents.
Coworking spaces

Coworking spaces in Portugal are becoming quite popular, but they mainly exist in big cities. Lisbon is home to the world's largest digital nomad community with regular meet-ups and co-working spaces popping up all over the city to accommodate the influx of freelancers and startup companies. There are over 50 co-working spaces available, catering for freelancers, startups, and small businesses in Lisbon.
Cafe culture in Lisbon and Porto

Cafes, especially esplanades, are part of the Portuguese identity and proliferate in large cities. The most popular coffee specialty is a short and strong Italian style espresso. In Lisbon, this delicacy is called bica and in Porto, it is known as cimbalino. The galão is another Portuguese specialty of coffee with milk. These are usually accompanied by a cake — Portuguese pastries are another interesting area to explore for those who are not counting their calories. Almost all cafes have free internet in major cities. Old coffee shops are also on the list of cool places to visit in both cities, from the A Brasileira in Lisbon to the Majestic in Porto.
Healthcare

The hospital network in Portugal consists of modern units that are well-equipped throughout the country. An integrated medical emergency system provides care for anyone who is injured in an accident or who suddenly becomes ill. The World Health Report published by the World Health Organization (WHO) ranks the Portuguese health system in 12th place. CUF, Lusiadas, Hospital da Luz and Cruz Vermelha are private hospitals that are both present in Lisbon and Porto and are well known for providing excellent quality of care in the country. 
Beaches in Porto and Lisbon

Portugal's entire coastline stretches for 1187 km, with plenty of gorgeous picture-perfect beaches ideal for surfers and water sport enthusiasts. Most of the beaches have family-friendly modern facilities. Praia do Mindelo, Moreiró, Memória, Aterro, and Homem do Leme in Porto are mandatory beaches for anyone visiting the northern city. However, these are quite rocky and are often cooler and windier than the beaches in Lisbon. True paradisiacal beaches include the coast of Costa da Caparica, Carcavelos, and Guincho.
Nightlife

Portuguese nightlife offers good surprises for those looking to party in a friendly country. The cities have a young, bohemian, multicultural soul and, above all, there are nightlife options for all tastes and budgets.
Get in touch
If you have found your dream property in Portugal, seek help from a specialized purchase property investment firm such as Goldcrest. As an independent local's buyers agent, Goldcrest helps international families acquire sound property investments in their desired locations in Portugal. 
You can see more information in our articles here:
Contact the team to access exclusive information on the property market in Portugal and find out just how much you can save you on your international investment.
FAQS
What is life like in Lisbon and Porto?
Both Lisbon and Porto have a high-quality standard of living. Investing in Portugal offers all of the benefits that come with it, such as visa-free travel throughout the Schengen Area, access to world-class healthcare, and education, as well as the security of a second residence in politically and economically stable cities.
Why choose Porto over Lisbon, or vica versa?
This is not a battle, because both cities are beautiful, each one with its unique history, gastronomy, colors, rivers, views, cafes, and people, but CNN once asked that same question. If you want to know which is the coolest city for CNN, read the full story here.
Is it better to live in Porto or Lisbon?
Lisbon is a more established and safe market for rentals, which makes Lisbon a very secure city to choose for expats. Porto is a little more focused on the locals. However, the cost to purchase real estate is lower in Porto than it is in Lisbon, where rentals are higher and more stable.
Is Porto or Lisbon better for expats?
It is always up to you to decide. From our side, both cities are great places to live for expats and it will depend on your personal preference.
Due to its more northern position, Porto is frequently ignored by foreigners relocating to Portugal, yet this lovely city on the banks of the River Douro should not be disregarded. In addition to being a great option for families, Porto neighborhoods for expats are less expensive. On the other hand, the most well-liked city in Portugal for expats to reside in is ultimately Lisbon. The city is incredibly vibrant and enjoyable to live in because of its great diversity. You may also like to discover some of the best places to live near Lisbon to get away from the city and take advantage of some of the nearby Portuguese beaches. These can be Cascais, Belém, Sintra, Chiado, Lapa, etc.