Updated: October 6, 2023
As perhaps the most well-known town along the Silver Coast of Portugal, Nazaré is a real gem. While the big waves lure in surfers, Nazaré Portugal real estate is also bringing in home buyers and investors who choose to settle in this picturesque town steeped in tradition and Portuguese culture.
What makes Nazaré so special?
The swanky seaside town has already proved itself as a top holiday destination – beloved by tourists and locals alike. The breaking waves, the historic landmarks, and the quaint grind of daily life are qualities that keep people coming back. Living in Portugal, Nazaré is a splendid option to consider, where you'll be able to marvel at the breathtaking views of the Atlantic Ocean. 
Nazaré's famous waves are only one aspect of the town's rise in popularity. You have many historic attractions close at hand, from the picturesque streets of Óbidos, with its impressive castle, to the Alcobaça Monastery. Established in 1153 by the first Portuguese king, Afonso Henriques, the Monastery is one of the first and finest examples of Gothic architecture in Portugal. 
The town of Nazaré is, at its heart, a historic fishing village. Fishermen still religiously dry their catch in the sun, and their wives can be seen wearing the traditional seven skirts during festivities. Expats in Portugal are often in awe of the beauty of the Silver Coast, and Nazaré is a prime example of why this is the case. 
Nazaré is also a privileged area in that you are very well-situated to get around the country quickly and easily if you live here. Lisbon is less than two hours away to the south, while Porto is two hours away to the north. You can also explore the delights of the Silver Coast and the charming cities of Coimbra and Aveiro, which are both situated nearby.
Nazaré Portugal Real Estate: Investment Opportunities
The asking price for a villa in Nazaré stands at around €1,277/m². Real estate in Nazaré, Portugal, is an attractive buy for investors. As the seaside town is a hotspot for tourists in the summer, you should have no qualms about renting out your property. 
Even in the winter months, the surf and quiet of the area still bring in promising footfall. When it comes to properties in Nazaré, Portugal, you'll come across many different types, including beachfront properties, apartments, and villas. 
It's worth setting up a property alert and search criteria to find the best deals that fit your requirements. The more filters you add, such as whether you would like a swimming pool, private gym, or terrace, the easier it is to narrow down your search. 
Nazaré Portugal real estate – luxury properties
While Nazaré is well known as a top surf spot on the global stage, real estate in Nazaré is also making waves – including luxury properties. There are many different types of luxury properties in Nazaré, many with breathtaking views of the Atlantic Ocean. Prices are inevitably more expensive the more facilities you are after. For example, a villa with a swimming pool, private gym, and security will increase the price. 
However, property in Portugal – especially outside Lisbon – is relatively cheaper when compared with other European countries. You may be able to find a terrific deal. 
You will also find great properties closeby in Ericeira. You can find out more in our article: Ericeira Portugal Real Estate: Your Ultimate Guide.
Our new book, Your Expert Guide to Buying Property in Portugal runs over the art of negotiation and also provides an overview of the key regions for properties, including Nazaré and the Silver Coast. If you are looking to live in Portugal, the book provides insider knowledge of the moving process and essential factors to consider. 
A History of Nazaré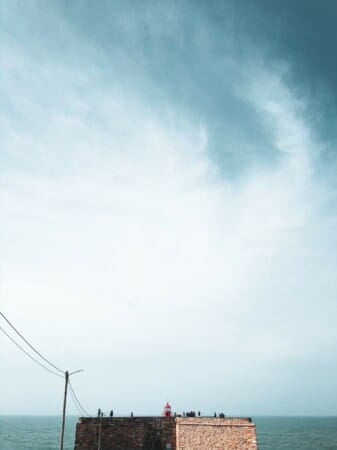 As with much of Portugal, Nazaré has a rich history with traditions that can still be seen today. The name "Nazaré" is the Portuguese name for Nazareth. The name is believed to have come from a small wooden statue of the Virgin Mary, which was brought by a monk in the fourth century from Nazareth in the Holy Land to Mérida in western Spain. After this, another monk, Romano, brought it to the seaside town that is now called Nazaré in 711. He became a hermit and, after his death, was buried in the grotto where he had lived.
The first church was built over the grotto to commemorate the miraculous intervention by the Virgin Mary, which saved the life of the 12-century knight, Dom Fuas Roupinho, while he was out hunting, famously referred to as the "Legend of  Nazaré." The Church of Nazareth, perched on the rocky outcrop, was noted in sailors' manuals as an important landmark.
In 1377, a new, larger church was founded by King Fernando I of Portugal. This was later transformed completely between the 16th and 19th centuries. The Sanctuary of Our Lady of Nazaré is a fine example of the baroque, with magnificent tiles on its interior. 
The history of Nazaré can still be felt in the town, where there is a special, timeless feel to some of the streets. The waves lapping the shore have been doing so for time immemorial, adding to Nazaré's unchanging nature. 
Lifestyle in Nazaré
The surf, the cuisine, the culture, and the laid-back atmosphere are some of the reasons both expats and locals flock to Nazaré. Nazaré is a quaint fishing town – one of the main secrets to its incredible cuisine. What could be more enticing than enjoying fresh fish straight from the ocean, accompanied by a glass of Vinho Verde (green wine) and views of the sparkling sea?
The seaside town is rich in traditions, catching the eye of photographer Cartier Bresson and film director Stanley Kubrick in the 1950s and 1960s. Kubrick documented the lives of locals, noting the traditional seven-layered skirts of the women and the men's flannel shirts. 
Traditionally, the skirts were meant to keep the women warm as they awaited their husband's return to shore after a long day fishing. Given the steady influx of tourists, the locals are very welcoming of visitors and will go out of their way to help you. 
The cost of living is generally very good, even by Portuguese standards. Those looking for fine dining experiences will be able to find luxury restaurants and many other enthralling eateries not too far away. Many pride themselves on local ingredients and Portuguese fare. You'll also find traditional family-owned Portuguese tascas, which have been providing simple Portuguese dishes for many a year.
It is very easy to live an active life in most of Portugal, and Nazaré is no exception. With many watersports, hiking opportunities, and yoga retreats, you are well-catered for. There are also many exceptional golf courses in the vicinity for golf fanatics.
Beaches in Nazaré
It would be a crime not to mention the surfing scene in Nazaré. Big wave surfers come from the world over to chase the perfect wave, and surfers can be seen hopping in and out of the water across the coast here. 
Surfing brings the crowds these days, particularly with the competitions that take place on an annual basis. These include the Nazaré Challenge (World Surf League's Big Wave World Tour) and the Nazaré Pro (bodyboarding world circuit). Settle down with a nice hot coffee and watch the nerves of steel of the surf community. 
Although Praia do Norte, Praia da Vila, Praia do Salgado and Praia do Sul are frequented by surfers, beachgoers can also enjoy the beaches and the waves. Indeed, these beaches are the perfect relaxation therapy. 
The Climate in Nazaré
In the summer months in Nazaré, it is warm, dry, and clear. The winters, however, can be cold and windy, and the region is prone to rainfall. Over the year, the temperature typically falls between 45°F (7°C) and 77°F (25°C).
Goldcrest: Your Helping Hand to Secure Your Dream Property
Buying a property is a considerable lifetime investment and is tricky even in your own country. From sourcing through to property acquisition, it is a godsend to have a real estate professional in your corner that knows the ropes and the tricks of the market. While you can begin the search yourself, setting up search criteria based on your needs and adding more filters to narrow your search, a specialist in Portuguese real estate can create a hassle-free buying experience. 
Goldcrest has many years of experience working with clients. What sets us apart is that we focus completely on the needs of our clients, whether you are looking to retire in Portugal, get a foothold in investing in the property market here, or move to Portugal as a family. 
We would be happy to discuss your needs, what property type you are looking for, and how we can work together to attain your dream home or perfect property investment. Book a call here with one of our Goldcrest advisors. You can also get in touch with us by email, phone, or text message. 
For an overview of everything that you will need to know before you buy, you can see our article on Portugal Real Estate.
The following articles may also be of interest to you: 
Frequently Asked Questions about Nazaré Portugal Real Estate
Is Nazaré Portugal real estate a good investment?
With a vibrant surf scene and as a holiday destination for both Portuguese and foreigners, Nazaré is a good place to put your money and started to gain notice from expats in recent years. Nazaré properties are relatively cheaper than in other areas, and the region looks set to continue to increase in popularity. You'll find a nice selection of properties that have a stunning sea view. 
Nazaré, Portugal, real estate rentals and properties to buy are also quite affordable, making the region attractive from an investor's point of view.
Is Nazaré Portugal a good option for expats to consider?
With remote working increasingly popular, the Silver Coast is a great option for expats in Portugal to live. The Silver Coast is also a privileged area as you can travel easily to Lisbon, Porto, and other parts of the country. 
Is Nazaré Portugal real estate eligible for the Golden Visa?
From 1 January 2022, there are changes to the scheme, and only interior areas will be viable for the Golden Visa, ruling out residential real estate in Nazaré as an option. However, there are many beautiful options in the interior of the country that would make excellent residential real estate investments.
Is Nazaré Portugal a good place to live?
In recent years, many people are taking notice of Nazaré and the Silver Coast. This region of Portugal is an excellent place to live. You'll find many different house types, and many will have a sea view. If you're looking for an affordable property in a beautiful part of Portugal, then you should be able to find many options here. Whatever the property type you are after, whether it is a beach house, villa, or apartment, you will be able to find the property type in Nazaré.
If you are considering buying a property in Nazaré, you can get in touch with one of our  Goldcrest advisors by email, phone, or text message. 
Is Nazaré Portugal expensive?
You'll find that Nazaré, Portugal apartments for sale are quite reasonably priced. The asking price for a villa in Nazaré stands at around €1,277/m². The cost of living in this part of Portugal is also much cheaper than in Lisbon or Porto. 
Nazaré, Portugal apartments to rent are also very affordable – if you are looking to rent first before deciding which property is best for you, this is a good option. 
How much does it cost to live in Nazaré, Portugal?
From property prices to your weekly grocery shop, you should find that the cost of living in Nazaré is very affordable, particularly when compared with other western European countries. 
Cheap houses for sale in Nazaré, Portugal, are one of the key draws of the region, and you'll be pleasantly surprised by the region's affordability. Whatever property type you are after, you will be able to find the house that fits your requirements.
The region's incredible beauty, including stunning beaches and excellent gastronomy, is likely to boost the region's popularity in the coming years.