Updated: August 17, 2023
With stunning views of Lisbon, excellent seafood, proximity to fabulous beaches, and affordable properties, you should certainly consider Almada if you want to be situated within striking distance from the Portuguese capital. In this article on Almada, Portugal Real Estate, we'll provide you with more information on this city and municipality in Portugal.
Overview of Almada
While there are parts of Portugal that you may know better than others, you may need to learn more about Almada. In this section, we'll change that, providing you with essential information on this unique part of the country.
Where is Almada?
Located on the south of the Tagus River in Portugal, with the jaw-dropping beauty of Lisbon before you, lies Almada. With easy access to the Portuguese capital – just a short ferry ride, drive, or train journey away – and the stunning beaches of Costa da Caparica, you'll be able to enjoy the best of both worlds.
Why choose Almada?
Particularly compared to Lisbon, prices in Almada are very affordable. Coupled with a relaxed pace of life and close proximity to several beautiful beaches on the west coast, there are many reasons to consider buying here. Many locals head over to this side of the river for the seafood and to soak up the wonderful views of Lisbon. Plus, the impressive Cristo Rei statue can also be found here, lighting up the bridge that connects Almada with Lisbon.
Key attractions in Almada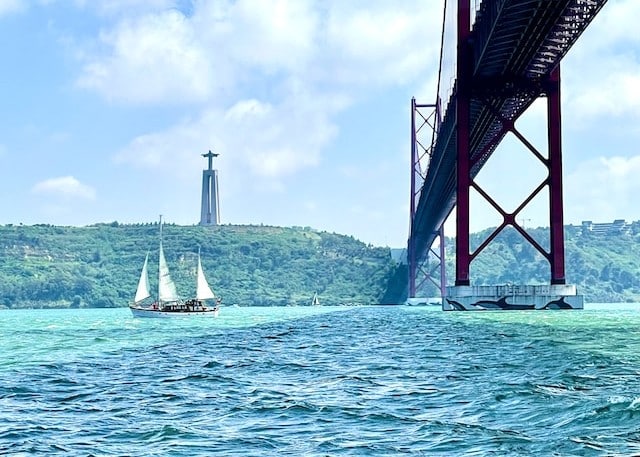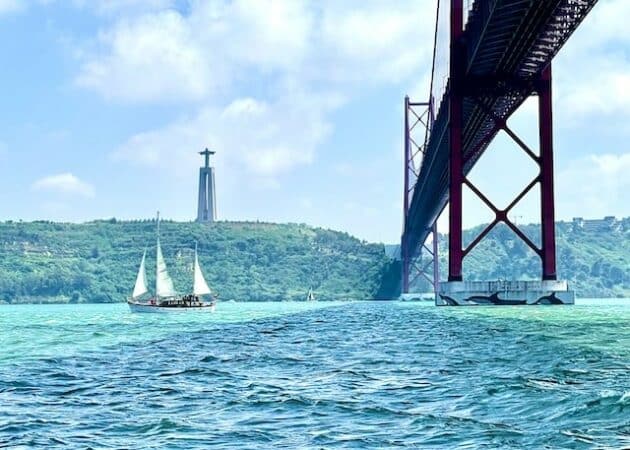 Almada is perhaps most famous for its stunning views of Lisbon and the famous Cristo Rei statue that was built in 1959. Beach and surf lovers will find excellent beaches and waves on the West Coast, with Costa da Caparica a firm favorite.
You'll also find that here you also have some top seafood restaurants where you can enjoy incredibly fresh seafood all year round. Almada Forum is also located here, one of the largest shopping centers in the Lisbon area, perfect for shopping lovers.
Situated on the south bank of the Tagus River, popularly called "the other side of the river," Almada is home to the famous statue of Christ the King, which was built in 1959.
Real Estate Market in Almada
In this section, we'll provide you with information on the real estate market in Almada, Portugal.
The current state of the real estate market in Almada, Portugal
The real estate market in Almada is much more affordable than in Lisbon City, making it an attractive opportunity for investors. This side of the Tagus River will likely increase in popularity in the coming years, with viable investment potential. Yields stood at 5.79 percent in 2022.
Property prices and trends
When it comes to property prices in Almada, the average asking price was €2,772 per square meter in 2022. Obviously, if you buy a luxury property with lots of bedrooms, a swimming pool, and a private gym, this will cost more. When compared with Lisbon, the affordability of Almada really stands out, as the average asking price in Lisbon City stood at €6,233 per square meter in 2022.
New developments in Almada
As Almada continues to grow in popularity, you'll find plenty of new developments taking place here, from residential properties to commercial properties. Whether you are looking to buy a villa to relocate to or commercial property to place your money, you should find that Almada can prove to be the perfect place in Portugal.
Types of Real Estate in Almada
As we've mentioned, you'll come across both residential and commercial properties.
Residential properties
Residential properties in Almada encompass a diverse range, from modern apartments with stunning waterfront views to charming villas and luxury homes with seven bedrooms, a swimming pool, and a garden. These homes offer a blend of comfort and convenience, catering to various lifestyles.
Commercial properties
Almada's commercial properties consist of bustling shops, offices, and business spaces that contribute to the local economy's vibrancy and growth.
Factors Influencing the Almada Real Estate Market
Factors influencing the Almada real estate market include the following.
Good infrastructure and transport links
Almada's real estate market benefits from well-developed infrastructure and efficient transport links. This accessibility enhances the appeal of the area, attracting both residents and businesses seeking convenient connectivity within and beyond Almada. For example, it is easy to get to Lisbon by ferry, bus or train, and you can venture to the stunning beaches on the west coast easily by train.
Proximity to Lisbon
Almada's strategic location close to Lisbon provides residents with easy access to the capital's opportunities, services, and cultural attractions, making Almada an enticing residential option for city enthusiasts.
Proximity to top beaches
Almada's real estate gains value from its proximity to exquisite beaches, such as Costa da Caparica. With stunning coastal areas nearby, residents enjoy a unique blend of urban convenience and seaside leisure, making properties in Almada desirable for those seeking a balanced lifestyle.
Investing in Almada Real Estate
Investing in Almada real estate can be an intelligent investment. In this section, we'll delve into the benefits of investing here, plus factors to consider beforehand. We'll also provide you with the latest information on investment potential in Almada.
Benefits of investing in Almada real estate
Almada is strategically located on the other side of the Tagus River in Portugal, with stunning views of Lisbon, combining urban convenience with natural beauty along the Tagus River. For those that want to be close to the Portuguese capital, while also being able to enjoy some peace and quiet – plus stunning beaches on your doorstep – will find Almada an attractive place to live.
Factors to consider before investing in Almada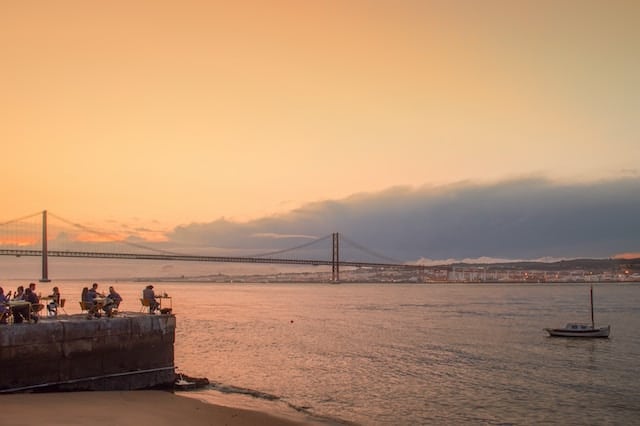 Before investing in Almada real estate, evaluate market trends, economic stability, and property demand. Research local regulations, property taxes, and legal procedures.
Analyze infrastructure development, transportation links, and proximity to amenities.
Calculate potential returns against investment costs to ensure a well-informed decision.
We recommend speaking with experienced real estate professionals to determine the top locations in Almada to consider investing in.
Rental market and potential returns on investment in Almada
While certainly not as popular – or as well established as Lisbon City – Almada's rental market benefits from its proximity to Lisbon and appealing lifestyle. High demand from students and professionals drives rental potential, yielding favorable returns – as we mentioned, these stood at 5.79 percent in 2022. Careful property selection, pricing, and management are crucial. Analyze vacancy rates, rental yields, and long-term market trends for a clear understanding of investment prospects.
Goldcrest: How We Can Help You
Goldcrest is a buyer's agent that is based in Lisbon. We provide expert, impartial advice on real estate investments and how to buy property in Portugal. From scouting out the perfect property through to property acquisition, we have you covered throughout the process.
If you are looking to purchase property in Portugal, don't hesitate to get in touch. Our team of skilled experts is available to solve all your real estate doubts, helping you with the property search and offering insightful expertise and strategic advice.
Why choose Goldcrest?
Local knowledge: With offices located across Portugal, our presence nationwide allows us to assist you personally across the country.
Independent service: As an independent buying agent, we do not represent any development or project. Our service is entirely tailored toward each individual client, providing you with everything you need to secure the perfect property at the best possible price. As an impartial advisor on the market, we work solely on behalf of our client and provide a service tailored to your needs and requirements.
Streamlined process: Our real estate agents speak English and Portuguese, and our service is completely focused on providing you with a hassle-free buying experience, saving you time.
Experienced team: Our expert real estate team has a vast local knowledge of the Portuguese property market. We have cutting-edge technology and metasearch tools at your disposal to provide full market coverage, ensuring the best investment choices and negotiated prices.
Network of partners: Lawyers, property management services, builders, architects, designers, and landscape gardeners, again saving you time and hassle by providing you with trusted experts in their field of work.
Member of the AIPP (Association of International Property Professionals), delivering company best practices and upholding professional values.
The following articles on Portugal may also be of interest to you:
Frequently Asked Questions about Almada, Portugal Real Estate
What's the real estate market in Almada, Portugal, like?
Almada's real estate market, on the south bank of Lisbon, is generally stable, offering a range of options for buyers seeking residential and commercial spaces. Its proximity to Lisbon is one of the main attractions to buying here, plus its affordable property prices and easy access to beaches on the west coast.
What types of properties are available in the Almada real estate market?
Almada, on the south bank of Lisbon, can be the ideal place to buy property. Almada offers residential properties, including apartments, houses, and villas, and commercial properties. From modern apartments to traditional homes, buyers can find diverse choices suiting their preferences. If you are looking for a villa or townhouse, there are many options. You'll also find many properties with a swimming pool and additional security.
What is the process of buying property in Almada, Portugal?
The buying process to get a house in Almada, Portugal can be broken down into the following steps:
Step 1. Decide whether you'd like to take out a mortgage to finance your property.
Step 2. Find the perfect Portugal property
Step 3. Negotiation
Step 4. Reservation Agreement
Step 5. Promissory Contract (CPCV)
Step 6. Sign the Escritura (Final Deed)
Are there any legal considerations specific to buying property in Almada?
You will need to get a NIF number (Portuguese tax identification number) to buy property in Almada and anywhere else in Portugal. We strongly advise working with a lawyer to assist you with the buying process, for example, in checking that everything is in order with the property and the seller.
Are there financing options available for purchasing real estate in Almada?
Yes, there are serval banks that provide mortgages for foreigners in Portugal looking to buy a house. You will want to decide which offers the best deal for your personal requirements and start the process as early as possible.
Is Almada a good place for real estate investment?
Almada, on the south bank of Lisbon, can be a good investment due to its proximity to Lisbon, expanding infrastructure, and potential for value appreciation. We recommend working with experienced experts in the field to secure the best property at the best price and to determine which part of Almada can yield strong investment returns. With their assistance, you should be able to find the ideal place in Almada, whether it's a stylish villa or waterfront property.
Are there real estate agencies and online platforms available for property search in Almada?
Yes, you'll find quite a few online platforms to search for a house in Almada. However, it is important to note that the real estate market in Portugal is fragmented, and there is no one place to find all the available properties. Working with a buyer's agent, such as Goldcrest, can be beneficial, as they have access to more properties, including ones you will not find elsewhere on the market, plus new listings to find the ideal place for you, whether it's a luxury villa with a pool or a modern apartment with excellent natural light.