Updated: October 27, 2023
The Algarve has a vast array of gorgeous areas, from the white and blue façades of Tavira in the east to the jaw-dropping natural landscapes close to Lagos. However, Ferragudo, a quaint village in the municipality of Lagoa, should definitely be in contention as one of the most picturesque parts of the region. In this article, we'll delve into Ferragudo Portugal real estate and why this could be the perfect place for you. We'll provide key insights into the real estate market here, plus what living in this dream location is actually like.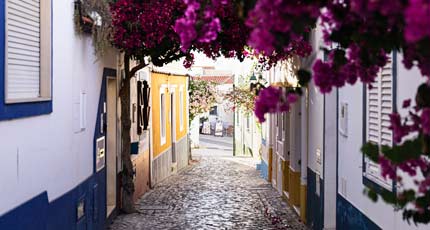 An Overview of Ferragudo
Ferragudo is a municipality and village located just to the east of Portimão. Sitting at the mouth of the Arade River, you'll find whitewashed cottages, boats bobbing in the water, and a calm peacefulness that can be harder to find in the more touristic parts of the Algarve region. Ferragudo is perfect for lifestyle buyers searching for their dream home with a sea view, where they will find elegant and contemporary architecture and magnificent scenes welcoming them.
Ferragudo has a historical legacy that dates back to ancient times.  The area was frequented by the Phoenicians, Carthaginians, and Romans, who were drawn to its strategic location at the mouth of the Arade River, which offered protection and a gateway to the Atlantic Ocean. By the 14th century, fishermen started establishing settlements in the area, primarily seeking refuge from the harsh winter storms that affected the Atlantic coastline. Fast forward to today, and seafood remains a key element to life in this part of southern Portugal.
You're within walking distance of beautiful beaches, such as Praia dos Caneiros and Praia Grande, and, being located in the center of the Algarve, you can easily reach other popular locations, such as Portimão and Lagos. If you are moving with a family, retiring, or investing in the real estate market, you'll find plenty of opportunities here.
Ferragudo Real Estate: Market Overview
There are many parts of Portugal that are prime locations to find your dream home, and while Ferragudo may not first place to come to mind in the Algarve, the village has much to offer. Plus, with tourism still on the rise, this beautiful part of the country is likely to increase in popularity in the coming years.
Property prices in Ferragudo
The average asking property price for a property in Lagoa, in which Ferragudo is located, stood at €3,931 per square meter for a villa. An apartment will set you back €3,085 per square meter. This region is known to have a vast array of property types, whether you are looking for a completely new modern villa, a place in a private condominium, or a spacious beachfront property with great sun exposure.
If you are in the market for a property for sale in Ferragudo, you should be able to find one that fits your requirements.
Buying land for sale in the Algarve can also be a cost-efficient way to create a property from scratch that meets your exact requirements. Even when factoring in construction expenses, this option generally proves to be more economical than purchasing a new property. Land prices in the Algarve typically range from €100 to €300 per square meter, while construction costs typically fall within the price range of €2,000 to €2,500 per square meter.
If you are looking for a luxurious villa, then you will also find many options on the market. Note that additional amenities, such as private parking, a sunbathing terrace, or a swimming pool or garden, will each boost the price.
The Algarve has long been a favorite with tourists. However, while Ferragudo does see its fair share, this part of the region is surprisingly quiet, particularly when compared with neighboring Portimão, just a short distance away. In Ferragudo, you will still find an authentic side of the region.
Investment opportunities in Ferragudo
Property investors will also find the region attractive, whereby short-term rentals can provide a nice passive income, given the beauty of the region and its strategic location in the center of the Algarve. Properties for sale in Ferragudo will also likely increase in price in the future, so there is a high potential for good returns on your investment should you want to sell the property in the future. If you are interested in luxury development opportunities, where many properties come with a private swimming pool, back garden and sublime sea view, you will also find many options here.
Rental yields in Lagoa (the municipality in which Ferragudo is located) stood at 3.56 percent in 2022, meaning that there is room to secure a nice return on your investment.
Commercial and touristic properties are also an option for investors. As a privileged location in the center of the region, there is high potential for the development of these ventures here.
For key essential about investing in the Algarve region, you can take a look at our article: Real Estate Investment Algarve: What You Should Know.
Ferragudo: A growing tourist destination
Ferragudo is beginning to emerge as a popular tourist destination with its charming blend of history and natural beauty. Visitors are drawn to its serene ambiance, historic sites, and recreational activities, making it a must-visit spot on Portugal's Algarve coast. While it does not have the hustle and bustle of more touristic parts, Ferragudo is an eye-catching area for property investors.
The central location also provides an excellent base for tourists to easily get around the region., Ffor example, you are within striking distance of Faro and the Faro Airport.
How to Buy Ferragudo Property
When embarking on your property search in Ferragudo, it may initially seem daunting to know where to start. However, by following these steps, you can streamline the process and make it more manageable. Buying a house with a buyer's agent will also save you time and hassle and provide you with clarity on your purchase.
Step 1: Determine if you intend to secure a mortgage in Portugal to fund your property purchase
Step 2: Locate the ideal property in Portugal that suits your needs and preferences
Step 3: Engage in negotiation with the seller or relevant parties
Step 4: Formalize the Reservation Agreement
Step 5: Promissory Contract (CPCV)
Step 6: Conclude the process by signing the Escritura (Final Deed)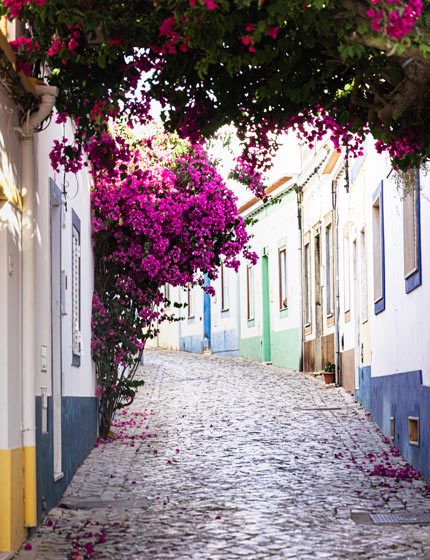 Legal Considerations
If you are looking to buy property in Ferragudo, you should ensure you understand any legal implications that apply to you. This entails having a solid comprehension of property rights, zoning ordinances, land utilization regulations, and contractual commitments. Collaborating with a Portuguese real estate lawyer will prove invaluable in navigating the tricky legal system in Portugal.
Tips for Investing in Ferragudo Real Estate
Buying property anywhere can be tricky, particularly if you are making a purchase in a different county. This is a big investment, and it's essential that you create a strategy to ensure that the process runs smoothly. Here, we present you with some top tips so that you are best prepared.
Financing your property
If you're considering purchasing a house in Ferragudo, your first step should be to establish a budget for your new home. This will allow you to focus on properties that are within your price range. Portugal offers various financing options through its numerous banks, and you should find the one that best suits your needs. Getting a mortgage in Portugal is not too difficult, but you should ensure that you research carefully to secure the best deal for you.
Negotiation
Once you've shortlisted a property that meets your requirements, you'll want to ensure you can purchase it at the best price possible. Negotiating a price can be a delicate process, as some sellers may respond positively to an upfront expression of interest while others might exploit your enthusiasm. We highly recommend enlisting the expertise of seasoned professionals, such as Goldcrest, who can guide you in negotiating the most advantageous deal.
Due diligence checks
You will need to ensure that you complete due diligence checks on both the property and the seller. Working with an experienced Portuguese real estate lawyer will be able to ensure that you face no legal issues, while enlisting the assistance and services of a surveyor in Portugal can be a good idea to ensure that there are no structural problems with the property.
Why Work with Goldcrest
Whether you are after a top floor apartment where you have limitless views of the Atlantic or a luxury open plan villa with four bedrooms, Goldcrest can assist you in discovering your dream home.
From sourcing the best properties to ensuring that you get the best price for your purchase, we are here to assist you throughout the house buying process. With access to new real estate listings that you will not find elsewhere on the market, we work solely on behalf of you, the buyer.
Get in touch, to kickstart your property search today.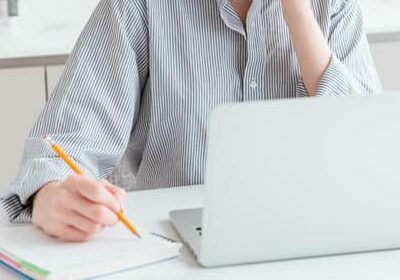 Frequently Asked Questions about Ferragudo Portugal Real Estate
What are the current real estate trends in Ferragudo, Portugal?
Ferragudo may not be as well-known as other parts of the Algarve. However, for lifestyle buyers and investors, you will find much to love about the region, given its strategic location in the center of the Algarve, proximity to incredible beaches, and projected increasing popularity in the coming years.
Whether you are looking for a villa with private parking or an old townhouse, there is a wide array of property types for sale in Ferragudo.
What types of properties are available for sale in Ferragudo?
You will find an array of Ferragudo properties and should be able to find one that meets your requirements. From spacious villas with a sunbathing terrace and great sun exposure to quaint townhouses with a cosy living room, you will find plenty of options when it comes to property for sale in Ferragudo. Additional facilities, such as a swimming pool, garage, or gym, will obviously cost you more. Ferragudo is a charming village, so you should have all the amenities you need within walking distance. As you are by the coast, many properties will also have magnificent views of the ocean, particularly top floor apartments. If you are looking for an area of quiet urbanization, Ferragudo may be the place for you.
What is the average price range for Ferragudo real estate?
According the Casafari, the average asking property price for a property in Lagoa, where Ferragudo is located, stood at €3,931 per square meter for a villa, while an apartment will set you back €3,085 per square meter.
What factors make Ferragudo an attractive destination for real estate investment?
Ferragudo, Portugal, beckons real estate investors with its alluring coastal vistas, enchanting historic town, and easy access to the beloved Algarve beaches. Whether you are looking for a first- floor apartment or a villa with sweeping views, you should be able to find what you are looking for in and around Ferraguado. A robust economy, sun-kissed climate, and increasing tourism scene add to its undeniable investment allure. If you are looking for an area of quiet urbanization, Ferragudo may be just the ticket.
How can I narrow down my search for properties for sale in Ferragudo?
You can utilize real estate websites to your advantage, using more filters to refine your search for properties for sale that meet your requirements. With more filters, you can quickly find your ideal property among our extensive listings. Examples of more filters you can add include properties that come with a swimming pool, with a garden, whether you want the property to be furnished or unfurnished, or if you want an open plan property. This will enable you to narrow down your search for properties for sale in Ferragudo.