Updated: March 27, 2023
Beach Houses for Sale in Portugal
Portugal has a coastline that stretches 1794 km, making for some terrific beaches and stunning views of the Atlantic Ocean. However, if you are looking for beach houses for sale in Portugal, this opens the question: how do you choose which part of Portugal is for me when there is simply so much choice?
In this article, we'll provide a rundown of ten of the best places to find beach houses for sale in Portugal. From the sunny Algarve to Matosinhos Beach, close to Porto, we hope to provide you with a detailed account of the most desirable locations for prospective buyers. 
Looking to live amongst fellow expats in the Algarve? Or are you searching for a more remote and quieter beach house on the Silver Coast? We have you covered. Note that these areas are not ranked in any particular order, as each buyer will have different tastes and be looking for something slightly different. 
Looking to move to Portugal or simply buy a second home here? For more information on the most desirable areas in Portugal, our book, Your Expert Guide to Buying Property in Portugal, arms you with detailed accounts of potential locations and an easy six-step guide to finding your dream home in Portugal.
To find property for sale in Portugal, it is worth setting up email alerts on real estate listing websites. With this, you will receive email alerts about potential properties that you can then follow up on. Alternatively, you can work with a buyer's agent, such as Goldcrest, who will work with you from sourcing to acquisition and provide a service tailored to your needs. 
Top Ten Areas for Beach Houses for Sale in Portugal
10. Peniche
The Silver Coast encompasses the stretch of coast just north of Lisbon up until around 150 km north of Nazaré. Peniche is a quieter location in Portugal compared to many other beach locations and is a great area if you are looking for tranquility, local life, and being close to nature. 
With a dramatic rocky coastline, this area is a popular spot for surfers and beach-goers. It hosts the annual MEO Rip Curl Pro Portugal for the World Surf League at Supertubos beach. While the winters can be slightly gloomy and the weather unpredictable, the summers are perfect, as you have a slight sea breeze. 
Friendly locals and old ways of life still permeate through to current daily life. Here, local bakeries greet you with warm smiles and local tips on the best beach spots and restaurants. Owning a property in Peniche means soaking up an authentic Portuguese experience where local life takes center stage. 
The stunning Obidos Lagoon is also located close to Peniche, which is one of the best ways to spend a lovely summer's day. The beach of Foz do Arelho, to the northern side of the lagoon, is particularly popular. Here you'll find clear waters and can enjoy the perfect beach day. 
9.
Setúbal and Sesimbra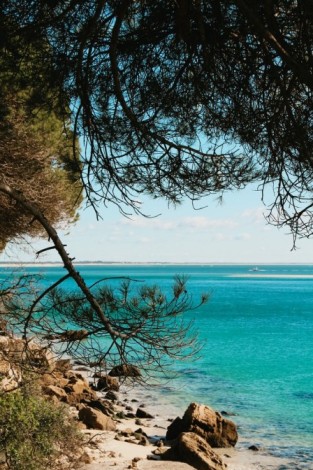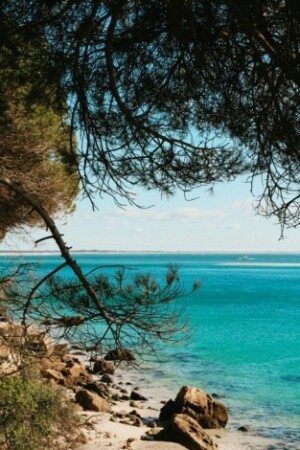 Setúbal is a short drive south of Lisbon and has a thriving expat community. As such, there are excellent hotels, restaurants, and amenities. Unsurprisingly, Setúbal has excellent seafood as the city was once regarded as one of the most important sites for Portugal's fishing industry. Sardines, in particular, are a must if you visit Setúbal. 
Arguably the most beautiful sea views in Portugal are close to Setúbal. Driving down the coastline of Sesimbra, you are blessed with magnificent ocean views and sunshine gleaming off the waves. What's more, ask any local or expat in Portugal, and they will undoubtedly comment on the beauty of the beaches in this region. Beaches such as Praia do Portinho da Arrábida and Praia de Galapos, nestled in the Serra da Arrábida hills, spring to mind.
What's more, properties in both Setúbal and Sesimbra have very high yields. If you were thinking about renting the property out for some parts of the year, this could be an attractive buy. 
8. Tavira
Tavira, situated in the Eastern Algarve, offers tranquility and peace and is considered one of the most authentic areas to have a beach house in the Algarve. Most expats focus on Albufeira, Portimão, or Faro, which has allowed this former fishing village to retain its traditional charm. 
Both Moorish and Roman designs can be found in Tavira, showing the rich history of the region. Not only this, but close to Tavira is the oldest olive tree in Portugal, which is situated a little out of the city. 
The picturesque Gilão River flows through the town of Tavira, and the white and blue facades of the houses are very typical of this area. The beautiful Praia do Barril is closeby, and you also have Tavira island, with its 11 km of white sandy beach and pristine turquoise waters, perfect for swimming. 
The eastern Algarve is an area where you can find property for sale at a reasonable price, compared to more popular spots in the center of the Algarve. Also, as you move further north from the Atlantic Ocean, you'll find that property prices decrease. 
7. Porto
While Porto may not spring to mind first when thinking of beach properties, it is very good in terms of lifestyle and investment. With some excellent international schools, services, and amenities and the historic city of Porto close at hand, Porto offers many advantages. 
Some areas that come to mind for beachfront properties include Foz Do Douro and the surrounding area of Matosinhos beach. For more information, see our guide: Best Beach Properties in Porto.
6.
Western Algarve: Lagos and Sagres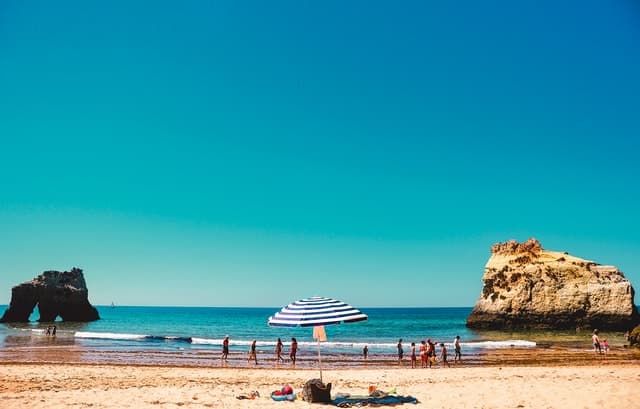 The western tip of Portugal, Sagres, offers dramatic scenery and highlights the sheer power of nature on the Portuguese coast. Quieter than many other areas of the Algarve, Sagres is a good option if you would like a beach house in the Algarve but do not want to be in such close contact with other expats. 
Further east, you have Lagos. If you have ever looked at pictures of the Algarve, the unique and scenic rock formations that makeup Lagos will definitely have featured. With delicious eateries, lively nightlife, and a good-sized community of expats, there is also a more relaxed atmosphere here than closer to the center of the Algarve.
5.
Costa Vicentina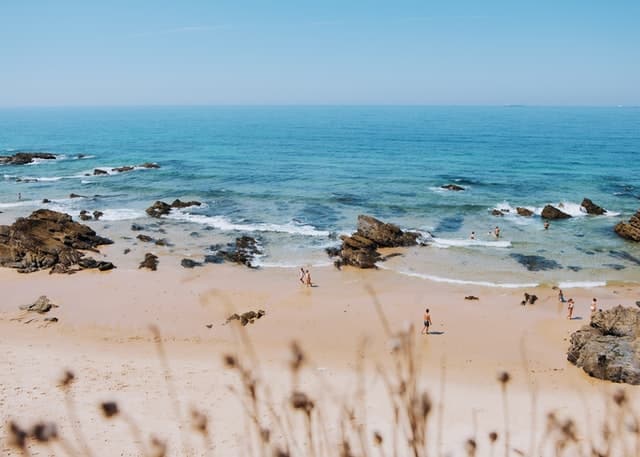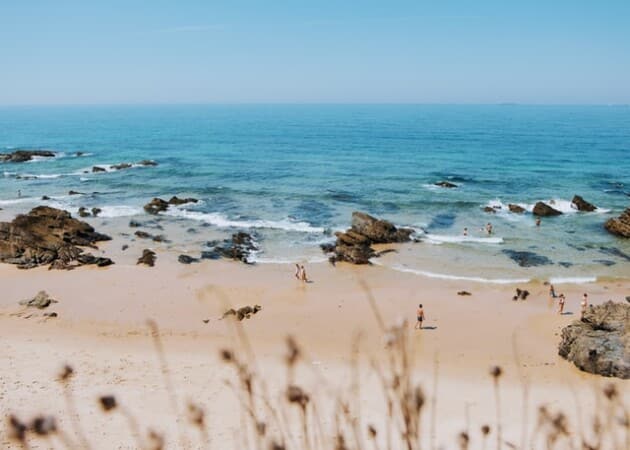 There are many promising areas that have beach houses for sale in Portugal. While Costa Vicentina was once a little far off the tourist or expat trail, this part of the country, from Sagres up to Sines, is now beginning to be explored by the non-Portuguese. This Alentejo-Algarve area provides you with the luxury of both areas and allows you to live as a local would. 
The Alentejo, the breadbasket of Portugal, is where the best foods (and some of the best wines, for that matter) are produced. Sitting back with some local chouriço and queijo (cheese) or opting for some seafood delicacies could be the norm for you if you were to buy here. It is also important to note that this region is more affordable than much of the Algarve. As mentioned previously, the further you move north from the sunny south, the cheaper the properties are.
You'll also find that property here is more affordable than in other parts of Portugal, so you could find your dream home, with a sea view, at a reasonable rate. Bear in mind that, generally, property in Portugal is considered to be considerably more friendly on the wallet than property in other western European countries. You will be surprised by the affordable prices you can find here. 
4.
Lisbon and
Cascais
Lisbon is the cosmopolitan capital of Portugal. The city is famous for the 25 Ponte de Abril bridge, traditional eateries, and the hustle and bustle you would expect from the capital. 
Lisbon is a very easy place to live, with a strong presence of expats that have blended with the Portuguese way of living. Indeed, most locals embrace taking time out to enjoy a cafe, delight in the many varieties of bacalhau (salt cod) on offer, and admire the beautiful tiles of the city. With beautiful beaches close at hand – such as Carcavelos and Costa da Caparica – you can also find very good property for sale here. 
And then you have Cascais as you head west up the Lisbon Coast. Here you can experience a truly luxurious lifestyle a stone's throw from the capital. This seaside town offers an excellent lifestyle and investment opportunities. Cascais has some of the best restaurants, beautiful detached houses for sale, and excellent schooling options. 
On the way to Cascais up the Lisbon Coast, you also have Estoril, Carcavelos, and Parede, each of which offers unique locations for a beach house. 
To learn more about the perks of buying in Cascais, look at our article on Cascais Property Real Estate, which provides a more detailed picture of the different areas in Cascais municipality. In the Cascais area, many properties will have a swimming pool, private gym, and security. As the Atlantic Ocean is notoriously cold, having your own swimming pool will likely come in handy.
In Lisbon and Porto, and across the country for that matter, you'll find several festivities to enjoy, such as Carnival, the day of Saint Martin, and the festival of São João, which is celebrated in the summer. The day of Saint Martin falls on 11 November, when the harvest is celebrated, and the Portuguese delight in eating chestnuts and drinking wine. One thing is for sure, if you live in Lisbon, there'll always be activities to get involved in or events to enjoy.
3.
Nazaré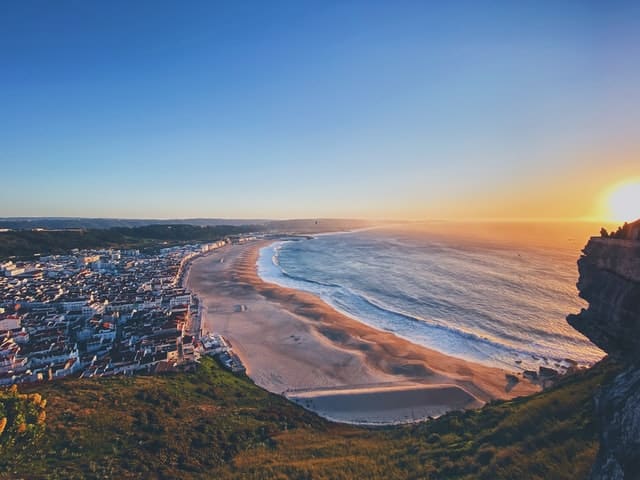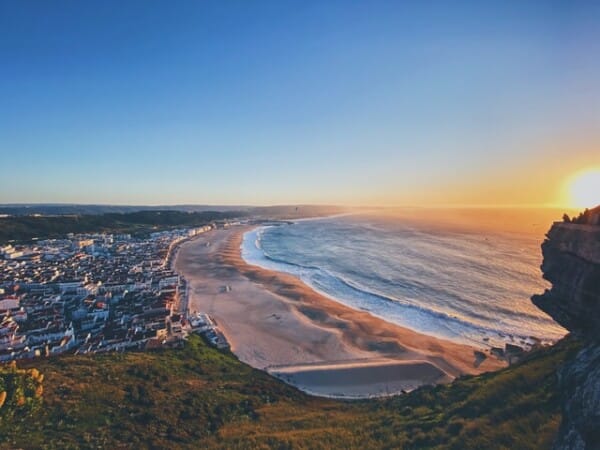 Nerves of steel can be seen firsthand in Nazaré as the big wave surfers take to the waters to test their mettle. The town used to be known for its traditional costumes for fishermen and their wives. Here, the women would wear a headscarf and seven-colored flannel skirts, which are still worn, on occasion, to this day. 
Buying a house in Nazaré is a good option if you want to be by the coast but not in the expat-heavy south of the country. You'll find plenty of properties here that have a stunning sea view of the Atlantic Ocean. Also, some of the nicest beaches are found along the Silver Coast. 
Take a seat at any of the many seafood restaurants here, and you will be hard-pressed to be disappointed. Two fish to bear in mind which are excellent are Dorado and Robalo. Lulas grelhadas (grilled squid) also comes highly recommended.
Just over an hour north of Nazaré to the northeast, you will find Coimbra. Coimbra is a beautiful university city with the Mondego River running through it. Coimbra is the perfect mixture of modernity and tradition, seemingly effortlessly blending the two together. Although you won't find beach houses with a sea view, you will come across properties with lovely riverside views. You'll also find that in Coimbra, Portugal, real estate to rent or buy is quite affordable. 
2.
Tróia
, Comporta and Melides
The Southwest region of Portugal is becoming increasingly popular and is known for luxurious hotels, casinos, and upscale restaurants. All located in the heart of Portugal, these areas boast wide beaches and a nature reserve. 
Tróia is a peninsula with 18 km of white sandy beaches. Spend the day on the beach or cycling in the nature reserve and, in the evening, indulge yourself with a fine dining experience or a night at the casino. 
Comporta is popular with expats, of course, but locals also spend time here if they are looking for a little luxury outside the city. This is a place that has escaped the tourism of the Algarve and has retained its natural essence through eco-design and boutique architecture. Furthermore, Comporta has been labeled the "Ibiza of Portugal" and the "Hamptons of Europe," with famous designers now calling this sleek area home. This is as good an incentive as any to consider buying in this area. 
A little further down the coast, you'll come across Melides. Even more in touch with nature than Comporta, several villas here could make an attractive home if you are looking for a place where the locals are still very much at the heart of the town.
1. Central Algarve
The "Golden Triangle" in the Algarve is the centerpiece of the sun-drenched south of Portugal. Close to the resorts of Quinta do Lago and Vale do Lobo, you can enjoy a very high quality of life here.
The Central Algarve is where tourism in the south of Portugal began. Indeed, this area became renowned for its beautiful beaches, stunning rock formations, and welcoming hotels, restaurants, and services. Many properties in this area will have their own swimming pool, private gym, and security.
The British have been coming here for decades, but nowadays are not alone in the south. The French, German, Dutch, Swedes, and Americans have all been snapping up properties here recently. 
Vilamoura is one of the most popular locations amongst expats and retirees and is very accessible. This is because Faro airport is nearby. Close by Vilamoura, you have Albufeira, with its cobblestone streets, lively night scene, and bustling expat community. 
If you are looking for peace and quiet, you will probably not find it in Albufeira. Nonetheless, there is no denying that Albufeira offers excellent amenities, with a waterfront promenade, popular restaurants, and proximity to sandy beaches.
Beach Houses for Sale in Portugal
Each buyer will be looking for something a little different and special for them. In this article, we've provided you with an overview of some beautiful beach locations. From this, you'll have a bigger picture of where is best for you to buy.
The following article may also be useful for you: