Updated: October 30, 2023
The medieval town of Óbidos is one of the best-preserved and most picturesque towns in Portugal. Just over an hour northwest of Lisbon, Óbidos is a magical, postcard-perfect Silver Coast location. While property in the center of Óbidos may be better as an investment, Obidos Portugal real estate in the surrounding area is certainly worth considering for homebuyers.
Regardless of whether you are looking to buy a house or invest in the area, speak with a Goldcrest advisor, who will be able to provide you with an overview of the region and what to look out for. You can book a call with us by contacting us today. 
In this article, we'll arm you with up-to-date information about Óbidos Portugal real estate. Following this, we'll provide you with a background and a brief history of this charming town before focusing on what to expect if you are considering moving to Óbidos.
To understand everything that you will need to know before you buy, you can see our article about how to buy real estate in Portugal.
The Magic of Óbidos
One of the true gems of Portugal, Óbidos, on the Silver Coast, is well worth a visit. It is popular with tourists, where they can step back in time to admire the Medieval charm and try Ginjinha (Portuguese cherry liquor), which is often served in a chocolate cup – two treats in one. With delightful cobblestone streets, sweeping views of the countryside, and a slight twang of the ocean in the air, Óbidos is certainly a place to be admired. 
This medieval town is perched close to the Atlantic and has some of the most beautiful Portuguese countryside in the surrounding area. Picture having a renovated country house to enjoy the very best that Portugal has to offer – landscapes, history, and the Atlantic Ocean. An additional perk is that the town is not too far from the bright lights of the capital, Lisbon – just over an hour away – so if you're craving some hustle and bustle of city life, you can make the trip very easily. 
Óbidos Portugal Real Estate
In this section, we'll provide you with key information on the real estate market in Óbidos, including its investment potential and what we can expect in the future.
Property types
In the Leiria district, which is home to Óbidos, you can find spectacular properties in the heart of the countryside. For luxury buyers, there are several possibilities to consider. From modern apartments with captivating views of the Atlantic Ocean, villas with a private pool, or majestic country houses with acres of land to enjoy, you should feel content with the array of options the region offers. While there are quite a few examples of expensive property in the area, you will, however, also find homes for sale in Obidos that are quite affordable, plus lovely properties in the surrounding countryside.
Property prices
Óbidos is a very exciting place for investors and homebuyers. Óbidos properties are reasonably priced, with an average asking price for a villa standing at €2,450 per square meter in 2022. Note that this average price is the asking price, and the transaction price is often less than this, for example, if sellers want to sell their property by a set date. On the other hand, the transaction price can also be higher. The sales price for a property in Óbidos was €2,027 for a mid-range property, while a high-range property will set you back €4,538 per square meter.  
Caldas da Rainha is a charming city close to Óbidos, known for its healing thermal water. Caldas da Rainha property for sale is more affordable than Óbidos while offering the same perks of being located close to the coast.
And if you are looking to be even closer to the coast and are perhaps considering a waterfront property, then Peniche, Portugal real estate comes highly recommended. You can check our article about the perks of living in Peniche: Exploring Peniche Portugal Real Estate.
Investment potential
Óbidos, Portugal, presents a compelling investment potential. Its captivating charm, historical significance, and burgeoning tourism industry make it an attractive destination for investors. Located on the Silver Coast, the town's unique appeal and strategic location close to Lisbon provide opportunities for real estate development, hospitality ventures, and more.
Market outlook: Future predictions 
The future prospects for Óbidos, Portugal, look bright, as there is an expected boost in both domestic and international tourism, indicating a flourishing economy. Óbidos is located on the Silver Coast, and, with Sintra and Lisbon not far away, this part of Portugal is likely to continue to catch the attention of expats and tourists in the future. As infrastructure and tourism-related projects continue to receive investments, property values will likely continue to rise, creating attractive economic prospects for potential investors.
History of Óbidos
Since the late Paleolithic, the region of Óbidos has been inhabited. The early Celt tribes created a settlement that later became a center of trade for the Phoenicians. Archeological evidence from the base of the tower at Obidos Castle shows Roman construction linked to the Roman outpost Eburobrittum, including the remains of a forum, baths, and other Roman structures. 
After the fall of Rome, however, the region was occupied by the Visigoths, although specific records are incomplete. The Roman town Eburobrittum, was abandoned in the 5th Century for the hilltop, which was deemed more secure and is where the present-day principal settlement is situated.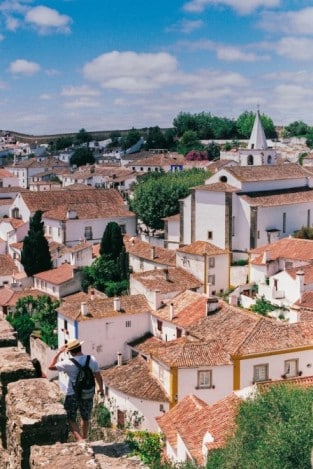 Sometime after 713, the Moors established their foothold in the region until Afonso Henriques, the first King of Portugal, overcame the Moors in 1148. Later, in 1210, King Afonso II gave the title of the village to Queen Urraca, and ever since, the informal title of Óbidos has been Vila das Rainhas (town of the Queens).
Expansion of Óbidos
The castle of Óbidos was remodeled during the reign of King Dinis 1, with the limestone and marble structure being strengthened and elaborated. King Fernando then created the keep in the 14th century, and by the time of the first remodeling project for the town, the settlement had already expanded beyond the castle gates. 
The beautiful ornate Church of Santa Maria was where the wedding of King Alfonso V and his cousin Princess Isabella of Coimbra were married on 15 August 1441, when they were both still children – aged nine and ten, respectively. 
Administrative reforms by King Manuel I at Óbidos in 1513 included the institution of a formal charter and the regeneration of the urban landscape. Over 200 years later, the 1755 earthquake caused damage to the village walls, churches, and infrastructure and resulted in the destruction of Arab and Medieval-inspired architecture. In the time that followed, the Peninsular Wars were fought in Óbidos, and, more recently, the town was a meeting point for those involved in the 1974 Carnation Revolution. 
Lifestyle in Óbidos
Óbidos has never shaken off its Medieval charm and is a true traditional Portuguese town. Indeed, visitors to the town can stop and admire shops selling handiwork and clothing, with Ginjinha sellers scattered on the streets. The impressive castle and Santa Maria Church stand sentinel over the town.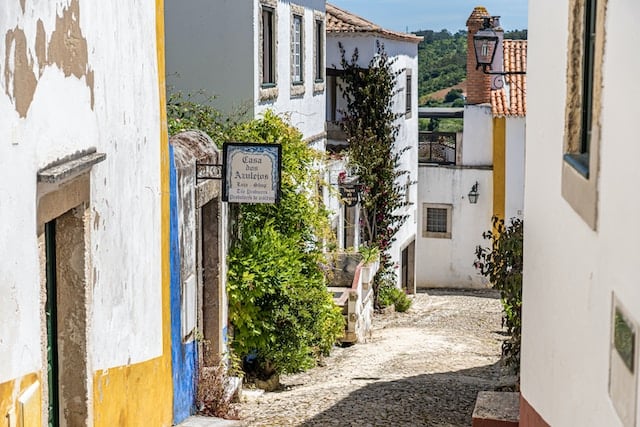 Óbidos is very close to the coast, with the charming town of Peniche close at hand. If you enjoy water sports and surfing, then you could not be better placed. Indeed, it is very easy to live an active life here, whether you enjoy being in the ocean or on dry land. There are many championship golf courses in the vicinity for keen golfers, such as the Royal Obidos Golf and Spa Resort. The surrounding area is also perfect for hiking. Indeed, you are not far from the spectacular Sintra Cascais Natural Park – see our article about Sintra Portugal real estate. Plus, the tranquil Obidos Lagoon and the beautiful coastline of the Silver Coast are also close at hand. 
You can also check out our article, Top Ten Natural and National Parks in Portugal, if you're looking to move to Portugal to be close to incredible natural landscapes.
As the town itself is very popular with tourists, real estate directly in the center may be better as an investment. However, the surrounding area is perfect for a relaxed and very typical Portuguese lifestyle – there are many properties that would make a wonderful, peaceful retreat. 
With local produce, very good restaurants, and a quieter area than in other parts of the county (when you get out of the busy town center), you will be able to enjoy your slice of Mediterranean sunshine. 
If you are looking to retire to Portugal, there are many perks of living in the region – a quiet place just for you, many ways to stay active, and many things going on so that you can feel a part of the community. 
Festivals in Óbidos
There is the Medieval Festival that takes place for three consecutive weekends from July (Thursday-Sunday) that rewinds the clock and is worth heading to if you happen to be in the area. Visitors can dress in Medieval attire, soaking up the atmosphere, and there are many activities on offer, including jousting, typical medieval food, and medieval music. Do not assume that this is the only festival in the town; however – visit the International Chocolate and Pastry Festival in the Spring and marvel at the incredible chocolate structures. At Christmas, the Christmas village also comes alive, perfect for enjoying the festive season with family and friends, while the Opera Festival is a favorite in September. 
Climate in Óbidos
Summers are warm and dry, while the winters can be wet and windy. Temperatures over the year tend to vary from 46 Degrees F (8 Degrees C) to 79 Degrees F (26 Degrees C) but rarely fall below 39 Degrees F (4 Degrees C) or above 90 Degrees F (32 Degrees C).
Five Key Reasons to Consider Óbidos
To sum up, here are five reasons why Óbidos, or the surrounding area, could be the perfect place to find your dream home.
Rich history: Óbidos offers a captivating journey through time with its well-preserved medieval architecture, providing a unique and immersive living experience.
Natural beauty: Nestled within stunning natural surroundings, including the Sintra Cascais Natural Park, Obidos Lagoon, the Lisbon Coast, and the Silver Coast, Óbidos offers a picturesque and serene environment.
Culinary delights: The town boasts a vibrant food scene, with local delicacies and fine wines, making it a haven for food enthusiasts. The Silver Coast is also renowned for its seafood and fish dishes.
Cultural events: Óbidos hosts numerous cultural events and festivals throughout the year, such as the Medieval Festival and Opera Festival, ensuring a vibrant and engaging community life.
Proximity to Lisbon: Its strategic location, just over an hour's drive from Lisbon, you will have easy access to urban amenities, international airports, and business opportunities while enjoying the tranquility of a smaller town.
Óbidos Portugal Real Estate: Having a Buyers' Agent on Your Side
If you are looking to move to Portugal, then it is worth having an experienced buyers' agent to help guide you through the process. Buying property in Portugal can be a hassle, particularly if you do not speak Portuguese, and it is always good to have inside knowledge of the property market. While real estate agents work on behalf of the seller and will receive a higher commission for a higher sale, a buyer's agent, such as Goldcrest, works exclusively on behalf of the buyer, ensuring they secure their ideal property at the best price possible. 
At Goldcrest, we have years of experience and insider tips. Based in Lisbon, Porto, and the Algarve, our primary goal is to secure the best property for the buyer based on their needs – whether they are looking to move to Portugal with family, get on the property ladder, or retire to Portugal. We also have access to more properties than you will find on real estate websites in Portugal, including new listings. You can be assured that you have access to the best properties in prime locations in the country. You can get in touch with us by phone, email, or text message today.
Frequently Asked Questions about Óbidos Portugal Real Estate:
Is Óbidos Portugal real estate a good investment?
Yes, Óbidos real estate is a good investment. Whether you are looking for a modern apartment or a traditional townhouse, there are many different property types available. While investors in the market may be more attuned to buying property in the center, any of the surrounding countryside would make a perfect home for homebuyers, either as a primary or secondary residence. 
Popular locations such as the Silver Coast, Sintra, and Lisbon are not far away and are likely to continue to catch the attention of expats and tourists in the future, highlighting the region as a profitable investment opportunity.
You'll also find many areas of natural beauty close by, including the Sintra Cascais Natural Park and the Obidos Lagoon, perfect for nature lovers.
Is Óbidos a good place to retire to?
English is widely spoken in Óbidos, given the influx of tourists to the region, which also has brought in many very good restaurants. With good healthcare and the attractive NHR scheme, where you can have significant tax benefits for ten years if you are looking to retire to Portugal, then you have many benefits. A beautiful corner of the country, Óbidos is a top Silver Coast location to consider, particularly for those looking for rest, relaxation, and a bit of peace and quiet. Consider the countryside surrounding Óbidos. You will find a range of properties and are sure to find one that will meet your requirements.
Our new e-book, Guide to Buying Property in Portugal, has everything that you could want about how to buy property in Portugal for investment or relocation purposes, including a rundown of popular locations for you to consider buying property in Portugal. 
Is it easy for foreigners to buy property in Portugal?
Yes, it is relatively easy to buy property in Portugal. While real estate websites can be a good starting point to find property for sale in Obidos, whereby you can set up a property alert to get a flavor for the real estate market, they can only get you so far. We recommend having an experienced buyers' agent on your side to help you navigate through the process and assist you with finding the perfect property for sale in Obidos. You will need to have a Portuguese NIF number (Tax Identification Number) and should open a Portuguese bank account to avoid exchange rates. 
What is the average price for a luxury home in Óbidos, Portugal?
The average price for a villa in Óbidos was €2,450 per square meter in 2022. When looking for property for sale in Obidos, note that this is the average asking price, and the sales price can be lower or higher than this. 
How can I find Obidos property for sale?
Properties for sale in Obidos, on the Silver Coast, come in all shapes and sizes. You should be able to find your dream home in Portugal, as there are many different types of property on the market. First, define your property search criteria and make general searches on real estate websites. This will provide you with an overview of property types and ballpoint figures for what to expect in terms of property prices. You can do a quick online property search with key keywords, such as "land for sale Óbidos Portugal" or "villa for sale Óbidos Portugal," to get started.
You will find more properties, however, if you work with a buyer's agent. They will have access to new listings of properties for sale in Obidos that you will not find elsewhere and will be able to assist you throughout the buying process.