Updated: October 30, 2023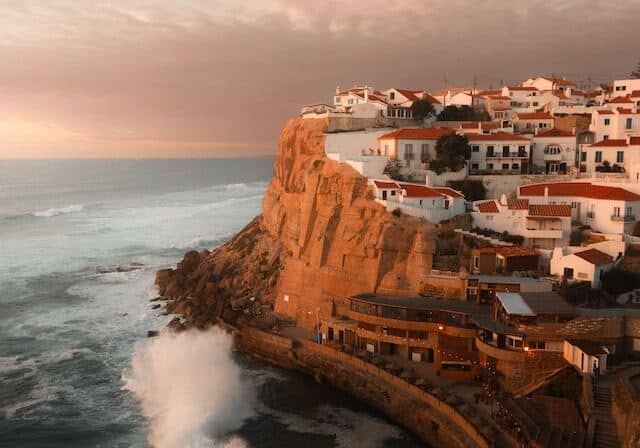 If you're contemplating moving to Portugal, it would be surprising if the proximity to the sea wasn't a key factor for you. With a coastline stretching almost 1,700 km, the country has ample opportunities to tempt property buyers. Combined with sublime weather – more than 300 days of sunshine per year in some parts of the country – and a high quality of life, Portugal, in many ways, is the ultimate country to relocate to.
Alongside this, the country has become somewhat of a real estate hotspot in recent years, attracting investors and expats from all walks of life, from families and digital nomads to investors and retirees. When it comes to coastal properties, you'll find some affordable options if you know where to look. In this article, we'll provide valuable insights into cheap Coastal property for sale in Portugal, arming you with the information you need to make your decision to set up shop by the coast.
Why Portugal?
When determining whether Portugal is the best place for you to move to or invest in, you'll want to have a good idea of what the country has to offer. Aside from the long coastline, exceptional climate, and varied landscapes – from picturesque mountains to pristine beaches – Portugal is also one of the safest countries in the world. Portugal ranks in seventh position in the 2023 Global Peace Index, with a stable economy and political system, plus excellent education and healthcare systems.
The real estate market has also moved from strength to strength in recent years, which we'll delve into in greater detail in the next section. The real estate market has many different property types to choose from, including Portugal beach houses with a sea view, countryside cottages, luxury villas, and modern apartments. With a wide array of locations to choose from, the country can cater to all needs.
Getting to Grips with the Real Estate Market in Portugal
Particularly over the past five years, Portugal has cemented itself as a top player in the real estate sphere, with investors from the world turning their attention to this sun-drenched Mediterranean country and the real estate market here. Take Lisbon City, where prices have registered a 50 percent growth rate between 2017 and 2022, or Porto, the second largest city, where the growth rate during the same duration stands at 87 percent.
However, while this impressive – if not slightly alarming – increase in demand for properties may suggest that Portugal property is quite expensive now, this is not the case. While Lisbon has its own price range, Portugal remains an affordable place to buy property compared with other Western European countries, allowing the real estate market to continue to blossom.
Benefits of Coastal Living
The first step to understanding whether coastal living is for you is to understand the benefits. Here are just a few of the advantages of living close to the sea in Portugal:
Scenic beauty: Coastal living in Portugal offers unparalleled views of the sea and picturesque beaches, making it a privileged area for those seeking natural beauty.
Pleasant climate: The Mediterranean climate ensures mild winters and sun-soaked summers, creating an ideal environment for outdoor activities and beach lovers.
Recreational opportunities: Residents can enjoy a variety of activities such as swimming, surfing, and sailing due to easy access to the beach.
Real estate: Property for sale can provide excellent investment opportunities, depending on where you buy.
Culinary delight: Coastal regions offer an abundance of seafood-rich cuisine, perfect for food enthusiasts.
Relaxed lifestyle: The laid-back coastal lifestyle promotes relaxation and well-being, attracting those looking for a slower pace of life.
The Best Coastal Regions in Portugal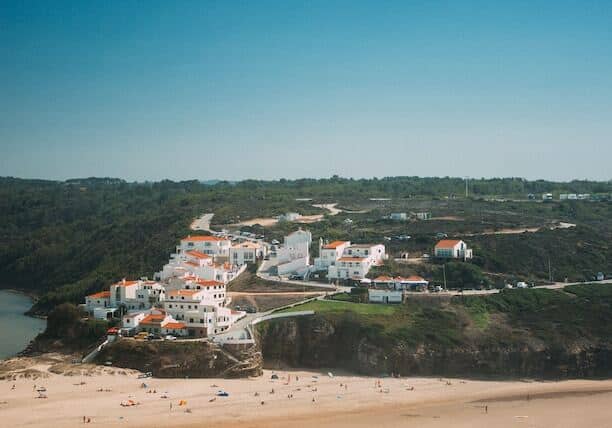 Each of these regions or municipalities along the Portuguese coast offers a distinct coastal living experience, catering to a variety of preferences, from bustling urban life to serene natural beauty, making them all excellent options for living beside the sea.
• Lisbon and Cascais: Portugal's capital, Lisbon, offers a unique blend of historic charm and modern living. Residing beside the sea here means enjoying the beautiful beaches of Cascais and the stunning views along the Tagus River. The city boasts a rich cultural scene, vibrant nightlife, and a Mediterranean climate, making it an attractive choice for those seeking coastal urban living. Do note that while you may be able to find a bargain outside Lisbon City itself, property tends to be more expensive than in other parts of Portugal.
• Porto: Located in northern Portugal, Porto is famous for its historic architecture, port wine cellars, and the Douro River. While Foz do Douro would be a great place to buy for families, Vila Nova de Gaia properties and Matosinhos real estate offer more affordable options. There are also several beach properties near Porto up for grabs.
• Algarve: The Algarve region in southern Portugal is a paradise for beach lovers. Its golden sandy shores, rugged cliffs, and golf courses make it an ideal choice for retirees and expats. The area boasts more than 300 days of sunshine each year, attracting visitors even in winter. While areas such as the Golden Triangle, Albufeira, and Lagos come with a high price tag, you'll find affordable beachfront property for sale in the Algarve, particularly in the Eastern Algarve and further away from the coast. Also, if you are looking for land for sale in Portugal to secure an approved project, then Algarve land can be an excellent option. The price for a square meter of land is much lower than buying a new build, even with construction costs.
• Silver Coast: Stretching from Lisbon to Porto, the Silver Coast offers a quieter coastal living experience. Its uncrowded beaches, charming towns like Óbidos, Peniche, and Figueira da Foz, and proximity to cultural hubs make it an attractive option for those seeking a more serene seaside lifestyle, where you'll be able to find Silver Coast real estate with an exceptional sea view at a good price.
• Melides, Comporta, and Troía: These areas along the Alentejo coast are known for their unspoiled natural beauty, vast sandy beaches, and tranquil atmosphere. They are emerging as upscale retreats, attracting those who value privacy and exclusivity. If you are looking for cheap property, these parts of Portugal may not be what you are after.
• Madeira: This island paradise in the Atlantic Ocean offers lush landscapes, a subtropical climate, and stunning coastal views. It's a haven for nature enthusiasts, with opportunities for hiking, water sports, and a relaxed island lifestyle.
• Azores: Located in the middle of the Atlantic Ocean, the Azores archipelago offers dramatic volcanic landscapes, hot springs, and diverse marine life. It's an ideal destination for those seeking a remote coastal experience with a strong connection to nature. You will find house prices to be quite low in the Azores, where you'll be able to find a traditional house at a very good price.
You can check out our rundown of the top ten areas in our article: Portugal Real Estate Beachfront: Own a Slice of Paradise.
Types of Coastal Properties
You will find the following property types on the Portuguese coast:
Villas: A villa is a standalone, spacious property. A villa will offer privacy and will often come with a garden, a swimming pool, and a terrace with stunning sea views. Villas are ideal for families or those who prefer a luxurious coastal lifestyle. Many villas will come with a swimming pool or parking space.
Beach houses: If you are looking for property for sale in Portugal with a sea view, then houses are a good option. Depending on the location and your budget, you should be able to find affordable houses close to the sea. Many will come with a swimming pool or parking space, although this will boost the price.
Apartments: Coastal apartments provide a convenient and often more affordable option for seaside living. Apartments come in various sizes and styles, from high-rise condos with panoramic sea views to cozy beachfront apartments catering to a range of tastes and budgets.
Land: You should be able to find land for development on the Portuguese coast, which is usually more affordable than buying a new build, even with the construction costs. Looking for land for sale in Portugal is a good idea if you want to build your dream home from scratch.
Prices for Coastal Properties
When it comes to the price of coastal properties, this will vary depending on where the property is located – if the property is in a prime area, this will boost up the price – plus the property type (e.g., villa, apartment, townhouse) and total area of the property. Amenities, such as if you have a parking space or garage, swimming pool, private gym, or additional security, will also boost the price. If you buy very close to the sea, where the property has sea views, this will also influence house prices.
To provide you with some examples, the following are the average asking prices for properties on the Portuguese coast in 2022 per square meter:
Lisbon Metropolitan Area: €4,250
Cascais: €5,563
Setúbal: €2,177
Porto Metropolitan Area: €3,186
Algarve: Range from €1,211 to €4,503
Silver Coast: Range from €1,219 to €4,250
South West region: Range from €2,415 to €4,465
Comporta: € 6,474
Troia: €5,307
Melides: €4,962
Madeira: €1,864 to €2,133
Azores: €573 to €1,680
While some coastal properties, particularly in Lisbon, Porto, Cascais, and parts of the Algarve, can be quite expensive, as can the luxury properties you'll find in Melides, Comporta, and Troia, you will find some hidden gems on the Portuguese coast where property for sale is more than reasonable. Here are a few hidden gems to discover where you'll be able to enjoy glorious sea views in a less sought-after area.
North of Portugal
The north of Portugal is relatively unexplored, where you'll find many property types at affordable prices, given the fact that there is lower demand compared to the south of the country. With this said, the region is no less beautiful and is perfect for nature lovers, with the Peneda-Gerês National Park situated less than two hours from the coast, plus many beaches that are considerably quieter than their counterparts in the south. Check out Viano do Castelo or Vila do Conde, close to Porto, as potential areas to snap up a lovely property by the sea. If you're looking for a beautiful country home by the coast, are after some peace and quiet, or are seeking a plot of sale in Portugal to make your own development from scratch, this region could be for you.
Alentejo
Alentejo's coastal areas are quite affordable compared with the Algarve. Known as the breadbasket of Portugal, this is a good stretch of coastline to move to if you are looking to sample some of the best food in the country. With vast, unspoiled beaches and a relaxed pace of life, you'll find the location is perfect if you enjoy spending time in the great outdoors. If you are looking to invest in a development project to build your dream home from scratch, this could be a very affordable venture here, provided it does not interfere with land zoning regulations.
Aveiro
Aveiro, often called the "Venice of Portugal," is known for its charming canals and colorful buildings. While it's becoming more popular, it still offers reasonably priced coastal properties, with the average asking price for property in 2022 standing at €1,377 per square meter. Its unique culture, proximity to the coast, and picturesque scenery make it a cost-effective choice.
Montijo
Located just across the Tagus River from Lisbon, Montijo provides an affordable option for coastal living near the capital. It benefits from Lisbon's amenities and job opportunities while offering more budget-friendly property prices along its coastline and a quieter pace of life. You are also well located to reach some top beaches hugging the Portuguese coast in this area, such as Costa da Caparica. The average asking price for property in Montijo stood at €2,188 per square meter in 2022.
Figueira da Foz, Portugal
Figueira da Foz, on the Silver Coast, is known for its beautiful beaches and affordable property prices. It's a popular destination for both tourists and property investors seeking coastal properties without the high costs associated with more famous locations.
This article may also come in handy to find stunning waterfront homes and apartments that has sweeping sea views: Waterfront Homes in Portugal: The Best Locations.
Step-by-Step Guide to Buying Property in Portugal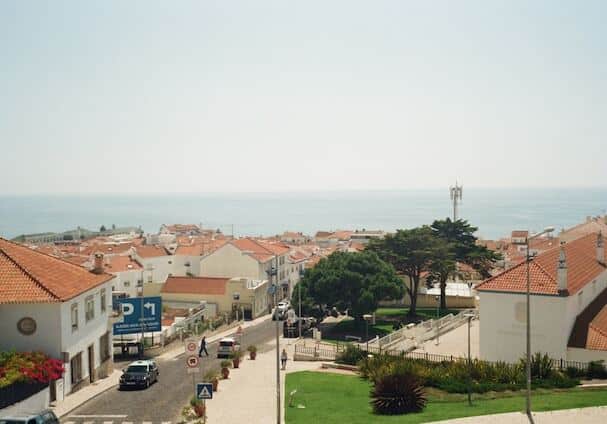 The buying process in Portugal can be broken down into the following five steps.
Step 1. Decide whether you'd like to take out a mortgage to finance your property.
Step 2. Find the perfect property
Step 3. Negotiation
Step 4. Promissory Contract (CPCV)
Step 5.  Sign the Escritura (Final Deed)
You will also need to ensure you are up to speed on the property taxes in Portugal that fall both at the time of purchase and on an annual basis. Alongside this, you should be aware of legal considerations, such as land zoning regulations and due diligence. It is working with a Portugal real estate lawyer who will be able to ensure that the buying process runs smoothly.
Financing Your Property
When buying property in Portugal, the first line you will need to consider is how you will finance your property. There are several banks in Portugal that offer mortgages to foreigners, plus different types of mortgages. You will need to determine which deal is best suited to your needs.
You can check out our article for more information: How to Get a Mortgage in Portugal.
Investment Potential
Coastal property, compared with more interior areas, is more sought after and offers investors the following:
Solid return on their investment, with high yields in many coastal areas in Portugal
Opportunities for both short and long-term rentals from tourists and expats
Over time, coastal property demand tends to increase, leading to potential value appreciation.
Real Estate Agents in Portugal
If you are looking for property for sale in Portugal, whether you are looking to buy in Lisbon, the Algarve, or the Silver Coast, you may want to secure expert assistance by working with real estate professionals. They will be able to guide you through the process and set up viewings on your behalf, and as most speak both English and Portuguese, they will assist you in navigating any language barriers.
You can check out our article for more information: How to Find a Real Estate Agent in Portugal.
Should I work with a real estate agent or a buyer's agent
The main difference between a real estate and a buyer's agent is their loyalty to either the buyer or seller. A buyer's agent focuses solely on the buyer's needs and property purchase, while a seller's agent prioritizes the seller, earning a higher commission for a better sale. While real estate agents usually have your best interests in mind, it's crucial to consider this when buying property in Portugal. Choosing a reliable buyer's agent is often a wise choice.
Goldcrest: How We Can Help You
 Goldcrest is a local buyer's agent based in Lisbon, Porto, and the Algarve that provides insightful real estate expertise and strategic advice. From sourcing to property acquisition, we offer a tailor-made service for our clients, assisting them in identifying outstanding investment opportunities in some of Portugal's finest locations, from relocation to investment projects. You can read more here: Why Work With Goldcrest to Buy Property in Portugal?
[activecampaig form=1 css=0]
Frequently Asked Questions About Cheap Coastal Property for Sale in Portugal
Where are the most affordable coastal areas for property in Portugal?
Affordable coastal property can be found in regions like the northern part of Portugal, Alentejo, Aveiro, Montijo, and Figueira da Foz. Parts of the Algarve can also be quite affordable, depending on the location. You will find affordable properties for sale in Portugal across the country.
What should I consider when purchasing a cheap coastal property in Portugal?
Consider property conditions, legal requirements, additional costs (such as taxes and maintenance), proximity to amenities, and the potential for property appreciation and rental income. Some of the best locations include the Silver Coast, the Alentejo,  the north of the country, and parts of the Algarve.
Are there any restrictions for foreigners buying coastal property in Portugal?
No, foreigners will face no restrictions when buying property on the Portuguese coast or elsewhere in Portugal.
How much is the rent on the Portuguese coast?
Rent on the Portuguese coast will vary depending on where you buy. When you look at Portugal as a whole, a one-bedroom apartment in the city center will cost you around €790 per square meter, while an apartment with three bedrooms will set you back €1,328 per month. As you move outside the city center, prices will fall quite considerably. Particularly in less sought-after areas, you will be pleasantly surprised by the affordability of rent prices. Renting property can also be a good idea if you want to base to then scout out property for sale in Portugal that meets your requirements.