Updated: September 18, 2023
Where can you find the best beachfront property in the Algarve? Portugal's darling Algarve is home to some of the most beautiful beaches in the world and has been named the best beach area in Europe several times. Our guide to beachfront property for sale in the Algarve will help you plan your investment on the stunning south coast of Portugal. If you are looking for properties for sale in Portugal, the Algarve region comes highly recommended.
Why buy beachfront property for sale in the Algarve?
The question is: If you can, why not? Whether for leisure, retirement, or an investment opportunity, the Algarve is beautiful, and there are many advantages to buying a Portugal property in the region:
In the 2020 World Travel Awards, the "Oscars of the tourism industry" voted the Algarve the world's leading beach destination and also Europe's best beach destination in 2012, 2013, 2015, 2016, 2017, 2019, 2021, and 2022
The Algarve is a peaceful and safe region
Has a mild climate all year round
The Portuguese people are friendly to visitors from all over the world (and most speak English)
The Algarve has an immense diversity of natural landscapes and environments (endless sandy beaches, golden mountains and plains, and a thousand-year-old heritage)
Whether you are after a luxury villa, traditional house, or spacious mansion, you will find many property types in the Algarve.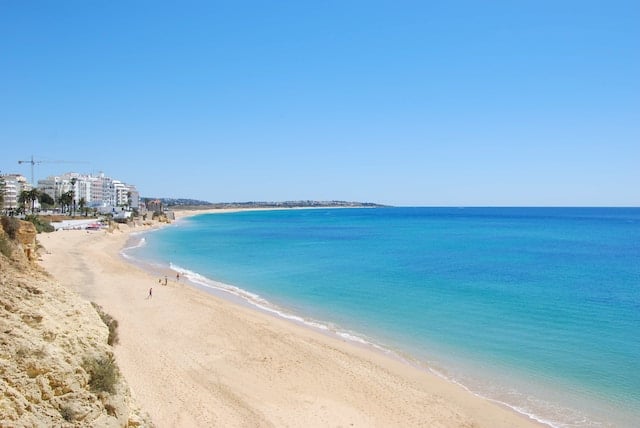 You can also breathe fresh, pure air, eat delicious local food, and enjoy the many watersports and activities that the Algarve has to offer.
In Algarve, real estate can still be purchased at lower prices than in other European locations.
Check out our guide for an overview of Algarve real estate. The capital of the Algarve, Faro, is strategically located to get around the south of Portugal easily. Plus, from Faro, regular travelers can travel internationally without problems.
The Western Algarve is known for its dramatic rock formations – check out Lagos Portugal real estate – and abundance of watersport activities. The Central Algarve, home to buzzing cities such as Albufeira and real luxury in the Loulé district, is for lifestyle buyers and keen investors, while the Eastern Algarve, with Tavira the key city here, known for its relaxed pace of life and more authentic feel.
If you are looking for properties for sale in Portugal, you will find the Algarve can cater to your needs, whether you are after a traditional house or luxury apartments. Yes, whether you are looking to settle down in a small village to live an authentic Portuguese lifestyle, a modern apartment in a luxury resort, or are even looking for land for sale to create your dream home from scratch, the Algarve could be the place for you.
The following two articles may be of interest to you if you are considering buying property in Portugal:
What are the best locations to buy beachfront property for sale in Algarve?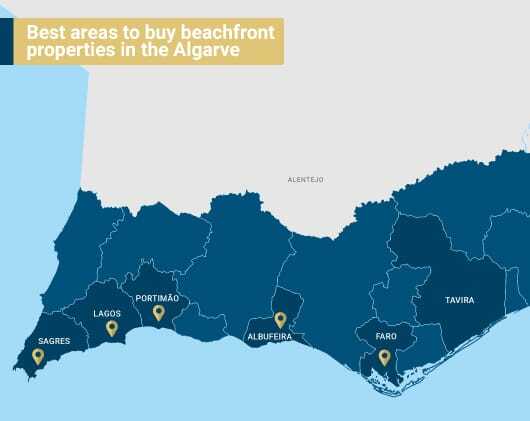 The Golden Triangle includes premium beachfront property for sale in the Algarve, between Almancil, Quinta do Lago, and Vale do Lobo.
This is an exclusive location in the region. Over the years, the Golden Triangle has established itself as the most expensive territorial area of Portugal.
However, the Algarve has other wonderful locations to invest in sea view property, such as:
Lagos
Portimão
Albufeira
Faro
Tavira
Sagres
The Best Algarve Beach Property for Sale
The Algarve has two hundred kilometers of golden sand, stretching as far as the eye can see, and stunning sea views, with sea view property for sale to suit all tastes.
In 2023, 85 beaches in the Algarve were granted the prestigious Blue Flag, which is a European recognition bestowed by the Associação Bandeira Azul da Europa. This accolade signifies the high standards of water quality, safety measures, cleanliness, and the variety of services available at these beaches.
Below are some of the top areas to consider if you are looking to buy a sea view property in Portugal, where you'll be able to find a wide selection of property types with incredible sea views to suit your needs.
Marinha Beach, Lagoa
The orange cliffs and rocks that rise from the blue and emerald green waters are a national symbol of Portugal's beautiful beaches, and even Condé Nast Traveler magazine distinguished it as one of the ten best in Europe. 115 steps lead down the beach, past a cliff filled with vegetation.
Praia da Rocha
Praia da Rocha is the main beach of Portimão. It is here where mass tourism in the Algarve was born. To date, it is one of the most popular destinations in the Algarve, offering 24/7 fun and entertainment. It is a  grand beach, surrounded by one-of-a-kind rock formations.
Praia da Dona Ana, Lagos
Dona Ana's Beach unfolds in recesses generated by the cliff's cut, providing sheltered corners for bathers. Under the water, a sea dive or snorkel reveals many treasures: algae, anemones, starfish, sea urchins, shrimp, or small fish, which populate the immersed rock blocks. Dona Ana is a very popular beach, having already been considered one of the best beaches in the world by many publications.
Falésia Beach, Albufeira
The sand is immense, inserted in a continuous stretch of sand almost 6 km long, flanked by a line of high cliffs in strong tones, sometimes red, sometimes whitish, creating contrasting color games with the outstanding green patches of stone.
Odeceixe Beach, Aljezur
It is the most northerly beach in the Algarve (this means that it is there on the border with the Alentejo Coast).On one side,  it is bathed by the Odeceixe stream, good for taking the kids, and, on the other, by the sea, which is customary to walk in turmoil — at the level of the waves — for surfers, it is incredible.
Carvalho Beach
The access to the beach is through a tunnel dug by hand in the rock wall, where marine fossils are observed. The ravine that precedes the beach is verdant and is home to dense coastal scrubland where juniper, mastic, and dwarf palm dominate, the only native palm in Europe.
Bordeira Beach
The sand is vast, more than 3 km long, and is very exposed to sea winds. The Bordeira cliffs are famous for their almost inaccessible fishing grounds and are very popular with several sea birds that find refuge there. A network of walkways allows you to cross a stretch of the riverbank, reach viewpoints, or go down the top of the cliff to the sand.
Tavira Island, Tavira
Tavira Island is accessed by boat, preferably from the quay of Quatro Águas. The beach corresponds to the most humanized section of Ilha de Tavira: There are several summer houses, a camping site, and numerous tourist facilities, including "feet in the sand" bars. It is also possible to find local support to practice nautical activities and take cruises on the Ria Formosa. If you are looking for a traditional house in a quieter, more authentic part of the Algarve, buying in Tavira could be the place for you.
Arrifana Beach, Aljezur
Arrifana beach is one of the busiest on the west coast of the Algarve. It is located in a cove, protected by high schist cliffs, in an area of high ecological importance and rare natural beauty. The sand, which stretches for more than half a kilometer, ends in the south at the well-known Pedra da Agulha, a vertical rock erected in the water, which has become an icon of the Vincentian coast.
Vale Figueiras Beach, Carrapateira
Still little explored by the human presence, this beach has a unique beauty, ideal for nature lovers in its pure state. The type of coastal landscape is formed by hills with rounded shapes and low altitudes surrounding a valley, ending gently in the sand.
Praia da Luz, Lagos
This bay of calm waters is conducive to water sports: Windsurfing, kitesurfing, canoeing, or diving. The Praia da Luz Beach is associated with a very cosmopolitan summer town. It was once a fishing village of great importance, especially between the centuries. XIII and XVI. A paved promenade follows the seafront, offering sunny terraces and lots of entertainment during the summer.
Is it a good idea to buy a house for sale in Algarve near the beach?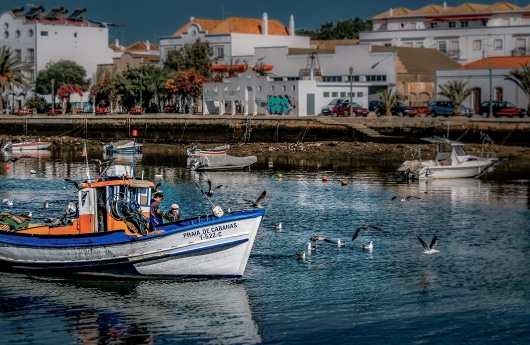 The Algarve is one of the best places to buy a house and invest in real estate, especially in the long term, considering the area's potential and the margin of growth and profitability.
For both private and commercial purposes, the Algarve region reconciles its attractiveness with various advantages of different natures, making it a place of choice, both in Portugal and in Europe.
The great advantage remains in the relationship between value and quality of life. The Algarve is a relatively cheap destination to buy a house, especially when compared to other similar places. It also has the advantage of being a European country with a competent and expeditious bureaucratic system, unlike what happens in countries offering equally cheap properties, but with less developed systems in place. Many properties will also come with stunning sea views.
But it's not just the long-term investments that make the Algarve appealing. Also, for those looking for a profitable real estate investment in the short or medium term, this is quite an attractive area. Being one of the main tourist destinations in Europe, especially for northern European countries, the Algarve is a region where real estate investment has lower risks.
Given the low Euribor rates and interest rates currently in place, buying a house in the Algarve for rent or local accommodation is a very low-risk investment. The most difficult part is to find the most suitable property for your specific needs.
Where can I find beachfront Portugal property for sale in Algarve?
Some of the best websites to find real estate deals in the Algarve include Idealista and Imovirtual. Yet, since buying a beachfront property in the Algarve requires expertise, we suggest that you use an independent buyers agency. In addition to this, the real estate market in Portugal is fragmented, and there is no one place to find all the listings – for example, there is no Zillow Portugal. The Algarve is a competitive market that requires an expert's guidance.
You will also find luxury real estate, with properties coming with a swimming pool, sweeping sea views, and additional amenities.
Portugal is an excellent country to consider if you are on the lookout for luxury properties with lovely views. You will find many different property types when seeking luxury real estate in Portugal. Luxury property in Portugal will also be quite affordable compared with equivalent waterfront property in Western Europe. If you are looking for luxury property in Europe, look no further.
And, should you be looking for a more affordable option, you may want to consider looking for land for sale in the Algarve. You will be able to create your dream home from scratch.
Algarve Coast Real Estate Tips

If you are looking for a villa in the Algarve region, prices will vary depending on the region. In 2022, the average asking price for a villa ranged from €1,274 per square meter in Alcoutim, in the Eastern Algarve, to €4,503 per square meter in Loulé, in the Central Algarve. The Algarve also boasts many stunning beachfront homes that come with a private swimming pool, private gym, and additional security. Note that additional amenities will no doubt boost the property price. Regardless of where you buy in the region, rest assured you should be able to uncover a property with lovely views.
Buyer's agent versus a realtor
A realtor works for the seller of the property as their client, so you would be better represented by using a buyer's agent who would remain neutral, ensuring you get the best deal possible.
Buying a beachfront property for sale in the Algarve to relocate
There are many profitable opportunities to buy beachfront property in the Algarve, and it is, without a doubt, a beautiful place to live. Investing in a house to live in the Algarve would depend on your personality and lifestyle.
As the Algarve is a region of so many contrasts, we suggest you contact a buyer's agent. They can provide you with in-depth regional knowledge and up-to-date data on the various regions.
Buying a beachfront property for sale in the Algarve to invest
The return on investment is more than satisfactory. In the Algarve, you will find returns on investment to fall between 3.56 percent and 5.03 percent, depending on where you buy property.
Among the various challenges that arise from Portugal property investment, investors cited the problem of seasonality, tax burdens, legal issues, and licensing as important considerations. The best way to get around these challenges is to collaborate with a specialized property investment firm.
Where to search for Algarve beach property for sale?
When searching for property for sale in Portugal, you can check online, through friends or specialized agents.  It's not too difficult to find beachfront property for sale in the Algarve, although working with a buyer's agent will certainly help you navigate through the process.
Due diligence check
The best approach is to hire specially trained agents, such as Goldcrest, who help buyers make sure they're getting the best and safest deal from their Portugal property purchase.
Paperwork and contract
When buying a beachfront property in the Algarve or elsewhere in Portugal, it can be time-consuming to negotiate the right price for a Portugal property and procure all the documentation needed for the purchase.
We recommend the following steps: 
Scout out properties for sale in Portugal and carefully select which seller to buy from
Make your offer
Make sure the funding is in place
Take another look at the property or get a second opinion from a local buyers agency like Goldcrest
Sign the pre-sale contract
Sign the deed of purchase
Sea View Properties in Other Parts of Portugal
The Algarve is one of the most drop-dead gorgeous regions in Portugal, conjuring up pristine, sandy beaches, dramatic landforms, and endless sunny days. However, there are several other areas in Portugal where you'll be able to find your dream home by the beach.
The first alternative that springs to mind is the Silver Coast. The Silver Coast, located in the west of Portugal, has become somewhat of a favorite with expats in recent years, with several charming towns lining the coast. if you are looking for a small village in Portugal, the Silver Coast may be just the ticket. With top-quality seafood, a high quality of life guaranteed, and strategically located close to both Lisbon and Porto, you are well-placed to get around the country easily. The Silver Coast offers affordable properties and a quieter part of the country to live in.
To learn more about the Silver Coast, you can check out our article: Silver Coast Portugal Real Estate: An Overview.
And it's not just the Algarve and the Silver Coast where you'll be able to secure your dream home. From the north of the country to the south, the options are countless. Luxury locations such as Melides, Comporta, and Tróia in the Alentejo could be excellent options for investors and lifestyle buyers to consider.
Get in Touch
If you have found your beachfront property for sale in the Algarve, or are on the quest to find the perfect Portugal property to meet your requirements, seek help from a specialized property investment firm such as Goldcrest. As an independent local's buyers agent, Goldcrest helps international individuals get sound property investments in their desired locations in Portugal, whether they are looking for a luxury villa, a sea view property, or a traditional house to move in with family. You can get in touch with us today to kickstart the process of discovering your new home.
Indeed, when looking for property for sale in Portugal, you will want to work with real estate professionals to help you with the buy. If you are looking to buy in the Algarve, work with a real estate agent in the Algarve to ensure a hassle-free buying process.
Frequently Asked Questions about Beachfront Properties in the Algarve
What are the best areas for Algarve beach property for sale?
The best houses for sale in Algarve near the beach are located in the Algarve's Golden Triangle. If you are looking for a sea view property in Southern Portugal, you will find many options. If you are looking for a traditional house in a quieter area, Tavira could be the place for you.
Who do I approach to buy beachfront property for sale in Algarve?
You can research and approach your beachfront property for sale in the Algarve online or, even better, through a specialized buyer's agent who knows the market, such as Goldcrest. If you are looking to invest in the Algarve region – and are looking for a sea view property – you will find countless options.
Why should I consider buying Algarve coast real estate?
Whether you are looking for a traditional house or sea view property, the Algarve has many property types that can meet your needs.
Algarve coast real estate is among the most welcoming and attractive places in Europe for new projects and investments. According to Forbes' recent list of 20 best places for Americans to live or invest in Europe, Algarve is viewed as one of the very best places. This makes it all the more attractive to buy Algarve Coast real estate, the region really is a very exclusive location. If you are looking for a sea view property, there may be no better place.