Updated: July 5, 2023
Madeira is one of the most captivating islands in the world. The autonomous region of Portugal has long been a favorite with expats looking for a safe place to move to that has all the amenities they need, a sublime climate, and delectable cuisine. The Madeira Golden Visa makes it possible to acquire residency in Portugal in return for an investment into the property market on the island. 
Under the Golden Visa investment scheme, non-European Union (EU), non-European Economic Area (EEA), and non-Swiss nationals are able to obtain a temporary residence permit in Portugal by investing in the country. Foreign investment has significantly boosted the Portuguese economy since the program was launched in 2012.
After five years, there is the possibility to secure permanent residency and Portuguese citizenship through naturalization, provided you meet all the requirements, such as having a clean criminal record and passing an A2 Portuguese language test. 
While there are many different options open to investors looking to make use of the scheme, more than 90 percent of investors choose the attractive real estate option. 
In this Madeira Golden Visa: Complete 2023 Guide, we're going to arm you with everything you need to know about investing in real estate in Madeira and walking away – or walking towards, in this case – residency in this stunning part of Portugal.  
Important note: The Portugal Golden Visa scheme may be coming to an end. While there is some possibility that the Golden Visa program will be retained, there may simply be changes to what type of foreign investment will qualify for the scheme. 
However, the revised proposal includes the following changes: Real estate acquisition and capital investments through deposits and similar instruments would no longer qualify for the Golden Visa. This means that if you are looking to invest in real estate for the Madeira Golden Visa, you should kickstart the process now – time really is of the essence. 
You can stay up to date with proceedings, including the latest announcements from the Portuguese government, in our article: Portugal is Ending Its Golden Visa Program. 
You can also find out more about the beautiful island of Madeira in our article: Madeira Portugal Real Estate.
Golden Visa Changes
Changes to Portugal's Golden Visa program came into force in January 2022. This included changes in the real estate option to be eligible for the Golden Visa. 
In short, changes to the Portuguese Golden Visa real estate pathway were: 
Investors cannot invest in residential property in popular urban areas such as Lisbon, Porto, much of the Algarve, and many other coastal towns. Investors can only purchase residential real estate in designated interior areas of Portugal worth €500,000 (or €350,000 if investing in a rehabilitation project). If the residential real estate is situated in a designated low-density area, a 20 percent discount is applied. 

Investors can buy commercial real estate anywhere in the country worth at least €500,000 (or €350,000 if investing in a commercial rehabilitation project). If the commercial property is situated in a designated low-density area, then a 20 percent discount will apply.
And, when it comes to Portugal's autonomous islands, investors can purchase Portuguese residential real estate and commercial real estate anywhere in Portugal's autonomous islands of Madeira and the Azores, worth at least €500,000 (or €350,000 if investing in a rehabilitation project). There is no low-density discount as both islands are considered high-density. 
You can see more information on the changes in our article: Understanding the Portugal Golden Visa Changes. 
You can read more about what qualifies as an interior area and what is considered to be low-density in our article: Invest in Portugal Low-Density Areas | Goldcrest.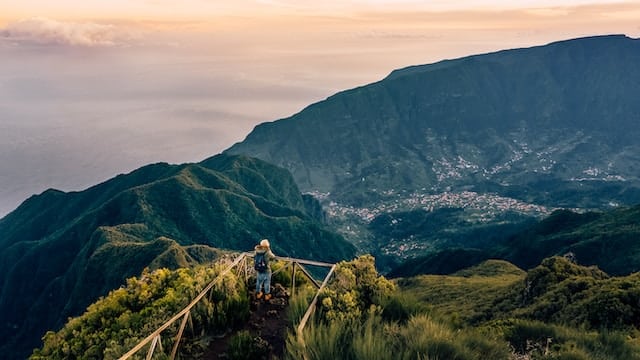 Madeira Golden Visa: Property Investment Options
The Madeira Golden Visa program provides two property investment thresholds for real estate investment if looking to buy on this autonomous region of Portugal: €500,000 or €350,000 if investing in a rehabilitation project.
€500,000 Golden Visa 
By investing €500,000, you gain maximum flexibility when choosing a property, whether you are looking for a new development in Funchal, a traditional Quinta surrounded by lush banana plantations, or a luxury waterfront property. 
€350,000 Golden Visa  
By investing €350,000 in a rehabilitation project, you can secure an affordable pathway to the Portugal Golden Visa. The property will need to be over 30 years old or must be located within one of the local council's designated rehabilitation zones, and the total acquisition and rehabilitation value, added together, must be 350 thousand Euros or more.
The rehabilitation should be done through a prior communication or licensing request to carry out the urban rehabilitation operation or through a contract to carry out rehabilitation works, signed with a legal entity that is duly qualified by the Institute of Public Markets, Construction and Real Estate, I.P.
Investing in low-density areas
While there are many desirable locations to invest in low-density areas, such as Sagres, Aljezur, and the Douro Valley, Madeira is not one of them. If an area is considered low-density, it means that there will be a 20 percent discount on your investment. 
If you are interested in investing in a low-density area of Portugal, you can find out more about them and discover which regions are eligible in our article: Invest in Portugal Low-Density Areas.
Other Golden Visa Routes: Investment Funds
While the real estate investment pathway is the most popular investment option under the Portugal Golden Visa, accounting for more than 90 percent of investments into the scheme, there are other options on the table, including making an investment into qualified investment funds.
This option has proved to be popular with American nationals in recent years. For foreign investors, the investment fund route can be a faster and more straightforward option than buying property, with the potential for high returns on investment and fewer transaction costs. 
The minimum investment for the investment option is €500,000, which you will need to make in a qualifying investment fund. 
To find out more, you can check out our article: Portugal Golden Visa Investment Fund Option: The Complete Guide. 
And, for a comparison between the real estate pathway and the investment fund route, our residency and citizenship division, Global Citizen Solutions, has created a comparison guide, which you can find here: Portugal Yield Fund Investment versus Real Estate for the Portugal Golden Visa: Which to Pick?
Madeira Golden Visa: Property Taxes
Property taxes that you should be aware of in the Golden Visa process include Property Transfer Tax (IMT), stamp duty, and Municipal Real Estate Tax (IMMI). When planning your investment, you should ensure that you are well informed on the taxes that you need to pay at the time of purchase and the taxes you'll need to pay after you have bought the property. 
Municipal Property Transfer Tax (IMT) 
The Municipal Property Tax or IMT (Imposto Municipal sobre as Transmissoões de Imóveis) is levied each time you purchase property in Portugal. The rate varies according to the type of property and its value. This tax needs to be paid before purchasing the property. 
Three key criteria are considered to determine the IMT:
Type of property (urban or rural)

Location of the property (autonomous region of Portugal or Continental Portugal)

The purpose of the purchase (primary or secondary residence)
In certain situations, there can be exemptions to IMT, such as buying for resale or urban rehabilitation. 
Stamp Duty
As a general rule of thumb, property transactions are subject to stamp tax at a rate of 0.8 percent. This needs to be paid at the time of purchase. 
Municipal Real Estate Tax (IMI)
The IMI (Imposto Municipal sobre Imóveis) is an annual tax that is determined by the municipality where your property is located. IMI rates are established each year by the municipalities and usually fall in the following ranges: 0.3-0.45 percent for urban dwellings and 0.8 percent for rural properties. 
The IMI is levied on the property tax value and not on the purchase price of the property. Broadly speaking, the tax value of the property is much lower than the market price value of the property.
Provided certain conditions are met, properties that are located in a rehabilitation area and are subject to rehabilitation works are exempt from IMI for a three-year period, beginning from the year in which the rehabilitation works were completed. 
If the property is registered as being your permanent residence, then the IMI can be extended for five additional years upon the owner's request. 
Madeira Golden Visa: Taxes and Fees 
Below is a breakdown of the costs associated with the Madeira Golden Visa. 
Initial application costs for the Golden Visa in Madeira
Legal fees: For a single applicant, the fees range from €5,000 to €8,000. 
Extra Golden Visa application fees: For dependents aged 18 or above, the cost varies between €500 and €2,000. 
Note that dependents under the age of 18 years old can be included in the application at no additional costs. 
Cost for renewals
Legal fees for renewing a Golden Visa: For a single applicant, fees range between €1,000 and €2,500.
Extra renewal fees: For dependents aged 18 or above, the cost will range from between €500 to €2,000. 
As with the initial application, children under the age of 18 are not subject to these costs.
It's important to bear in mind that there may be additional fees depending on the type of investment you opt for and whether you decide to work with a lawyer for your application. We would highly recommend working with an experienced lawyer who will be able to guide you through the process and ensure you have all the required documents. 
Madeira Golden Visa: Best Locations for Property
Madeira has some truly spectacular locations to choose from, including Funchal, Camara de Lobos, and Machico. In this section, we'll provide you with a little more information on each so you're well-informed of your options on the table. 
Also, remember that there are so many top locations, and we have not mentioned each of them here. For example, Porto Santo is an incredible place, providing picturesque mountain views that would also be a very good choice to scout out your dream home or holiday retreat. 
Funchal
The cosmopolitan capital of Madeira, Funchal, is situated in a natural amphitheater-shaped valley. If you pay a visit to Funchal, you'll be swept away by the incredible ocean views and the mountainous backdrop, with the city managing to strike a balance perfectly, embracing modern and traditional architecture. History lovers will be able to marvel at the Sé Cathedral, while food fanatics can visit the exciting market, Mercado dos Lavradores, where you'll be able to get your fill of delicious produce. 
If you're looking to purchase real estate in Funchal, you'll find many options open to you, with several different types of property up for grabs in the city and surrounding area, whether you are looking for a luxury villa or a modern apartment.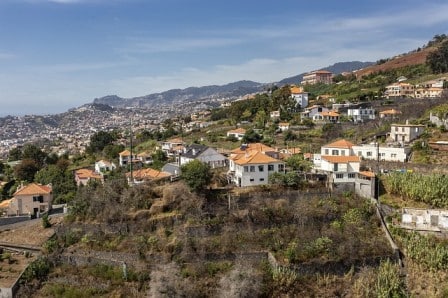 Camara de Lobos  
Camara de Lobos is a picturesque coastal town located on the south coast of Madeira, just to the west of Funchal. Nestled between dramatic cliffs and the sparkling Atlantic Ocean, this charming fishing village offers breathtaking views and a laid-back atmosphere and is well known for its colorful boats. Camara de Lobos is also famous for its excellent seafood, particularly the local specialty, "Espada com banana" (scabbard fish with banana). With its scenic beauty and authentic charm, Camara de Lobos is a delightful destination for those seeking a tranquil escape in Madeira. You'll find many stunning waterfront properties in this part of the island.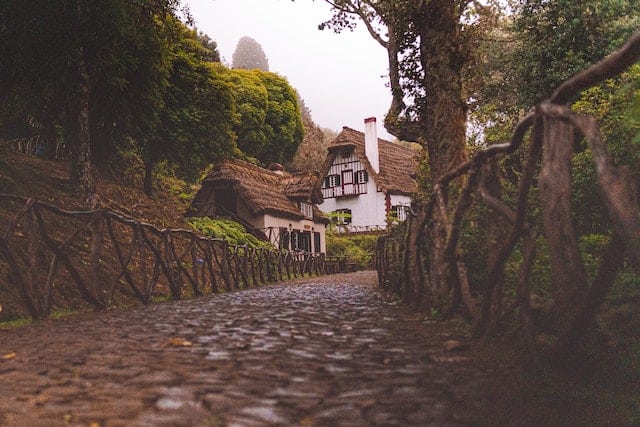 Ponta do Sol (PDS)
Further west still from Funchal is Ponta do Sol. The name literally translates to "Point of the Sun" and is the perfect place for sun lovers. As the sunniest spot on the island, the weather is simply perfect for much of the year. Again Ponta do Sol has a beautiful mountain backdrop, charming pebble beaches and is a favorite amongst outdoor enthusiasts. You'll be able to enjoy surfing, hiking, paragliding, and much more. 
Ponta do Sol is home to the oldest parish church on the island, Igreja de Nossa Senhora da Luz, which dates back to the 15th Century. This is also the home of Madeira's Digital Nomad Village initiative, a co-working space that is, in many ways, the dream location for remote workers. 
Machico 
Machico, the second largest city in Madeira, carries significant historical importance as it served as the initial landing spot for the island's first explorers. Today, Machico presents a captivating blend of the past and present, featuring historical landmarks like the Church of Our Lady of the Conception alongside a contemporary artificial sandy beach.
Garajau 
To the east of Funchal is Garajau. Garajau gained recognition due to its unspoiled beach, Praia do Garajau, acclaimed as a nature sanctuary and one of Madeira's most exceptional diving spots. The translucent waters host a variety of marine creatures, while the remarkable Christ the King statue presides over the landscape from the cliffs, serving as a prominent point of reference. The name Garajau holds intrigue as it denotes a prevalent seabird species, the tern, frequently found in this region.
Why Madeira?
For those that have visited the stunning island of Madeira, this question will be easy to answer. There are numerous reasons why living in Madeira, a beautiful Portuguese island located in the Atlantic Ocean, can be an appealing choice. Here are some key reasons why:
Climate: Madeira enjoys a mild and subtropical climate throughout the year, with warm summers and mild winters. The abundance of sunshine creates a pleasant atmosphere, ideal for outdoor activities and a relaxed lifestyle.
Natural Beauty: Madeira is renowned for its breathtaking landscapes, featuring lush forests, dramatic cliffs, and picturesque coastlines. The island provides ample opportunities for hiking, exploring nature, and savoring awe-inspiring views. The tranquil and idyllic environment adds to the allure of living in Madeira.
Quality of Life: Madeira consistently ranks high in terms of quality of life. The island offers a secure and safe environment, boasting a low crime rate. Additionally, the healthcare system is modern and of excellent quality, ensuring residents have access to top-notch medical care. There are also excellent international schools in Madeira, so rest assured if you are moving with family. There are also many expats living on Madeira, so you should easily be able to make a circle of friends on the island.
Cultural Heritage: Madeira showcases a rich cultural heritage, blending Portuguese traditions with influences from various cultures. The island hosts vibrant festivals and events throughout the year that celebrate its arts, music, and cuisine. Residents can immerse themselves in a diverse and captivating cultural scene.
Outdoor Activities: Madeira is a paradise for outdoor enthusiasts. Whether you enjoy hiking, surfing, scuba diving, or simply basking on beautiful beaches, the island caters to a wide range of interests and fitness levels, providing abundant options for outdoor recreation.
Food: Madeira is also renowned for its delicious cuisine. The island offers a wide array of traditional dishes, including fresh seafood, succulent meats, and locally produced fruits and vegetables. Residents can indulge in a culinary adventure, exploring the flavors and tastes that Madeira has to offer.
How Goldcrest Can Help You
If you are looking for a dream property in Madeira – or anywhere in Portugal, for that matter –  seek help from a specialized property investment firm such as Goldcrest. We can assist you in locating eligible Golden Visa properties tailored to your needs.
Contact the Goldcrest team to access exclusive information on the property market in Portugal and find out how much you can save on your international investment.
You can get in touch with us here. 
As we've mentioned before, the Golden Visa program may be coming to an end. If you are interested in the program, we recommend that you begin your application now. 
Alongside Global Citizen Solutions, our Residency and Citizenship division, we will be able to assist you throughout the Golden Visa process. 
The following articles may also be of interest to you: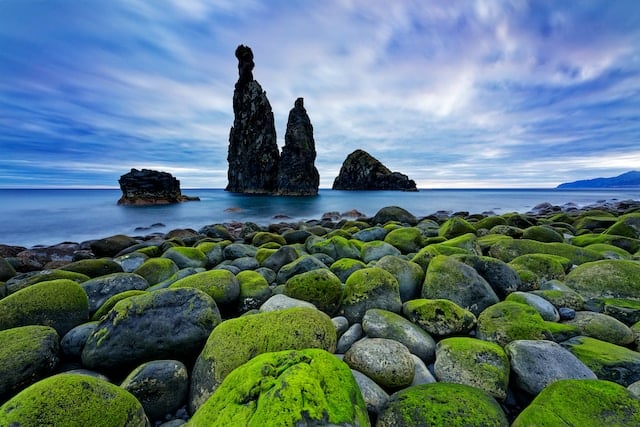 Frequently Asked Questions about the Madeira Golden Visa
What is the Madeira Golden Visa?
The Portugal Golden Visa is a residency by investment program that allows you to secure residency in Portugal, including the autonomous region of Madeira, in return for an investment into the country. Investment options include real estate, venture capital funds, and job creation.
Can you get a Golden Visa for Madeira?
Yes, you can get a Golden Visa in Madeira. The Madeira Golden Visa rules are that you will need to invest in Madeira Golden Visa properties an amount of €500,000 or €350,000 if investing in a rehabilitation project. There are also other investment options on the table, including venture capital funds, job creation, and by making an investment into a cultural production. 
What are the benefits of getting a Madeira Golden Visa?
With a sublime climate, excellent healthcare and education opportunities, and a relaxed pace of life, many expats have come to call Madeira home. Getting a Golden Visa in Madeira allows expats to secure residency on the island in return for foreign investment into the country, with the possibility to secure citizenship after five years, provided all the requirements under Portuguese Nationality Law are met. 
Even if you are not interested in the Portugal Golden Visa, you'll find many residency options, such as the D7 Visa and Digital Nomad Visa. With affordable property prices and high quality of life, Madeira is an excellent location to move to.
Can I include my family members in the Portugal Golden Visa application?
Yes, family members can be included in the Golden Visa, including the spouse and dependent children.
How do I become a citizen of Madeira?
To become a citizen of Portugal, you will need to have had a valid residence permit for five years before you can submit your application for permanent residency and Portuguese citizenship by naturalization. You will need to also have a clean criminal record and pass an A2 Portuguese language test.