Updated: March 20, 2023
When deciding where to live in Lisbon with your family, there are a number of things to consider. One of the most important is: Which are the best neighborhoods in Lisbon for families? A great place to live with a family will often entail having green spaces nearby, a catchment area for good schools as well as the right balance between tranquillity and buzz. Lisbon, the city of seven hills, is one of the few cities in Europe that strikes the perfect balance between the old traditional Europe we see on postcards, and a vibrant culture of modernity, with its trendy restaurants, bars, and cafes.
With many beautiful neighborhoods, knowing which area to buy can be daunting. Our new e-book, Your Expert Guide to Buying Property in Portugal provides you with a rundown of some of the key areas in and around Lisbon, including the rest of the country, in addition to the practicalities of moving to Portugal. Aside from this, you can also book a call with a Goldcrest advisor, to provide you with information on the best neighborhood for you and your family in the Portuguese capital.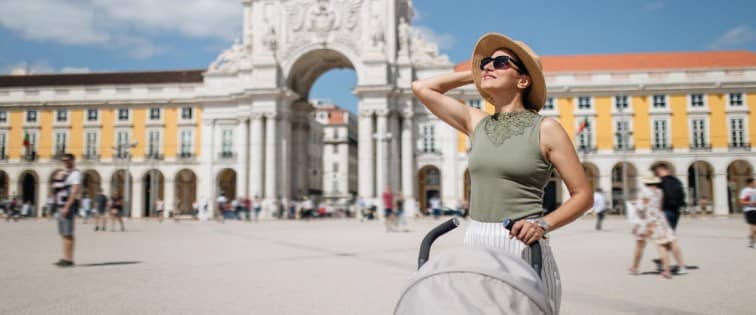 Is Lisbon a good place to move to with my family?
The first thing to mention when considering whether Lisbon is a good place to move with family is the culture. In Portugal, family comes first. While many European cultures value the importance of family there is a particular sense of devotion to spending time with loved ones in Portuguese culture, which is a rare and special thing in modern times. Sundays are sacred for families and, with this in mind, relocating with your family to Lisbon could mean building deeper family traditions and rituals.
Year-round good weather helps too. Going to the beach with family is limited to the summer holidays for most of the world. However, if you decide to move to Lisbon with family, you'll have the option to have beach days for many months of the year.
If you are looking to buy property in the Portuguese capital, our Expert Guide to Buying Lisbon Real Estate should be able to provide you with all you need to know on the topic.
What are the most family-friendly neighborhoods in Lisbon to live in?
What to look for in a neighborhood for families
A few key things you might want to keep an eye out for when selecting where to live in Lisbon with family are the following:
Parks nearby
Schools and universities located nearby
Congestion in the area
Good transport connections
Lisbon is a very good option for families and there are several very good international schools in and around the city. Whether you already have a particular area of Lisbon in mind or are unsure of the best neighborhoods in Lisbon for families, please get in touch with a Goldcrest advisor to discuss which corner of the city could be the perfect place for you.
For example, Cascais is one of the best places to move to in wider Lisbon for families with small children. With its beautiful beaches, bustling town center, and quiet leafy walks, it has something for everyone. Along the 'Linha' — or the main rail line that passes from Lisbon all the way along to Cascais — are a number of seaside towns outside of the bustle of the city that all present very viable options for comfortable family living. These include Estoril, Carcavelos, and, of course, Cascais.
The best places to live in Lisbon with your family in the more central and surrounding parts of the city are as follows. We have not included very central Lisbon, such as Baixa, Chiado, and Alfama, due to the lack of space in these areas that may not be ideal for families. 
Lapa and Santos
Avenidas Novas
Intendente and Mouraria
Campo de Ourique
Graça
Belém and Restelo
Parque das Nações
So, where to stay in Lisbon? Note that the best places to live in Lisbon will depend on what you are looking for, as each neighborhood provides something slightly different and each will have its own unique character. 
You can see our Lisbon neighborhood map and more information on the different neighborhoods in our article: The Ultimate Guide to the Best Neighborhoods in Lisbon. Our article on Lisbon Neighborhoods Close to InternationalLisbon Neighborhoods Close to International Schools could also be of interest to you.
So, where do expats live in Lisbon? Many expat families will live in the above neighborhoods in the city. However, many families also choose the Lisbon suburbs to live in, which offer more space – for example, Belém, a little outside the city, or Cascais, where you have many beaches on your doorstep, both of which are excellent options.
What are the living standards like in Lisbon?
In Lisbon, living standards and general quality of life are high. Naturally, there are varying degrees of standards where education, healthcare and housing prices are concerned. Like in any country, being equipped with the best up-to-date information will help you to make a well-informed decision.
One thing is for certain, in that Lisbon is one of the best places in Portugal for families, with close proximity to beaches, the beautiful Sintra-Cascais National Park close at hand, and many open parks spread across the city.

Overview of the costs of living
Real estate prices in Portugal are generally more affordable than in other countries in western Europe. However, for the Lisbon real estate market, prices have been increasing over the past years and the Portuguese capital has its own price range.
In Lisbon city, the average asking house price stood at €5139/m2 in 2020. If you look at Greater Lisbon, this is reduced to €3225/m2. Note that the purchase piece can be higher or lower than the asking price, so keep this in mind when negotiating with the seller. 
The costs of living for a high standard of living in Lisbon for a family are calculated at between $2,000 and $3,000 per month. This will allow for a comfortable lifestyle in popular suburban areas of Lisbon. Public transport is also pretty affordable, with monthly passes and family passes that are much cheaper than in other western European capitals. With metro stations spread out across the city, it is very easy to get around. This is also taking into account a relatively well-rounded private healthcare plan and private school education for two children.
Average monthly expenses for a family of four living in Lisbon with a high standard of living, who own a property:
| Expense | U.S. $ |
| --- | --- |
| Healthcare | 200 (for a well-rounded private health insurance) |
| Private education | 800 |
| Utilities (Electric, gas, water, internet) | 173 |
| Transportation (public or car tolls incl. 1500km) | 200 |
| Groceries (incl. Farmers markets, alcohol etc) | 460 |
| Entertainment and dinners out (based on once/twice a week) | 390 |
| Household help (cleaner twice a month for three hours) | 52 |
| Incidentals | 200 |
| TOTAL | 2475 |
If you don't purchase property, rental costs will have to be factored in as an expense. Considering Lisbon's popularity as a year-round tourist destination, renting can end up being costly.
Should I buy a house or rent one?
When deciding where to live in Lisbon with your family it might also be a question whether you should rent or purchase a property. If you have the capital to invest, we would always recommend purchasing property in Portugal as it's a hot property market with plenty of potential for growth and return on investment.
While purchasing property is a serious decision, with careful consideration of all available options and having the correct information presented to you, there can be certainty and ease in the eventual purchasing decision you make.
With the benefits attached to a hot property market, come the setbacks as a renter in such a market. There are relatively high rental yields on investments made in property, because of the high costs attached to renting in Lisbon. Therefore, from a cost and investment perspective, if you can afford to buy, you are much better off purchasing property than renting in Lisbon. Particularly if you're considering moving to Lisbon with a family.
Naturally, as an expat that is new to a city and an area, you may not want to dive straight in and purchase, in which case renting could be the right choice for you.
Where can I find real estate to buy in Lisbon?
Property specialists
1. Buyers' agents
Using a buyer's agent to find real estate in Lisbon will help you as an expat to discover a range of properties highly specific to your search. A buyer's agent will also help you know in detail how sound the investment you're making is as they provide localized and unbiased expertize.
A buyer's agent primarily works for you as their client and therefore has the sole purpose of representing your goals in the transaction.
Realtors
Realtors will also have a range of properties on offer to show you to help you find your ideal Lisbon property, but their offers will not cover the whole breadth of the market like a buyer's agent will.
A realtor also works primarily for the seller of a property as their client, so will have the purpose of selling a particular property ahead of your own specific goals and needs.
Why choose Lisbon?
If you're considering moving to Lisbon with a family, you'll probably be glad to learn that it's a very family-friendly place to live, both in culture and in the cost of living. Most things are within walking distance, including the famous monuments of the city, fabulous art galleries, and cultural events. The public transportation system is also excellent, and you should find a metro station or bus stop close to where you live. It is often easier to take public transportation than to drive in the center of Lisbon, particularly because of the expense and lack of parking spaces in Lisbon. 
Public transportation is also very affordable to get to other parts of the country, with direct links to Porto in the north and Faro in the south of the country.
With plenty of green spaces, beaches, and a relatively low cost of living, many people are drawn to move to Lisbon with family. With traditional and modern architecture, different parts of the city have their own unique character. The great thing about this city for families, in particular, is the wide range of ages that will be kept entertained. Lisbon has a timeless quality that is both steeped in history and simultaneously at the forefront of modernity and trends.
Get in touch
Goldcrest are property experts that can assist you and your family in buying your ideal Lisbon home. We have deep expertise in the Portuguese real estate market and will always act diligently on your behalf to negotiate the best possible deal for you.
Don't hesitate to reach out to us for an informal conversation, for example, to understand the best place to live in Lisbon Portugal. Our team is ready to assist and help you start your journey of relocating with your family to the Portuguese capital.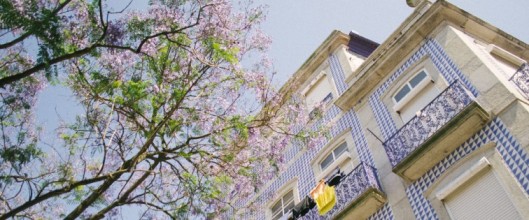 Frequently asked questions about moving to Lisbon with familiy:
Is Lisbon a good place to move with family?
Lisbon is a great place to move to with a family, particularly because of the high standard of living you can have, and it's considered relatively affordable. There are also plenty of green areas, beaches, and outdoor activities families can enjoy. Wherever you live, you should have a metro station or bus stop close by so that you can easily get around the city.
Which neighborhoods in Lisbon are best for families?
The best Lisbon neighbourhoods for families are Lapa, Avenidas Novas, Intendente, Mouraria, Campo de Ourique, Graça, and Belém. Parque das Nações, with its contemporary architecture, is also proving to be a good destination for families.
What is the standard of living like in Lisbon?
The standard of living in Lisbon is relatively high compared to the cost of living. What can be afforded for $2500 per month with a family of four would be considered very luxurious in most countries.
Portugal is also the sixth safest country in the world, according to the 2022 Global Peace Index. Locals are warm, friendly, and welcoming, and the country has progressive legislation and freedom of speech.
How can I find real estate for a family home in Lisbon?
The best way to find real estate for a family home in Lisbon is through a buyer's agent. Having a trusted professional on your side to represent your interest in a foreign market is really beneficial in a big decision such as a house purchase.
Where do the rich live in Lisbon?
The most expensive parts of the city are Santo Antónia, Misericórdia, Santa Maria Maio, and Avenidas Novas. Consider Principe Real and Avenida da Liberdade for a true taste of luxury.
Where not to live in Lisbon?
There is no particular part of Lisbon that is not a good place to live. Sure, in the past, some neighborhoods have had more problems than others, but Lisbon is a pretty safe place to live as a whole. Note that as with any large city, in the tourist hotspots, pickpocketing and petty crime can raise its head, particularly in the city center. This part of town can be busy, with many tourist shops, so if you are looking for a quiet part of town, find somewhere a little outside the center of the city. With good public transport, you'll still be able to get around very easily.
Which part of Lisbon is best to live in?
The best neighborhoods in Lisbon will completely depend on your current circumstances. Whether you are looking for a part of the city with a few green spaces, quirky bars, or stunning views, you'll find that Lisbon can certainly cater to your needs. If you are living in the city center, however, bear in mind that some parts can be a little busy. You will also find locations, close to the city center, that are very quiet and calm. For example, parts of Principe Real are quite relaxed, with many green spaces. 
For other calm parts of the city consider Santos, Lapa, Campo do Ourique, or Estrela. Parque das Nações is also a top location if you are moving to Lisbon with your family, where you will find stunning contemporary architecture to admire and some beautiful views of the Tagus River.
Where do expats live near Lisbon?
There are many different neighborhoods where expats have carved out a life in Lisbon. Young professionals and digital nomads tend to favor Anjos, Independente, and Alcântara, each residential areas that have a trendy side to them. The business district of Saldanha, is fairly central, where many businesses are based, so you can easily get to this area if that's where your work is based. Many startups are now based all over the city and there are many co-working spaces where you can work if you are a freelance worker. 
Estrela is great for families, with a lot of green space, as is Campo do Ourique, with its vast array of coffee shops. Marvila is an up-and-coming part of town that is also proving to be a hit with expats, and then you have Alfama and Graça, with their old winding streets and historic charm. Lisbon is a city where most things are within walking distance, so you can quickly and easily get to the city center and the shopping streets of Chiado. You will quickly get used to the many hills in the city. There are also very good public transportation links and you should find a metro station or bus connections very close to where you live. The best neighborhoods in Lisbon will depend on what you are looking for, whether you would like to be in a lively atmosphere or are seeking a quiet neighborhood in the city.
If you are a student, you will find that there are several places in the city where you'll find student accommodation.
What is the coolest neighborhood in Lisbon?
Marvila is an up-and-coming part of the city, moving up alongside Anjos and Independente, which have long been considered the coolest neighborhoods of Lisbon, with their trendy bars, great brunch locations, and where they have fast become a cultural center of the city with many alternative shops and events. Campo do Ourique, although not known as one of the coolest neighborhoods in the city, is also a very nice place to live, with many coffee shops and independent shops and boutiques selling traditional crafts.
What are the best suburbs in Lisbon?
Generally speaking, Sintra and Cascais are both excellent locations to live, particularly for families as you will have lots of green spaces, beaches, nature, a cool breeze, and some of the best international schools in Lisbon. You will also find residential areas in Estoril, Carcavelos, and other places along the Tagus River on your way to Cascais. There are many train stations in Lisbon where you can get to Sintra and a direct train from Cais do Sodre to Cascais that runs regularly. 
You can learn more in the following articles: 
Is Portugal a good place to raise a family?
For families that want to enjoy the lovely climate and a slower-paced culture that also places a strong emphasis on community, living and raising a family in Portugal, the answer is simple. Portugal is an excellent location to raise a family. Spending a lot of time outdoors is encouraged by the warmer weather and variety of parks, beaches, and other outdoor activities that are available all year round, and Portuguese people love sports. Also, Portugal has very good international schools and an education system.
Where is the nicest place to live in Portugal?
While Lisbon is home to approximately 87 different nationalities, it is the most popular place for expats to live in Portugal. Other than Lisbon, the most favorable locations for expats in Portugal are the Algarve, Porto, and Cascais. There are many great places to live in Portugal and the choice will largely depend on what you are looking for.
Is Portugal a good place for children?
Portugal is one of the best family vacation spots in Europe, ideal for parents with children of all ages, from infants and toddlers to teenagers and young adults. Portugal is the ideal destination for people of all ages because there is so much to see and do in the country.
Which are the best places to live in Portugal and raise a familiy?
The best places in Portugal to live and raise a family are Lisbon, the Algarve, Porto, and Aveiro.
What are the best things to do in Lisbon with children?
Some of the best things to do in Lisbon with kids are:
Visit the aquarium
Visit Belém
Go on a food tour
Head to the beach
Marvel at the stunning views of the River Tejo
Ride on the iconic yellow trams