Updated: August 16, 2023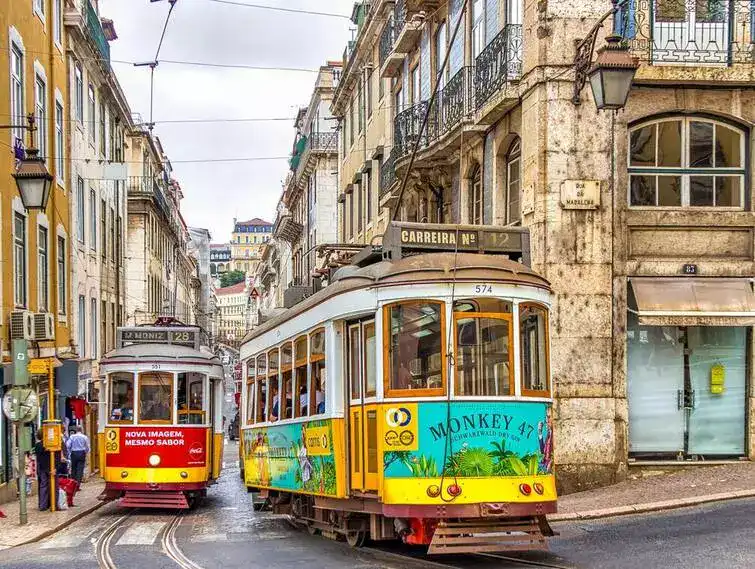 Where is Lisbon?
One of the main things that should matter to you while considering living in Lisbon is how well located the city is.
Lisbon, the westernmost capital of the Europe continent, enjoys a very good location on the Atlantic Ocean. Lisbon is the oldest European capital after Athens, as it predates Rome by four centuries. Lisbon is recognized as a global city by the Globalization and World Cities Study Group for its importance in international trade, finance, arts and entertainment, tourism, and education.
Located two-thirds of the way down the country from north to south, Lisbon sits on top of seven hills, where you can never get tired of the stunning views while living in Lisbon Portugal. The outskirts of Lisbon are surrounded by beautiful beaches, which makes the cosmopolitan center a perfect holiday destination.
The great location of Lisbon on the Atlantic makes it an important seaport, and the country's largest. Add nearby industrial, technological, financial, and mass media sectors, and you'll understand why Lisbon is the wealthiest region in Portugal.
Top reasons to consider living in Lisbon
Now, let us tell you more reasons why expats, investors, individuals, and families from all over the world are seriously considering Lisbon as a top destination to live in and move to. 
1- Outstanding business location
Lisbon Portugal is one of the leading business centers in Europe, attracting investors and startups and offering a lot of job opportunities every year for different nationalities. While considering living in Lisbon, this is a clear benefit for entrepreneurs or if you are searching for work here.
People who are planning to open a new venture in the high-tech sector are targeting Lisbon now as one of the top available options. You should know that the city makes it very easy to set up a new business by offering really good deals on the offices' prices. People who are searching for a high-quality business with professionals in a very encouraging environment will definitely admire what Lisbon has to offer.

2- Safe and tolerant
According to the World Population Review in 2022, Portugal ranked 3rd among the safest countries in the world, and the 4th in the global ranking for the most peaceful countries in the whole world, according to the 2020 Global Peace Index.
The crime rate in Lisbon Portugal is very low compared to other European cities, and you will see this by yourself when living in Lisbon. Locals are very friendly and treat foreigners with warmth and kindness. Even if you need help and you cannot speak Portuguese, you will always find someone who will try to communicate with you in English and direct you in the right direction.
Despite your gender, religion, ethnicity, sexual orientation, or social status, you should find the city very welcoming. Walking by Lisbon's streets you will notice immigrants and locals living in great harmony, and you will also see many immigrants in governmental offices and street shops. 
3- Excellent climate and beautiful beaches
When thinking of moving overseas and living in Lisbon, one of the most important questions will be: How is the climate?
Rest assured that in Lisbon Portugal, you will enjoy a peaceful life with great access to some beautiful beaches While most of the western European capitals are far from the coast, Lisbon is the western exception. One of the great perks of living in Lisbon is going to the beach whenever you want and enjoying sea sports. The two most famous beaches close to the city of Lisbon are "Praia de Santo Amaro" and "Praia de Carcavelos". Some of the city's distant but striking beautiful beaches are "Estoril" and "Cascais". "Caparica" is another great beach to visit if you want to try surfing.  
4- Tax benefits
Portugal's tax policy makes the country a very desirable destination for expats, attracting investors, self-employed professionals, and many others. If you're an expat living in Lisbon Portugal, after 183 days of your residency you can take advantage of the Non-Habitual Residency (NHR) tax system in Portugal.
The Portugal NHR tax regime (non-habitual resident) offers many tax benefits to its recipients such as:
 Special personal income tax treatment over a 10-year period; 

Tax exemption on almost all foreign source income; a 20% flat rate for certain Portuguese source incomes (from specific professions and from self-employment) 

Residents in Portugal for tax purposes are taxed on their worldwide income at progressive rates varying from 14.5% to 48% for 2022.

Tax exemption for gifts or inheritance to direct family members, no wealth tax, and free remittance of funds to Portugal.
Best neighborhoods in Lisbon
So, where is the best place to live in Lisbon? In the following section, we will provide you with everything you need to know about Best Neighborhoods in Lisbon. Note that this will largely depend on your needs. You can also read more about the available homes for sale in Lisbon Portugal: Top ten neighborhoods.
1- Alvadale
Alvalade is one of the most practical neighborhoods in the city and is often overlooked by expats. Off the beaten tourist track, you have all the services that you could want and incredible seafood restaurants. Alvalade is where everything seems to fall into place in perfect harmony.
Close to the airport, this neighborhood remains somewhat hidden, with large sidewalks and proud avenues. Here, most people have their own private gardens and the locals can be seen talking with their neighbors. Indeed, a community feels still permeated, something that is lost in some of the other areas. Also, as with Estrela, this could be a good neighborhood for families. After you leave the busy Avenida da Roma, you find yourself in a quieter part of the city.
2- Avenidas Novas
Avenidas Novas might be considered one of the best neighborhoods in Lisbon to live in, as its leafy spacious streets are lined with large beautiful properties. Avenidas Novas begins at the grand Avenida da Liberdade, the most sought-after address in Lisbon. Avenida da Liberdade has many luxury and designer stores lining the street.
While Avenida da Liberdade is for those that are looking to capture a touch of luxury in the city, Avenidas Novas also has the fantastic Gulbenkian Foundation and its peaceful gardens are one of the many highlights of the city. Avenidas Novas is Lisbon's business center, with working professionals mainly living in this part of town. At lunch, you'll see all the cafés and their terraces occupied by those who work in Lisbon.
There are also a couple of high-end rooftop bars with views of the whole city. To live in, Avenidas Novas has something for everyone but also has some of the most sought-after real estate in Lisbon. 
3- Bairro Alto
A short walking distance away from Baixa, you'll find Bairro Alto. This part of town can get quite noisy at night, so it may prove to be a better investment opportunity than a home, but you should be able to find some quiet areas away from the heady nightlife.
Bairro Alto is a melting pot of different cultures, fashionable restaurants, and celebrated nightlife. Cais do Sodré, with the famous Pink Street (formerly the city's red-light district), is one of the most lively places in Lisbon, with tiny bars spilling out onto the side streets in the evenings and during the weekend. If looking to eat here, be sure to avoid the tourist traps and souvenir shops, which can be a little overpriced, and venture instead into more affordable Portuguese-owned restaurants or one of the trendy and up-and-coming restaurants.
4- Baixa
Baixa was largely rebuilt following the tragic earthquake in the 18th century, in the style of the then contemporary European city planning trend. With what remained of the city, and what was rebuilt, the contemporary architecture in Baixa, in central Lisbon, provides a certain neoclassical ambiance. A unique, central part of the city, perfect if you like strolling around large squares and discovering the exciting culture and heritage of the city. Yes, Rua Augusta Arch and  Praça do Comércio are both impressive architectural achievements and stand out points in the city.
One of the best things about living in Baixa is that the neighborhood is very strategically placed. Baixa is within close proximity to the nightlife center Bairro Alto, the old town, Alfama and the Castelo, and Chiado, a key shopping area in the city.  You can quickly get to the beaches in Cascais and Carcavelos by taking a short train ride, and all the significant sightseeing locations are a short walk away. Public transport is pretty cheap in Lisbon, so it may be better than hiring a car to get to the surrounding areas. 
5- Campo de Ourique
Campo de Ourique is up high on a quiet corner of town and is a very nice, family-oriented place in Lisbon. Lovely artisanal shops and an indoor food market are some of the things that make this one of the nicest neighborhoods in Lisbon to live in. The Portuguese food scene in Lisbon has become one of the best in Europe, so make the most of discovering the Portuguese cuisine. Campo de Ourique is also a popular Lisbon expat neighborhood, largely because it provides quick access to the main parts of the city and there are plenty of nice cafés and lunch places to enjoy.
6- Chiado
Just up from Baixa, Rua do Ouro and Rua Augusta are parallel to one another, and halfway down them, you'll find the Santa Justa Elevator, a must for spectacular views of the city.
Famous for its lovely cafes, many star attractions, and typical architecture, Chiado is a lovely place to invest in or live. While you'll find pretty busy streets in the summer months, its central location makes it effortlessly easy to get around the city. Shoppers will also delight in the range of shops on offer, both chain stores and independent Portuguese shops selling their wares.
7- Principe Real
Principe Real is a favorite for both tourists and locals. The area is pristine and is filled with lovely independent and boutique shops, concept stores, a great many restaurants and bars, and stunning properties. It is certainly one of the more upmarket, and busier, parts of town. The people living in Principe Real are a mix between young internationals, digital nomads, and Portuguese families. Even Scarlet Johansson recently snapped up an apartment in Principe Real. With a typical square and pleasant garden, you can sit out in an outside café and take in the colorful 19th Century mansions and exotic trees.
Finding a house here, you are not far from the River Tejo, close to the bustling nightlife, and yet far enough away to also relax in the garden and enjoy some peace. Note that prices here are more expensive than in other areas, due to their appeal.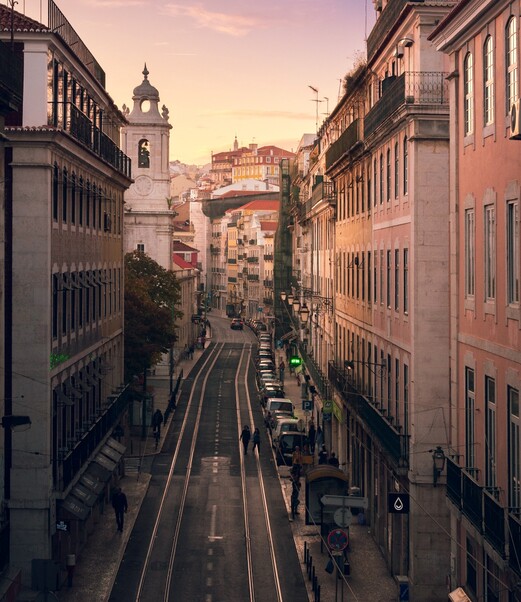 Buying or renting a house in Lisbon as a foreigner
Buying a house in Lisbon Portugal can be a perfect decision, but the process may take some time. However, Portugal offers flexible policies on buying and renting a house, and you can get many investment benefits as well.  Real estate in Lisbon is a thriving market, although prices have increased rapidly over the past years. Particularly house prices in the downtown area and in the city center have shot up.

Buying a house in Lisbon
It's easy to buy a house in Lisbon, and you will find plenty of options, whether online or if you want to hire an agency.  There are many different online websites to research Lisbon's property market. However, the sad reality is that there is no one place to find all the options available. Nonetheless, some of the online portals and real estate agencies that advertise properties for sale are the following:
As there is no one ultimate property listing site, it can be a good idea to work with a Buyer's Agent, such as Goldcrest, who usually has access to properties for sale that cannot be found elsewhere. Buyer's Agents can also sometimes find Lisbon property at a slightly cheaper price.
Renting a house in Lisbon
Renting a property in Lisbon can be quite difficult. This is because of the high demand for living in Lisbon in recent years, which has made it hard to find an available apartment that suits your needs. With patience, research, and good advice, you should be able to find the perfect place to rent in the city. However, note that some landlords are unwilling to sign long-term rental agreements. Instead, they prefer to rent to tourists on a short-term basis.
How to live in Lisbon as a foreign citizen: Residence Permits and visas
Living in Lisbon as an EU citizen
The process is very easy for EU citizens who are considering living in Lisbon. If you are an EU citizen and have already made up your mind to settle in Lisbon and live for more than just three months, you will need to apply for a registration certificate. You will be eligible to live, work and settle in Portugal with this certificate for a period of up to five years, and then it needs to be renewed.
Living in Lisbon as a non-EU citizen
If you're a non-EU citizen and you're considering living in Lisbon, the good news is there are various visa options for you to apply for to be able to enter the country. Portugal has been facilitating the visa processes to attract expats and investors to the country. Once you obtain a visa to travel to Portugal, the hard part is over, and, after arrival, you will need to apply for a Residence Permit to settle in Lisbon Portugal, and enjoy your benefits as a resident.
Living in Lisbon with Portugal Golden Visa
The Portugal Golden Visa is one of the most common visa programs for non-EU citizens who invest in Portugal through property purchases, fund investments, capital transfers, donations, or company formation.  This visa scheme speeds up the process for non-EU investors to get a Portuguese residence permit if they make a qualifying investment in the country.
Note that due to the changes in the Golden Visa Lisbon it is no longer possible to invest in residential properties in Lisbon. 
Living in Lisbon with D7 Visa
Pensioners, entrepreneurs who want to live in Portugal, retired foreign citizens, or other expats living off of a recognized stable income, such as movable property, real estate, intellectual property, or financial investments, may be eligible to apply for the D7 Portuguese Visa, and subsequently, apply for a residence permit. To qualify, you'll need to earn a minimum wage as determined by the Portuguese Government.
Cost of living in Lisbon
The cost of living in Portugal is much lower than in many countries, such as the UK, Ireland, Scotland, France, Germany, and neighboring Spain. Hence, Portugal is one of the most affordable countries in Western Europe, especially for expats and digital nomads. It is important to note that the cost of living in Lisbon, from property to restaurants, is more expensive in the capital than in other areas in the country. In the interior, particularly in the parts of the country that do not have high numbers of expats, prices can be very low indeed. 
Our partner, Global Citizen Solutions, a boutique residency and citizenship by investment consultancy, focused on finding the perfect investment, citizenship, or residency program for individuals across the world, has recently developed a new passport ranking. They take into account not only visa-free access to other countries but also investment opportunities and quality of life. In their Quality of Life Index, Portugal ranks in 12th position. This takes into account the cost of living, alongside levels of freedom, happiness, environmental performance, sustainable development, and migrant acceptance. This highlights that, as countries go, Portugal is one of the best countries to live in for those looking for a high quality of life in an affordable country. 
In the following part, we will give more estimated figures to help you imagine the cost of living in Lisbon. Note that prices change every moment depending on when and where you would like to move to live in Lisbon.
Accommodation
A couple with a solid, mid-range income can live comfortably in Portugal's interior cities for around €1,700 per month. While a couple starting out in Lisbon can live from $2,000 onwards a month. For a single person, then you could easily get by with €1,200 per month in Lisbon or Porto, and even less in Portugal's quieter towns.
If you're going to rent in Lisbon, see below for estimated monthly rents:

Apartment (1 bedroom) in the City Centre: €1,002.88
Apartment (1 bedroom) Outside of Center: €777.67
Apartment (3 bedrooms) in the City Centre: €1,933.33
Apartment (3 bedrooms) Outside of Centre: €1,194.71
Food
While living in Lisbon you will find out that everyday essentials are totally affordable.
We listed some items for you to see an estimated example of the prices in Lisbon: 
1kg of Beef round: €9.10
1kg of Rice: €0.99
Loaf of bread: €1,09
A dozen eggs: €2,19
1kg of local cheese: €7.12
1L of Milk: €0,69
1kg of apples: €1,52
1kg of Oranges: €1.25
Tomato (1kg): €1.56
Eating out
Portugal is well-known for its incredible food and wine, with a focus on delicious seafood fresh off the boat. High-quality food comes as a standard, without the premium price tag that usually accompanies it in some other countries, such as France. You can enjoy a solid meal in Portugal for around €20, and can easily eat out a couple of times per week.
You can see more information below:
A meal in an inexpensive restaurant: €8

A meal in a mid-level restaurant (Two people, three courses): €35

Water: €0.97

Cappuccino: €1.42
Transportation
In Lisbon, you can buy a monthly transportation pass that will cost you €40. This is a really good deal because you will be able to use all the transportation means in the city. A one-way bus ticket costs €1.50.
Schools
As an expat parent, no need to worry about your child's education while considering moving to Portugal. There are several different schools in Lisbon that are of very good quality.  Here are some of the most popular ones:
British School of Lisbon

Oeiras International School

Astoria International School

Redbridge School

Lycée Français Charles Lepierre
As a legal resident of Lisbon, you can also enroll your children in a public school which is free, but you should know that the Portuguese language is the main language used in public schools.
Also, if you are moving to the capital and are looking for schools, you can consult our article: Lisbon Neighborhoods Close to International Schools.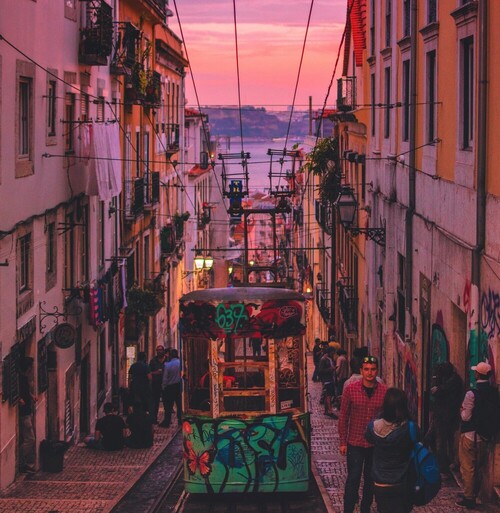 Getting around
In Lisbon, you can easily explore the city by walking, and the majority of the city's attractions are located in the city center. Note that Lisbon's streets can be tricky to navigate, as you'll come across the narrow-cobbled streets in the city, and you will need walking shoes. 
If you're considering getting around the city, there are many public transportation options.
Tram

: You will find the historic Remodelado trams and the modern Articulado trams in Lisbon. Being a favorite mode of transportation for tourists and locals, trams in Lisbon are often crowded.

Train

: All the major villages and towns in Lisbon can be reached by train. The trains are on time with comfortable coaches and affordable tickets.

Buses

: One of the most flexible modes of transport to get around the city of Lisbon.

Metro

: Boarding the metro is one of the fastest ways to move from one corner of the Portuguese capital to another. 

Taxi

: You will find that taxi rides in Lisbon are particularly cheap. You can also book an Uber to move from one part of the city to another.
Shopping
If you're a shopping lover, you will fall more in love with shopping in Lisbon where you will find the latest fashion trends. Lisbon offers many glamorous shopping malls and international designer stores. Avenida da Liberdade, studded with high-end shops and designer boutiques, is Lisbon's most popular shopping strip for luxury.
Healthcare
One of the main perks of living in Lisbon Portugal is the fact that, as a resident, you will be eligible to get access to public healthcare through Portugal's National Health Service (SNS – Serviço Nacional de Sade).  In Lisbon, there are also a number of private hospitals and medical facilities to which you can go if you have health insurance or if you pay cash. The CUF Hospitals and the Hospital da Luz Torres de Lisboa are two examples of well-known hospitals.
Language
Although the official language in Portugal is Portuguese, you will always find someone who speaks English, especially in tourist places and hospitals. According to the new EF English Proficiency Index (EF EPI), which takes into account 100 countries and regions around the world, Portugal has the seventh-highest English proficiency among non-native speakers in the world.  You should know that English is extensively spoken in Lisbon compared to other Portuguese cities. However, learning some Portuguese will be useful to integrate into your new neighborhood and immerse yourself in the Portuguese way of life.
Weather in Lisbon
If you're a nature lover and are constantly dreaming of living in a place full of sunlight and warm weather, well, Portugal is the destination for you. For example, Lisbon averages ten hours of sunlight during wintertime, which is an absolute blast compared to the Northern European nations. The hottest month is August, with an average temperature of 24°C, and the coldest month is January, with an average temperature of 12°C. November is the wettest month, with a lot of rain.
Festivals and attractions
While living in Lisbon, you will never get bored. In Lisbon, you will experience various live events around the year. The events include art exhibitions, film and food festivals, concerts, and others. Some popular Lisbon live events are as follows:
New Year's Concert

: Like every big city in the world, Lisbon also welcomes the new year with grandeur. A grand concert is held on the evening of January 1 every year.

Lisbon Carnival

: The month of February sees excited party-goers crowding the streets of Lisbon. 

Lisbon International Triathlon

: The event is held in May, with more than 800 participants from more than 30 countries participating in swimming, cycling, and racing.

Arte Lisboa

: It is the contemporary Art Fair held in Lisbon every November. The four-day exhibition displays artworks by renowned and emerging artists.  
Living in Lisbon: Pros and cons
Like every city in the world, it has pros and cons but wins the one that has more pros according to your judgments. We've narrowed down some of Lisbon's advantages and drawbacks so you will be able to clearly see the whole picture before deciding.
Advantages
Affordable cost of living compared to other European capitals. 

Stunning climate.

Huge business center.

Beautiful beaches and lovely sightseeing.

Various schools and education options. 

Great social life. 
Drawbacks
The stairs and cobbled streets.

Slow bureaucracy.

Over tourism in summer.

Challenge to find rental apartments. 

No central heating in winter.
Is Lisbon safe?
According to the World Population Review in 2022, Portugal ranked 3rd among the safest countries in the world, and the 4th in the global ranking for the most peaceful countries in the whole world, according to the Global Peace Index in 2020.  As the capital of Portugal, Lisbon has a possibility of a little higher crime rate than the rest of the country, but it is still a very safe and calm location to live in. Plus, people in Lisbon are very friendly and welcoming, so you will always feel safe as an immigrant living among the locals. 
The bottom line on living in Lisbon Portugal
 Living in Lisbon is a good idea for retirees, families, or digital nomads who are searching for a fresh start. The city offers an abundance of entertainment and cultural opportunities, as well as vibrant nightlife, pleasant weather, and exquisite dining at affordable costs. As an expat, you will find in Lisbon the perfect amount of everything you may need, and moving to live in Lisbon could be the best decision you make. You can also contact us at Goldcrest and we will be more than happy to help you decide where to live in Lisbon with your family and what are options are available to you. We have a team of experts who will love to guide you through the process of moving to live in Lisbon.
Frequently asked questions about living in Lisbon:
Is Lisbon Portugal a good place to live?
Lisbon is a great place to live in, with a stunning climate all year long and its great mix of natural wonders and beautiful beaches. Additionally, Lisbon is a very affordable European capital as compared to many other western capitals. In Lisbon, you will find everything you need as an expat, from job opportunities to high-quality schools for your children.
Is it expensive to live in Lisbon?
The cost of living in Portugal is way much lower than in many countries, such as the UK, Ireland, Scotland, France, Germany, and neighboring Spain. Hence, Portugal is one of the most affordable countries in Western Europe, especially for expats and digital nomads.
It is important to note that the cost of living in Lisbon, from property to restaurants, is more expensive in the capital than in other areas in the country. In the interior, particularly in the parts of the country that do not have high numbers of expats, prices can be very low indeed. 
Is moving to Lisbon a good idea?
There are many benefits to moving to Lisbon, and many expats have been flocking to the Portuguese capital recently seeking a good quality of life and an affordable cost of living.
Regard Lisbon as a secure place for residence. The city boasts minimal crime rates. Beyond its safety, Lisbon maintains a liberal and hospitable environment for international residents.