Updated: February 28, 2023
Cascais is often described as the gem of the Portuguese Riviera, and it's not difficult to see why. Its close proximity to the capital, relaxed lifestyle, and paradisical atmosphere have made it a popular spot for expats of all ages, backgrounds, and walks of life. In this guide, we'll give you an overview of everything you need to know about living in Cascais. 
Where is Cascais?
Cascais is a coastal town located in the western region of Portugal, just a short distance (approximately 34 minutes by car) from the capital city of Lisbon. It is situated on the Atlantic Ocean and is known for its beautiful beaches, picturesque streets, and historical landmarks. Cascais is popular with expats and tourists, attracting people worldwide who come to enjoy its stunning scenery, vibrant culture, and warm climate.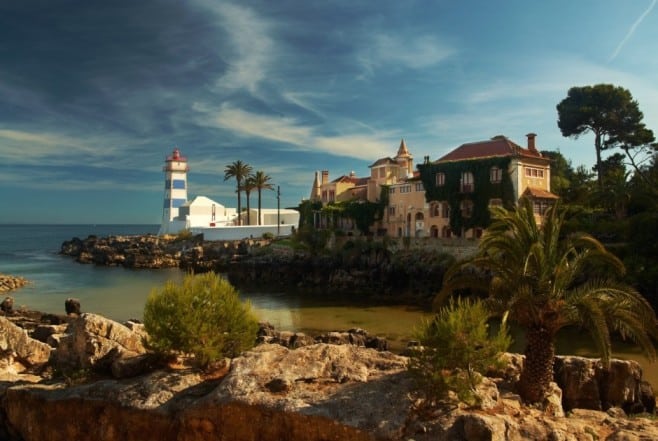 Top Reasons to Consider Living in Cascais
There are plenty of reasons why Cascais is a great place to live. It is a beautiful and welcoming town on the Portuguese Riviera with high quality of life, a large expat community, great restaurants, public transport, popular beaches, and plenty of opportunities for fun and adventure. Below, we have listed the top reasons, but the list is by no means exhaustive.
Proximity to Lisbon
Located just 36 km (22 miles) from the capital city of Lisbon, Cascais offers residents easy access to all the necessary amenities and attractions of a town while still providing a peaceful and relaxing environment to call home.
Warm weather
With a mild and pleasant climate, Cascais enjoys plenty of sunshine all year round, making it a great place to enjoy the outdoors. Because of its location on the Atlantic coast, it can be breezy at times, but generally, you will enjoy warm summers and mild winters.
Low cost of living
Portugal is known to be one of the most affordable countries in western Europe, despite the cost-of-living crisis. Although Cascais is said to be one of the wealthiest municipalities in Portugal, this does not mean it is expensive to live there. The town and its amenities are well-maintained, but you won't pay a premium price for everyday essentials.
The cost of living section below explores this topic in more detail. 
Relaxed lifestyle
Life in Cascais is relaxed and laid-back. It's easy to think that every day is a vacation in this charming seaside and fishing town on the Portuguese Riviera. But there is still plenty to do. Cascais is an exceptional combination of a lively town and a dreamy seaside resort, with quaint and narrow streets and excellent golf courses.
Safe and tolerant
Portugal is renowned for being welcoming and hospitable to people from all over the world. In addition to this, the country has achieved a high ranking on the Global Peace Index 2022, where it secured sixth place. 
This achievement reflects the country's peaceful nature, making it one of the safest places to live globally. By comparison, the UK ranked at number 34, while the USA was listed in the 129th position on the same index.
Property investment opportunities
Cascais has become a popular place for property investors in recent years. No matter your budget, Cascais caters to all demands: From a luxury villa with a swimming pool to more affordable apartments and houses of various sizes. The rental and real estate market is discussed in more detail in one of the following sections below.
Tax benefits
Portugal's affordability is one of the many reasons why expats choose to relocate to the country. They may also be eligible for exclusive and attractive tax benefits through Portugal's non-habitual tax regime (NHR tax regime).
The NHR tax regime provides tax exemptions for certain professions, and those who earn income from other countries do not have to pay tax in Portugal. If you want to know more about the Portugal NHR tax regime, including Double Taxation Agreements (DTAs), please refer to our comprehensive article about the Portugal NHR Program.
Best Neighborhoods in Cascais
Cascais boasts some beautiful neighborhoods, all with their individual charm and advantages.
Costa da Guia
This stunning neighborhood is located between Cascais' center, and Praia do Guincho (Guincho Beach). Here you'll mostly find apartments to live in, but some other property types are also available. 
In Costa da Guia, you will find a picturesque and romantic stretch of coastline walk that takes you all the way to Guincho or the Cascais Marina. Costa da Guia is also home to the impressive Casa da Guia, a beautiful historic building that is surrounded by restaurants, cafes, and boutiques.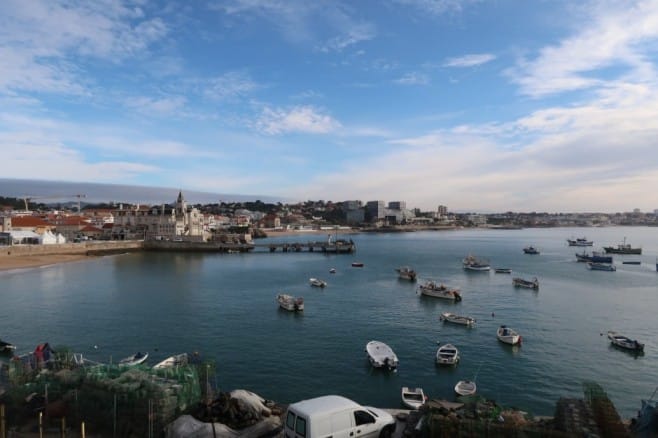 Quinta da Marinha
For luxury living and accommodation, Quinta da Marinha is the place to be. It is a private, gated area with extra security, making it one of the safest areas to live in Cascais. Although real estate is generally only in the upper price ranges, this neighborhood is worth its price, boasting golf courses, equestrian estates, and luxury hotels. Expect to pay around upwards of €5,600 per square meter for houses in this area.
Sao Joao do Estoril
Sao Joao do Estoril is well-known for its stunning ocean views and scenic seaside boardwalks, which can take you all the way to the heart of Cascais. For beach lovers, Praia da Poca is a must-visit spot with its peaceful waters. 
Sao Joao also has excellent transport links if commuting is your priority. Its train station has a ten-minute journey to central Cascais and a 40-minute connection to Lisbon. As a bonus, the train route runs along the coastline, so you'll enjoy breathtaking views while traveling.
This neighborhood is also popular with families as it offers a variety of public and private schools and an abundance of restaurants, shops, and supermarkets.
Birre
Birre is a suburb of Cascais, only eight minutes by car from its center. It's a great location for families and pensioners, as all amenities and facilities, such as shops, restaurants, and transport links, are nearby. It's also a convenient place to live for Lisbon commuters. The A5 highway is close by and connects Birre to many other places. 
Carcavelos
Carcavelos is probably the most affordable area in Cascais and has some of the most beautiful beaches in the area. Therefore, it's also a popular spot for water sports enthusiasts, with some even comparing it to California in the USA. 
Carcavelos also has great transport links (it has its own train station) and is home to an international school, St Julian's, and one of Nova University's campuses, making it a popular relocation spot for families with children of all ages.
Buying or Renting a House in Cascais as a Foreigner
Whether you choose to rent or invest in real estate depends on your personal circumstances. Below, we'll introduce Cascais' real estate and rental market so that you can make an informed decision for your future expat life.
Buying a house in Cascais
If you want to buy property in Cascais, you are bound to the same rules for foreigners as in the rest of Portugal. Overall, buying real estate in Portugal is safe and unproblematic, but make sure you follow our tips and advice or enlist our help for a smooth process. We'd also recommend you seek legal advice in your native language to ensure there are no surprises when buying your new home. 
As outlined above, real estate prices in Cascais depend on the neighborhood, and you can find anything from smaller apartments to luxury properties. For more information, the following guides may be useful: 
Renting a house in Cascais
Cascais has plenty of rental solutions for those who are not ready to commit to buying property. Airbnb is a useful option for finding short-term rentals to get acquainted with your new surroundings. For long-term rentals, consult Idealista and Kyero, which give you options on various-sized apartments and properties. You may also want to check our local Facebook groups or nearby towns for rental properties.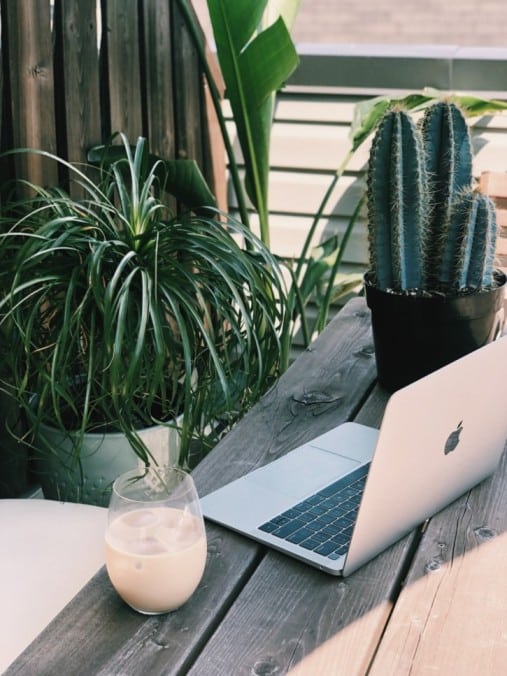 How to Live in Cascais as a Foreign Citizen: Residence Permits and Visas
To live in Portugal as a foreigner, you will need various documents, depending on your country of origin. In the section below, we explain the most common and popular options that are available for expats to live in Portugal.
Living in Cascais as an EU citizen
If you are a citizen of the European Union (EU), there are fewer restrictions on living in Portugal due to the freedom of movement. Nevertheless, after three months of staying in Portugal, EU citizens need a residence permit which they can get from any local town hall. In addition, they need valid health insurance, a national tax number (NIF), and to prove financial independence.  
Living in Cascais as a non-EU citizen
Living in Cascais as a non-EU resident requires some paperwork and, ideally, the help of a residency agency, who are experts in ensuring you follow all the rules and regulations.
Our residency and citizenship division, Global Citizen Solutions, has invaluable experience and is run by experts in the field who can help non-EU citizens secure residency cards. 
Living in Cascais with the Portugal Golden Visa
Portugal's Golden Visa program is one of the most popular visa programs of its kind and gives you permission to stay in the country for up to five years. Eligible candidates can obtain residency by investing in commercial real estate, business ventures or donations to scientific or cultural projects. The following investment options are available in Cascais:
Commercial real estate investment anywhere in the country of €500,000 or €350,000 if investing in a rehabilitation project. This is further reduced to €250,000 if located in a low-density area

Investment funds or a capital transfer (from €500,000)

An investment of €250,000 in support of the arts or reconstruction of national heritage

A contribution to scientific research (from €500,000)
For a full list and more details of Golden Visa options, you can consult our Portugal Golden Visa: Your Ultimate Guide 2023.
Living in Cascais with the D7 Visa
Not everyone can invest in real estate or donate a substantial sum of money, but the D7 Visa is an excellent alternative for non-EU, non-EEA, and non-Swiss citizens to enjoy Portuguese life. If applicants can prove that they earn at least €760 per month, they are eligible to apply.
This monthly amount does not have to come from a current form of income. Retirement funds or passive sources of income are equally valid. For further information, read our article and guide on Portugal's D7 Visa.  
Living in Cascais with the Digital Nomad Visa
There are plenty of reasons why Portugal is so popular with digital nomads: A great infrastructure, including access to high-speed internet, a relaxed lifestyle, a welcoming expat community, friendly locals, and a mild climate. 
The Digital Nomad Portugal Visa is available for remote workers from non-EU/ non-EEA countries who earn at least €2,800 per month. More detailed information can be found in our  ultimate guide on Portugal for Digital Nomads.
Cost of Living in Cascais
Cascais has not been immune to global price increases, and its proximity to Lisbon definitely doesn't make it the cheapest place in Portugal to live. However, it's more affordable than most other seaside towns in Europe, making it a great place to enjoy a comfortable lifestyle.
Accommodation
According to Numbeo, Cascais' property prices are nearly on par with those of Lisbon, with some even being more expensive than in Portugal's capital city. To rent a three-bedroom apartment in the center of Cascais, the average cost is €2,268* per month.
Prices per square meter for buying real estate in Cascais start at €5,375* in the center and €3,370 on the outskirts of Cascais.
*The above costs are from Numbeo as of February 2023.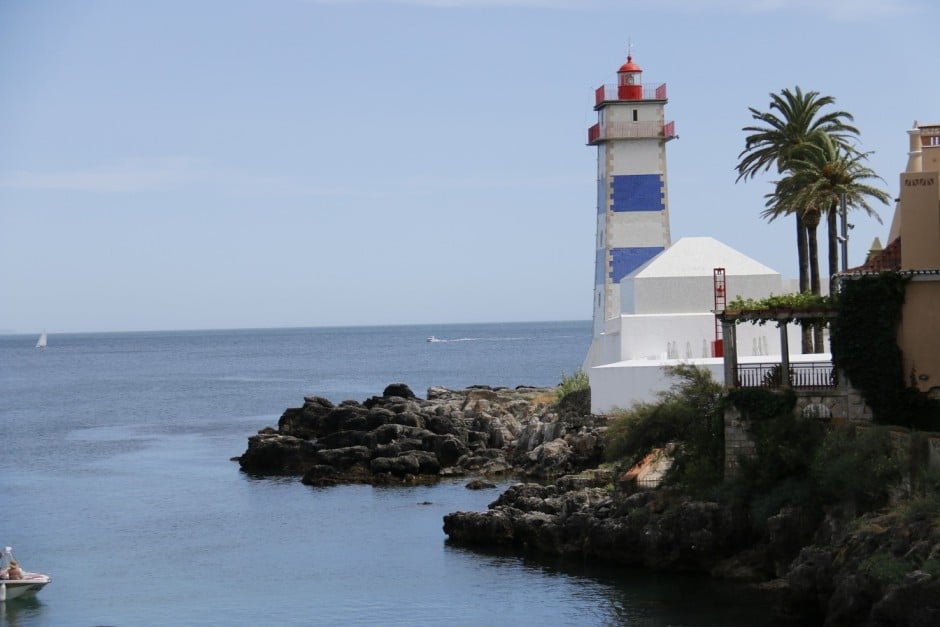 Food
Groceries are reasonably priced and are mostly cheaper than in Lisbon. The table below gives an overview of prices of basic food items:
| Item | Price |
| --- | --- |
| Milk (1 liter) | €0.77 |
| Bread (500 g) | €1.21 |
| Rice (1 kg) | €1.18 |
| Eggs (12) | €1.79 |
| Chicken (1 kg) | €5.00 |
| Apples (1 kg) | €1.71 |
| Tomatoes (1 kg) | €1.38 |
| Potatoes (1 kg) | €0.84 |
| Water (1.5 liters) | €0.59 |
*The above costs are from Numbeo as of February 2023.
Eating out
Enjoying Cascais' excellent restaurant scene is part of living in this beautiful seaside town, and luckily, prices are very reasonable. You'll be able to enjoy all the perks of Portugal's  fresh and wholesome cuisine, including fresh fish and other types of seafood. 
At an inexpensive restaurant, expect to pay around €11* per person, and if you prefer something more extravagant, you can enjoy a three-course menu at a mid-range restaurant for €25* per person.
*The above costs are from Numbeo as of February 2023.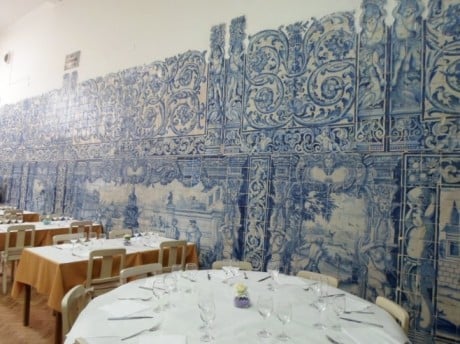 Transportation
Cascais offers  excellent transport links, which are an affordable way to travel around the town or further afield, including to Lisbon. A monthly pass has an average price of  €40*, and a single fare for local transport is €1.75*.
You can find more details in the Getting Around section of this article below.
*The above costs are from Numbeo as of February 2023.
Schools
Cascais municipality is home to a number of excellent international schools for all ages and a variety of curriculums. You can find a comprehensive and detailed list in our International Schools in Cascais article, including the school's fees and contact details.
Cascais and its surrounding area boasts an abundance of excellent public schools, so if you're considering moving to Portugal with family, and would like to have your children educated through the Portuguese curriculum, this is a great place to consider. 
Cascais is also home to some higher education schools for tourism and healthcare, such as the Estoril Higher School of Hospitality and Tourism and the Higher School of Health of Alcoitão. 
Moreover, Lisbon is close enough for you to find other international schools and universities; you can learn more about those in our Lisbon Neighborhoods Close to International Schools guide.
Getting around
There are various ways to get around Cascais, depending on your needs or preferences. 
Walking
Most locations are within walking distance, but wear sensible footwear as the cobbled streets and steep hills can be problematic, although this is more of a problem in Lisbon.
Buses and trains
Cascais has great bus and rail networks for its local residents and also for those who want to travel further afield. Whether you want to go to Lisbon or Sintra, there are services to take you to your desired location at a reasonable price.
Taxis
Taxis and Ubers are readily available and more affordable than in most other European cities. Most drivers are also incredibly knowledgeable and can be of great help in getting familiar with your new home in those first few months.
Airport
Lisbon International Airport is only a 37-minute drive away, but there are also regular trains to take you there. This is one of Cascais' strengths and makes it an attractive springboard for avid travelers.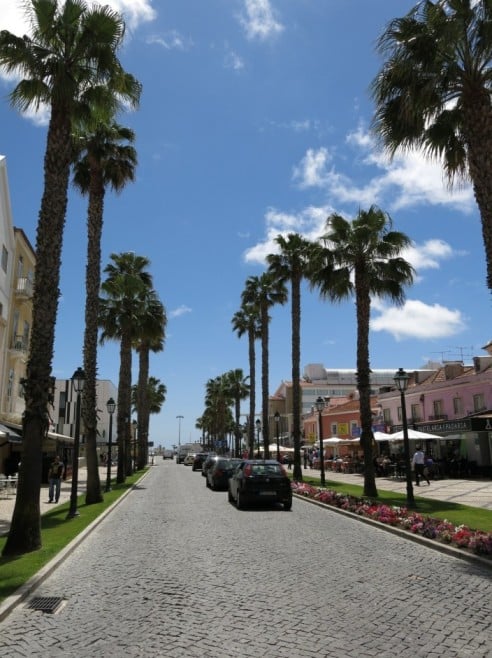 Shopping
Shopping lovers will rejoice in what's on offer in Cascais. The historical heart of the town is brimming with unique boutiques and bustling street markets, while two modern and expansive shopping centers cater to those who want to access modern high street brands. And, of course, Lisbon is just a short train ride away, so the choices are never exhaustive.
Healthcare
Portugal's private and public healthcare services are considered to be amongst the best in Europe. As a legal resident, you'll have full access to its national health service (Serviço Nacional de Saúde), but many expats initially opt for private health insurance, which is cheaper than in other European countries.
Cascais has access to public and private hospitals and the average price for treatments is in line with national costs. For further information, read our article on Portugal Healthcare: All You Need to Know. 
Language
English is widely spoken in Cascais due to its popularity with international tourists. It's strongly advisable to learn at least some Portuguese, as this not only makes for a more authentic experience of living in this charming town, but it's also easier to navigate everyday life, travel, and entertainment.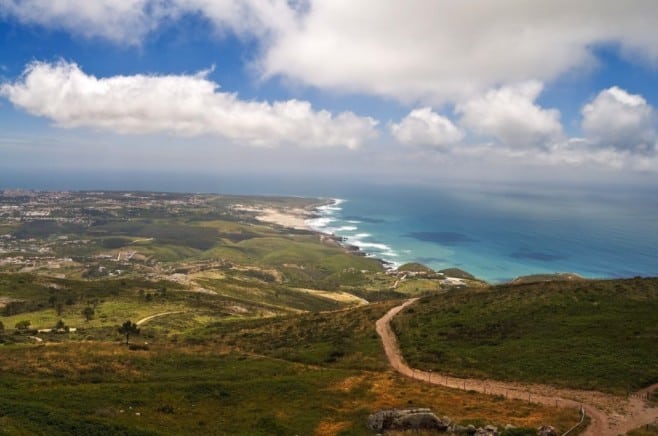 Weather in Cascais
Cascais' climate is mild all year round, and a sea breeze ensures it never gets too hot during summer.
In the summer months, from June to September, temperatures in Cascais typically range from around 20 degrees C to 28 degrees C (68 degrees F to 82 degrees F), with plenty of sunshine and little rainfall. The sea temperature is also warm during this time, making it the perfect season to enjoy the beaches and water activities.
In the winter months, from December to February, temperatures in Cascais typically range from around 10 degrees C to 16 degrees C (50 degrees F to 61 degrees F), with some rainfall and occasional cloudy days. Despite the cooler temperatures, it is still possible to enjoy outdoor activities during this time, and the town is much quieter than during the busy summer months.
Festivals and Attractions
Thanks to Cascais' closeness to Lisbon and being a popular destination for expats and tourists, there is something going on throughout the year. Whether you're interested in traditional festivals with a historical background or want to enjoy annual sporting, music, or arts and crafts events, you will surely find something interesting to experience.
If you want to explore nature or Cascais' rich history, you will find plenty of things to do, be it countless watersports, scenic walks at Cascais bay, along Cascais coastline or venturing to monuments and museums, such as the Paula Rego Museum, Centro Cultural de Cascais, Museu da Música Portuguesa, or the Casa de Santa Maria, which are only some of the popular locations for expats and locals alike.
Cascais is close to Sintra Cascais Natural Park and Praia da Guincho, a beautiful beach around 5 km from Cascais. It also has a lively restaurant and bar scene, including nightclubs and casinos, such as Casino Estoril. Regardless of your preferences, you'll find something for you.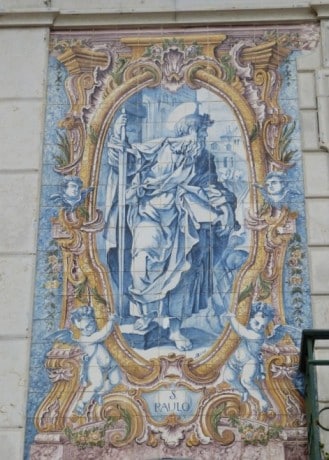 Living in Cascais: Pros and Cons
Every town or city has pros and cons, and as long as you're aware of them, you can weigh up your options.
Advantages
Cascais is a picturesque and lively seaside town that offers a lot to those who live there. Some of the most notable advantages are:
Relaxed lifestyle

Friendly and welcoming locals

Affordable seaside town

A safe and tolerant place

Beautiful beaches

Mild climate all year round

Lots to do for everyone
Drawbacks
Some of the drawbacks to living in Cascais are as follows:
Prices are similar to those of Lisbon

Many tourists during peak season and a lot of touristy areas
The Bottom Line on Living in Cascais Portugal
Cascais is a stunning seaside town and a desirable location for many expats, whether to start a new life, to retire or whilst enjoying a digital nomad life. It's a great place for those who are willing to spend a little more money, although it's still more affordable than many other European towns and cities.
Cascais attracts many expats and rewards them with a Riviera lifestyle, scenic views across the ocean, and a vibrant community where you'll always find something to do. For further information and to take the next steps to make your relocation dream a reality, contact us to schedule a non-binding call.
Frequently Asked Questions about Living in Cascais
Is Cascais Portugal a good place to live?
Cascais is a beautiful seaside town with many amenities for people from all walks of life and backgrounds. Cascais has close public transport links to Lisbon, making it easy to get to the capital city, including its international airport.
Do people speak English in Cascais?
English is widely spoken as it's also a popular tourist destination. Learning some Portuguese is highly recommended to make the living experience more authentic.
Is Cascais Portugal a good place to retire?
Cascais feels like every day is a holiday, thanks to its leisurely pace of life, mild climate, and varied cultural calendar make it an excellent and popular place for expats to retire. Lisbon area is also close by for those who want to go to visit the capital city.