Updated: August 14, 2023
The Algarve is one of the most popular places to purchase property in Portugal. Algarve real estate has a great potential investment value for holiday rentals and the region is also a fantastic place for expats to relocate permanently to. In the South of Portugal, the coast of the Algarve has unrivaled natural beauty and year-round sunshine. 
Therefore, figuring out the best method of how to buy Algarve Portugal real estate is important. Some of the top luxury Algarve homes real estate won't even reach the market before the projects are all allocated.
If you are thinking of purchasing Algarve real estate, make sure you are fully informed on pricing, the best areas, and whether a property is valued correctly. We recommend using a buyer's agent for purchasing real estate in the Algarve.
Why buy real estate in the Algarve?
Algarve real estate is highly popular with both Portuguese people and foreigners from all over the world. It is an unspoilt region of Portugal, lined with golden sand beaches and stunning rock formations. Algarve real estate is largely so popular because of the weather, the coastline, great seafood and world class golfing facilities.
It's no secret that a large number of expats choose to invest in real estate in the Algarve region. There's a big community of English-speaking homeowners here, who have chosen to purchase luxury holiday homes, remote villas or beachfront properties. The locals, being so accustomed to foreigners, are particularly warm and welcoming to expats.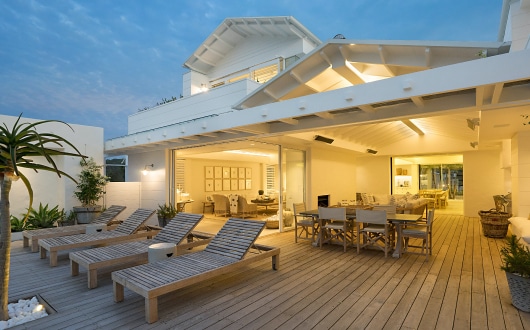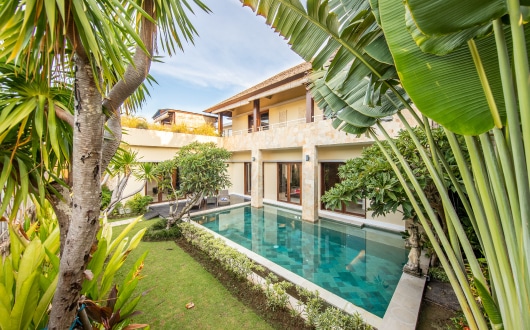 Algarve real estate market
The Algarve is a consistently popular region for tourists and locals alike. As a foreign investor there should be no qualms that this region of Portugal is one of the best real estate investments to make. The rate of return of long-term property rentals in the Algarve is typically 4.5% with short-term rental yields being as high as 7.5%.
Considering the unfaltering popularity of the Algarve, as a foreign investor looking to Europe, it would be a sound decision to purchase real estate in the Algarve with the goal of earning profits from the investment. This may be in annual rental profits or in the sale of the property in a few years' time.
Algarve real estate prices
The average price per square meter for Algarve real estate is € €2,670 per square meter, which is the highest in Portugal. Competition for real estate is very high in this region and the property market is hot. However, the prices per square meter in this sought-after region are very low compared to the rest of Europe.
Real estate prices in Albufeira
Real estate prices in Lagos
Real estate prices in Portimão
Real estate prices in Loulé
Real estate prices in Vilamoura
Real estate prices in Tavira
Other areas to consider buying Algarve real estate
 

Olhão

 

Silves

 

Aljezur

 

Vila Real De Santo
How to buy Algarve real estate
Figure out how much you can spend and when you can commit
Research areas of interest to you: if it's a place for you to relocate to, you may want to visit different areas first to get a feel for the town
Enlist the help of trusted professionals to help you explore the best opportunities available. For example, if you are considering Lagos real estate, get in touch with a real estate agent in Lagos.
Use a buyer's agent to help you find property, negotiate a fair price and navigate paperwork and bureaucracy in Portugal
Use your buyer's agent to help find trusted professionals to survey the property, and help you to find a reliable notary for the purchase
Use your buyer's agent to know which documents and paperwork are necessary for this particular purchase
Transfer the funds to make the purchase

Buying real estate in the Algarve to relocate
If you're looking to relocate to the Algarve, we would recommend visiting the different areas to get a feel for where you feel most at home. Having a vibrant community of people will be important to a lot of people, so be sure to check out different leisure activities available in the area and the various restaurants and bars you can spend time at.
Buying real estate in the Algarve to invest
When looking to purchase for an investment, we would recommend looking into the figures of where you can achieve the highest rates of return. There are certain areas that are up and coming, and others that have more certainty as an investment for rental options. Particularly in this area of purchasing, we would recommend using a buyer's agent who can provide you with in-depth regional knowledge and up-to-date data on the various regions.
Insider tips from a buyer's agent
Work with a trusted agent

Work with an experienced negotiator

Get advice from people on the ground

Acquire financial and real estate legal advice

Do your homework on the property market and  area
Main benefits of the Algarve
Quality of life

Lifestyle

Beaches and  culture

Cost of living

Accessibility (transportation wise)
Get in touch
Goldcrest are property experts and can assist you to find luxury Algarve real estate. We have deep expertise in the Portuguese real estate market and will always act diligently on your behalf to negotiate the best possible deal for you.
Frequently asked questions about Algarve real estate
Is it a good idea to buy real estate in the Algarve?
In the case of relocating, and in the case of buying real estate for investment purposes, the Algarve is definitely a good place to buy real estate.
Is it worth buying real estate in the Algarve for rent?
There are great opportunities for renting out property in the Algarve, both long and short-term with good rental yields.
Where can I find real estate to buy in the Algarve?
You can begin doing research on the internet and by visiting different areas. We recommend using a buyer's agent, to assist you in the process of purchasing Algarve real estate.
When it comes to buying Algarve real estate, should I hire a buyer's agent or a realtor?
A realtor works for the seller of the property as their client, so you would be better represented by using a buyer's agent who would remain neutral, making sure you get the best deal possible.