Updated: November 21, 2023
Are you interested in buying real estate in Lisbon? In this guide, we'll arm you with all you need to know and some insider tips on how to get a good deal buying property in Lisbon. We'll also provide key information on the best neighborhoods to consider and how to get the highest returns on your investment.
What's going on with real estate in Lisbon?
The captivating Portuguese capital city, Lisbon, has cemented itself as one of the most sought-after cities for real estate investments in the world. Lisbon City has experienced a growth rate of 50 percent between 2017 and 2022, and in 2024, Lisbon is ranked in the top eight cities with the best real estate prospects in Europe. 
Whether you are looking to relocate to Portugal, buy-to-rent, or have a nice holiday home in a stunning European capital, Lisbon is an excellent place to buy property. There are also no restrictions on foreign proeprty ownership, making it easy to invest in the real estate market here.
The simple fact is that Lisbon has something for everyone, whether you are looking for a modern apartment, waterfront property, or spacious family home. Lisbon has all the charm of a picturesque European city, merging traditional charm with modern amenities. With a high quality of life and great potential for high returns on investment, Lisbon is a favorite for both investors and expats.
The average asking price for property in Lisbon City is €6,223 per m², while if you look at the Lisbon Metropolitan Area, prices stand at €4,250 per m².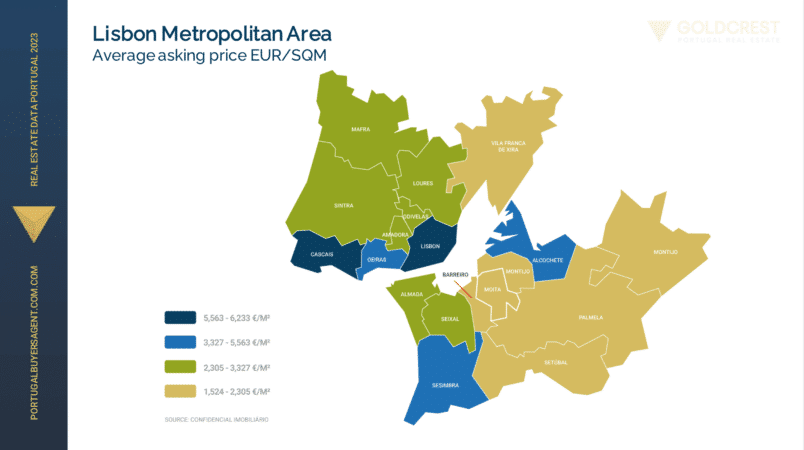 Lisbon Statistics
Lisbon boasts a high quality of life, low cost of living, excellent healthcare and education opportunities, and is the seventh safest country in the world, according to the Global Peace Index in 2023.
Here are some key statistics about Lisbon:
Lisbon population: 2.9 million
343,995 international residents (as of 2021)
International schools in and around Lisbon: 28 (British, French, American, German, and more)
20 hospitals
16+ beaches in close proximity to Lisbon
Main Demand Factors Driving Real Estate Prices in Portugal
Everyone's talking about Europe's hottest real estate market, Lisbon. But what happened to make property in Portugal's capital so interesting to investors? There are many different factors that contributed to the rise in Lisbon real estate, from economic growth to the rise in the tourism sector, as well as an increase in short-term rentals. So, let's take a look at a few of these factors.
Economic growth
The Portuguese economy has bounced back after a few difficult years following the financial crisis, with stable growth in the economy. GDP has gradually and steadily increased over recent years and is likely to continue (after the COVID-19-related blip in 2020), particularly with the rising number of startups and tech companies in the capital. Web Summit, the largest tech "festival" in the world, relocated to Lisbon in 2016, cementing the city as one of the key innovation hubs in Europe.
Portugal's GDP growth rate
2.8 percent – 2018
2.7 percent – 2019
-8.4 percent – 2020
5.5 percent – 2021
6.7 percent – 2022
Data from the World Bank.
Tourism boom
The tourism sector has always played a big part in the Portuguese economy, though this has largely been focused on the south of the country, particularly the Algarve.
However, recent trends mean that Lisbon and Porto have become increasingly popular tourist destinations, with both cities frequently featuring in travel features and topping rankings for the best getaways in Europe.
The rise in short-term rental platforms, such as Airbnb, has contributed to the ease of home rental and an increase in returns on real estate investments.
Lifestyle
The Portuguese capital has become increasingly popular in the past few years, not only as a tourist destination but also as a base for startups and entrepreneurs who are drawn in by the low cost of living and high quality of life. Lisbon is famous for its delicious food and good year-round climate, as well as its proximity to beautiful beaches, which are popular with surfers along the Lisbon coast.
Portugal also has one of the highest English proficiency levels in Europe. It is conveniently located in Western Europe, with frequent flights to the rest of the continent, as well as to the Americas and the rest of the world.
It is, therefore, unsurprising that record levels of international citizens are choosing to make Portugal their home.
Government incentives
Portugal's residency by investment scheme, known as the Portugal Golden Visa, has, in the past, been highly successful in bringing foreign investment to the country and adding value to the housing market.
Note that, as of 7 October 2023, it is no longer possible to invest in real estate and qualify for the Portugal Golden Visa. The Portugal Golden Visa is still open to investors, with several investment options, such as investment funds, still on the table.
The Non-Habitual Residence Program is another highly successful scheme introduced by the Portuguese government. It gives individuals of high economic and cultural worth tax reductions and exemptions over a ten-year period.
Note that the NHR program may be coming to an end soon; you can consult this article for the latest information on the topic: Is the Portugal NHR Ending?
Restricted supply of real estate stock – unique and concentrated
Another factor impacting real estate prices is a restricted supply of housing in the city center. Lisbon is a small and concentrated city situated next to a river. In addition, the Câmara municipal (the city regulator) limits construction in order to maintain the character of the city, and as a result, new constructions in the historic center are virtually impossible. Rehabilitation of older buildings is preferred and is usually the only solution for those looking to make a real estate investment in a central location.
For those looking to invest in new-build real estate in Lisbon, there are specific areas to consider where new construction is permitted. One such area is Parque das Nações, which is particularly popular with foreign investors.
In the historic center of Lisbon, the restricted supply of housing explains the rise in real estate prices.
Why buy a house in Lisbon?
As mentioned, over the past few years, purchasing property in Lisbon has become hugely popular with investors from all over the world, as well as those who move to the city to make it their home. As the capital city of Portugal, the municipal area is a major tourist hub for the country and the rest of Europe. Additionally, the picturesque city has a buzzing pulse and rich cultural history.
Here, we'll delve into some reasons why the bustling Portuguese capital could be the perfect place for you to buy property.
An investor's paradise
Portugal's economy has experienced many trials and tribulations over the years. However, the Portuguese real estate market seems to be moving from strength to strength and has experienced tremendous growth in the last few years.
Lisbon's real estate sector has benefitted greatly from new investment policies that have transformed the city into an urban paradise for businesses and residents alike. Foreign investments, urban renewal projects, and the rise of tech, startups, and key businesses in the city have coincided to create an investor's paradise.
Continuous growth
Lisbon has increased its competitiveness with other cities in Europe, including London, thanks to its transformative policies, for example, by investing heavily in startups and attracting entrepreneurs to its shores.
Other examples include Volkswagen and Mercedes-Benz opening tech hubs in the city, Web summit, the biggest tech festival in the world relocating to Lisbon in 2016, and countless international companies setting up shop in the capital and other parts of Portugal.
Which is the best neighborhood in Lisbon to buy real estate?
If you're considering buying Lisbon real estate, then you are likely wondering what the best neighborhoods in Lisbon are. Lisbon real estate has become more popular over the last ten years, both with investors and with expats trading in their lives for a sunnier and better quality of life. As far as places to live in Lisbon go, prices do have quite a range depending on the area of Lisbon you are interested in. We will take you through the main areas of Lisbon and what you can expect to pay for real estate in each of them.
Real estate in Bairro Alto
A privileged location in downtown Lisbon, Bairro Alto is one of the most popular places you can choose when purchasing property as an investor. Bairro Alto is in a central location, and as far as Lisbon areas go, it's in the mid to high range of prices for buying Lisbon real estate. Bairro Alto is a key tourist zone and neighbors Baixa Chiado, a high-end shopping district. Downtown Lisbon is known to attract investments in short-term holiday rentals.
Pros and cons of Bairro Alto:
Pros:
Historic charm
Touristic hotspot and rental potential:
Strategic location
Excellent transportation links
Cons:
High initial investment and high property prices
Touristic and can be prone to crowds and noise
Why invest in Bairro Alto?
Real estate in Baixa Chiado and Bairo Alto are highly prized and in great demand. The area is popular with tourists and international exchange students due to its central location and proximity to Lisbon's premier nightlife venues. While perhaps not the best place to relocate to, this part of Lisbon is an excellent option for investors.
Average price
The average asking price for property in the Lisbon neighborhood of Bairro Alto (in the Misericórdia neighborhood) is €7,364 per m².
Real estate in Lapa and Santos
Lapa and Santos also offer highly attractive investment opportunities, both in the tourist short-term rental market and in long-term rental possibilities, as the neighborhood has high demand from an affluent local renters' market. If you're thinking of relocating to Lisbon and are looking for a quieter neighborhood or are looking to move with a family, consider Lapa and Santos. Both have fabulous parks and cafes, and there are many schools that surround the area.
Pros and cons of Lapa and Santos:
Pros:
A quieter part of the city, perfect for families
Proximity to fabulous beaches
Up and coming areas, potential for high capital appreciation
Cons:
A little outside the hustle and bustle of the center
No metro, but good bus links
Why invest in Lapa and Santos?
This emerging neighborhood has a lot to offer for families, with many charming parks to visit. Investors will find options for long-term rentals as young professionals often opt for this part of the city.
Average price
The average asking price for property in Lapa and Santos (both in the Estrela neighborhood) is €7,019 per m².
Real estate in Avenidas Novas
Avenidas Novas is not the main touristic area of town but is still a very popular choice for real estate investment in Lisbon as it is a bustling area where locals, expats, and families live and work in the city. You can expect to rent long-term to students or professionals.
Pros and cons of Avenidas Novas:
Pros:
Vibrant part of the city
Excellent restaurants, charming cafés, and bars
Popular with expats
Excellent public transportation
Many green parks
Cons:
Architecture is not as spectacular as other parts of the city
Why invest in Avenidas Novas?
The buildings in the Avenidas Novas area are generally newer compared to other central areas, and they also tend to offer greater space to buyers. Many vibrant restaurants have also recently opened in this part of the city, which blends residential streets with happening bars and charming cafés.
Average price
The average asking price for property in Avenidas Novas is €7,073 per m².
Real estate in Intendente and Mouraria
Intendente and Mouraria are two up-and-coming neighborhoods in Lisbon and, therefore, present an attractive opportunity to investors looking to cash in return on a sale in a few years' time. The prices in this area are quite reasonable considering how well located the area is in Lisbon.
Pros and cons of Intendente and Mouraria:
Pros:
Multicultural scene
More affordable properties
Miradouros (viewpoints) with stunning views of Lisbon
Cons:
Limited green spaces
Perhaps not best suited for families, not many international schools in the direct vicinity
Why invest in Intendente and Mouraria?
This part of the city presents an opportunity for investors. There is a short-term rental market for tourists as well as a long-term market for locals and young professionals in this hip part of town.
Average price
The average asking price for property in Intendente (in the Arroios neighborhood) is €5,777 per m², while the average price in Mouraria (in the Santa Maria Maior neighborhood) is €6,791 per m².
You can see more about this part of the city in our Intendente real estate guide.
Real estate in Campo de Ourique
Campo de Ourique is a sought-after and quiet part of town that presents more opportunities in the long-term rental market. It's also an ideal neighborhood to relocate to with family, considering the green spaces, indoor food hall, and plethora of cafes and restaurants. The Mercado de Campo de Ourique (Campo de Ourique market) is fabulous, and the area has a very authentic, lived-in vibe.
Pros and cons of Intendente and Campo de Ourique:
Pros:
Quiet area with spacious properties
Many green parks, excellent restaurants, and boutique shops
Perfect part of Lisbon for families
Proximity to international schools
Cons:
No metro but good bus links
Limited nightlife
Why invest in Campo de Ourique?
Campo de Ourique is a residential neighborhood, perfect for tenants and homebuyers looking for a quieter and more relaxed living environment while still being relatively close to the city center.
Average price
The average price of property in Campo de Ourique is €6,576 per m².
You can read more about this area in our Campo de Ourique real estate guide.
Real estate in Alfama and Graça
Graça and Alfama are the oldest parts of town, situated up high with panoramic views of the city and the Tagus River from the famous miradouro look-out points. It's no wonder that these neighborhoods are the top choice for tourists visiting Lisbon. There have, however, been certain rules in place that have prevented the initiation of new Airbnb contracts in this part of town, so from a purely short-term holiday rental investment standpoint, make sure you double-check this before buying property in this part of the city.
Pros and cons of Alfama and Graça
Pros:
Historic architecture and charming cobbled streets
Incredible restaurants and local food
Fado houses
Miradouros (viewpoints) with captivating views of Lisbon
Cons:
Alfama can get busy with tourists, while Graça presents a quieter alternative.
Steep hills
There is no metro, but the iconic trams and the Santa Justa elevator (Elevador Santa Justa) can get you up and down the hills
Why invest in Alfama and Graça?
Arguably the most authentic part of Lisbon, the winding cobbled streets and yellow trams meandering past present a clear picture of the past. You also have stunning views of Lisbon stretched before you.
Average price
Average asking prices for Alfama and Graça (in the São Vicente neighborhood) stand at €5,115 per m².
You can read more about this area in our Alfama real estate guide and Graça real estate guide.
Real estate in Belém, Ajuda, and Restelo
These parts of town in the west of the city will be better value per square meter, as they aren't so centrally located in the main touristic hot-spot locations. However, for families looking to move to Lisbon, these areas have plenty of space and are still very pretty and happening neighborhoods to live in.
Pros and cons of Belém, Ajuda, and Restelo:
Pros:
Historical landmarks, such as Jerónimos Monastery and Belém Tower
Spacious properties
Green parks
Close to both Lisbon and beautiful beaches in Carcavelos and Cascais
Cons:
Not so central, but well connected by public transport
Belém can be busy with tourists in peak tourist season
Why invest in Belém, Ajuda, and Restelo?
Investing in Belém, Ajuda, and Restelo can be attractive due to their historical significance, cultural attractions, and potential for urban development. This part of Lisbon offers a mix of historic charm and modern amenities, making them appealing for real estate and tourism investments, with the prospect of long-term growth. You are also a little outside the city center, so there are more spacious properties available here.
Average price
In Ajuda, the average asking price of property is €6,233 per m², while in Belém and Restelo, it is a little bit more expensive at €7,015 per m².
Real estate in Parque das Nações
Parque das Nações is a re-developed, quieter part of town that presents interesting opportunities to investors with great growth potential on the investment. There are striking contemporary buildings here, and the area lines the waterfront of the Tagus River. It's also a spacious place to move to with a family.
Pros and cons of Parque das Naçōes:
Pros:
Some of the best modern restaurants in Lisbon
Spectacular views of the Tagus River
Modern architecture
Cons:
Not so central, but well connected by public transport
Limited historical character
Why invest in Parque das Naçōes?
Investing in Parque das Nações, Lisbon, offers a modern waterfront environment with amenities like the Oceanarium and Vasco da Gama shopping center. Sightly reminiscent of Canary Wharf in London, its appeal lies in contemporary architecture, cultural venues, and a vibrant atmosphere, with top restaurants that spill onto the streets by the river and attract residents and tourists. Ongoing development and accessibility contribute to the neighborhood's investment potential.
Average price
In Parque das Nações, the average price of property is €7,914 per m².
Lisbon neighborhoods
With so many great investment opportunities, the real challenge as a purchaser is narrowing your search.
Note that there are many other prospective areas in the city that we have not run over in this article. This is simply because there are too many to mention. Each neighborhood will have its unique characteristics and property types, so it's important to do your own research. Other top options include Príncipe Real, Alvalade, and Alcântara.
Real estate alternatives to the center of Lisbon
There are many interesting alternatives to investing in the center of Lisbon, which can make a far better investment depending on your requirements, such as if you are looking for a beach house, to live in the countryside, or close to the Lisbon coast.
Cascais
Cascais is a seaside town a short distance from the center of Lisbon, with excellent public transportation links to the center. It is more family-friendly than the center of the city, with greater open space, and also has a number of good international schools.
Setubal
Setubal is a neighboring city located to the south of Lisbon on the coast. It takes around an hour to drive there from the center, and as a result, is popular with those looking for more inexpensive real estate options.
Lisbon Neighborhoods: Property Prices
In the graph below, you can see the property prices in the various Lisbon districts.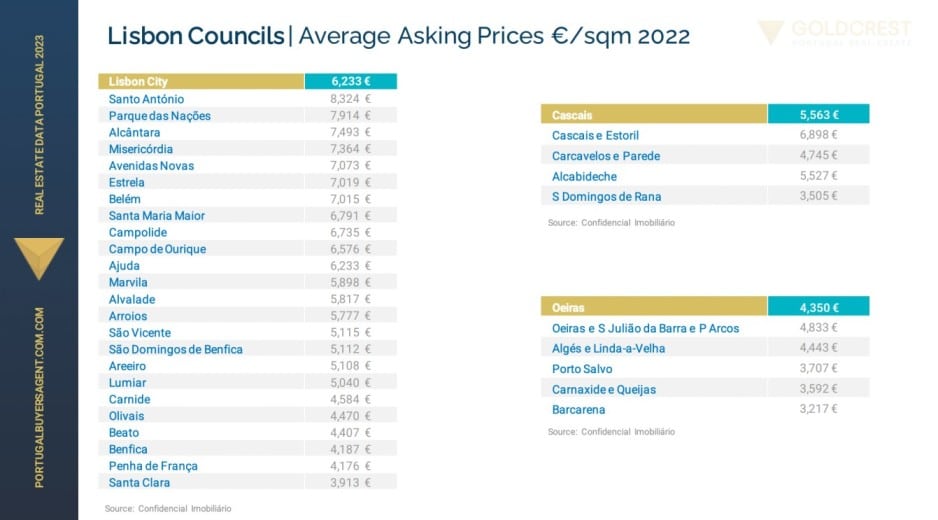 What to Consider when Buying Real Estate in Lisbon
There are many factors to take into account when buying real estate in Lisbon. Location and amenities are particularly important, and you may want to consider whether you want to buy close to:
Schools
Transport links
Tourist sites
Hospitals
International transport
Lisbon's airport has frequent flights to Europe and the rest of the world, and is also connected to the rest of the city via the metro.
Real estate options in Lisbon
Like in any city, there are a few options to consider depending on whether you are looking to buy a family home or make a property investment. This will mean choosing between:
Used residential property
New residential property
Investors may also want to consider the following options:
Building for investment
Commercial property
Land for construction
Portugal's real estate buying process
Once you have agreed on the price of the home you are buying, it is important to find a lawyer. A lawyer can deal with the bureaucratic processes of buying a home and draw up all the necessary contracts.
Your lawyer will then request all of the necessary checks and documents for the house before drawing up a preliminary contract to guarantee the sale of the house and agree on the final date of sale.
The seller and their lawyer will then review the preliminary contract.
The buyer and seller sign the preliminary contract in the presence of a notary, and a deposit is paid.
Once the transactions have been arranged and any remaining paperwork or action on the house has taken place, the buyer and seller meet again to sign the final act of sale. The new owner then signs the property deeds and receives the keys to the house.
Portugal real estate taxes
The following taxes are required for the purchase of real estate in Portugal.
Imposto Municipal

sobre Transmissões (IMT)/ property transfer tax, between 2-8 percent

Imposto de Selo

(IS)/ stamp duty, 0.8 percent

Imposto Municipal sobre Imóveis

(IMI)/ taxable property value, between 0.3-0.8 percent
AIMI (wealth tax), applicable if the proeprty value is more than €600,000
Notary fees, admin, and registration fees, around 1.5-2.5 percent
Legal fees, one to two percent
Agency fees
Capital Gains Tax: If you are selling your property, you will need to consider Capital Gains Tax
There are also a number of required documents, such as a NIF (Portuguese tax number), and you will also probably find it easier to open a Portuguese bank account. There are many different Portuguese banks to choose from. You can get your NIF online and even open a Portuguese bank account remotely before your move to Portugal.
Am I paying a fair price for my real estate?
Navigating real estate pricing can be a challenge even in our home countries. To be assured that you are paying a fair price for property in Lisbon, we would always recommend enlisting the help of a trusted real estate professional to help you through the process. There are localized issues like how a property's price per square meter compares to what's nearby, the historic prices that houses on the street have been sold for, and whether the area is located close to schools, shops, and parks. A buyer's agent or local real estate agent will be able to lend a hand in this regard.
Challenges of Buying Real Estate in Lisbon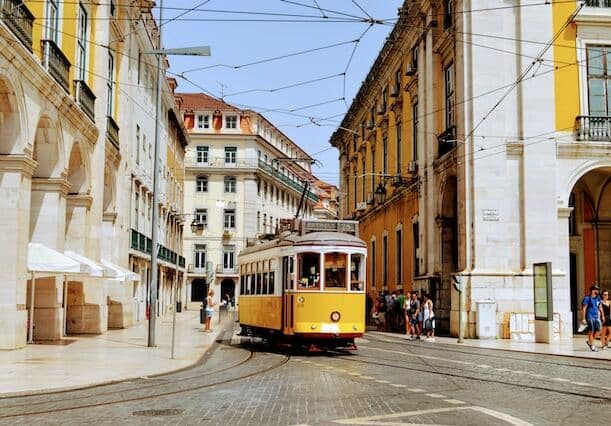 Buying property is a daunting process, and each country comes with its unique set of challenges. Below are some key challenges that you should be aware of when considering buying real estate in Lisbon.
Finding the right property for you: There is a high demand for housing in Lisbon, which outweighs the number of houses currently available. This puts property owners in a great position to receive favorable prices for housing sales and rental yields, but it can make it difficult for interested parties in finding properties that meet their criteria at a desirable price. Furthermore, property prices continue to rise, which means that acting now may save you money on your property purchase.
Law of subrogation: This law attaches debts to the property, not the owner. It is important to know if the property you are interested in is free of debt. Otherwise, you may find yourself liable for any unpaid taxes, bills, or mortgages attached to the property. Most lawyers will catch this when putting together the contract, but it is an important Portuguese law for property buyers to be aware of.
Title deed: Portugal's dispersion of ownership clause means that family properties are passed down through generations. This can result in the property belonging to several people, some of whom may no longer reside in Portugal. In order to facilitate the sale, you will need to find each owner of the property, a process that can delay the sale of the property being finalized.
Dispersion of ownership is less common in Lisbon, but it is still something to note, as it can impact the time it takes for your property purchase to be finalized. Again, this is something that any good lawyer will catch during the process, and why it is essential that you're well-represented by a lawyer familiar with the local real estate law when purchasing foreign real estate.
How can I find real estate to buy in Lisbon?
In Portugal, there is no single real estate listing website with all the real estate listings, making it difficult to discover all the properties available. While a quick online search for keywords such as "buy house Lisbon" will provide you with an overview of the market, it's recommended to work with real estate professionals to help you find your ideal property.
Bear in mind that real estate agents and realtors represent the seller and will get a higher commission by achieving a higher sale price. Conversely, a buyer's agent operates solely in the interest of the buyer, diligently working to fulfill their specific needs. This includes identifying the perfect property in Lisbon based on exact requirements, managing negotiations, and providing support throughout the buying process to minimize hassle and stress. Working with a buyer's agent can, therefore, be a good idea, as there is no conflict of interest.
Types of Lisbon Property
Lisbon has several different property types, from hip studios and spacious modern apartments with a private terrace to four-bedroom homes with a swimming pool. Whether you are looking for a new development or an older property, you should be able to find it in the city. Do your research, as a quick online search for "houses for sale Lisbon Portugal" or "buying real estate Lisbon" will provide you with a nice overview of what's on offer. Note that a new development may be the safer option, and for older Lisbon properties, make sure that you conduct thorough due diligence checks. You can invest in the following property types:
Residential properties
When it comes to residential properties, you'll find everything from modern apartments to luxurious waterfront properties. Some of the most common are listed below.
Apartments
If you're looking for a modern apartment with a pool and riverside views or a smaller property in an up-and-coming area, you'll find several options to consider.
Villas
Particularly on the Lisbon Coast stretching to Cascais, you'll find many modern villas on the market. You'll be able to enjoy the best of both worlds: The beautiful beaches that hug the coast and the bright lights of the capital city.
Country homes
You'll find spacious homes a little outside the city whilst still being within striking distance of Lisbon. Locations such as Santarém, just over an hour's drive away, could be an excellent option to consider.
Luxury properties
From beautiful waterfront properties to modern apartments with stunning views of the city, Lisbon definitely delivers for luxury buyers. Many properties come with private pools, gyms, and other excellent features.
Commercial properties
Some of the most popular investment opportunities for commercial property are listed below.
Offices
Officers provide stable rental income and potential long-term capital appreciation.
Retail spaces
Investing in retail spaces offers steady income from established businesses and potential growth in prime locations.
Warehouses
Warehouses provide lucrative opportunities, and construction costs are generally much lower. In certain areas in Lisbon, such as Marvila, many warehouses are being renovated into boutique craft beer bars and hip restaurants, for example.
Tourism real estate
Given the booming tourism sector in Lisbon, which just seems to be going from strength to strength, these areas offer options to invest in tourism real estate. From hotel projects to serviced apartments, there are several investment options on the table.
Other projects
Aside from investments in residential, commercial, and tourist real estate, there are other options on the table. Lisbon has seen a rise in digital nomads and tech companies relocating to the Portuguese capital city in recent years. This has paved the way for investment opportunities in co-working, or even co-living spaces. This will likely be a continued growing trend in the future.
Alongside this, there has been increased interest, from developers to investors, in investing in green real estate investment opportunities. This is another segment of the market that will likely continue to take off in the coming years.
Is now the time to buy property in Lisbon?
Over the past few years, Lisbon's property market has moved from strength to strength. Purchasing property in Lisbon is an outstanding decision due to several compelling factors, including the fantastic quality of life, the potential for a favorable return on investment, and promising prospects for future growth. Looking back over the first six months of the year, we've seen the real estate market growing. With demand still outweighing supply – and Lisbon still regarded as an excellent financial investment – we can safely say that now is a prime time to buy.
Please keep in mind that the asking price can differ from the sales price. In reality, property sales prices can often be significantly lower. Sellers frequently aim to sell their properties by a specific deadline and may be influenced by various factors that can help buyers get a better price for the property. Additionally, it's important to note that there is a possibility that the sales price could be higher than the asking price, although, as you can see below, this is not so common.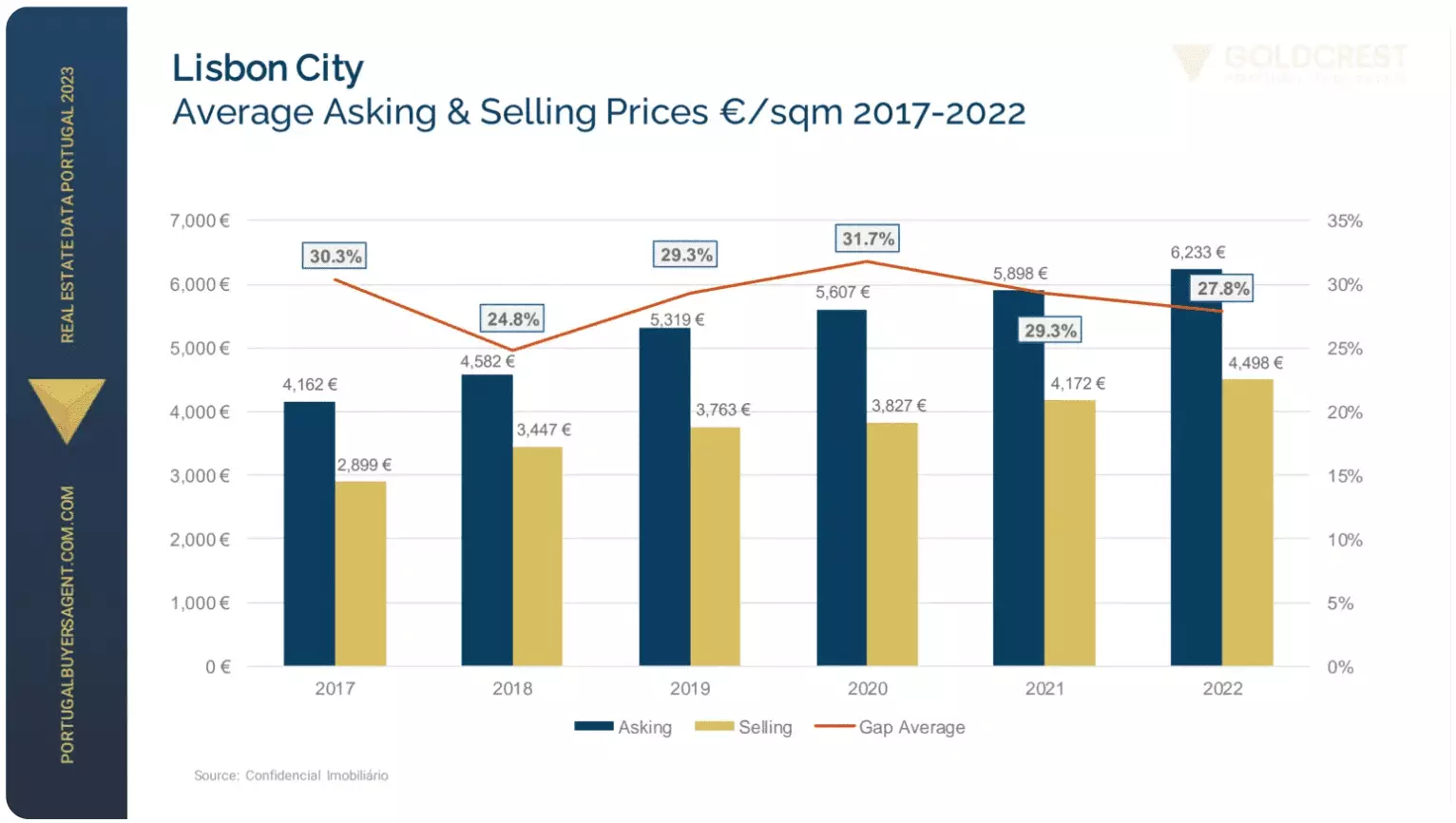 Buy to Let
If you are looking into buying real estate as an investment opportunity, it can be a very lucrative venture. While short-term rentals typically provide a better income, there is often less hassle with long-term rentals. For example, you have more consistent tenants in comparison with short-term renters, who are usually only in Lisbon for a few days.
You can check out our article, Buy-to-Let, for information on how to buy a property with the intention of renting it out. Rent prices have been increasing in recent years, and you should be able to secure a strong return on your investment in the long run.
Rental yields in Lisbon
While the Lisbon City average for rental yields is 4.1 percent, some neighborhoods will prove to be a better investment option than others. Take Ajuda, for example, which is not one of the most expensive districts in the city and has a high rental yield potential (5.82 percent).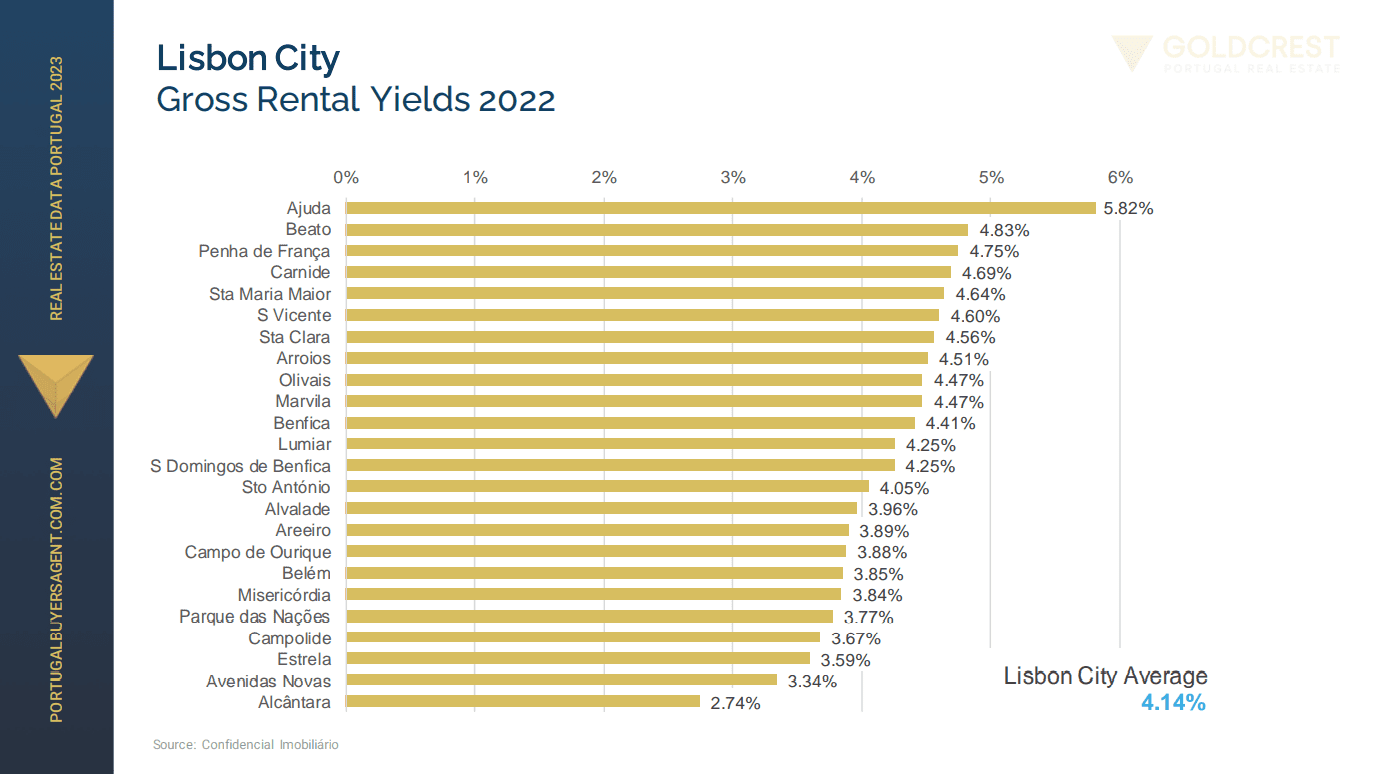 Tips for buying Lisbon real estate as an investment
If you are considering purchasing property in Lisbon to rent it out and secure passive income, you should ensure that you fully understand the real estate market in the Portuguese capital city.
Research: Thoroughly research the Lisbon real estate market, rental demand, and potential rental income in different neighborhoods.
Choose location wisely: Select a location that offers amenities, public transportation, and attractions that appeal to potential tenants.
Get professional help: Seek guidance from a real estate agent or property management company familiar with the local market.
Think long term: Consider the property's long-term rental potential and its ability to attract tenants in the future.
Be prepared for challenges: Anticipate and plan for potential challenges such as maintenance, tenant turnover, and legal requirements.
Understand local regulations: Familiarize yourself with local rental laws and regulations to ensure compliance and avoid legal issues.
Calculate the expected return on investment: Evaluate the potential return on investment based on property costs and projected rental income.
Consider property management services: Assess whether hiring a property management company would be beneficial to handle tenant relations and maintenance.
Assess profitability: Calculate potential expenses, including taxes, maintenance, and mortgage, against expected rental income.
How We Can Help You
Goldcrest is a buyer's agent that is based in Lisbon, Porto, and the Algarve. We provide expert, impartial advice on real estate investments and how to buy property in Portugal. From scouting out the perfect property through to property acquisition, we have you covered throughout the entire process and can help you achieve your property dreams.
If you are looking to find your dream property in Lisbon, don't hesitate to get in touch. We can help you get the best property at the best possible price. Our team of skilled experts is available to solve all your real estate doubts, offering insightful expertise and strategic advice.
Why choose Goldcrest?
Local knowledge: With offices located across Portugal, our presence nationwide allows us to assist you personally across the country.
Independent service: As an independent buying agent, we do not represent any development or project. Our service is entirely tailored toward each individual client, providing you with everything you need to secure the perfect property at the best possible price. As an impartial advisor on the market, we work solely on behalf of our client and provide a service tailored to your needs and requirements.
Streamlined process: Our real estate agents speak English and Portuguese, and our service is completely focused on providing you with a hassle-free buying experience, saving you time.
Experienced team: Our expert real estate team has a vast local knowledge of the real estate market. We have cutting-edge technology and metasearch tools at our disposal to provide full market coverage, ensuring the best investment choices and negotiated prices.
Network of partners: Our network of contacts includes lawyers, property management services, builders, architects, designers, and landscape gardeners, again saving you time and hassle by providing you with trusted experts in their field of work.
Member of the AIPP (Association of International Property Professionals), delivering company best practices and upholding professional values.
Frequently Asked Questions about Buying Real Estate in Lisbon
Why is real estate in Lisbon so expensive at the moment?
In Lisbon, demand has surpassed supply, leading to higher prices. Prices for Lisbon homes will also vary depending on the neighborhood. If you are looking to buy property in Lisbon at an affordable rate, you should look at some of the up-and-coming neighborhoods, such as Marvila. Plus, if you buy outside the city center, you should find that property prices tend to decrease. Compared to most European countries in Western Europe, you will also find affordable prices available. There are also no restrictions on foreign ownership when it comes to buying property in Portugal.
Is it better to rent a home?
Knowing whether to rent or buy a property can be tricky and will depend on your needs. If you look over a longer time period, purchasing property may be better, as you can receive a steady return on your investment, and Lisbon has a thriving real estate sector. Who knows, in ten years or so, you may be kicking yourself to think that you did not buy a property and chose to rent instead. Nonetheless, we know that buying property is a major investment, and renting may be better suited to your current needs.
Can foreigners buy property in Lisbon?
There are no restrictions on foreign property ownership in Portugal. Therefore, when it comes to buying Lisbon real estate, foreigners buy property with ease and will face no restrictions. There are many different types of Lisbon, Portugal houses for sale, so you should be able to find a property that meets your exact requirements.
Where are the best areas to buy Lisbon Portugal real estate?
The most sought-after property in Lisbon is in Baixa, Lapa, and Campo De Ourique. There are great opportunities for living well in these neighborhoods as well as from an investment perspective, offering promising rental yields for both long and short rentals. Estrela is a great place to buy property in Lisbon if you would like to move to the capital with your family.
Is real estate expensive in Lisbon?
When comparing property prices in Lisbon with other Western European capitals, Lisbon is relatively inexpensive. However, if you are looking to buy property in Lisbon, prices are on the rise, and the Portuguese capital has its own price range when compared with the rest of the country.
Is Lisbon good for property investment?
While Lisbon housing prices are more expensive than in other parts of the country, you will find many investment properties that are perfect for a second or third home to rent out or even live in permanently. If you are seeking a place to buy, property in Lisbon comes highly recommended, and if you work with a buyer's agent, such as Goldcrest, you will also have access to new listings and properties not publicized elsewhere.
Are there restrictions on foreigners buying property in Portugal?
There are also no restrictions to buying real estate in Portugal, making it easy for foreign buyers to snap up property.
Is there a property market bubble in Lisbon?
The rapid rise of property prices in Lisbon has left many wondering whether there is a real estate bubble in the city. However, much of the recent increase has come from the resumption of growth in the economy after a long period of stagnation.
Housing prices in Portugal did not rise in the mid-90s at the same rate as in other Western European countries and then dropped significantly during the financial crisis.
In the past years, the Portuguese economy has made a miraculous recovery, largely due to special measures brought in by the Portuguese government, with the Portugal Golden Visa program and the non-habitual tax regime being some of the most successful. These incentives have helped to encourage investment in Portugal on a massive scale, and as a result, the country's economy has been enjoying a period of stable growth.
Is now a good time to invest in real estate in Lisbon?
Property prices in Lisbon City have experienced a growth rate of 50 percent from 2017 to 2022. The Portuguese real estate market, and Lisbon, in particular, is predicted to continue growing at a steady pace over the coming years.
A quick online search for "real estate investment Lisbon" will highlight the popularity of the capital city of Portugal, as the municipal area is a major tourist destination. Additionally, the picturesque city has a buzzing pulse and rich cultural history.
What is the current state of Lisbon's real estate market?
The property market in Lisbon is strong at the moment, with continued high demand over the past few years, which is reflected in property prices. If we take a look at the most recent data, in 2022, the average asking price for Lisbon City stood at €6,223 per square meter, while prices for the Lisbon Metropolitan area were €4,250 per square meter. This indicates that if you move a little outside the city itself, you should find property prices drop accordingly, plus more spacious properties.
What are the future predictions for Lisbon's real estate market?
Portugal is undergoing an economic and social boom, attracting a new wave of affluent international investors, entrepreneurs, and young professionals. The dynamic Portuguese market has a wide variety of great investment opportunities and is forecast to continue on a trajectory of healthy growth in the coming years. The city of Lisbon and Portugal as a whole offer a number of tax benefits to incentivize redevelopment in historic centers.
What types of property are available in Lisbon?
Whether you are looking for single family homes for sale in Lisbon, Portugal, modern apartments, or more luxury villas, you will find a wide range of property types in the Portuguese capital. Properties in Lisbon come in all shapes and sizes, and you will first want to make a note of what you are looking for, whether it's privacy, a villa with a pool, or a quaint historic townhouse. Do your research, as a quick online search for "homes for sale Lisbon Portugal" or "buying house in Lisbon" will provide you with a nice overview of what's on offer.
What is the cost of buying real estate in Lisbon?
Alongside the price of buying property in Lisbon Portugal, ensure you consider associated taxes (such as IMT (Property Transfer Tax), IMI, and Stamp Duty), Portuguese mortgage, Notary fees, legal fees, and agency fees, amongst other expenses that will influence the overall cost of your property purchase in Lisbon. Paying fees associated with the proeprty purchase can add up, so make sure to factor in each additional expense to the property costs.
How can I live in Lisbon?
If you are a non-EU citizen, you will need to secure a residency permit to live in Portugal. There are many options to choose from, including the D7 Visa and the Digital Nomad Visa. After five years of legally residing in the country, you can apply for permanent residency or Portuguese citizenship. To acquire citizenship you meet all the requirements under Portuguese nationality law.