Updated: April 11, 2023
Where to find the best homes for sale in Lisbon Portugal?
The quiet calm of Estrela, the bustle of Baixa, the luxury of Avenida da Liberdade – there are many neighborhoods that you should consider in the capital. When looking for homes for sale in Lisbon Portugal, the most important factor is finding the perfect one for you, and this will very much depend on the neighborhood you choose. 
Homes for sale in Lisbon Portugal – the neighborhoods
Real estate in Lisbon Portugal is very attractive to investors. This is because the city has cheaper prices than in many other European capitals, and increasing demand. In this article, we'll provide you with a rundown of the most desirable neighborhoods in the city. For a city of its size, it's incredible how the look and feel of each area are different. Indeed, each neighborhood has its own unique vibe and surprising qualities. 
Note that the neighborhoods are not ranked in any particular order in terms of desirability. Each buyer will be looking for something slightly different and each neighborhood will have its own characteristics. 
If you are looking to access real estate services, then you can contact our team at Goldcrest, by completing the form on our website, through email, or through phone or text message. We are a local buyer's agent, based in Lisbon, with years of experience in the market and access to new listings in the property market in Portugal. We provide a tailored service based solely on your needs. Whether you are looking for a modern villa with a swimming pool or a quiet abode for your family, we are here to help you find your dream property. 
Homes for sale in Lisbon Portugal : Top ten neighborhoods
10. Estrela
As a quiet, peaceful neighborhood, Estrela is perfect if you are looking for tranquility with many a quiet street to wander down. Many embassies are located here, and with the beautiful Jardim de Estrela (Estrela garden) close at hand, you may not feel like you are living in a bustling capital. Life comes at a slower pace –  take a walk and enjoy the peaceful garden, stopping on the way in a typical café to watch the world pass by. 
Not just an area for rest and relaxation, Estrela is ideal for families, with more space and without the footfall of tourists. The Basílica da Estrela, consecrated in 1779 offers a historic flourish to the gardens and is one of the most beautiful, and yet overlooked churches in Lisbon. Locals still take center stage in this neighborhood. If you are looking for a corner of the city that retains its Portuguese charm, Estrela could be for you.
You are also close to the laid back neighborhood of Campo do Orique, with its narrow streets and endless charm. Here is where the famous Portuguese writer, Fernando Pessoa, hails from, and it is well worth a visit, with 19th Century buildings standing alongside Art Noveau and 20th Century details.
You can find many options to buy property in the Estrela district: from a 18m2 studio for €95,000 to a 950m2 palace in Lapa for €10,000,000. The average asking price per m2 in Estrela in Lisbon is around 6,145. See the apartments price per m2 in each neighborhood in Lisbon in our article about where to buy property in Lisbon. 
9. Marvila 
Up-and-coming Marvila is sandwiched between downtown Lisbon and the futuristic Parque das Nações. Although the many empty warehouses here don't seem to signal a great place to live, the area is undergoing a cultural regeneration – shedding its skin as a manufacturing hub and opening up as a residential area with exciting, trendy restaurants and hip breweries.
You also have interesting street art in the neighborhood and musical events in Fábrica Braço de Prata. This is a former factory that opened as a quirky arts and cultural center with a bar and bookstore. Eurovision winner Salvador Sobral has performed here, and none other than pop sensation Madonna has been an occasional spectator at the venue.
Down by the waterfront, you have modern apartments with a design that may make you do a double-take. The eye-catching design is by the world-renowned architect, Renzo Piano, and could be an indication of how this area will evolve over the next few years. 
If you`re looking for waterfront homes for sale in Lisbon, Portugal, you can find many options in Marvila`s district: from a new 3-bedroom apartment for €430,000 to a 4,297m2 waterhouse for €4,000,000.
8. Alfama
In the traditional neighborhood of Alfama, you'll see locals putting out the washing to dry on the streets, colorful, meandering alleyways, and typical Portuguese restaurants. The oldest part of Lisbon and possibly the most charming, Alfama is famous across the country. However, due to its popularity, it has a tendency to become busy with tourists, particularly in the summer months. 
You have the famous Castelo de São Jorge and the stunning views of the city at Portas do Sol. Looking for a home for sale here, you should expect to find old buildings that may need some work. Nonetheless, if you would like to be spellbound daily by the old charm of Lisbon, then you have surely found your new home. The average price you can find for a 1-bedroom and 50m2 apartment in Alfama is €181,300.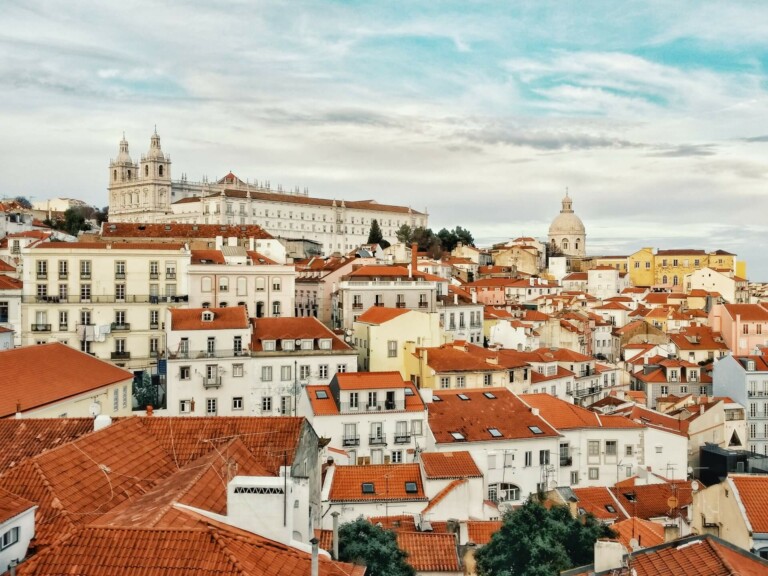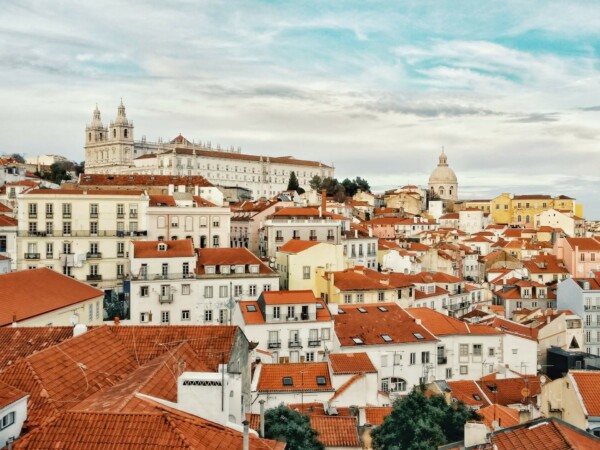 7.
Alvalade
Where to look for homes for sale in Lisbon Portugal? Alvalade is one of the most practical neighborhoods in the city and is often overlooked by expats. Off the beaten tourist track, you have all the services that you could want and incredible seafood restaurants. Alvalade is where everything seems to fall into place in perfect harmony. 
Close to the airport, this neighborhood remains somewhat hidden, with large sidewalks and proud avenues. Here, most people have their own private garden and the locals can be seen talking with their neighbors. Indeed, a community feel still permeates, something that is lost in some of the other areas. Also, as with Estrela, this could be a good neighborhood for families. After you leave the busy Avenida da Roma, you find yourself in a quieter part of the city. 
You can find many options to buy property in Alvalade, whether it`s a 2-bedroom 88m2 apartment for €330,000, or a 810m2 detached house for €3,000,000.
6. Príncipe Real
Discover the trendiest restaurants, coolest bars, and some serious shopping in Príncipe Real, where you'll find a mix of locals and expats. Not far from Bairo Alto, the nightlife center of the city, there is always something going on in the area. 
With a typical square and pleasant garden, you can sit out in an outside café and take in the colorful 19th Century mansions and exotic trees. There is also a Moorish influence here, with the Ribeiro da Cunha Palace designed to evoke a romantic image of the Moorish world, adding to the unique atmosphere of the area. 
Finding a house here, you are not far from the River Tejo, close to the bustling nightlife, and yet far enough away to also relax in the garden and enjoy some peace. Note that prices here are more expensive than in other areas, due to its appeal. 
You can find many options to buy property in Príncipe Real. For example, you can find a refurbished 3-bedroom and 50m2 apartment for €2700,000, or a 202m2 3-bedroom flat, with a garage included, for €1,590,000.
5. Graça
With the charm of Alfama but without being overrun by tourists, its neighbor, Graça, is a quieter and more practical choice. With more amenities and services to suit residents (Alfama can be a little lacking in terms of supermarkets) Graça could be a nice area to call home. The killer viewpoints that can also be found in this area are an added bonus, such as the fabulous Miradouro da Graça.
Graça is one of the oldest neighborhoods in the city, and one of the hilliest. Again, the region boasts great open-air cafés and bars brimming with locals enjoying a typical breakfast in the morning or a few beers late at night. 
There are many options to choose from if you are looking to buy property in Graça. You can consider buying a 1-bedroom 64m2 flat for €369,000 or a 113m2 3-bedroom flat for €590,000.
4. Arroios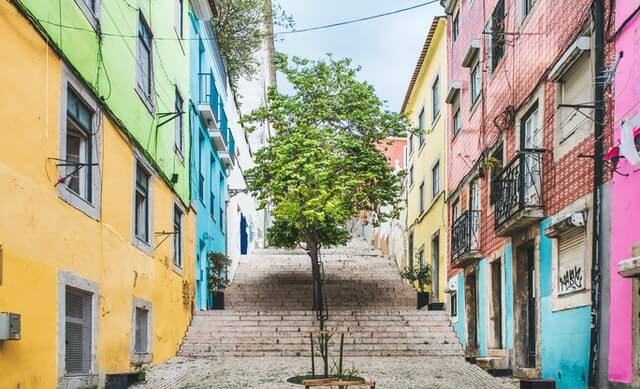 Looking for a property for sale Lisbon city centre? Perhaps Lisbon's coolest neighborhood, the multicultural Arroios is a world in itself and is one of the largest parishes in central Lisbon. The birthplace of the best Fado singer of all time, Amália, and the home of the renowned seafood restaurant Ramiro, Arroios has many attributes. With a scattering of unique bars, hipster cafés, and restaurants pushing the boundaries, there are many places to dip into. 
Arroios has incredible hidden viewpoints, where you can soak up the city. Moreover, with many options in terms of residential areas, excellent restaurants, and parks, Arroios is a bag of surprises. Indeed, this neighborhood may just live up to the accolade as being the most trendy part of town.
There are many options for buying property in Arroios with the prices varying from €325,000 to €1,160,000 depending on whether you`re buying a studio or a 4-bedroom apartment.
3. Baixa Chiado
The historic heart of Lisbon, Baixa offers grand architecture, avenues, and plazas. The magnificent Praça do Comércio, next to the River Tejo is simply stunning. And then you have the Santa Justa elevator, with sublime city views. Indeed, owning a house with a view here would be the dream. 
And then you have the elegant Chiado, where you can meet for a coffee and enjoy the shops. Next to neighboring Bairro Alto, where you have bars spilling out onto the streets, this area is bustling with activity. 
One of the most expensive parts of the city, Baixa and Chiado are where you are best placed to see the traditional yellow trams whizzing past, a bustling evening scene, with restaurants and bars spilling out onto the streets, and the soft sound of a street musician serenading you. 
Off the busy streets, you also have quieter areas. Imagine owning a property here, with a spectacular view of the Ponte 25 de Abril bridge, or opening your window with the city spread out before you. With dreamy pink-hued sunsets, this area is one of the most desirable, and it is easy to see why.
You can find many apartments for sale in Lisbon city center, Baixa Chiado. For example, a 1-bedroom 48m2 apartment can cost you €550,000, and a 2-bedroom 125m2 apartment can cost you €815,000.
2.
Alcântara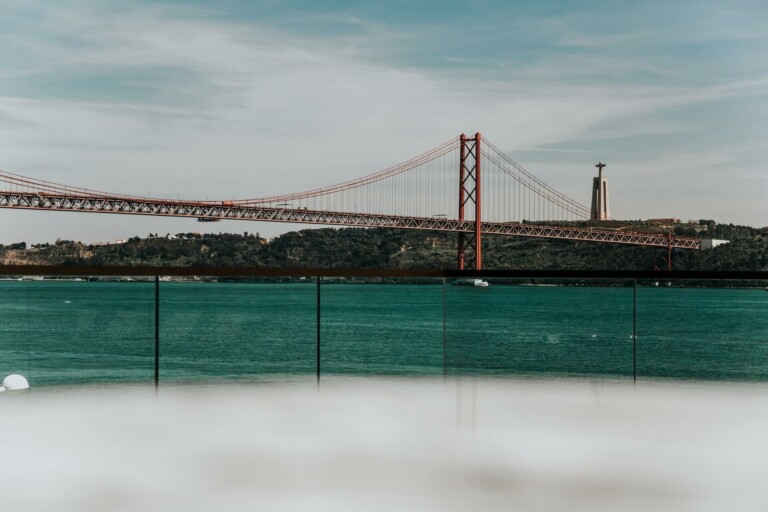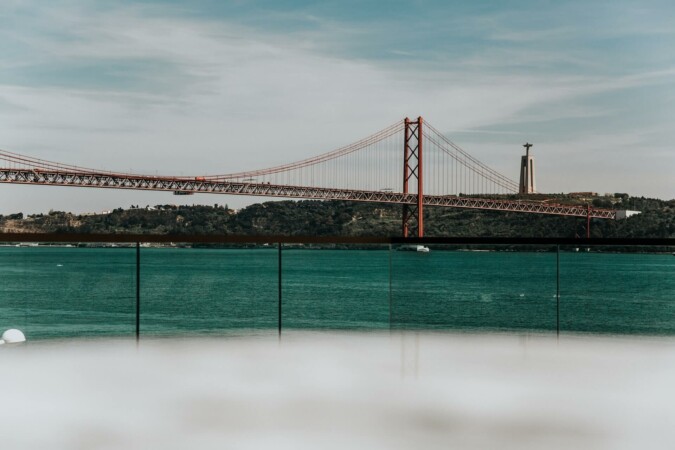 Located by the River Tejo to the west of the city, Alcântara has perfect river views. Come the weekend you can see locals running, cycling, or simply enjoying the sunshine in the long promenade that leads from Lisbon to Carcavelos and beyond. Here the glimmering river is always close at hand, and you are blessed with beautiful sunsets. 
The neighborhood itself is relatively quiet during the day but comes into its own at night. Indeed, there are many modern nightclubs and bars by the river that come alive at night. Alcântara is also where you will find LX Factory, one of the most surprising hidden corners. With amazing eateries from a colorful array of cuisines, boutique shops, and a bookshop that you will remember for life, this is a must-see.
Looking for new homes for sale in Lisbon Portugal outside the city itself, Alcântara comes recommended. You will feel a comfortable distance from the city itself (just a couple of train stops away) and have all the amenities that you need. You can find a renovated 3-bedroom and 128m2 apartment in Alcântara for €848,500.
1. Avenida da Liberdade
Considered the most exclusive avenue in Portugal, this is a very privileged location in the city. With high-end stores on either side, top hotels with rooftops overlooking the city, and the most luxury apartments, Avenida da Liberdade is well-known. Indeed, Cristiano Ronaldo was one of the property buyers, and he is not alone with investors snapping up properties here over the years. 
If you are looking for high-end, luxury apartments, then Avenida da Liberdade could be the postcode for you. Be warned that the price tag here is higher than in other parts of the city, but, for those who want to splash out on the fine living experience, they will be rewarded with beautiful, endless city views. 
There are many options for buying property in Avenida da Liberdade with the prices varying from €350,000 to €1,500,000 depending on whether you`re buying a studio or a 3-bedroom apartment.
Homes for sale in Lisbon Portugal – seek the help of a buyer's agent
When looking for homes for sale in Lisbon Portugal, it is definitely worth it to access real estate services by speaking with a real estate professional in the market.
Goldcrest is a buyer's agent in Portugal and, unlike real estate agents in Portugal, who work on behalf of the seller, we offer a service tailored solely to you. From sourcing new listings in the property market to discovering which neighborhood is right for you, our advice and real estate services are aimed to make the process as smooth and hassle-free  as possible. You can get in touch by email, phone or text message or through our website. Whatever your requirements, whether you are looking for a new build, a property with a swimming pool, or a family house, we are here to help.
The following articles may also be useful to you: