Updated: September 13, 2023
Many people consider moving to Portugal from the USA. You might be wondering if it's a good idea, whether it's financially feasible and what kind of lifestyle you will be able to have. Portugal is becoming highly regarded by US citizens as a great place to relocate and settle. This is in part due to the cost of living in Portugal, which is considerably lower than in the USA, as well as the high quality of life in this beautiful little Western tip of Europe.
Why move to Portugal?

Whether you are considering retirement in Portugal for US citizens or gaining a permanent residency golden card, Portugal should be noted as a decent option for relocation. The number of US expats in Portugal has certainly risen in recent years and it's no wonder as to why considering the temperate and warm weather all year round and the beautiful landscape around the country. 
The country is also a top choice for US expats as money will certainly go a lot further in Portugal where property, healthcare, schooling, and living expenses are concerned. The country is very safe, and with the welcoming nature of Portuguese people, Americans and other foreigners often feel immediately at ease when immersed in Portuguese culture.
You can read more about living in Portugal as an American here.
What are the cons of moving to Portugal?
As with any place, there are of course cons and setbacks if you're considering relocating from a comfortable home country. In Portugal, people complain about bureaucracy from time to time. It is indeed true, that there is somewhat a lot of bureaucratic red tape around things such as purchasing homes, and certain official registration processes. 
Navigating these bureaucratic processes in a foreign country without the know-how, language skills, or the time can be difficult. We would recommend seeking the help of trusted professionals to help you navigate moving to Portugal from the USA, particularly if you don't speak the language. In the example of purchasing a home, enlisting the help of a buyer's agent will ensure you don't get overwhelmed by bureaucracy.
Cost of living in Portugal vs the USA
Portugal is in general, far cheaper than the USA. On average, Portugal's real estate prices are 45% lower than the USA. Restaurant prices are an average of 38% lower than the USA and grocery shopping costs an average 42% lower too. Considering this, you can imagine that moving to Portugal from the USA leaves many people with a quality of life far higher than they would be able to afford back home.
Healthcare
The public healthcare system in Portugal is not exemplary, with some long waiting times and only a basic level of service cover is provided. However private healthcare in Portugal is at a relatively high standard and is very affordable. For a reasonably well-rounded private healthcare plan in Portugal, you can expect to pay around $100 USD per month.
Schooling
There is the option to have a good public education in Portugal for free, should you wish to relocate to Portugal with children. Or if you prefer to pay for private education, it's also a good standard of education, for an average cost of €400 per month. This is a lot lower than most European private education costs.
In Lisbon, there are some excellent private schools including an excellent American school called CAISL, Carlucci American International School Of Lisbon. 
Buying property in Portugal
To buy property in Portugal is the smartest decision you can make if you're thinking of moving to Portugal from the USA. The value for money is still great in most parts of Portugal, and you will make a great investment too as Portugal's hot property market is showing no signs of faltering in its upward trajectory.
Renting property in Portugal
While you get accustomed to life in Portugal, renting property is also an option. Due to the popularity of Portugal as a tourist destination, the rental market is rather competitive in both the short-term rental market and the medium-term. Portugal is a popular place for digital nomads from around the globe, so with tourists and nomads as competition, rental prices can be quite steep.
Best communities for American expats in Portugal
A number of areas would work out nicely for American expats wanting to relocate to Portugal depending on what your goals are, and what you value most. We recommend doing plenty of research on different areas and traveling around to visit too. The top communities that American expats would usually opt for are located in the areas of:
Lisbon

Cascais

Porto

Algarve
This list is not exhaustive. For example, towns on the Silver Coast, such as Peniche or Nazaré, could also be excellent options, as could the autonomous island of Madeira and the Azores.
How do Americans move to Portugal?
There are a few steps involved when it comes to an American moving to Portugal. Most of the work is making sure you have the right paperwork in order and understanding which documents you'll need to provide in a timely manner. If you are going for a D7 visa, you will need to have a permanent address in Portugal where you can register, so you'll need to find a place to live, earn a passive income of at least €760 per month (your income can come from pensions, transferable equity, real estate, intellectual property, or financial equity), and be willing to reside for more than 183 consecutive days per calendar year in Portugal.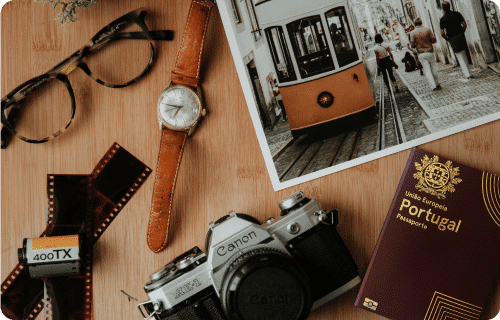 D7 Visa
A D7 visa is a good option for Americans looking to move to Portugal. The visa itself has no costs attached and you will have the chance to get a permanent residency after five years on the D7 visa. The conditions are that you'll have to spend a majority of the year (183 consecutive days) living in Portugal, earn a passive income of at least €760 per month (your income can come from pensions, transferable equity, real estate, intellectual property, or financial equity), and show proof of a place to stay in Portugal.
The D7 visa can also be attained in conjunction with the NHR scheme. The NHR enables tax benefits on income earned for the first ten years of residence in Portugal.
Portugal Golden Visa Program
A permanent residency golden card or the Portugal Golden Visa is beneficial to those wanting to invest in Portugal and gain legal residency, but who cannot commit to living in Portugal as the D7 requires. The Golden Visa Program is for those looking to get residency by investment while maintaining locational flexibility. The laws of investment in Lisbon changed on 1 January 2022, however, so you should take a close look with an expert whether this route will be viable for you.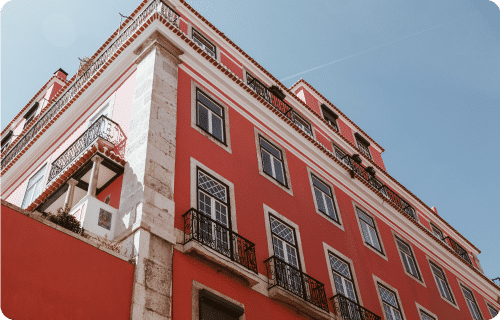 Get in touch
Goldcrest are property experts and can assist you and your family in moving to Portugal from the USA. It can be a daunting task, finding the best place to live in Portugal. We have deep expertise in the Portuguese real estate market and will always act diligently on your behalf to negotiate the best possible deal for you.
Frequently asked questions about moving to Portugal from USA
Do many people move to Portugal from the USA?
There are a great deal of US expats in Portugal and it is becoming more popular all the time. Americans like the country particularly for the weather, the low costs and the friendly Portuguese people.
Is Portugal expensive for US citizens?
Portugal is much cheaper than the US on average, for living, property and for general expenses.
Can Americans live in Portugal?
Americans can indeed live in Portugal through the D7 visa or the golden visa if they meet the given criteria.