Updated: September 27, 2023
From stunning, pristine beaches in the south of the country to the vibrant, historic city of Porto in the north, Portugal seems to offer something for everyone. The Portugal real estate market has grown exponentially in the past years, attracting expats, buyers seeking luxury real estate, and investors from across the world. Whether you are looking to retire to this beautiful Mediterranean country or move with a family, you'll be delighted by the high quality of living, affordability, and – we imagine, one of the best selling points – the sublime climate. With this said, you may want to know what the best places to buy real estate in Portugal are.
In this article, we'll dive into some of the best parts of the country to consider. Note that these are just three of the top locations to consider, but this list is by no means exhaustive. From top to bottom of the country, you have stunning locations – some others that come to mind are Cascais, the Silver Coast, and Setúbal. The best places to buy real estate in Portugal will depend on your preferences and goals.
Buying Real Estate in Lisbon
Lisbon, the capital of Portugal, has cemented itself as a prime location for real estate investment. While real estate prices are higher here than in other parts of the country, the property market remains a hot ticket for investors, plus expats from all walks of life, from digital nomads to families, moving for a better quality of life.
Advantages of buying property in Lisbon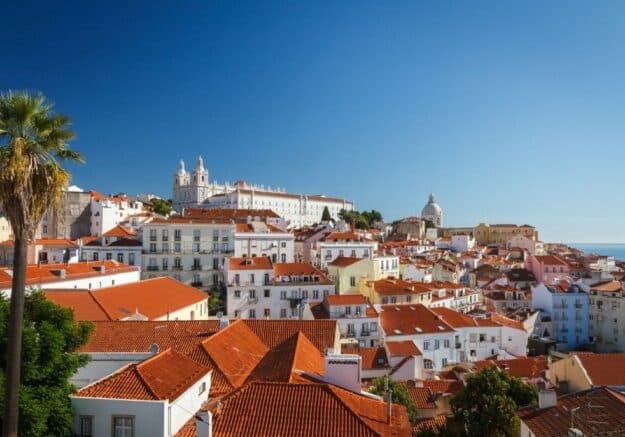 While property prices are higher in Lisbon than in other parts of Portugal, standing at €6,233 in Lisbon City in 2022 (€4,250 in Lisbon Metropolitan Area), there is nothing like living in the Portuguese capital. If you buy outside the city center or outside popular parts of the city, you will find property prices drop. There's always something going on, whether you are in central Lisbon or on the outskirts, and each neighborhood offers something unique.
Some of the advantages of purchasing property in Lisbon include:
High-quality lifestyle, with excellent gastronomy and museums and art galleries galore
Several excellent international schools – 30 in the Greater Lisbon Area
High tourism provides an opportunity to secure a nice return on your investment (yields stood at 4.14 percent in Lisbon City and 5.60 percent in the Lisbon Metropolitan Area in 2022)
A multitude of fabulous parks, miradouros (viewpoints), and close proximity to excellent beaches
The property market continues to thrive, with Lisbon a popular destination attracting expats, tourists, and investors from across the world.
Lisbon's neighborhoods
From the quiet charm of Alfama to the hustle and bustle of Baixa, Lisbon has a wide selection of charming neighborhoods, and what is best for you will depend on your needs. For example, if you are moving to Lisbon with your family, you may want to find Lisbon neighborhoods more conveniently located close to international schools. Some of the best neighborhoods to consider are the following:
Baixa: The downtown area of Lisbon, in the city center, may be one of the more expensive parts of the city, but it also makes more financial sense to buy here if you are looking to secure a nice return on your investment. Baixa is a favorite with tourists, using it as a base to explore the city, plus, there are plenty of shopping opportunities, and you'll be able to enjoy stunning views of the Ponte 25 de Abril, the impressive bridge towering over the glimmering Tagus River.
Alfama: If you wander down the streets of Alfama, you'll no doubt at some point hear the soft, emotive sound of Fado coming from a Fado house or the delicious aroma of fresh food coming from a Portuguese Tasca (typical family-owned Portuguese restaurant). Yes, Alfama, the old town of the city, has become a firm favorite, with its winding streets and magical ambiance.
Graça: A more practical part of the city to live in may be Graça just slightly further north, which, without the heady footfall of tourists, may prove the perfect place to live.
Estrela: If you are looking to move to Portugal with family, Estrela is a safe bet. Here, you'll be able to find a three-badroom apartment or lovely house in a peaceful neighborhood. Estrela has many green parks and all the amenities that you could want.
Lifestyle in Lisbon
Lisbon offers a captivating lifestyle that seamlessly blends old-world charm with modern allure. Cobblestone streets wind through historic neighborhoods, leading to panoramic viewpoints over the Tagus River. This is in contrast to the fact that the city has become something of a hotspot for digital nomads, as the city has cemented itself on the tech scene map. The city's laid-back ambiance encourages leisurely strolls, outdoor café gatherings, and long lunches with friends and family. The city's sunny climate further enhances the outdoor lifestyle, with beaches and parks inviting residents to embrace a healthy balance of relaxation and exploration. Plus, history and art lovers will find a wide selection of art museums to delight in.
For up to date information on buying property in Lisbon, you can consult our article: An expert guide to buying Lisbon real estate.
Buying Real Estate in Porto
If you look at the Portuguese real estate market, alongside Lisbon, Porto has become one of the most talked about cities in Europe to buy property. If you are looking for a popular city to buy property in Portugal, the charming second city of Portugal comes highly recommended. Real estate prices stood at €4,000 in Porto City in 2022 (€3,186 in the Porto Metropolitan Area), and the average price for properties looks set to continue to rise in the future, as this is one of the most populous regions that continues to attract locals and expats alike.
Advantages of buying property in Porto
If you buy in Porto, one of the major cities in the country, you'll find a charming city that has something for everybody, from laid-back eateries to boutique shops, plus museums galore.
It makes sense to buy property in Porto as the real estate market has moved from strength to strength in recent years, presenting a prime opportunity for buyers. Investors looking to buy to rent will find that Porto has become a top tourist destination – making it an attractive property investment – with rental yields standing at 4.56 percent in 2022 (Porto Metropolitan Area was 5.34 percent). As a city with a large student population, if you are looking to rent your property long-term, this is also an option.
Porto is quite an affordable city, although property prices have been increasing in recent years – increasing by 84 percent over the past five years. Despite this, property values still come at an affordable cost when compared to other major cities in Western Europe.
Porto is a well-developed city with a lot of history and character. Many of its properties reflect this charm, offering unique architectural features and a sense of authenticity. Alongside this, you'll find the city to be embracing modernity, with many tech and startups relocating to the city due to the great business opportunities.
Another of the major Portuguese cities, Braga, is also close by, less than an hour's drive north, as are historic cities such as Guimarães and the outrageously beautiful Peneda-Gerês National Park. The Silver Coast (Costa de Prata) is also close at hand. If you travel just one hour south along the coast, you'll come across some of the most authentic and picturesque towns on the Silver Coast, where you enjoy some of the best seafood in Europe and quiet beaches. Also, heading south, you'll find Coimbra and Aveiro, two charming cities in their own right. If you are looking for cheap areas, Central Portugal – and Northern Portugal, for that matter – have some of the most affordable places in the country.
Porto neighborhoods
Foz do Douro: Nestled along the Atlantic coast, Foz do Douro is a picturesque neighborhood that blends the old-world charm of Porto with the allure of the sea. Here, you'll find elegant mansions and spacious houses, perfect for families moving close to the city. The long promenade means you can go biking on the weekend, before relaxing by one of the beaches that line the coast.
Campanhã: Campanhã stands in stark contrast to the more tourist-centric areas of Porto. This neighborhood provides an authentic glimpse into the daily lives of Porto's residents. Campanhã is known for its bustling market, Mercado do Bolhão, where locals gather to purchase fresh produce, meats, and other goods. This is also a very up-and-coming neighborhood, where you'll find affordable properties and strong rental yields.
Ribeira: Ribeira is a historic gem that showcases Porto's medieval roots. Located along the Douro River, this neighborhood is famed for its colorful buildings that line the waterfront, creating a charming and photogenic setting. Narrow alleyways wind through the district, revealing hidden squares and traditional taverns where one can savor local cuisine. The iconic Dom Luís I Bridge connects Ribeira to Vila Nova de Gaia, known for its wine cellars where Port wine is aged and a great option to consider buying real estate in its own right.
Cedofeita: While not as widely recognized as the other neighborhoods, Cedofeita offers an intriguing blend of tradition and innovation. This district is known for its artistic and bohemian vibe, attracting a diverse range of creative individuals.
Lifestyle in Porto
The lifestyle in Porto is, in many ways, more relaxed than in Lisbon. The city exudes a unique lifestyle that marries tradition with modernity, and with urban buses and the metro, it's very easy to get around the city. The Portuguese love for music festivals infuses the city with vibrant energy, while leisurely walks along the riverbanks and in the Crystal Palace gardens provide peace and quiet. With a rich culinary scene featuring fresh seafood and regional delights, Porto celebrates the art of savoring life's pleasures, making it a captivating destination for those seeking a dynamic and culturally immersive lifestyle. You can also easily access quieter regions in Central Portugal and Northern Portugal, for those that are looking to explore the very best nature that Portugal has to offer.
Porto and Lisbon are both captivating cities that have long attracted expats from the world over. If you are undecided on which one could be the better option for you, our comparison guide between Porto and Lisbon could be for you.
Buying Real Estate in the Algarve
With its rugged coastline, pristine beaches, beautiful landscapes, and high quality of life, the Algarve has long been a firm favorite with retirees – and more investors and expats than ever before are placing their money in and settling in this glorious part of Western Europe.
Portugal has one of the most popular Golden Visa programs in the world. At present, Sagres on the western tip is also eligible under the current Golden Visa program regulations (although, as changes to the program will come into force soon, if you are interested in the real estate option of the Golden Visa program, you should begin your application now).
Advantages of buying property in the Algarve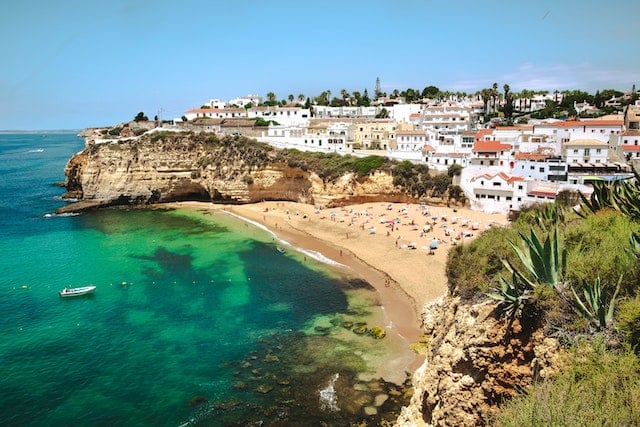 We've already mentioned some of the key reasons why the Algarve is one of the most popular regions.
A real estate investment here can be an intelligent buy, with the potential to rent out the property for much of the year and receive a nice return on your investment. Rental yields ranged from 3.56 percent to 5.03 percent in 2022, depending on the area. If you are looking for the best place to invest in Portugal, Porto will come high on the list.
With good weather, top gastronomy, and many authentic coastal towns, you can rest assured that you will have a high quality of life if you buy in the Algarve.
For those seeking luxury living, the Algarve is the place to be, with several celebrities having a home here. With so much beauty, a relaxed ambiance, and splendid views of the Atlantic, is there a better place to call home?
As you move north from the Algarve, you will find properties with a lower purchase price in the rural areas here. Places such as Monchique, for example, could provide the ultimate country retreat. Further north still, you'll come across Beja, which has the lowest population density in the country and where you'll find very affordable properties.
Which part of the Algarve should I buy property?
Selecting property in the Algarve hinges on factors like budget, lifestyle, and purpose. This Portuguese region offers diverse options, including major cities such as Faro, a city with an airport, and Lagos, known for its historic core and nightlife along the Atlantic. Bustling Albufeira and upscale Vilamoura attract international buyers, while Tavira and Carvoeiro offer quieter charm. Sagres suits nature lovers, Loulé provides authenticity, and Portimão offers stylish coastal city living.
Lifestyle in the Algarve
Vinho Verde (green wine) in hand, with views of the Atlantic Ocean from your balcony and the quiet lapping of the waves on the shore. Yes, if relaxation is what you are after, the Algarve is a good place to seek it. Living in the Algarve is highly recommended, with many musical and cultural events, ease of travel, excellent international schools and healthcare facilities, and places to indulge in water sports activities.
Portugal has several areas where you can find stunning Portugal beachfront properties, not just centered in the Algarve. As a tourist destination, parts of the Algarve can get quite busy in the summer months. If you are looking to buy property in Portugal with the Atlantic Ocean on your doorstep, there are many options to consider.
And if you are looking for a luxury property, the Portuguese real estate market can deliver. You can check out our article, The Best Places to Discover Portugal's Premium Property, for more information.
Things to be Aware of When Buying Real Estate in Portugal
Choose the right location for you
Do your due diligence
Seek professional help with the negotiation stage
Don't rush the buy
Consider property taxes
Determine whether you need to secure a mortgage to buy property in Portugal
Is it easy to sell your house in Portugal?
While it will, of course, depend on where you buy property, it is usually quite easy – and fast – to sell property in Portugal, given the high demand from people looking to buy property.
Goldcrest: How We Can Help You Secure Your Dream Home
Goldcrest is a buyer's agent that is based in Lisbon and the Algarve. We provide expert, impartial advice on real estate investments and how to buy property in Portugal. From scouting out the perfect property through to property acquisition, we have you covered throughout the process.
If you are looking to purchase property in Portugal, don't hesitate to get in touch. Our team of skilled experts is available to solve all your real estate doubts, offering insightful expertise and strategic advice.
In Portugal, the best places to look for homes in the beginning is through checking out various real estate websites. However, there is no one platform with all the listings. A buyer's agent will have access to properties that you will not find elsewhere, and they will be able to provide you with more options that fulfil your requirements.
Frequently Asked Questions about the Best Places to Buy Real Estate in Portugal
Where is the best place to buy a house in Portugal?
The best places to buy real estate in Portugal depend on your preferences and goals. Coastal areas like the Algarve offer beautiful beaches, while cities like Lisbon and Porto provide a bustling city life. Research various regions to match your lifestyle and investment objectives.
Should I buy property in Lisbon or Porto?
Deciding between Lisbon and Porto depends on your priorities. Lisbon is Portugal's capital with diverse culture and business opportunities. Porto offers a more laid-back atmosphere and a growing tech scene. Consider factors like lifestyle, job prospects, and property prices.
What factors should I consider when choosing a location for real estate investment in Portugal?
Factors to consider include the location's potential for growth, the local economy, infrastructure, tourism, rental demand, and property trends. Research the area's development plans, accessibility, and amenities to ensure a well-informed investment decision.
Are there any up-and-coming areas in Portugal for real estate investment?
Portugal has been boosted by foreign investment in recent years. At the moment, several areas show promise, such as Matosinhos, close to Porto, Campanhã in Porto City, Marvila in Lisbon, and the Alentejo region. Remember, the best places to buy real estate in Portugal will depend on your needs and requirements.
What are the legal and financial considerations for buying real estate in Portugal as a foreigner?
Foreigners can freely buy property in Portugal. Legal steps include obtaining a fiscal number, opening a Portuguese bank account, and following the correct buying procedure. Be aware of the taxes you will need to pay if you need a mortgage, notary fees, and legal representation. Understanding local regulations is crucial to a smooth purchase process.